The Dollar Tree is one of the best places to get Christmas decor, candy, and more. Here are the best Dollar Christmas Products of 2019.


Dollar Tree Christmas 2019
Well, we went to the Dollar Tree the other day, and it's safe to say that Christmas season is in full-force over there.
Nevermind that there were only two days left until Halloween, and they only had a small batch of Halloween decor left. Ha!
I was pleasantly surprised at how much people seemed to enjoy my post – The Best Halloween Products to Buy at the Dollar Tree…so I figured, why not do one for Christmas?!
They have a lot of fun and unique products available at the Dollar Tree, so I thought I'd bring your attention to the things that I thought were the most useful (or, in some cases, the most awesome). This is definitely not all inclusive – you really have to go in and see what they have. I think there are a lot of great things available for crafting especially.
And I apologize for the quality of these photos. I looked like a total weirdo taking pictures of the shelves, so I tried to be discrete.
Don't forget to join our Dollar Tree Finds, DIY, Deals and More Facebook group!
[thrive_leads id='33998′]
FUN HOLIDAY GIFT IDEAS AT THE DOLLAR TREE
Holiday Gift Guide: $5 Go-To Gift Ideas Learn More
Holiday Gift Guide: Creative $10 Gift Ideas Learn More
Holiday Gift Guide: $15 Hobby-Themed Gift Ideas Learn More
Holiday Gift Guide: Thoughtful $20 Gift Ideas Learn More
Make sure to check out our post about 30+ Dollar Tree Christmas Decor and Craft Ideas
Candy!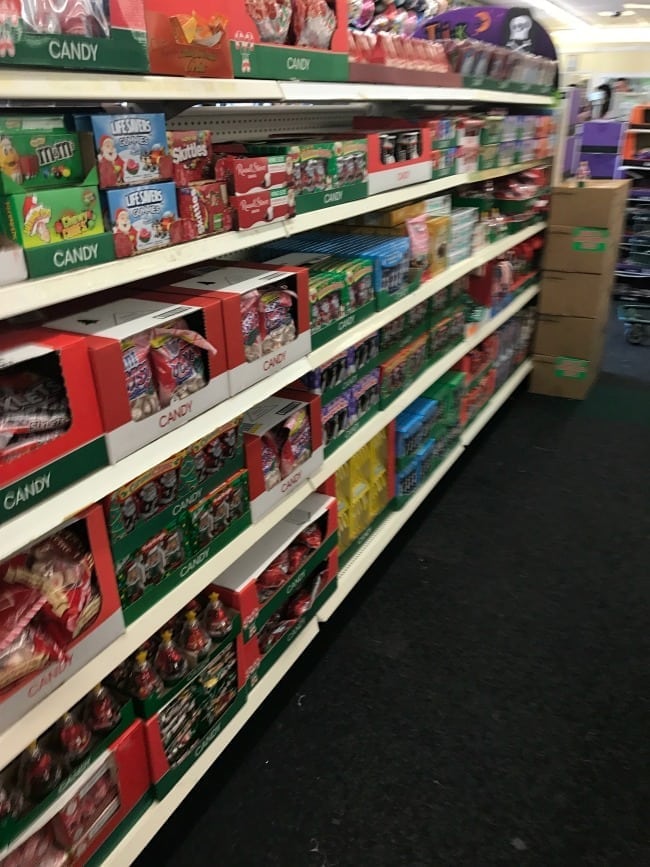 Okay, I know that this isn't super unique or cool, but the Dollar Tree definitely has lots of candy. You can probably find some deals elsewhere for a better price, but for the most part, they are well-stocked with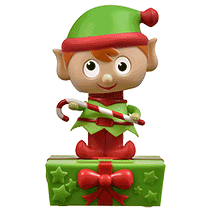 I haven't seen these quite yet at our Dollar Tree (right now they have the Thanksgiving ones out), but I LOVE these. They are so fun for putting in the window. I can't help but smile. They have tons of different ones on the website (and unlike many items on the website, you only have to buy 4 at a time!).
Dollar Stree Christmas Village
I don't have a picture for this for some reason, but the Dollar Tree has tons of great items to put in a Christmas Village. Elsewhere, these items can be rather pricey. They aren't probably the highest quality, but they are cute and perfect for adding to a growing collection.
Even better, the Dollar Tree has mini lights and fluffy snow underlay that you can use to make your village even better! I wouldn't normally buy lights at the Dollar Tree, since they don't have very many, but they come in handy for smaller situations like Christmas villages. You can buy four sets for $4 on the website if you can't make it in (that makes 80 lights – not bad!).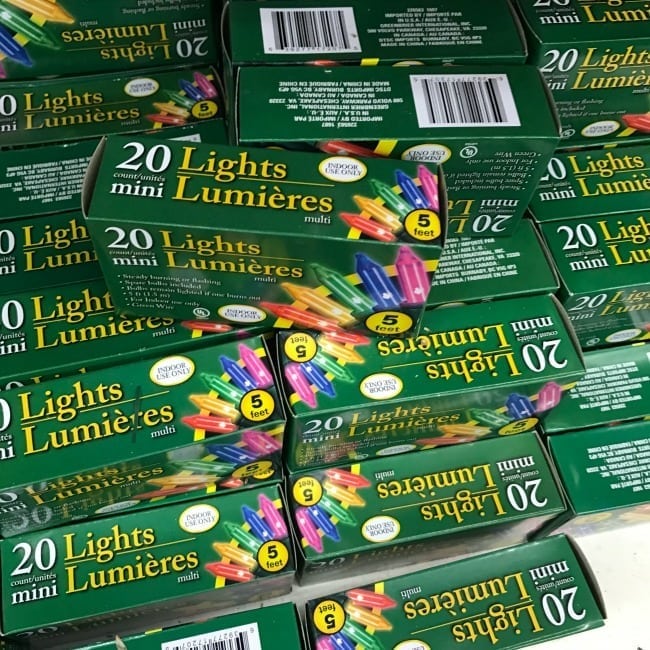 I LOVE buying stocking stuffers at the Dollar Tree. They have a lot of fun Christmas-themed items, but you can also buy little toys (like cars – my son LOVES those). I loved these fun cups, they have bubbles, paint, and more. I would definitely go in soon, though, because I feel like this might run out sooner than some things (especially for school parties). The website is a great place to order things for school parties, since you can order exactly how many you need.
You can check out our post that goes over these in detail – Our Favorite Dollar Tree Stocking Stuffers for All Ages (and Pets!)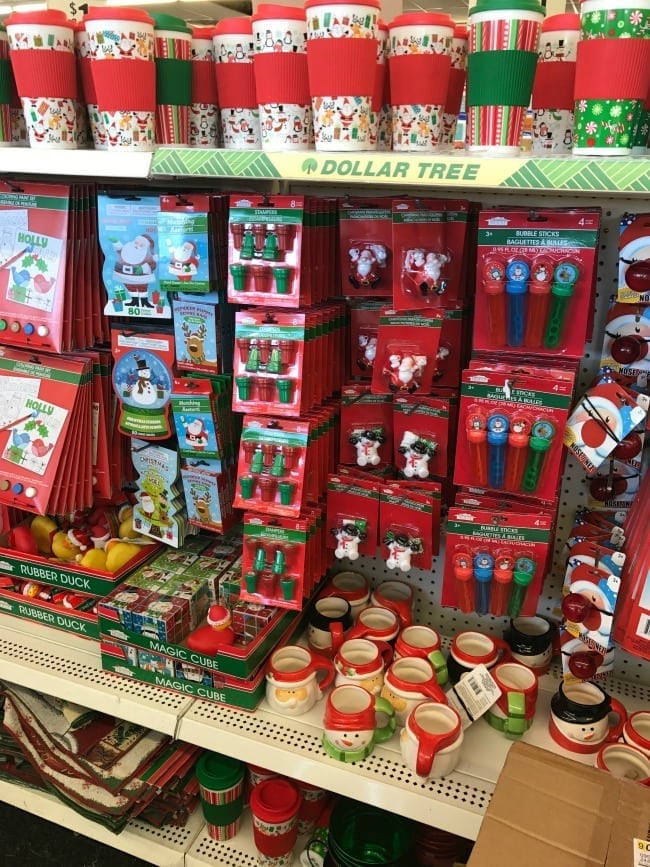 Baking Supplies
I'm sure I'm not the only one who bakes a lot this time of year – the Dollar Tree has tons of different supplies. From evaporated milk and flour to disposable cookie and baking pans, they have everything you need to make lots of fun treats this holiday season.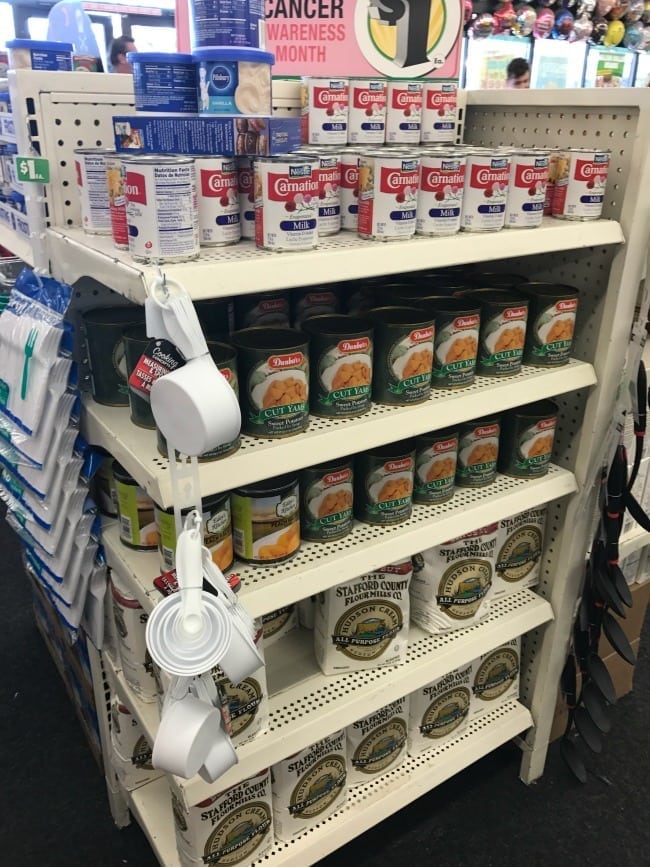 My parents would sometimes put these types of candles in the window when we were growing up, and I loved them. This is a great price for an LED Window Candle. I think they are really fun!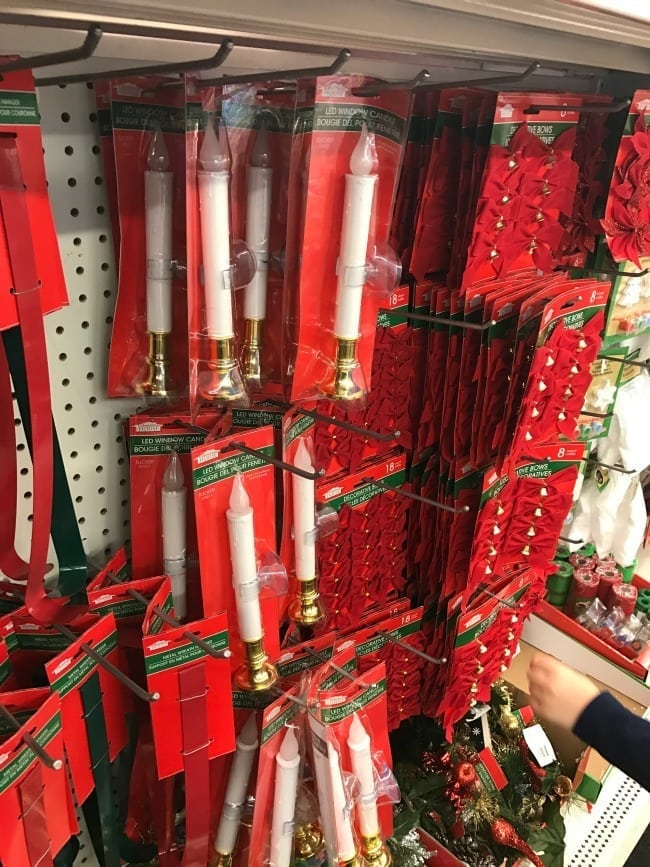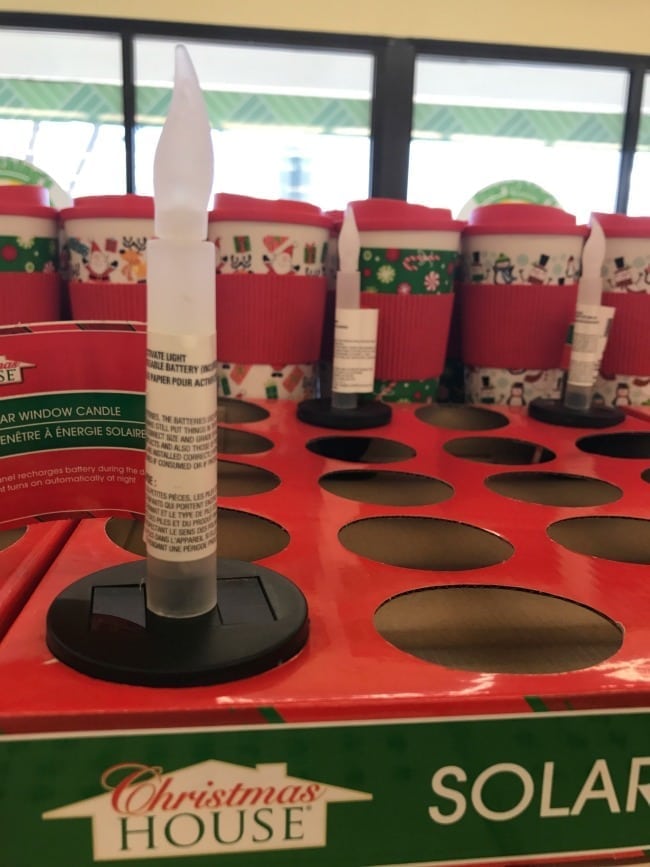 If you read my Halloween post, you'll know that our Solar Powered Pumpkins are my FAVORITE decorations. So I was completely thrilled when I saw these solar powered window candles. I'm starting to wonder why I didn't buy some while I was there (oh well, I always need an excuse to go back!).
I always have loved my mom's special Christmas plates and cups that she gets out during the holidays. The Dollar Tree has SO many Christmas-y glasses, plates, etc. It took all my will-power not to buy up a whole set.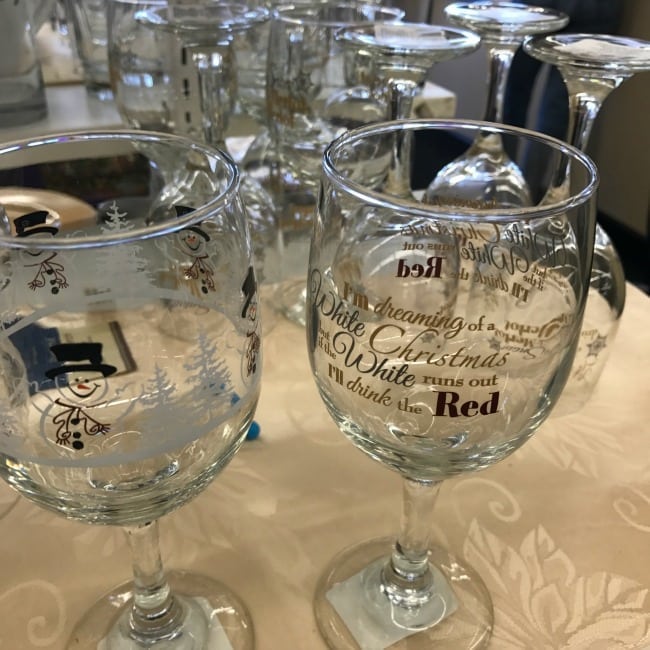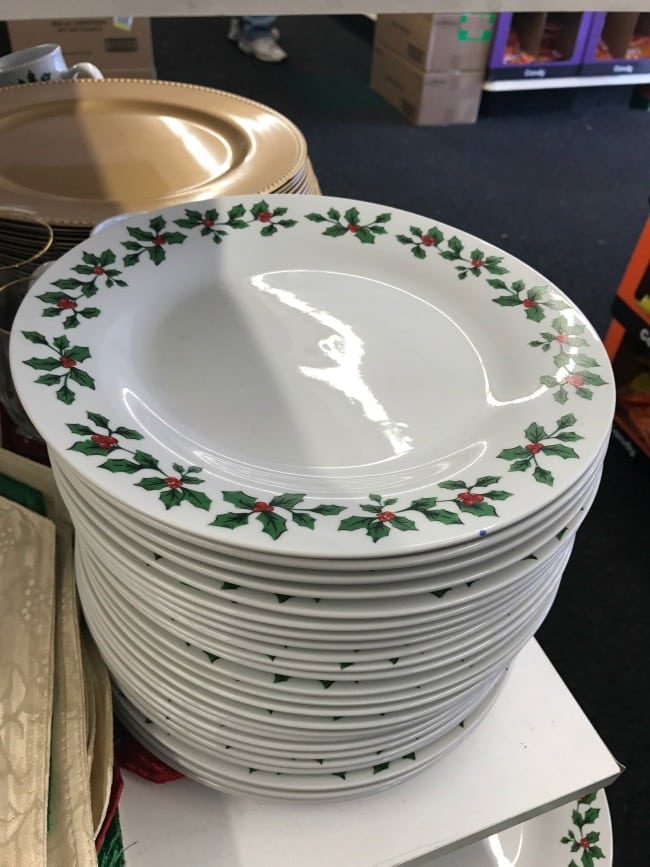 I'm embarrassed to admit how long it took me to find some Christmas cookie cutters a few years back. It turns out, I should have just gone to the Dollar Tree! They have this nice set of classic shapes.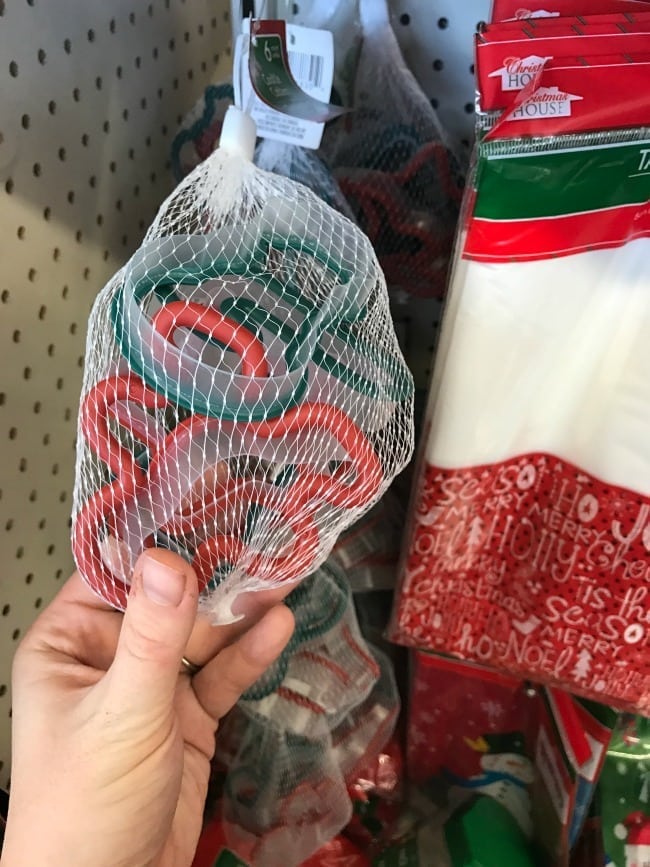 I guess you could use these for purposes other than cookie jars…but really, why would you want to?! I think they are super adorable though, and they would make for great gifts as well.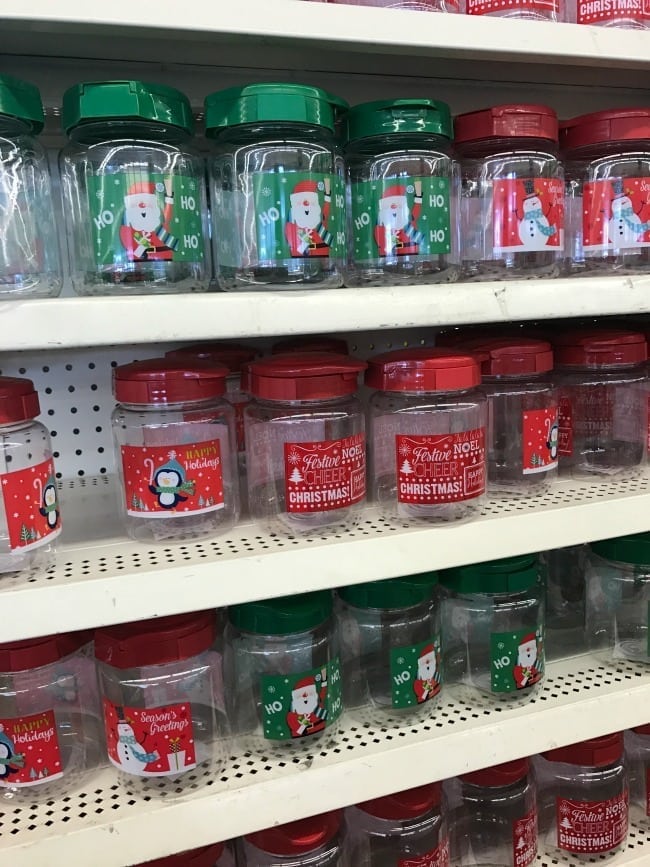 I am always looking for treat tins during Christmas-time, and I always end up trying to get them too late in the season to get them at the Dollar Tree. The Dollar Tree was well-stocked when I went though! They have so many cute designs, and they are the same quality as ones I find at other stores (that are more expensive!).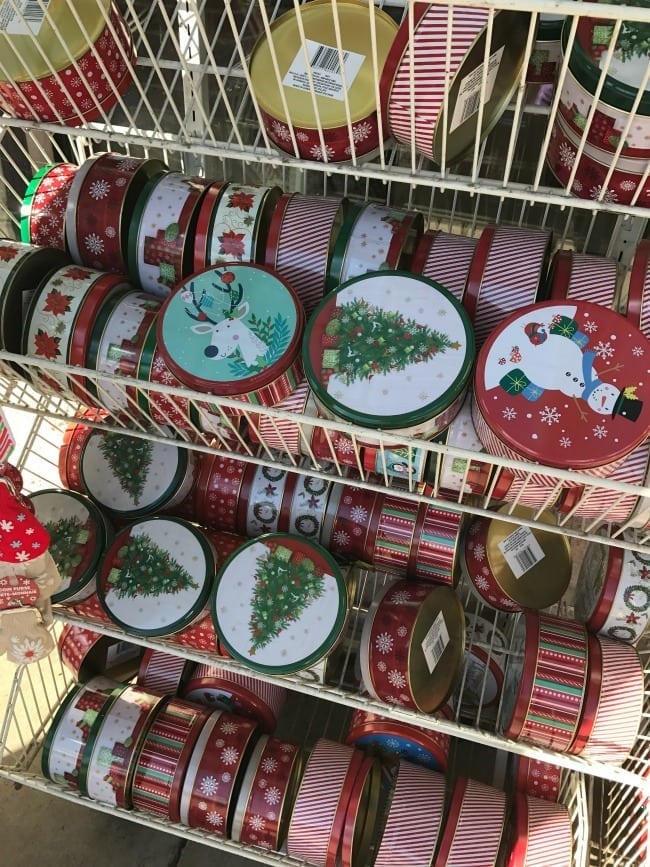 Light up Icicles
I just thought these were really fun. They come with two, and they are perfect for trees, or maybe even for a fun DIY project!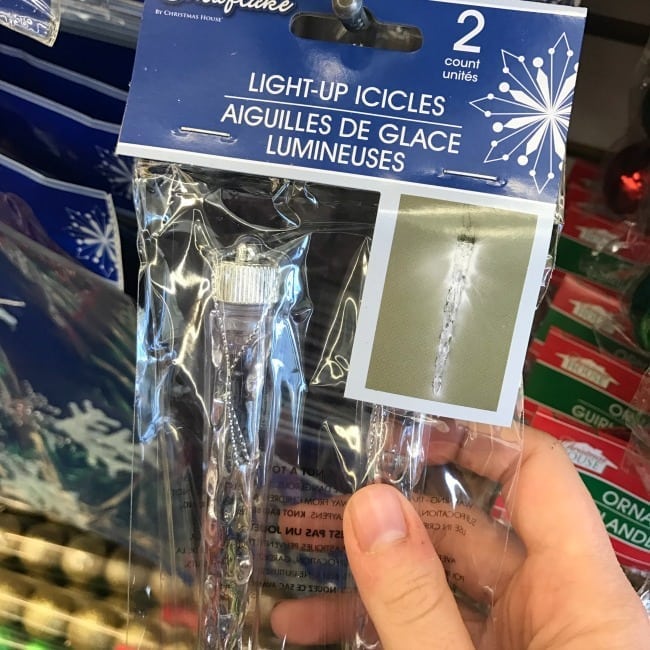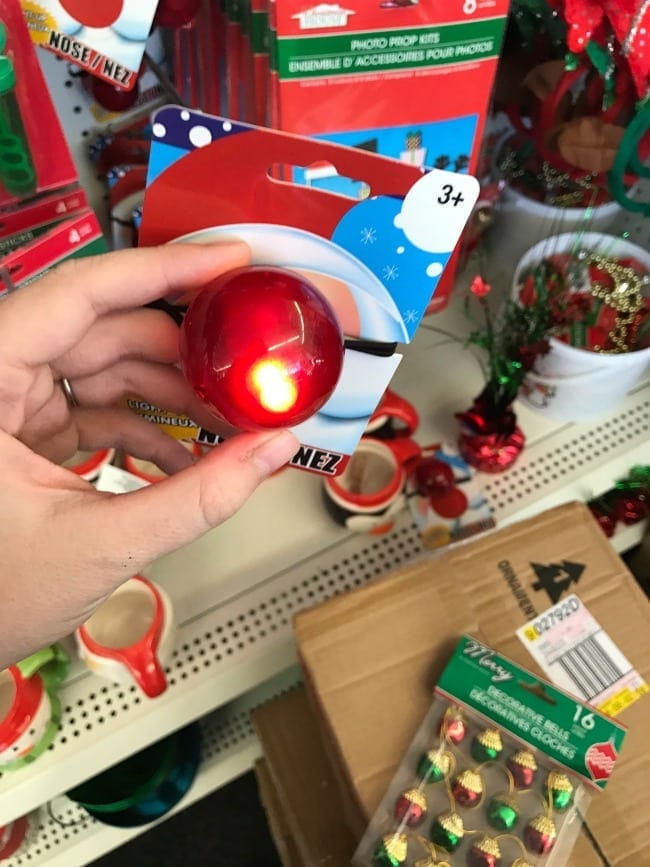 [thrive_leads id='26771′]
Forrest thought this was really cool, so naturally, I had to include it!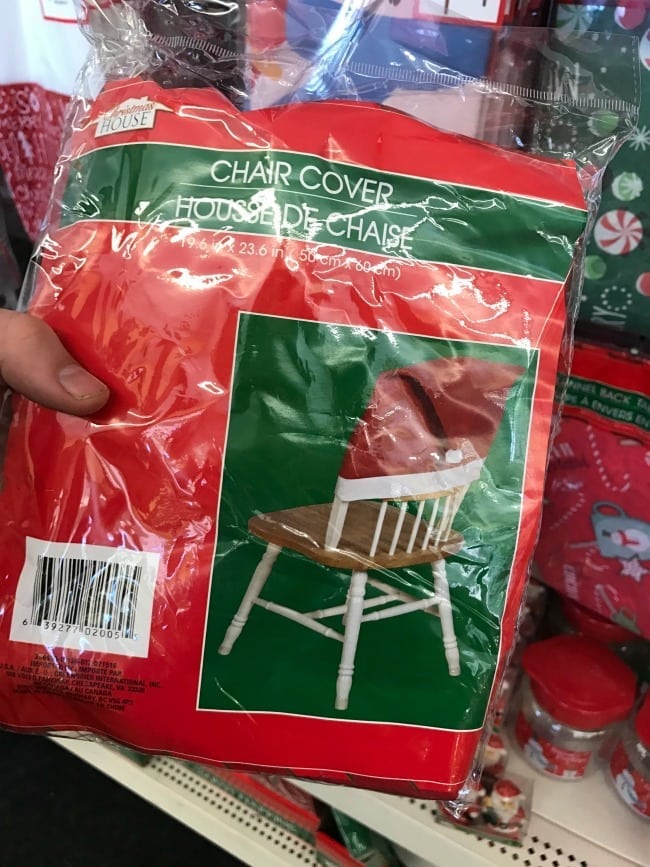 I didn't get a picture of these, but the Dollar Tree is often stocked with stockings. While I don't think they are the greatest quality, I do think that they work rather nicely for gifts! They do have a wide variety of fun ones, though.
Okay, I'll be the first to admit that the wrapping paper at the Dollar Tree isn't the highest quality – there's usually just enough for maybe two gifts (THREE tops). However, they have some fun prints, and for just a dollar, you can afford to by more than one!
I do think that they have some great gift bags though. I think they are just as nice as the ones that are several dollars more at Target and Walmart!
[thrive_leads id='26771′]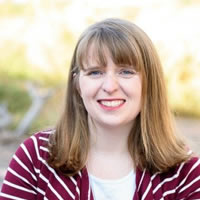 Katie is a Colorado-native, BYU graduated, and most importantly, wife to one and mother to three beautiful boys. She is passionate about sharing her experiences with others – especially about pregnancy, breastfeeding, cooking, and crafts. She is an International Board Certified Lactation Consultant. She loves spending time with her family and helping others find joy in family life.