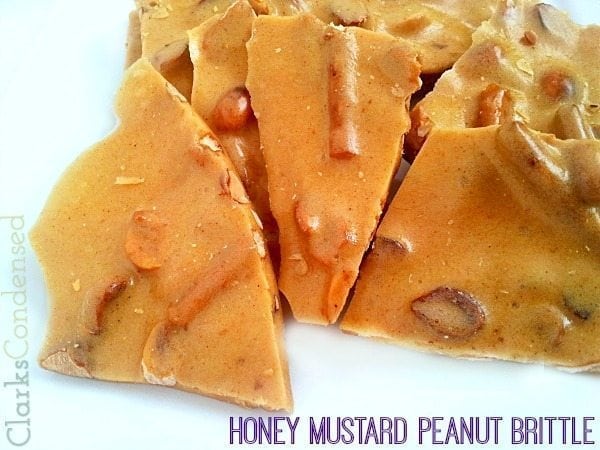 Exciting news! Forrest and I made it to the top 40 of the Mystery Ingredient Cooking Challenge. It was so fun to participate! We were sent Colman's mustard to create a new and delicious recipe with, and we were pretty proud of the outcome.
We created honey mustard peanuts, and along with pretzels, put them into a delicious peanut brittle! We flavored the peanut brittle with a little bit of the mustard powder, which put an interesting heat into it. We've been snacking on it all week, and I'm excited to share the recipe with you all today!
If you wouldn't mind heading over  here to vote for us, I'd be so grateful! Just search for the Honey Mustard Peanut/Brittle, and press like! Even if we don't win the grand prize (a trip to London!) we still can win prizes if we hit a minimum number of votes! I've also shared the recipe below — I think it would be a fun treat to give out this Christmas. In addition, here is a $1 off any Colman's Mustard product, just for reading this post. Thanks in advance!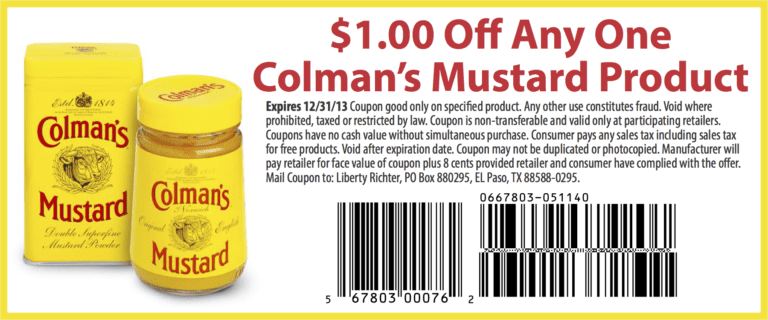 Click on this link for the printable version Colman's Mustard Coupon
Honey Mustard Peanut Brittle
Ingredients
1 cup sugar
½ cup corn syrup
1 tablespoon Colman's Mustard Powder
¼ teaspoon salt
¼ cup water
½ cup honey mustard peanuts (see recipe below)
¾ cup pretzel sticks
4 tablespoon butter, melted
1 teaspoon vanilla
2 teaspoon baking soda
Instructions
Prepare a large cookie sheet with parchment paper, or a silicone baking mat.
In a 2 quart saucepan (not on a burner yet), pour sugar, corn syrup, and mustard powder.
Place sauce pan on burner, and bring corn syrup mixture, salt, and water to a boil over medium heat.
Add peanuts and pretzels when mixture starts to boil.
Mix the entire time using a rubber spatula until it reaches 300 degrrees F via candy thermometer.
Remove from heat and stir in butter, vanilla, and baking soda.
Immediately pour onto prepared cookie sheet.
Let cool completely and break into pieces.
Ingredients
1/2 cup plain peanuts
1/4 cup honey
1 tablespoon Colman's Mustard Powder
Cooking Spray
Instructions
Preheat oven to 325 degrees F.
Spray a cookie sheet with cooking spray.
In a Ziploc bag, place peanuts, honey, and mustard powder. Shake bag for about 30 seconds, or until all peanuts are completely covered.
Pour peanuts onto the prepared cookie sheet in an even layer.
Bake for 20 minutes, stirring every 5 minutes to prevent burning.
Let cool.
7.8.1.1
100
https://www.clarkscondensed.com/food/honey-mustard-peanut-brittle-vote-us/
This recipe was created on ClarksCondensed.com. Feel free to distribute as needed, but if you post it on your own site, please link to back to ClarksCondensed.com