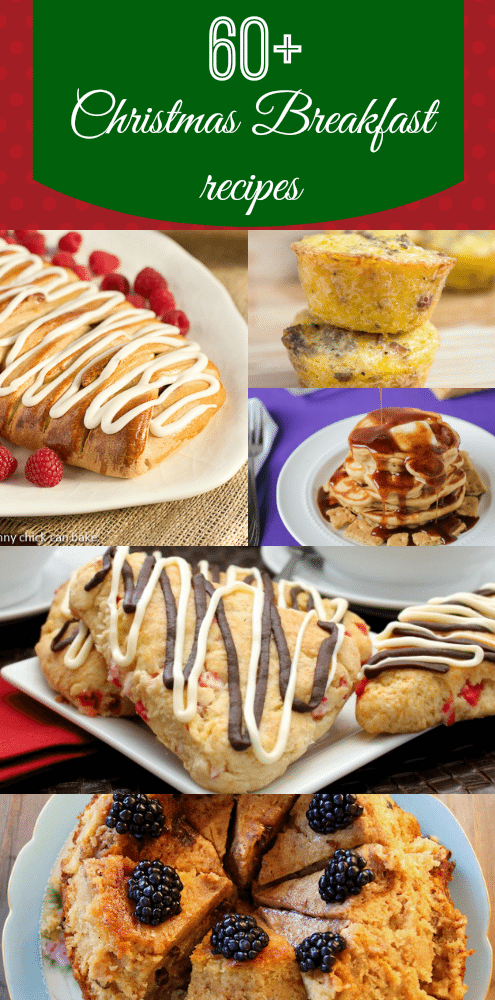 I love breakfast food…it's safe to say, it's probably one of my favorite types of foods! Eggs, bacon, pancakes, waffles…I love them all. And I think that Christmas breakfast is something I look forward to all year long. While I love the traditional eggs, bacon, toast, and pancakes, I'm always up for trying something new!
I've compiled a list of 60+ delicious and mouth watering breakfast and brunch recipes that would be perfect for Christmas breakfast. In this round-up, you'll find different twists on french toast and pancakes, creative casserole ideas, and much, much more. As I was going through this list, I was mentally preparing a list of everything I wanted to make…I'm thinking I should just start now, because there's now way I'll make it through this list before January (when I'm starting the Lean Mom's program.) What's your favorite breakfast food?
As always, if you want to pin this entire collection, please pin the image at the beginning of this post. If you want to pin an individual post, please visit that sit and pin from there (and leave them a comment!)
COMMENT POLICY:
All we ask is that you be kind. We welcome differing opinions, but any comments containing personal attacks, sarcasm, etc. will be removed immediately. Keyboard warriors aren't welcome 🙂 All comments are moderated and may take time to be approved. Anything not pertaining specifically to the content of a post will be removed (including comments about ads).