This easy bolognese sauce recipe is a thick, slow simmered sauce is filled with sauteed vegetables, sausage, and other fantastic flavors. It's the most amazing sauce your pasta will ever have on it!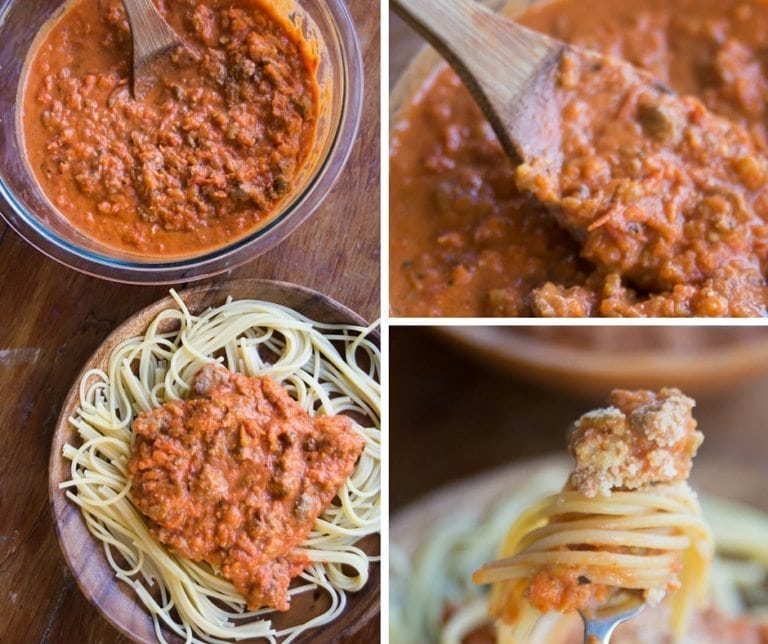 A special thank you to Ball canning and Jarden Home brands for partnering with us on this post!
There are a few staple recipes I think everyone should have in their repertoire.
An amazing spaghetti sauce is one of those things. I'm not talking about a marinara sauce or something from the can with a few spices thrown in (even though I love both those items.)
I'm talking about something that you make from scratch. Something that fills up the room with an amazing aroma that you can hardly resist sampling. Something that you want to can right away so you can use it over and over again.
Fortunately, I have that recipe for you. This easy bolognese sauce recipe is filled with veggies, amazing flavors, and it's perfect for topping your favorite pasta with.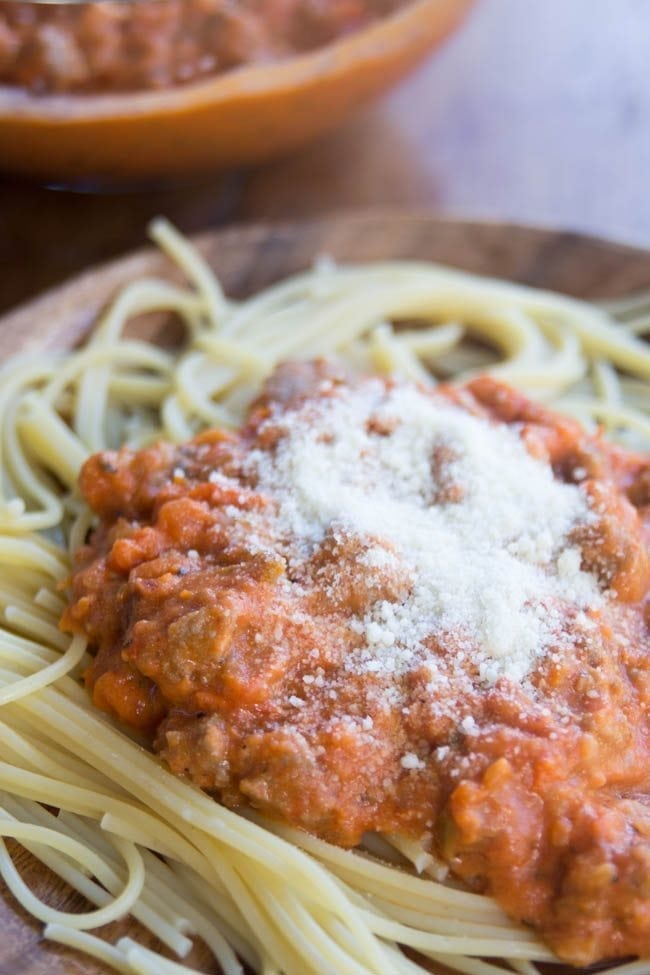 If you aren't familiar with what a bolognese sauce is, it is basically just a sauce that originates from Bologna, Italy. It's a thick, meat-based sauce with tomatoes, carrots, celery, onion, and a variety of spices. It's best if you can let it simmer for as long as possible to allow the flavors to really sink in and the sauce to thicken.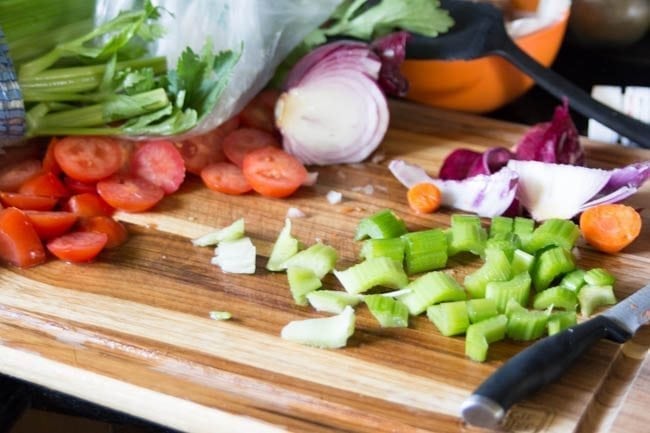 I think bolognese is the perfect topping for spaghetti. It's just so hearty,  but it's also full of fresh, healthy ingredients. As I've looked around at different recipes, there's different variations (obviously!) But it seems that all of them always have carrots, celery, and onions in it. Most of them call for red wine. We don't drink wine, and I didn't feel it necessary to go out and buy wine to make this. So, I just used a substitute of white grape juice,a nd it was delicious. It did turn out a bit sweet, so if you want to cut that down, feel free to add a tablespoon or so of white vinegar.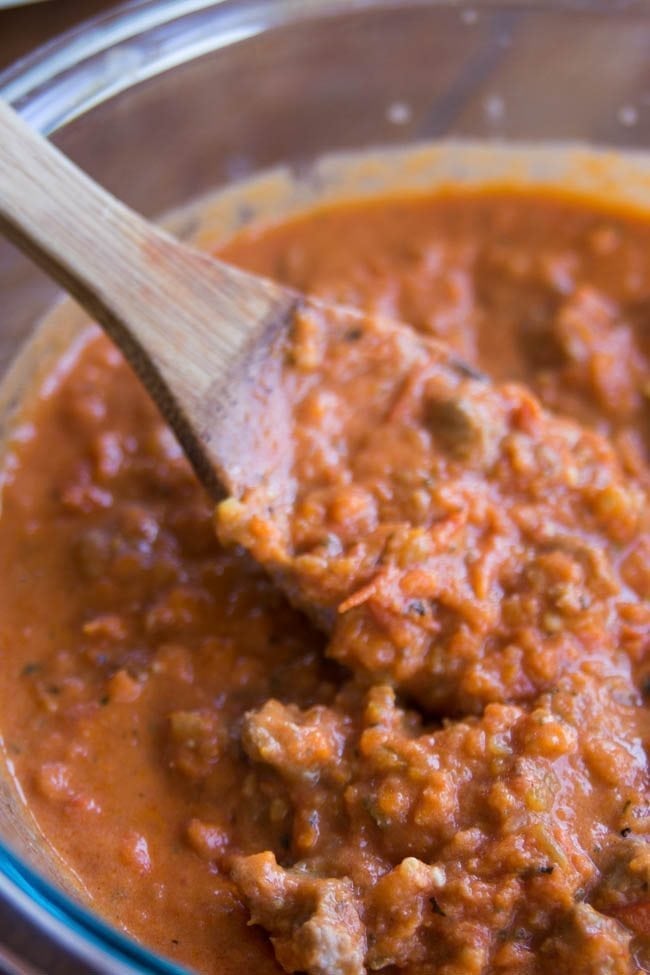 I also added 1/2 and 1/2. A lot of the recipes I saw called for either heavy cream or regular milk, so I thought this would be a good option! There are often different kinds of meats added – I've seen ground beef, veel, ground sausage, pancetta…and any combination of those items. Feel free to use whatever your family likes the most.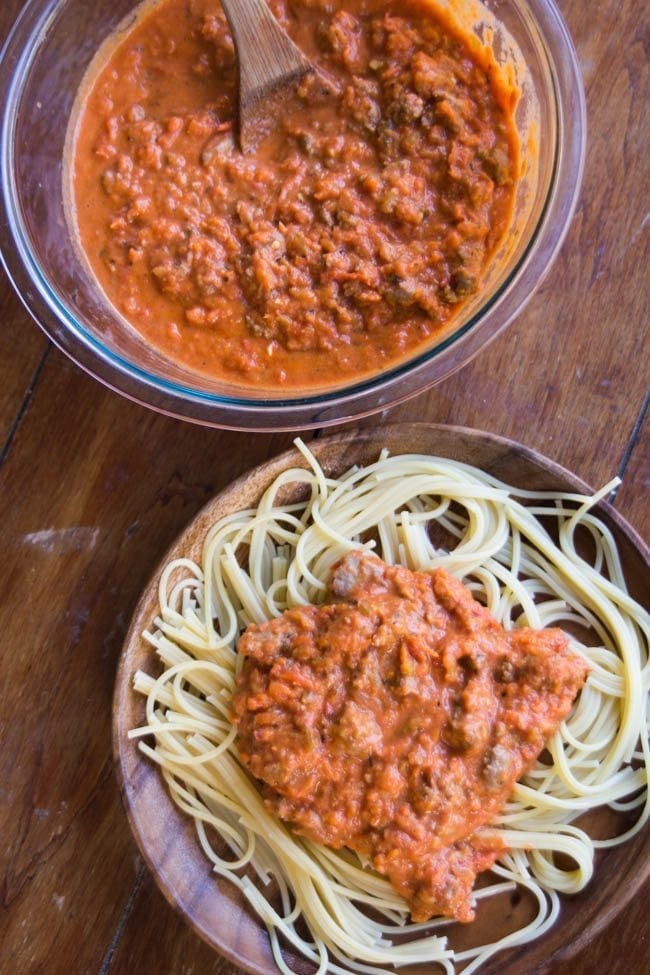 If you are going to can it, though, I would recommend waiting to add the dairy or meat to it until you are ready to make it. We really loved canning different items from our garden last year – we either use our freshTech auto canner or our freshTech electric water bath. We can't wait to make up another big batch of this to can! We are pretty excited to add the FreshTECH HarvestPro™ Sauce Maker to our collection this year!
This time of year for the past few years, I've partnered with the Ball brand for Can-It-Forward day! It's something I've come to really enjoy, and I'm always thrilled when they reach out again. Throughout the day on July 22nd, there will be wonderful demos of canning recipes – and for every like, comment, or share on the videos, Ball will donate $1 to a local charity. They really are paying it forward with this event.
In honor of Can-it-Forward day, I was sent the FreshTECH HarvestPro™ Sauce Maker, which is what I used to help make this recipe (though don't worry, you don't have to have it to make it. I highly recommend it though.) We LOVE this product. It makes making sauces, salsa, and even baby food a breeze. It comes with different attachments so you can control the chunkiness or smoothness of your sauces.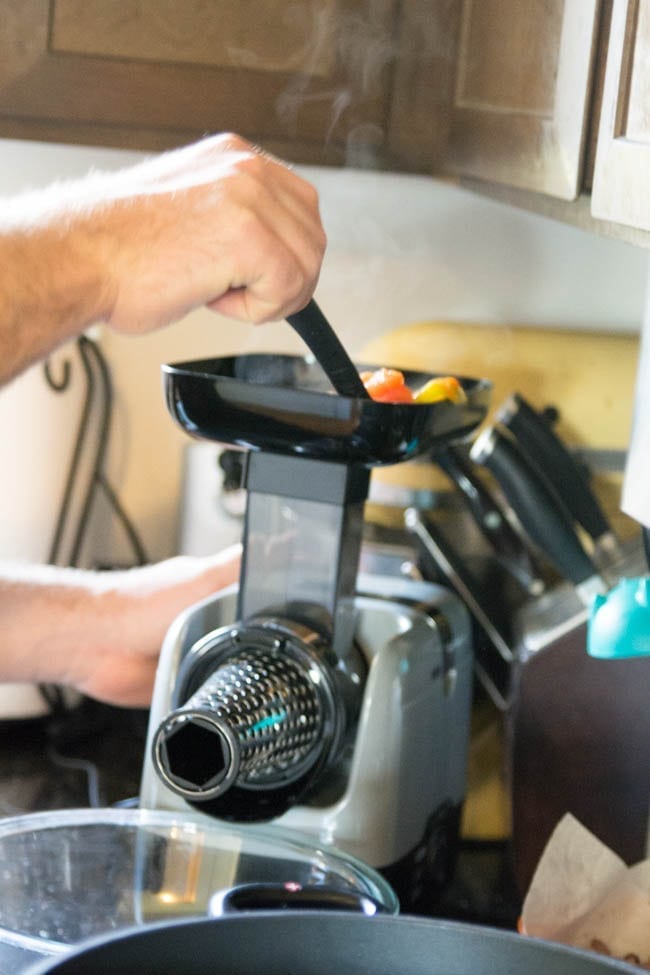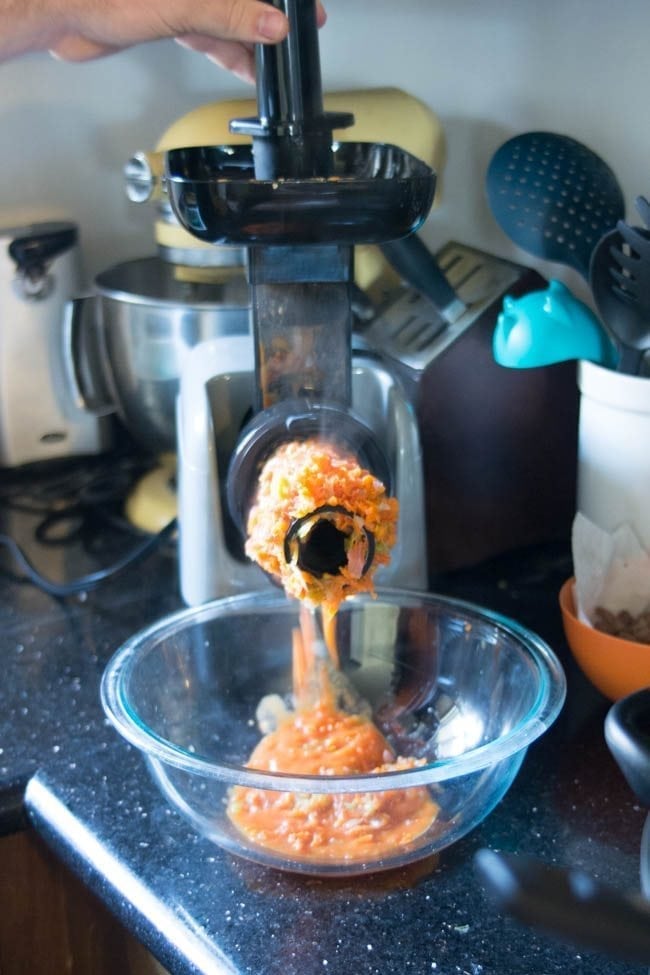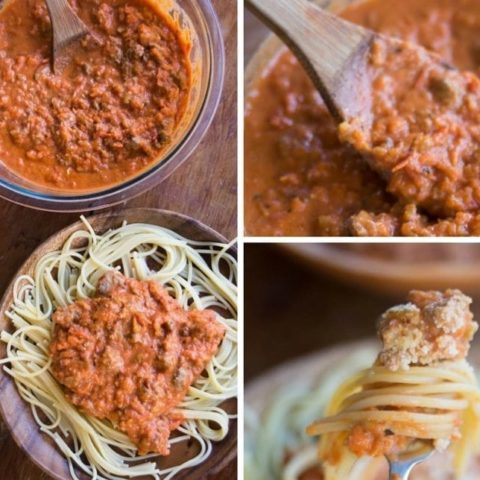 Fabulous Easy Bolognese Sauce Recipe
Ingredients
1/4 cup extra virgin olive oil
12 roma tomatoes, quartered
2 large carrots, chopped
2 stalks of celery, chopped
1/2 cup red onion, diced
2 tablespoons minced garlic
1 cup white grape juice (or red wine) - add a tablespoon of vinegar to lessen the sweetness
1 cup half and half or heavy cream
1 6 ounce can tomato paste
2 teaspoons basil leaves
2 teaspoons parsley
1/4 teaspoon nutmeg
1 teaspoon salt
1 teaspoon pepper
1 lb ground Italian sausage, cooked and crumbled
Instructions
In a large pot, heat the olive oil.
Place tomatoes, carrots, celery, onion, and garlic in the olive oil. Cook until everything starts to soften (the carrots may not completely soften - you just need to be able to cut through them easily!) This takes about 10 minutes over medium-high heat. Stir constantly to avoid burning.
If you are using the sauce maker, process the sauce using the coarse screen. If you aren't, place the sauce in a blender or use an immersion blender stick to blend sauce to preference (traditionally, Bolognese isn't completely smooth)
Put sauce back into the stock pot. Add remaining ingredients and use a whisk to combine. Bring to a boil for one minute, and then bring back down to a simmer to allow it to thicken.
The longer you can let it simmer, the better (stir occasionally to avoid burning or sticking!) Allow it to simmer at least 30 minutes.
Serve over pasta with parmesan cheese.
Nutrition Information:
Serving Size: 1
Amount Per Serving:
Calories: 289
Total Fat: 3g
Saturated Fat: 1g
Sodium: 3291mg
Carbohydrates: 63g
Sugar: 37g
Protein: 13g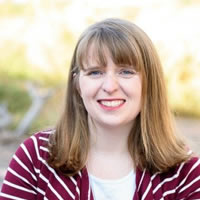 Katie is a Colorado-native, BYU graduated, and most importantly, wife to one and mother to three beautiful boys. She is passionate about sharing her experiences with others – especially about pregnancy, breastfeeding, cooking, and crafts. She is an International Board Certified Lactation Consultant. She loves spending time with her family and helping others find joy in family life.