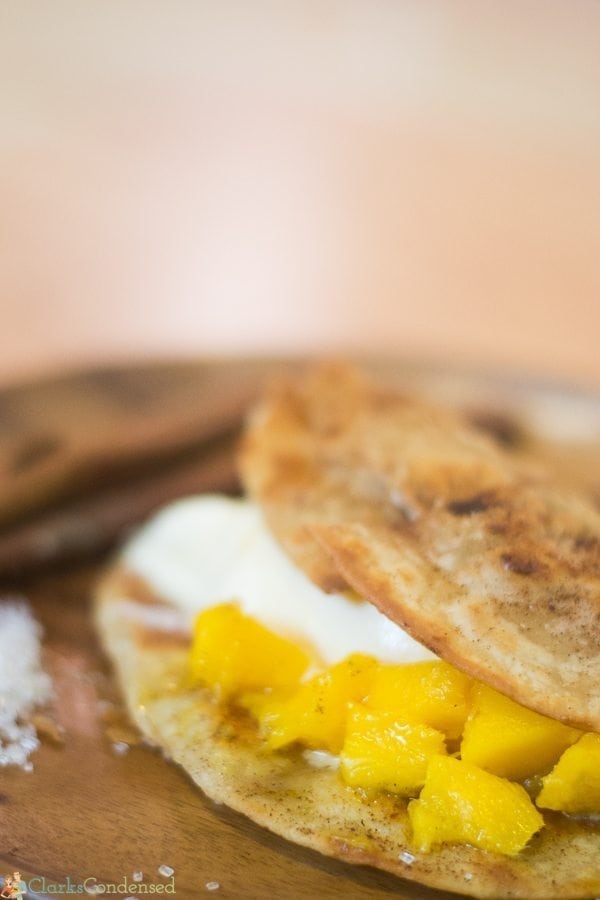 I'm sure I've mentioned this before, but from 2007-2009, Forrest served a mission for
our church
in the Riverside, California, area. While he was there, he primarily taught and interacted with people who spoke the Spanish language. Many of these people were kind enough to feed him dinner or other meals, and as such, he was introduced to some delicious cuisine.
One of his favorite things he was served were mango tacos. From the time that I met him, he raved about them, and when we had been married for a few months, he decided to make them for me.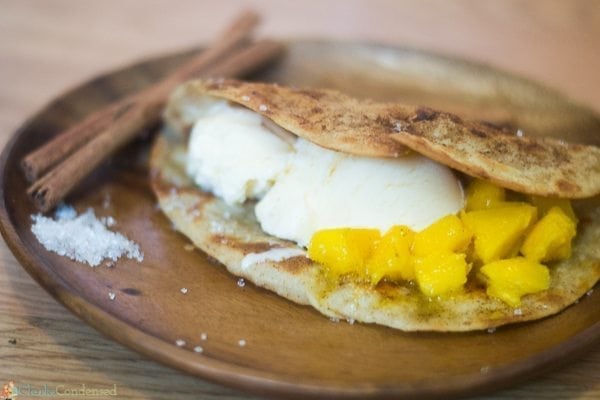 Rest assured, they did not disappoint. They were sweet and creamy from the ice cream and mango, and then the slight crunch from the shell brought everything together. Since then, we've made them several times. And since tomorrow is Cinco de Mayo, we figured this was the perfect time to introduce them to all of you.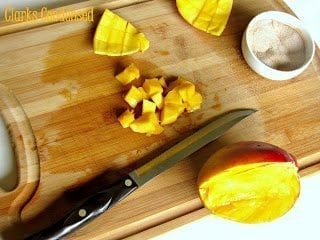 We usually make these with butter, but lately we've been on a coconut oil kick. When we were at Trader Joes a few weeks ago, I couldn't help but pick up this coconut oil spray, to use in place of other cooking spray or butter. We used this to spray the tortillas before sprinkling on the cinnamon sugar, and fried the tortillas in coconut oil, to lighten them up, and make them dairy free. But, don't worry, if you just have butter…these will still taste just as amazing.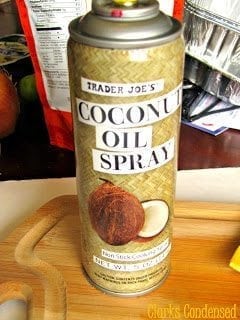 And as for ice cream…you could technically use any kind, but I would recommend going with straight vanilla. It doesn't distract from the delicate flavor of the mango, but still adds an essential sweetness. We used Breyer's lactose free vanilla…but any brand will do. You can eat these like a taco, or you can just eat the ice cream and mango, and finish off with the tortilla that would most definitely have melted ice cream by the end. Either way is delicious!
This recipe is so easy, and perfect for any dinner or celebration. I can't wait to try it again!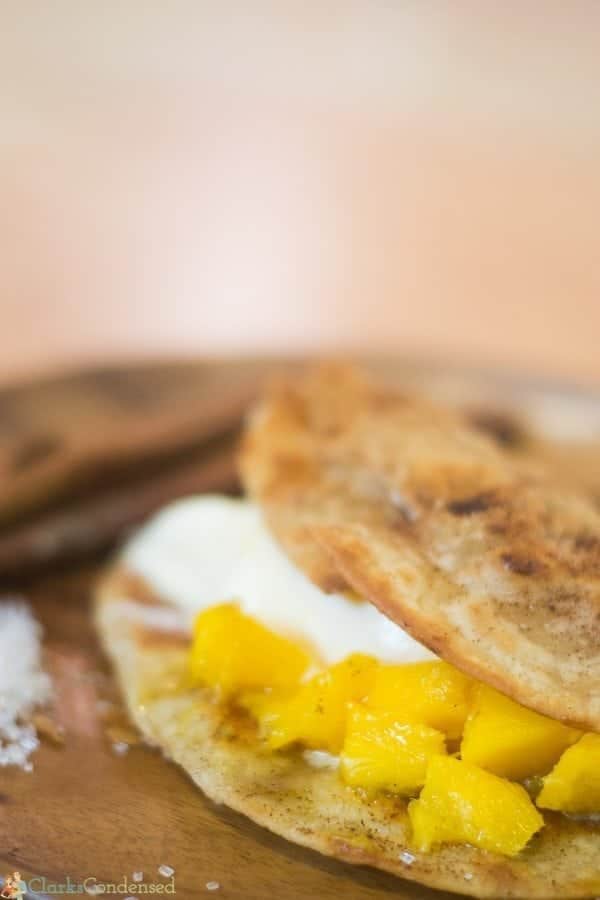 Mango Taco Recipe
Yield: 8 Tacos
Prep Time: 15 minutes
Total Time: 15 minutes
These mango tacos are so yummy and delicious - a great dessert!
Ingredients
8 flour tortillas
2 Tbsp + 4 tsp coconut oil, or butter
1/2 cup white sugar
1 1/4 tsp cinnamon
Cooking spray
2 large Mangoes
Vanilla Ice Cream
Instructions
In a small bowl, mix together cinnamon and sugar. Lightly spray front and back of tortilla, and then sprinkle about 1 Tbsp of the cinnamon sugar mixture on the front and back of the tortilla. Repeat with remaining tortillas.
Heat 2 tablespoons of coconut oil over medium heat in a skillet. Once heated, lightly fry tortillas one at a time, until they start to brown. Don't let them get to crispy. Place on paper towel to drain excess grease.
Peel and dice mango. Place 1-2 scoops of vanilla ice cream in center of tortilla, and sprinkle pieces of mango on ice cream.
Nutrition Information:
Yield: 6
Serving Size: 1
Amount Per Serving:
Calories: 435
Total Fat: 12g
Saturated Fat: 6g
Trans Fat: 0g
Unsaturated Fat: 5g
Cholesterol: 15mg
Sodium: 346mg
Carbohydrates: 75g
Fiber: 4g
Sugar: 37g
Protein: 7g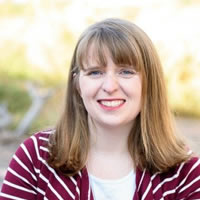 Katie is a Colorado-native, BYU graduated, and most importantly, wife to one and mother to three beautiful boys. She is passionate about sharing her experiences with others – especially about pregnancy, breastfeeding, cooking, and crafts. She is an International Board Certified Lactation Consultant. She loves spending time with her family and helping others find joy in family life.