Three great recipes that are perfect for your next dinner party — easy homemade spaghetti sauce, strawberry shortcake cake, and Italian cheese bread. All three recipes at end of post. 
This post brought to you by American Frozen Foods Institute and the Frozen Food Roundtable. All opinions are 100% mine.
Some of you know that we are currently in North Carolina visiting Forrest's family and preparing for his little sister's wedding. We arrived a few days ago, and we've just been going non-stop since we've been here. It's been fun preparing for the wedding and visiting with Forrest's family that we aren't able to see very much.
Forrest and I thought it would be fun to have a gourmet dinner party one of the nights. I always love spaghetti, and even though it's not always the fanciest meal, I think it's really delicious. I thought it would be yummy to make a homemade spaghetti sauce, since everything is always better homemade!
One of my favorite things to do when I make homemade spaghetti sauce is to puree a variety of vegetables to put into the sauce. I did this at a family reunion awhile back, where I knew we might have some picky eaters who wouldn't like spaghetti sauce with chunks in it. Itwas delicious and no one knew that it was chockful of vegetables!
For this sauce, I decided to do this, but I made it a little easier by using some Bird's Eye Italian Vegetables from their Steamfresh line. I simply put them in the blender and blended them up, and then put them directly in the sauce. I did this while they were frozen, but I think it would have been a little bit better if I had cooked them first. Either way, no one guessed that this sauce had cauliflower, zucchini, brocolli, and carrots in it. I made the sauce using two kinds of diced tomatoes — roasted garlic and sweet onion. This made it so I could forgo chopping those up myself but still get those fantastic flavors.
I used a few different seasonings, as well as a shredded Italian cheese blend, and, of course, my pureed vegetables, to make a really tasty meal. If you don't like chunks, just use an immersion blender to puree the tomatoes a little bit, but if you don't mind them, they really add some great texture.
When there was about 30 minutes left to it simmering on the stove, I chopped up some Jimmy Dean turkey sausage patties. They are precooked and frozen, but they are ready to go in just a few minutes in the microwave. This was a lot faster than cooking up some sausage in a skillet, and it added a nice meaty flavor to the spaghetti sauce.This sauce was really good, I can't wait to make it at home and can some of it. SO much better than the store bought stuff.
Beyond the spaghetti, we had some delicious Italian cheese bread. We bought some roasted garlic bread at the store, and topped it with cheese, butter, paprika, oregano, and seasoned salt. It was some of the best garlic bread I've ever had!
Forrest also cooked up another package of Bird's Eye Steamfresh vegetables, but he cooked them on the stove in a little butter. They were so good!
No dinner party is complete without some kind of yummy dessert. I spotted a frozen angel food cake from Sara Lee at the grocery store, and I thought it would be fun to make a Strawberry Shortcake Cake. It was SO simple to make, looked pretty, and everyone really enjoyed it. Strawberry shortcake is one of my favorite desserts (you may remember this strawberry shortcake tres leches cake, or this delicious strawberry shortcake bread pudding), and this definitely did not disappoint! I used Bird's Eye Frozen Lite Strawberries for the center, and I put fresh strawberries on top! It's so easy to make (though hard to explain — I've included pictures at the end to help!)
It was a really fun evening, and we all enjoyed eating this yummy meal and enjoying one another's company.
Homemade Loaded Veggie & Turkey Sausage Spaghetti
Ingredients
2 cans of Hunts Fire Roasted with Garlic Diced Tomatoes
2 cans of Hunts Sweet Onion Diced Tomatoes
1 15 ounce can tomato sauce
1 bag Bird's Eye Steam Fresh Italian Blend
2 tablespoons olive oil
1 tablespoon sugar
1/2 teaspoon red pepper flakes
1/2 teaspoon pepper
1/2 teaspoon salt
2 teaspoons oregano
1/2 cup Kraft Italian Cheese
Instructions
Cook vegetables and place into a food processor or blender. Puree.
In a large pot, place tomatoes and vegetables.
Add in the remaining ingredients (except for meat) and bring to a boil. Boil for about 5 minutes, stirring occasionally.
Place on a low simmer, and let cook uncovered for about 1.5 to 2 hours.
After two hours, place a lid, and let simmer for an additional 1.5 to 2 hours.
30 minutes before serving, add in sausage or meat crumbles.
Enjoy!
 
Visual of assembly of strawberry shortcake cake
A good portion of this meal was made using a variety of frozen foods. Did you know there are quite a few benefits of frozen foods? The main difference in fresh vs frozen is that frozen food is just fresh food that has been frozen at it's optimal freshness.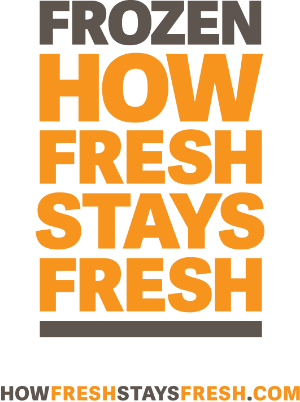 Katie is a Colorado-native, BYU graduated, and most importantly, wife to one and mother to three beautiful boys. She is passionate about sharing her experiences with others – especially about pregnancy, breastfeeding, cooking, and crafts. She is an International Board Certified Lactation Consultant. She loves spending time with her family and helping others find joy in family life.