Have you ever been to Tucanos? If not, I recommend finding one now — they have locations in Utah, Colorado, Idaho, Virginia, Missouri, and soon, Texas! It's a Brazillian grill that features delicious meats, veggies, fruits, and, my personal favorite, the best salad buffet you will ever try. I promise.
One of our favorite parts of going to Tucanos is their fried bananas. These are seriously so addictive. Forrest and I have been dying to make some at home, and decided that today was the day to do that. And let me tell you, they taste pretty darn close. So if you aren't lucky enough to live near a Tucanos, at least know that you now can make one of their best items at home.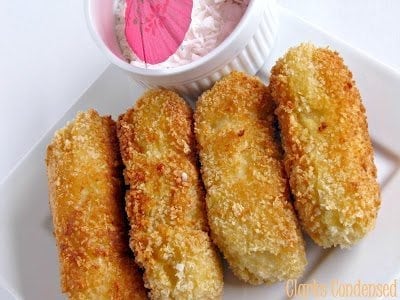 I honestly can't stop thinking about these right now — the breading was sweet and crunchy, and the banana was soft and warm. I was tempted just to eat the batter. We had some extra, because we only used two bananas, so we fried up some mangoes in the batter as well. That was super yummy, too! The possibilities are endless!
I think the one thing I loved about these is that they didn't taste greasy like most fried food does. Want to know why? Because we used coconut oil! I recently discovered this stuff, and I have been using it like crazy. Be on the look out for a post in the coming weeks about everything you can do with coconut oil. But using it in this recipe was such a good idea. Not only does it smell delicious, but it makes everything just taste so much healthier. If you don't have any though, just use vegetable oil. We threw in some coconut flakes into the batter, which is optional and probably makes it taste a little bit less like Tucanos. So if you want an exact replica, leave that out.
Granted, the bananas are Tucanos are typically a little bit smaller, so if you like that, just slice them smaller. But we loved using a half of a banana — it was the perfect size.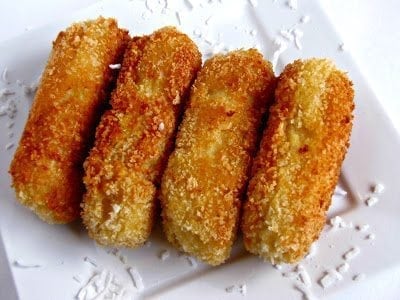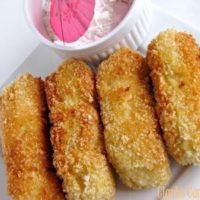 Copycat Tucanos Fried Bananas
Ingredients
Copycat Tucanos Fried Bananas
adapted from Love and Laundry
4 large bananas - ripe, but not brown
1/4 cup flour
1/4 cup Panko + 1 cup
1/4 cup cornstarch
1/2 tsp baking soda
2 Tbsp sugar
2 Tbsp sweetened coconut flakes, optional
1/3 cup water
1 egg
3/4 cup coconut oil, or vegetable - approximately.
Instructions
In a bowl, mix together flour, 1/4 cup Panko, cornstarch, baking soda, sugar, and coconut. After mixed well, add water and egg and mix until everything is combined. Put additional cup of Panko into another bowl.
Heat oil in frying pan (you don't need a lot, just aout 1/4-1/2 inch deep.) Peel bananas and slice into half (or into as many slices as you want.) Roll each piece in the liquid mixture. Place in Panko, sprinkle a little bit, and then roll until entire slice is covered.
Place banana in oil and fry. Depending on how hot the oil is, you will probably only want to cook each for about 10-15 seconds on each side. Put on towel to soak up excess grease. Serve!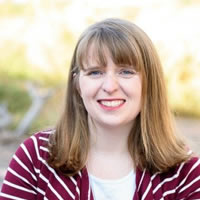 Katie is a Colorado-native, BYU graduated, and most importantly, wife to one and mother to three beautiful boys. She is passionate about sharing her experiences with others – especially about pregnancy, breastfeeding, cooking, and crafts. She is an International Board Certified Lactation Consultant. She loves spending time with her family and helping others find joy in family life.