Have you recently had a barbecue or cookout, made some s'mores and ended up with way too many leftovers? In my experience, that happens a lot. This recipe could even make use of those extra hot dog or hamburger buns. It always seems like there are always way more buns than there is meat. You can put all of these leftovers to use to make easy s'more bread pudding. Additionally, this recipe mainly includes ingredients you might already have in the house. The chocolate bars we had were from a barbecue we had with some of our friends awhile back. There are a lot of recipes for s'more bread pudding, but this one is very easy.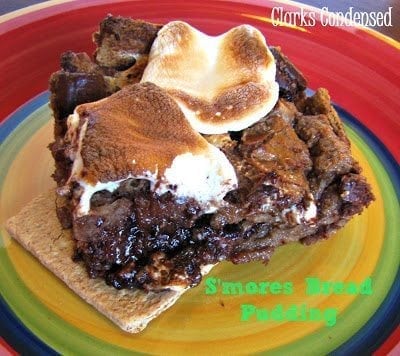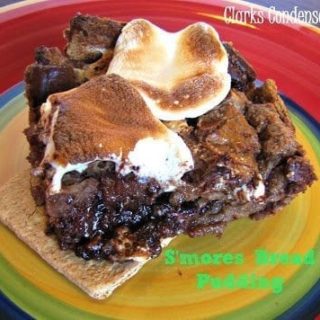 Easy S'more Bread Pudding
Ingredients
1/2 loaf French or Italian bread, cut into cubes (day old is best)
1.5 cups milk
1/8 cup heavy cream
1/2 cup granulated sugar
1/2 cup packed light brown sugar
1/8 cup cocoa powder
2 teaspoons vanilla extract
1 teaspoon pure almond extract
1 teaspoon ground cinnamon
3 large eggs, lightly beaten
4 ounces semisweet chocolate chips
Graham Crackers
Marshmallows
Instructions
Preheat the oven to 325 degrees
Grease a 8x8 baking dish and place bread in the bottom of it.
Whisk together milk and cream in a large bowl.
In another bowl, combine both sugars with the cocoa powder and mix well. Add this to the milk mixture and whisk to combine.
Add the vanilla and almond extracts and the cinnamon to the beaten eggs.
Combine the egg mixture with the milk mixture and mix well. Stir in chocolate chips.
Pour the mixture evenly over the bread cubes.
Let stand 20 minutes.
Bake the pudding for 1 hour.
Remove from oven and place graham crackers around the edge of the pan and top with marshmallows. Broil for a few minutes or until the marshmallows are toasted (watch carefully!)
Nutrition Information:
Serving Size: 1
Amount Per Serving:
Calories: 1789
Total Fat: 61g
Saturated Fat: 37g
Cholesterol: 60mg
Sodium: 146mg
Carbohydrates: 256g
Sugar: 247g
Protein: 18g
I first heard about chocolate bread pudding when my My mom told me about some she had in a restaurant in Florida. I made some, and it was delicious. Katie, stopped eating chocolate for a while due to a sensitivity to chocolate that Jack had. Many babies have a sensitivity to chocolate, and usually outgrow it. She wanted to test whether she could have chocolate on something extra delicious, just in case she is and she has to go back to no chocolate, and we think this dish might be it.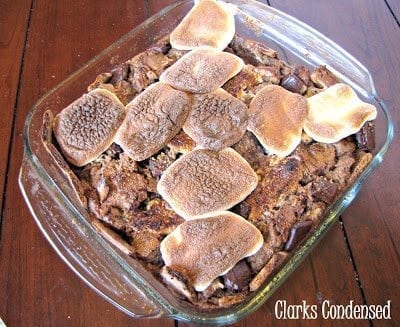 I based this recipe off of Paula Deen's Chocolate Bread Pudding Recipe that I have made before. Her dish is calculated to serve 10-12 servings, but my wife and I don't need that many – so I halved it. Accordingly, I used a 8″ by 8″ pan as opposed to her 13″ by 9″. A smaller size will keep you from going back for those seconds or thirds that you know you shouldn't have. I like her recipe because it is relatively simple. However, I have made a few changes to make it even more basic.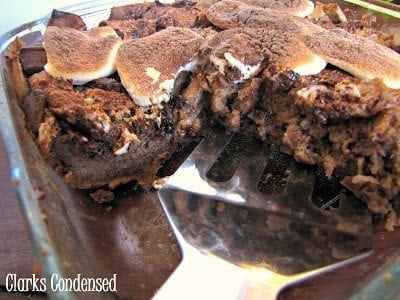 Forrest lives in Colorado with the wonderful Katie Clark and their two sons. Forrest was raised in North Carolina, graduated from BYU with a degree in political science, and loves to dabble in lots different things. Plus, he is a big MLS fan.