Let's get three things straight about this recipe:
1) When your husband and baby are sick, and you are prone to emotional eating, don't make this.
2) When said husband can't stand the thought of eating anything sweet, leaving you to a big, tempting bowl, avoid making this
2) If you aren't technically allowed to have most of the ingredients in it, and you think you can withstand from sampling…also don't eat this.
But most importantly…throw all the previous rules out the window, because this stuff is good.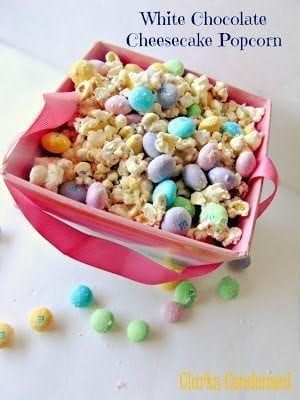 Now, I've seen plenty of popcorn recipes floating around Pinterest over the past year. Especially over at
Inside BruCrew Life
. And they all look amazing. I love popcorn, especially when a little sweetness is added. So I decided to try my hand at inventing my own.
And it is so yummy. It's totally full of calories I don't need, and dairy that I shouldn't have (I promise, most of the time I'm really good,) but last night, I needed it. Forrest was sick, Jack was starting to get sick, and I was just exhausted. This is what I needed to give me a little extra boost. I did avoid eating the m&ms, but I'll admit to eating everything else in it. It was worth it…even though I can definitely tell I had too much dairy for my own good, and probably Jack's as well. Oh well! This was a once-in-a-lifetime exception.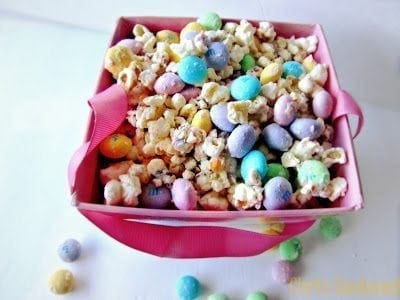 This has all my favorite ingredients — popcorn, m&ms, white chocolate chips, pecans, and butterscotch pudding. It is seriously the best idea for parties and get togethers. With Easter coming up next month, this would be so fun to have out for kids (and kids at heart!) In fact, I think this might make a debut at Jack's first birthday party next week (where there will be more people to prevent me from eating it!) And best of all, it's so easy to make. I'm pretty sure I had it all ready in less than 10 minutes.
I made it with limited edition white chocolate m&ms, so if you want to duplicate it exactly, I'd run out and get some soon. However, I'm sure it would be just as tasty with any other kind.
Do you have a favorite popcorn recipe? Link it up in the comments! I'd love to try some more out someday.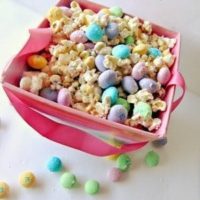 White Chocolate Cheesecake Popcorn
Ingredients
5 cups popcorn
1 bag of white chocolate
1 bag of white chocolate M&Ms
1/2 cup chopped pecans
2 Tbsp Jello white chocolate cheesecake pudding mix
Crystal Sprinkles
Instructions
Pop popcorn, separate kernels, and place in a large bowl.
Melt white chocolate in microwave in 30 second intervals, stirring each time. Once it is completely melted, add in the 2 Tbsp white chocolate cheesecake pudding mix, and mix until totally combined. Add 1/2 cup of chopped pecans and stir.
Add white chocolate mixture to popcorn bowl, as well as the M&Ms, and mix together with hands until popcorn is covered. Add sprinkles and mix again. Wait until everything has hardened, then serve! To speed everything up, put in refrigerator for about 30 minutes.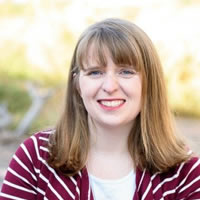 Katie is a Colorado-native, BYU graduated, and most importantly, wife to one and mother to three beautiful boys. She is passionate about sharing her experiences with others – especially about pregnancy, breastfeeding, cooking, and crafts. She is an International Board Certified Lactation Consultant. She loves spending time with her family and helping others find joy in family life.