Many women experience low progesterone in early pregnancy – does it pose a problem? In this post, I share my experience with being on progesterone supplements and what I feel others should know as they are faced with this decision.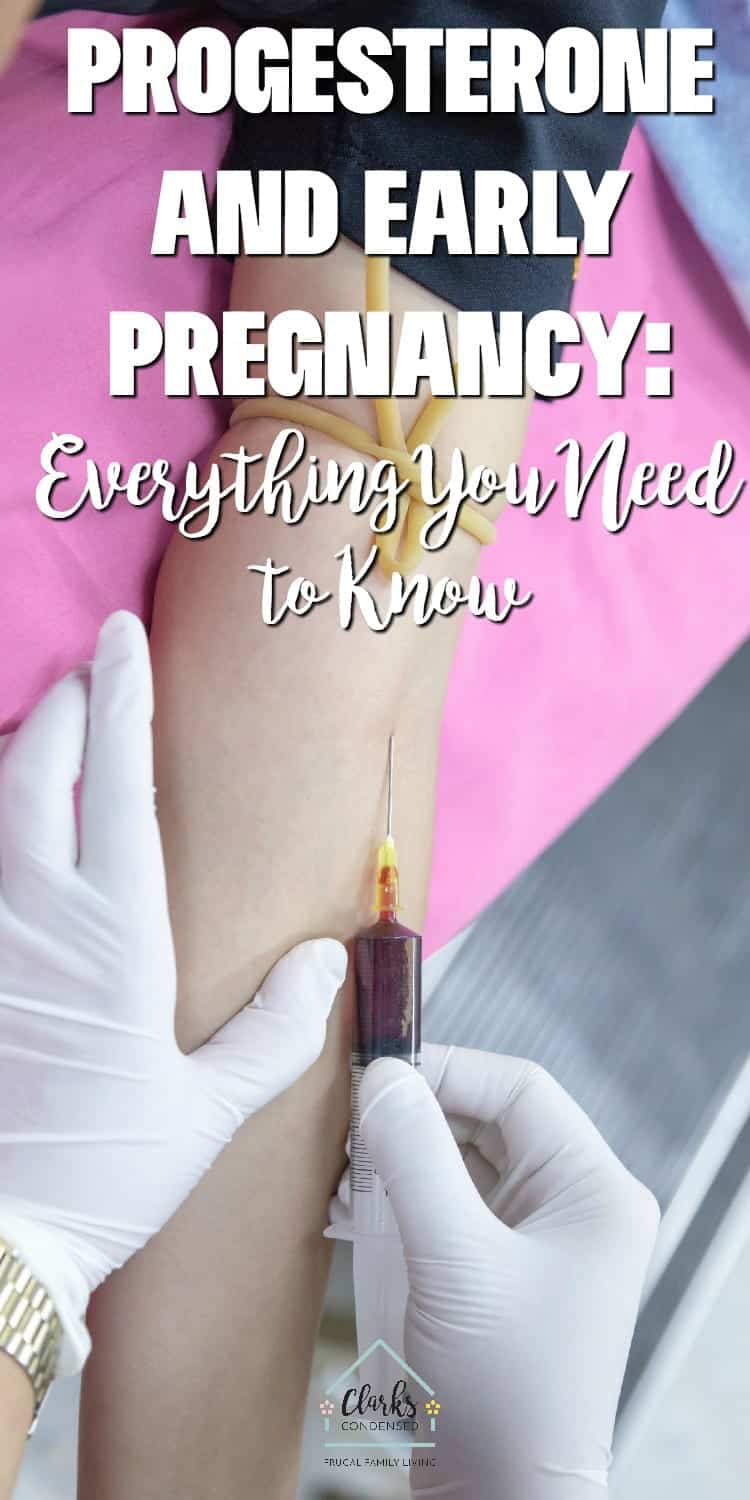 Low Progesterone in Early Pregnancy
In case you haven't heard (which you probably haven't…unless you a personal friend of mine), we are expecting our third baby!
While this baby has taken a little bit more work to get here, we are so excited and grateful for a healthy pregnancy thus far.
Because I had suffered a previous early loss in September, as soon as I found out I was pregnant, I called the health care provider I was planning to go to.
They had me come in right away just to get my HCG levels to make sure the pregnancy was going smoothly.
I was experiencing a ton of cramping at the time, which was concerning. This was the first time I had been to this office, but from the get-go, they were so kind and compassionate toward me.
The midwife I saw decided it would be a good idea to take a progesterone level, which I was grateful for.
When it came back, it wasn't super low – but it wasn't optimal either, and she didn't hesitate for a second to put me on progesterone supplements.
After talking to other ladies, I've realized how I was pretty lucky because there were other pregnant women who had super low (under 10) levels and their doctors were hesitant to prescribe it.
Anyways, I am in 17 weeks pregnant now, and I have been on the progesterone suppositories since I was about six weeks.
So I thought I would share a bit about my experience with it. I hope this might be helpful!
Low Progesterone
What is Progesterone?
Simply put, progesterone is an essential hormone for normal ovarian and menstrual function, and it's essential for early pregnancy.
It's released by the corpus luteum from the ovary.
It's essential in pregnancy because it "stimulates the growth of blood vessels, blood flow that supply the lining of the womb (endometrium) and stimulates glands in the endometrium to secrete nutrients that nourish the early embryo" (source).
When progesterone hormone levels are too low or non-existent, it can make it difficult for a pregnancy to be maintained.
Throughout pregnancy, progesterone is essential for the growth of your baby and should increase as your pregnancy progresses. Around 8-12 weeks, the creation of progesterone is taken over by the placenta. Some physicians will discontinue progesterone at this time, though many will keep you on it until they see good levels several different times.
Progesterone also "inhibits immune responses, decreases prostaglandins, and prevents the onset of uterine contractions." (source).
Is Progesterone Supplementation even necessary?
When I started reading about Progesterone supplementation in early pregnancy, I discovered that there is plenty of debate on whether or not it actually helps.
However, I read so many stories of mothers who had miscarriage after miscarriage until they were on supplementation, and then they finally got their rainbow baby.
I would imagine the opinion will differ depending on who your physician or medical care provider is, but I'm of the belief that it certainly won't hurt.
I found this study really interesting – they found that 25 ng/ml was the ideal minimum progesterone level in the first trimester for preventing miscarriage. Mine was definitely below that, so I was grateful that the midwife I see prescribed progesterone.
The office I go to follows the NaProTechnology protocol for progesterone support during pregnancy, which is definitely different than many physicians. I read a lot about it, and it's really interesting.
The risk factors she did warn me of was that sometimes progesterone supplementation can make it so a miscarriage doesn't manifest. It doesn't cause miscarriage itself, but if a baby were to be miscarried for a reason not related to insufficient progesterone, it could cause a missed miscarriage because the body still thinks it's pregnant.
Types of Progesterone Supplementation
There are a couple of different types of progesterone supplementation that your medical provider may prescribe you.
Oral
Vaginal Suppositories
Shots
Vaginal cream/gel
There are pros and cons to each of these. In doing my research, it seems that the way you take the progesterone, as well as the dosage, varies significantly. 
Some people seem to believe that vaginal suppository has fewer side-effects because it's released directly where it's needed (by the uterus) rather than having to go through your entire blood system (like you would with the oral) and that they have fewer side-effects. 
However, I haven't seen any real research on this! 
It also seems that shots are more commonly prescribed while someone is trying to conceive, or in later pregnancy when progesterone is sometimes prescribed to prevent pre-term labor.
Progesterone Suppositories
These are what I have taken, so I thought I'd share a bit of my experience with them.
In the beginning, I took 200 mg twice a day (at morning and night). I went down to 200 mg once a day, but after my numbers dropped, my midwife upped me to 200 mg twice a day again.
They aren't fun to use – you do insert them vaginally! I suggest making sure you lay down for at least 15 minutes after you insert them so they can dissolve. You should find the time of the day when you can lay down for a long time. However, it's best if you can just put them in right before you go to bed.
The main downside to the suppositories is that they produce a lot of discharge. Every night I wake up in a panic because I think I'm bleeding because there is SO much discharge on the pelvic area.
Fortunately, this has never been the case. I would suggest the only way to wear some kind of liner to catch all the excess discharge.
My midwife suggested I make sure the pharmacy I get mine from gave me either white or yellow capsules. They sometimes are red and mixed with the discharge, it looks an awful lot like blood…which, when you already feel like you are bleeding, doesn't make matters worse.
One other side effect that I've had is that it causes some vaginal burning. This seems to go away after a while, but it can be a bit painful and uncomfortable.
Beyond that, I'm not sure that I've had other side effects. Sometimes when I skip a dose, I feel like my morning sickness is worse…sometimes it feels better! So I'm not convinced it's affected by morning sickness all that much. Do you know when your progesterone level drops you experience sudden mood swings?
I do think that it sometimes causes cramping, especially if I've gone off of them for a few days and start again. But after a few days, this seems to subside.
Progesterone in Early Pregnancy Levels
Like I mentioned earlier, there seems to be a lot of debate on what the ideal levels for progesterone in early pregnancy should be to avoid the risk of miscarriage.
As with hCG, a single progesterone level doesn't tell you a lot – it's more whether it rises or not. It doesn't rise in the same way that hCG rises, but it should increase by a couple of points every couple of days until it reaches its peak for that trimester.
Adequate levels can range from 9-48 ng/ml during the first trimester, but, as referenced in the study above, it sounds like 25 ng/ml is the "sweet spot" for sustaining a pregnancy.
How Long Should you Take it for?
This is another topic where there's a lot of debate. Some physicians believe that once the placenta takes over progesterone production (which is typically between 9 and 13 weeks), you should be fine to go off of it.
However, there are other doctors that will take you off only after they see you at a level they feel is adequate for multiple draws in a row.
My office does the latter – so here I am at almost 17 weeks, and I'm still on progesterone two times daily, because whenever I go off of it, my levels go down.
Progesterone Side Effects
I'm sure this is what most people are wondering – what are the side effects!
Honestly, from everything I've read, the main side effects people experience are the amplification of existing side effects.
In my experience, I don't really notice much of a difference when I'm on or off the supplements. The main side effects I've noticed have been cramping or vaginal burning, but these typically subside after a few days.
A lot of women report constipation and weight gain with progesterone. Personally, I have not experienced this.
With that said, I go to great lengths to prevent constipation in pregnancy, which I do think helps. I swear by magnesium supplements!
I also haven't experienced any weight gain – in fact, I've lost weight in this pregnancy, though I'm sure that's due to my morning sickness.
I think some people forget that gaining weight in pregnancy is normal, and some people would just gain weight either way. If you are experiencing rapid weight gain, I would suggest talking with your medical provider.
Here is a list of common side effects to progesterone supplementation:
Drowsiness
Abdominal Pain/cramping
Headache
Breast pain/tenderness
Joint pain
Musculoskeletal pain
Diarrhea
Nausea
Bloating
Hot flashes
Acne
Does Progesterone supplementation work?
I haven't seen tons of research done on this – mostly anecdotal stories from countless pregnant people. For me, progesterone therapy brings a significant difference.
I have read so many stories from women who had miscarriage after miscarriage and only be able to finally get their rainbow baby after using supplements.
I know there are some physicians that won't prescribe it…and that's entirely up to them how to run their practice. However, I think it's worth doing if you've experienced loss.
In my experience, my levels drop pretty significantly whenever I go off the supplements. Which is to be expected, but according to my physician, they drop below where they feel they should be.
Could I have made it to 17 weeks without help? It's very possible. But I personally would have rather been on progesterone and not have it do anything than have a miscarriage and wondered if it would have helped.
So there's a little bit about my experience and my research about progesterone in pregnancy. As always, this should not replace the advice of a medical professional and you should always make sure you are working with your medical team!
Other Posts You May Enjoy: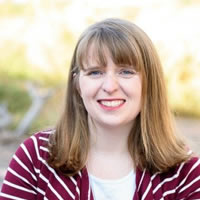 Katie is a Colorado-native, BYU graduated, and most importantly, wife to one and mother to three beautiful boys. She is passionate about sharing her experiences with others – especially about pregnancy, breastfeeding, cooking, and crafts. She is an International Board Certified Lactation Consultant. She loves spending time with her family and helping others find joy in family life.