While some believe you can't feel symptoms of pregnancy until you've missed your period – many of us moms know better! Here are 70 early pregnancy symptoms you might experience – even before your missed period.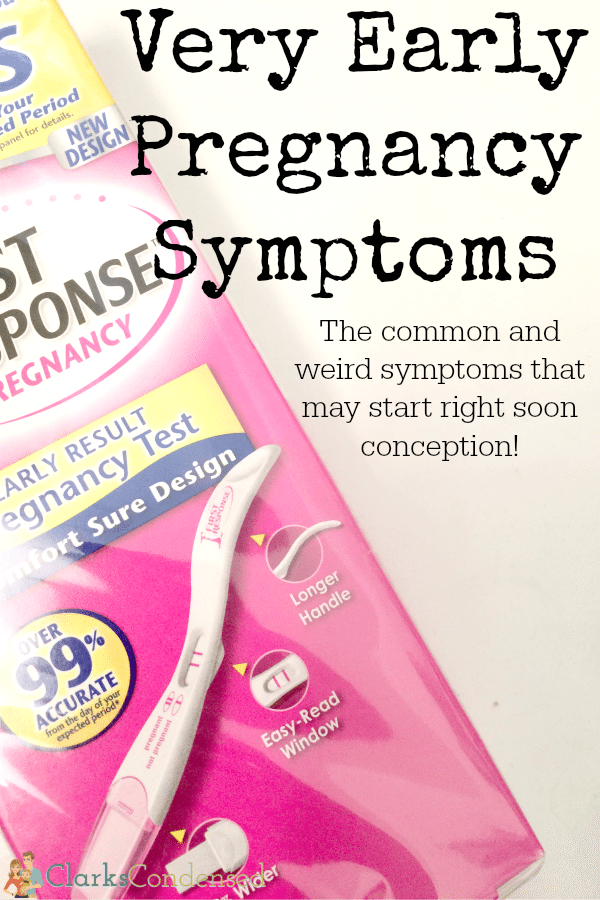 Right before I found out I was pregnant with Jack, I had no idea. I distinctly remember thinking to myself, "Well, I know I'm not going to be pregnant this month" (which, at the time, felt like a relief!) Little did I know that a few days later, I would get the biggest news of my life!
This time around, I knew I was pregnant long before I took a pregnancy test. Don't ask me why – I just did! I honestly felt like I had very early pregnancy symptoms, so when I took that at-home test, and it showed up positive literally in seconds (which happened with Jack as well – no waiting five minutes for me), I wasn't surprised at all.
By the time my third pregnancy came along, I could tell something was "different" pretty quickly by some of the subtle symptoms. Many of those symptoms came far before my missed period!
I know a lot of women who are trying to conceive are hyperaware of their body, and they are looking for just about every sign that they could be pregnant – there are common symptoms and there are some weird pregnancy symptoms you can even be on the lookout for!
Whether you are looking for 70 signs of early pregnancy or just to see if one weird symptom you are experiencing is related to pregnancy, we've got you covered!
[tqb_quiz id='28640′]
How Do Early Pregnancy Symptoms Feel Like?
This is going to be different for every woman. For many women, they don't even feel different than normal.
However, for others, things might just feel a little "off." It is a feeling that is hard to explain.
How Early Can Signs of Pregnancy Appear?
There is a lot of debate on this one – some say it's impossible to feel symptoms until you at least have enough pregnancy hormones that can be detected in your blood or urine…but if you scour the Internet, you will find many people who will challenge that.
Personally, I have felt symptoms before I could get a positive at-home test – most notably, my reflux gets out of control (even with medicine) and my breasts/nipples are incredibly tender.
It can be hard to find the difference between early symptoms and symptoms that your period is about to start – because many of them are very similar – so it's best not to get too excited until you get a positive test. However, if you are feeling something different from what you've normally felt, then you could be pregnant.
Many women report feeling extra emotional or crampy during implantation, which can happen as soon as five days past ovulation. There's not a lot of science to back up feeling symptoms this early – but there are plenty of women who will say otherwise!
70 Signs of Pregnancy
1) Positive Pregnancy Test
Of course, the most surefire way to find out if you are pregnant is with an Hcg test. Throughout the years, home tests have evolved. While you used to have to wait until after your missed period (of course, one of the biggest signs of of being pregnant), there have been many advancements that allow you to find out several days before a missed period.
Even with the ability to test earlier than ever, some symptoms can start soon after conception. Here are several early signs that you may experience before you can even take a test (Of course, taking a test is the only way to confirm that you are pregnant so if you suspect you are pregnant, make sure you take one!)
Additional Reading: When to Take a Pregnancy Test: Everything You Need to Know
2) Heartburn
Acid reflux during pregnancy is something I am all too familiar with (during and not during pregnancy). Before I found out I was pregnant with Oliver, I noticed that my acid reflux was significantly worse than it had been for months, and I could barely stand it. I remember thinking, "I wonder if I'm pregnant?" And I was!
From what I've observed, having acid reflux in the early weeks is very common. So if you are feeling extra heart burn-y…you could be pregnant!
I recommend getting a high-quality pregnancy pillow once you get pregnant. You can get this one for $50 using the code C113D4, making it around $40. Pregnancy pillows are great for helping with reflux!
3) Nausea
Most people won't start experiencing nausea until they've already taken a test, however, some people will experience it right away. With my second, I found out I was pregnant right at four weeks, and I started feeling nauseous the next day.
If you don't find out you are pregnant super early, you may start feeling queasy before you even realize you are pregnant. And if you are unfortunate enough to experience morning sickness, be sure to check out these tips for surviving morning sickness, as well as natural morning sickness treatments. Make sure you grab some preggie pops. LOVE them!
4) Fatigue
Feeling extra tired for no apparent reason? It might be because a baby is on its way! This is one of the symptoms many women experience first!
5) Basal Body Temperature
This is what tipped me off to my pregnancy with Jack a few days before I could take a test. I had been vigilant about tracking my basal body temperature, so when I saw that my basal body temperature didn't drop like it was supposed to, I was pretty convinced I would probably have a positive test still (though, getting that positive was still a shock.)
Here is some more information on basal body temperature. You can buy a basal body thermometer here.
Some women even will experience an "implantation temperature drop" in their cycle tracking 5-8 days past ovulation, so if you see a drop at this point, don't automatically think you aren't pregnant.
6) Indigestion
Feeling a little bit of a sour stomach or "bubbles" in your chest after eating? Indigestion is always one of my first signs of pregnancy.
7) Feeling Hot
Are you feeling extra hot? Many pregnant women experience a shift in temperature when they become pregnant!
8) Bloating
Pregnancy bloating is very common, especially in the early weeks. Many women comment on feeling like they look a couple of months pregnant during the first few days and weeks.
I experienced this with my second child- I looked in the mirror, and I couldn't believe how big my stomach looked! Exercising and drinking a lot of water made my stomach go back to normal the next day, but if you are feeling extra bloated, it could mean pregnancy. Belly bands will be your best friend at this time.
You can get FREE belly bands here using the code C113D4. I got several of these during my second pregnancy, and they were great quality.
9) Cold
Some feel extra hot…while others feel a temperature shift in the opposite direction!
10) Headache
Very common at any point, and they can start very soon after conception. I've heard that peppermint essential oils can help!
11) Dizziness
It's very common to feel lightheaded or a little bit off balance!
12) Insomnia
Ugh! The start of your sleepless nights as a parent might start a little earlier than you originally anticipated!
13) Thirst
Can't seem to quench your thirst? It might be because you're drinking for two now!
14) Diarrhea
Early pregnancy diarrhea is unpleasant, but actually quite common when it comes to early pregnancy.
15) Constipation
Or maybe you're feeling a little backed up? Many mothers experience constipation in those early weeks!
16) Bloody Nose
Bloody noses are certainly common throughout all pregnancy, but some mothers could have this lovely side effect pretty quickly.
17) Ears Plugged Up
I don't usually get this until the second trimester, but it's so miserable. Some ladies experience this sooner.
18) Cold and Flu Symptoms
Feeling like you got hit by a truck? While it certainly could just be the common cold or the flu, it could be pregnancy!
19) Forgetfulness
A pregnant brain is a real thing, and I swear it happens earlier and earlier with each child!
20) Acne
While many women get a few new blemishes with pregnancy due to the increase in hormones, some women will experience full-on acne – even as one of their first symptoms!
21) Vaginal Discharge
An increase in discharge can be expected. If you notice anything that smells or looks funny, make sure to call your doctor!
22) Bleeding Gums
Pregnant women are much more susceptible to bleeding gums and gum disease during pregnancy. I noticed early on that my gums were bleeding like crazy (I ended up getting dental planning done on them, which did help. My gums were left in a bad state – partially due to all my morning sickness!)
I've found that using a good quality electric toothbrush and a good quality mouth wash (if you can stand it) can make a world of difference.
23) Light Green Stool
24) Implantation Cramps
This may feel like your period is about to start, but if it doesn't and you are experiencing menstrual-like cramps, it could be because of implantation (which happens about 9 days after ovulation). It is also very common to feel cramping during the first few weeks as your uterus is starting to rapidly expand.
25) Vision Changes
26) Trouble Staying Asleep
This only gets worse the longer your pregnancy goes on!
27) Weight Gain
28) Gagging
29) Can't Stand Toothpaste
30) Cramping
31) Brittle Nails
32) Drooling
33) Carpal Tunnel
34) Darkened Areolas
This can happen pretty quickly after you conceive!
35) Cold Feet
You might literally have cold feet…or maybe might be feeling like you are second-guessing whether or not you want to get pregnant!
36) UTI
37) Light Spotting
About 30% of women will experience implantation bleeding, which is associated with implantation. This can happen around the same time as the cramping I described above. It's usually not very dark (it can be anywhere from pinkish to brown), and it's usually a very small amount.
38) Darkening of Skin
This could be in small patches anywhere on your body!
39) Hot Flashes
40) Weird Dreams
Some women have a dream that they are pregnant – and that's the first indicator to them that they are! Or dreams might just get weirder and weirder.
41) Hunger
Can't seem satiate your hunger? You might be pregnant!
42) Loss of Appetite
Or the opposite might happen. You might not be feeling morning sickness – just a general feeling of not being hungry.
43) Sweatiness
44) Increased Urination
Pregnant women tend to pee a lot, and the early hormonal changes can make that start happening earlier than they realize.
45) Skin Breakouts
46) More Pronounced Veins
I had one in my face that appeared early on in my third pregnancy. You might see them in your face, your legs, your breasts, your chest…all over!
47) Backache
48) Gassiness
Don't worry – just blame it on the baby!
49) Cravings
50) False Period Signs
An impending period and early pregnancy feel very, very similar. You might think your period is about to start…and then it doesn't. You could be pregnant!
51) Fainting
52) Itchy Skin
53) Sex Drive Change
Some women feel even more aroused when they get pregnant, while others can't think of anything that they'd rather do less!
54) No pre-period Weight Gain
This was another thing that made me think I was pregnant with this baby. Usually a few days before my period begins, I will gain about three pounds. Well, in January, I noticed that I did not gain that expected three pounds I gain every month. I remember telling Forrest, "Well, I haven't gained any weight. I think I might be pregnant!"
55) Cervix Height
This is another one that the jury is out on whether it's an effective measurement..but your cervix height usually will drop right before your period starts, so if you are pretty good at regularly measuring it, you might be able to tell!
56) Quick to Cry
57) Strange Taste in your mouth
58) Super smell
Pregnant women are known for their super sense of smell. It's pretty much a curse (I can't even stand to go near the fridge or the sink when there are dirty dishes in them.) This starts very early with me, and if you are noticing smells a lot more, you might be pregnant!
59) Stuffed Up Nose
60) Tender Breasts
This was always a big one for me. I always have some breast tenderness before my period starts, but with pregnancy, it's a whole different level. It's like I can't even be bumped accidentally without feeling really sore!
61) Runny Nose
62) Slowed Hair Growth
63) Sweating
64) Tender Nipples
65) Can't Stand the Smell Of Your Spouse or Child
66) Leg Cramps
If this happens to you, try to increase your magnesium intake!
67) Anxious Feelings
68) Depression
69) Migraine
70) You Just Know
Sometimes, you just know. Without having any symptoms or a positive pregnancy test…you just know.
Related Reading: When to Take a Pregnancy Test
Other Pregnancy Posts You May Enjoy: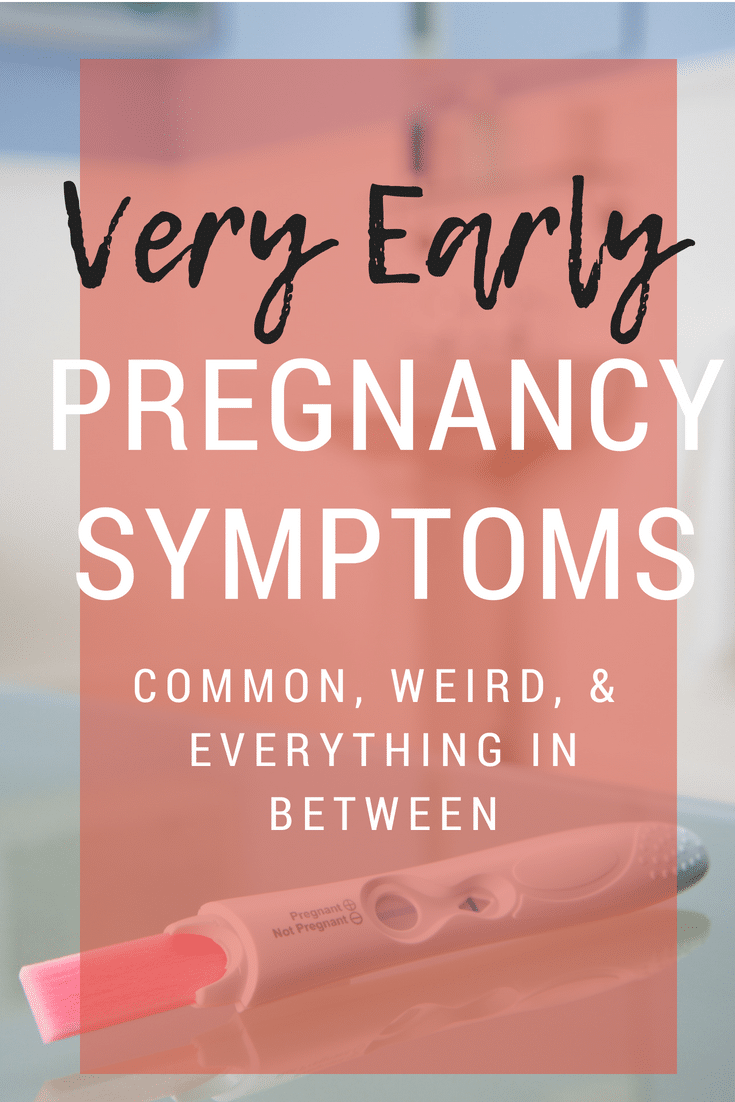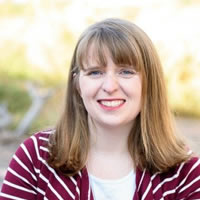 Katie is a Colorado-native, BYU graduated, and most importantly, wife to one and mother to three beautiful boys. She is passionate about sharing her experiences with others – especially about pregnancy, breastfeeding, cooking, and crafts. She is an International Board Certified Lactation Consultant. She loves spending time with her family and helping others find joy in family life.