There are a lot of different types of wood that can be used for laser engraving, and each has its own unique properties. In this blog post, we'll take a look at the best types of wood for laser engraving, so you can choose the right material for your project. We'll also discuss the benefits and disadvantages of each type of wood, so you can make an informed decision. Happy crafting!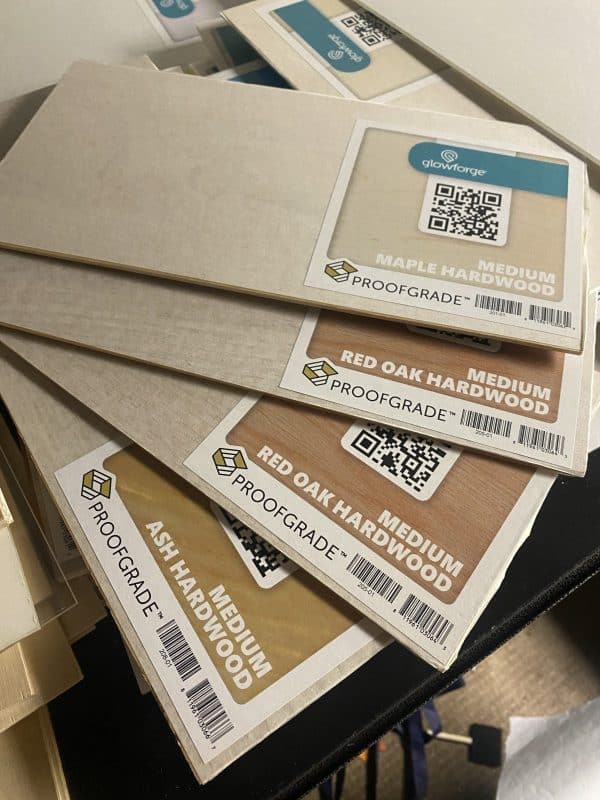 Posts on Clarks Condensed contain affiliate links, which I earn a small commission from. These are provided for your convenience, and the price isn't increased at all.
When you first get a Glowforge, you might be a little intimidated to use it. I don't blame you – there are so many different ways you can use this machine, and it can feel overwhelming!
If you're feeling a little stuck when it comes to your Glowforge, you're not alone.
That's why it's always a good idea to start small with your projects! When you try to do everything all at once, you'll never want to start. However, starting with something simple like wood engraving can give you the practice and confidence you need to succeed.
Before we get into the best types of wood for laser engraving, I recommend learning about the Glowforge and some of its features. There are a few different models to choose from, and each one is meant to meet different needs.
However, no matter which machine you decide to get, you can expect a simple, straightforward setup, compatibility with hundreds of different types of materials, live camera preview, free web-based software, auto-focused and 3D engraving, and Mac and PC compatibility.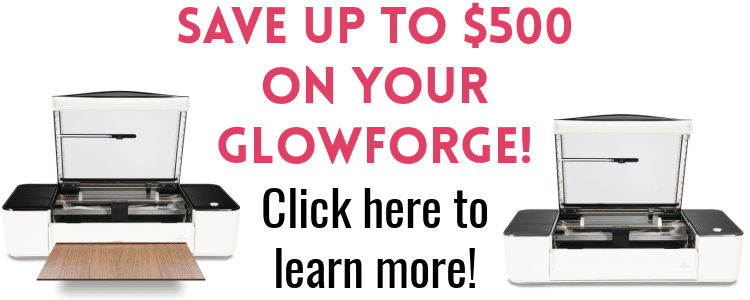 Why Engrave Wood?
We all know the Glowforge laser machine can engrave hundreds of different types of materials, but in this blog post, we're going to focus on wood.
There are just about a million different crafts you can make out of wood, so learning how to use your Glowforge this way can give you a ton of creative freedom! Wood is also a material you can find pretty easily, so availability shouldn't stand in the way of creation.
You could even make a small business using your laser engraving machines. People love custom gifts, and this is a great way to create them! Before you know it, you'll have hundreds of laser engraving projects to do.
Glowforge Wood Project Ideas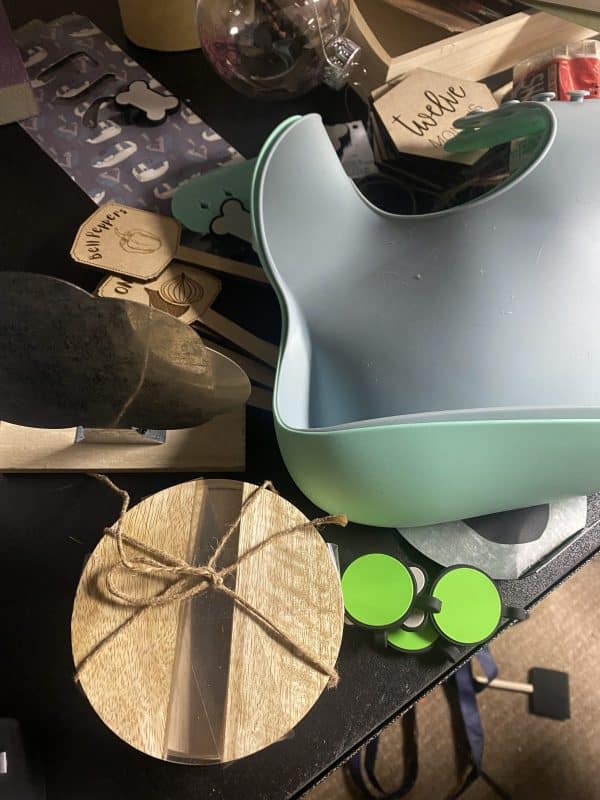 Here are some ideas of what you can make out of wood material using your laser engraver:
Plaques
Custom frames
Awards
Christmas ornaments
Invitations
Wedding signage
Any event signage
Baby announcements
Home Decor
Cake toppers
Keepsakes
Photo Booth props
Mr. and Mrs. signs
Cutting boards
Charcuterie boards
Coasters
There are hundreds of ideas out there. We would be here all day if we listed them all! If you want some more ideas on how to use your Glowforge, here are some of our favorite projects we've done so far. They're broken into categories so you can easily find what you're looking for!
Best Wood Type for Laser Engraving
Not all wood is created equal, and not all wood will work well with your Glowforge. You should follow a few guidelines when choosing a type of wood for your project.
First, it's important to check the resin content. The best way to do this is to test the wood and see if you like how it looks before you start on the rest of your project! This is important because the wood will burn lighter or darker depending on the wood's high resin content. 
For example, cherry or alder will give a darker burn, while another type of wood will give you a lighter burn. Again, it's always best to test it on a scrap piece of wood before going all out! This is a good way to test the laser power as well.
Speaking of color, it's usually best to use lighter-colored wood if you want your design to really stand out. It depends on the look you're looking for, but lighter wood tends to do better with designs showing up! The same goes for wood grain. Your design will be harder to see if the wood has a heavy pattern. 
Here are a few other things you should consider:
Moisture content
If it's dry wood
Different densities
If it's thick or thin wood
If it's engraving wood
What type of engraving you'll be doing: general or artistic engraving?
Wood resin content
If the wood has a smooth surface
If it will have a light or dark burn
How different woods work with different engravers
So what type of wood gives the best results? Here are some of the different types of wood we've worked with in the past:
Alder
Alder wood is a type of hardwood that is often used for laser engraving. This is because alder wood is known for being tough and durable, while also being able to take on intricate designs. Alder wood is also one of the more affordable types of hardwoods, making it a great option for those looking to save money on their laser engraving project.
Alder wood also has some fun natural knots, which can add even more character to your projects.
When it comes to laser engraving, alder wood is definitely a good choice. So if you're looking for a material that can take on your detailed designs and last for years to come, alder wood is definitely the way to go.
Cherry (specifically blonde cherry):
Cherry wood is often used for laser engraving because it produces a dark, rich color when engraved. This type of wood is also strong and durable, making it ideal for use in a variety of settings. When looking for the best wood to use for your next laser engraving project, consider cherry wood as an option.
Hard Maple
Hard Maple is another excellent choice for laser engraving, especially if you're looking to engrave photos. The grain is very fine, which means it will almost perfectly pick up the details in your design. It's also a super light wood that has a beautiful finish, so it's great if you want a lot of contrast in your design.
Basswood
Basswood is a light-colored, lightweight wood that's common in hobby shops. It's great for laser engraving because it cuts cleanly and has a tight grain. This is a good option if you want something quick and easy!
Balsa Wood
Balsa is a soft wood, but it can be so beautiful when you use it for laser beam engravings. You can also put a nice finish and stain on it! Just be careful because it is more susceptible to dents and nicks than other harder woods.
Woods to Avoid When Laser Engraving
Cheap Plywood
Plywood is essentially a wood veneer that has been glued and pressed together. Nice plywood can be okay for laser engraving and is rather popular, but we would recommend steering clear of low-quality products. Bamboo laser plywood and birch are safe choices though! 
Pine
Pine is often what you will find in wood products from Dollar Tree. While it's great for practice, it actually is not very high-quality. It doesn't tend to last very long, and it's more likely to crack or break. 
What about Fiberboard
MDF, or medium-density fiberboard, is made of wood fibers that have been glued and pressed together. This type of wood is often used in furniture and cabinets because it's inexpensive and easy to work with. While it may not look as nice as natural wood, many people who laser engrave love using this material. It's generally best for larger projects when assembly is involved.
It can be controversial because some find that it has noxious fumes and that it doesn't last as long. It can be very thick, which can make it difficult to get the best results.
Can you engrave stained wood?
Whether you stain your projects before or after you engrave is a personal choice – for those who want the engraving to pop the most, stained after is preferred.
But yes – you CAN engrave stained wood. You just want to make sure that you are using a water-based stain. If you use a petroleum-based stain, you should make sure it dries completely before engraving.
Where is the best place to buy wood for engraving?
There are a lot of great places to buy wood – you can go to your local Home Depot or Lowes, but these prices aren't always the best. I personally have bought a lot of wood from people who sell wood on Facebook, or through websites, I've seen people recommend on Facebook or even on Etsy.  You can also find local sellers that might be able to provide you with a good deal. 
So there you have it! These are the best types of wood for laser engraving. Let us know in the comments if you have tried any of these! Good luck with your next Glowforge project!
More Posts You May Enjoy: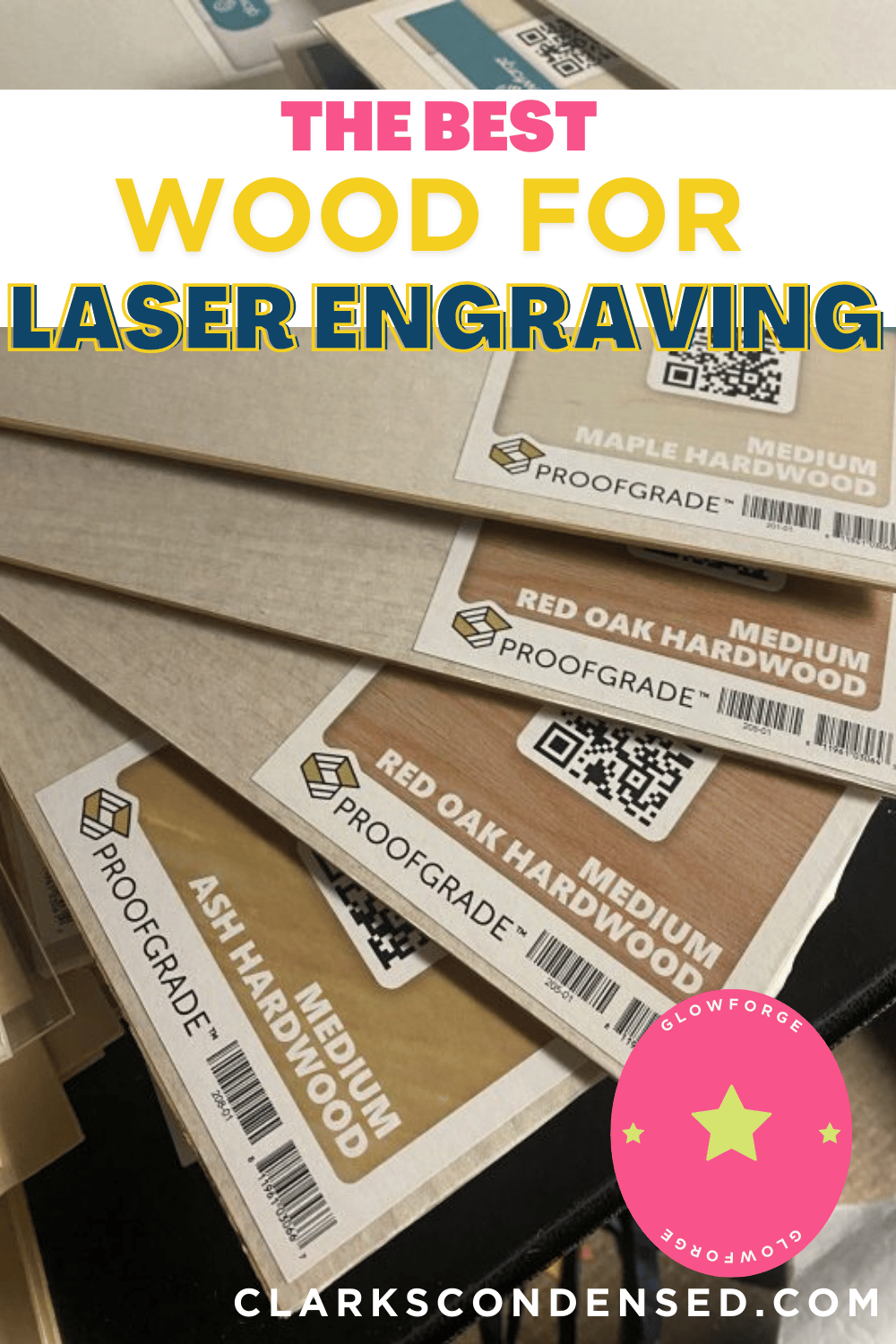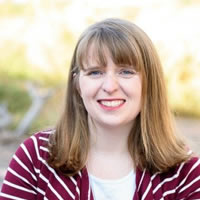 Katie is a Colorado-native, BYU graduated, and most importantly, wife to one and mother to three beautiful boys. She is passionate about sharing her experiences with others – especially about pregnancy, breastfeeding, cooking, and crafts. She is an International Board Certified Lactation Consultant. She loves spending time with her family and helping others find joy in family life.