Fast and easy Instant Pot Tikka Masala! This is a delicious recipe that is best served over rice and delicious naan.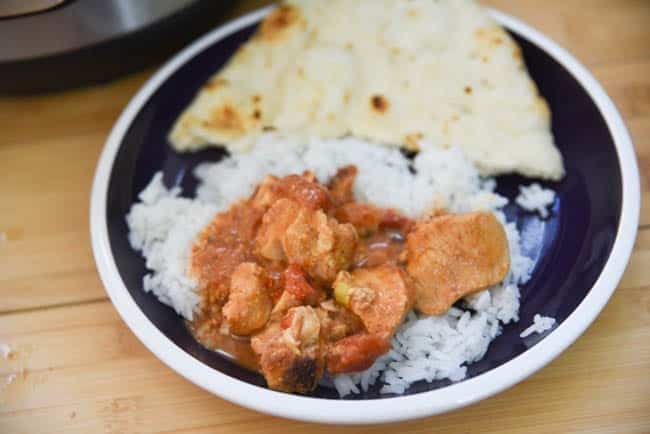 Be sure to join Instant Pot Made Easy for recipes, tips, and more!
Even though we had a rocky start, I'm really starting to love our Instant Pot!
We've used it a ton lately (such as for this instant pot beef stroganoff), and it's safe to say it has become a permanent fixture in our home.
We had been wanting to make my Tikka Masala recipe (one of our favorites), and I thought that it would be fun to try it out in the Instant Pot.
I always feel like Tikka Masala is rather time-intensive – though the effort is entirely worth it. However, making it in the Instant Pot makes it so much easier…and it tastes just as amazing!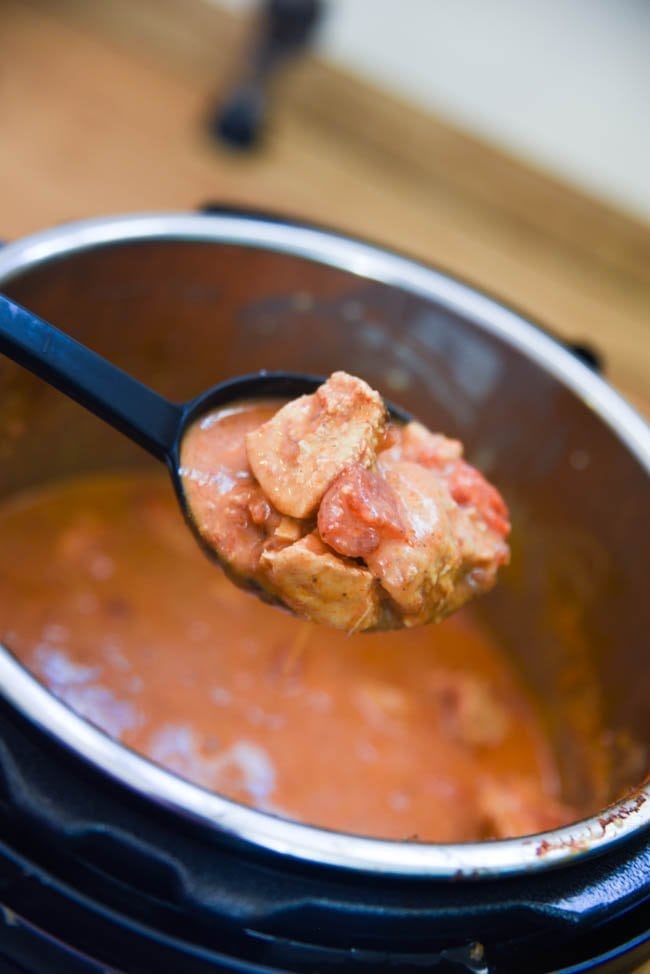 I served this over rice (that I made with my rice cooker…not the Instant Pot 😉 and with naan, of course.
Important Notes
I think it turned out quite well. In the video above, I only used 1 tablespoon of garam masala, but I do recommend two. It also doesn't show that I turned the Instant Pot to saute for a few minutes, but I did in the end because I wanted the sauce to thicken up a little bit.
I also accidentally put in a whole can of coconut milk when I was doing the recipe (silly me). When I've made our recipe before, I've only used the can from the coconut milk, which helps it not be so liquidy. So make sure you do that. You can get the cream by placing the can in the refrigerator for an hour and then open it upside down to remove the liquid part.
Oh, and always use a meat thermometer! It helps so much!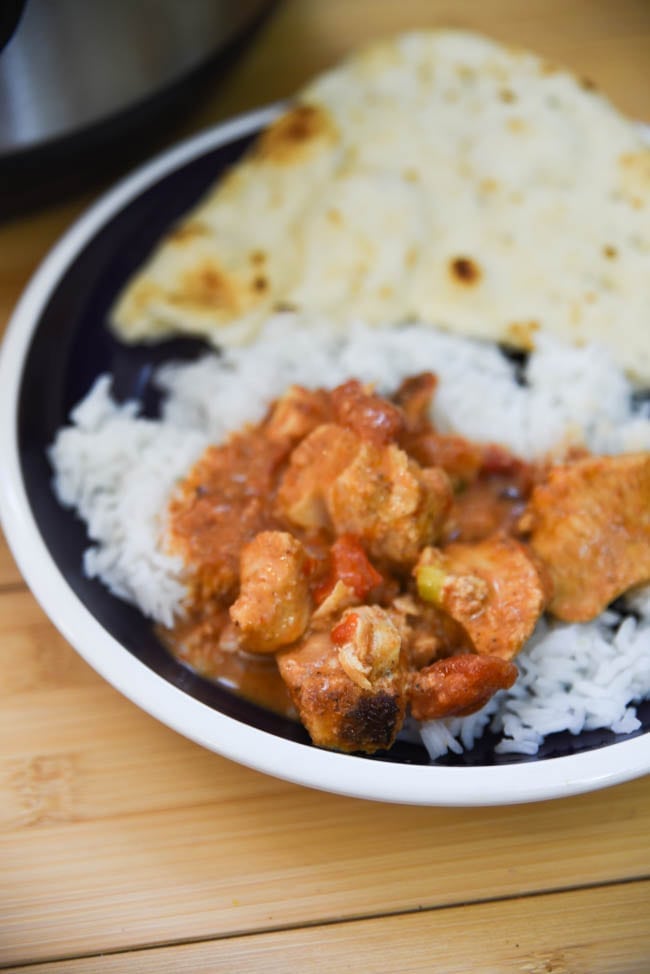 Anyways, it turned out delicious, and I can't wait to try it out again!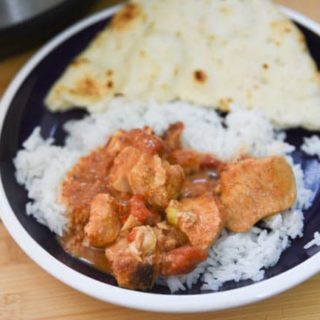 Instant Pot Chicken Tikka Masala
Instant Pot Chicken Tikka Masala Author: Katie Clark
Ingredients
1 1/2 lb chicken breast, diced into bite size pieces
1 small container vanilla yogurt
2 tablespoons lemon
1 teaspoon cumin
1 tablespoon minced garlic
SAUCE:
2 tablespoons olive oil
1 medium-sized red bell pepper, diced
Five stalks of green onions, diced
1 6 ounce can tomato paste
2 tablespoon garam masala
1 teaspoon ginger
1 teaspoon paprika
Pinch of chili powder
1 14.5 ounce can diced tomatoes
¾ cup coconut milk cream, leave can in fridge for a few hours - open upside down and remove liquid-y part to get the cream.
Instructions
Combine yogurt, lemon, cumin and garlic with chicken breast until covered.
Marinate for 30 minutes.
After thirty minutes, turn instant pot to "saute" and add olive oil, bell pepper, and green onion. Saute until soft.
Add chicken and sear for a few minutes.
Press cancel on the Instant Pot and then press poultry.
Add tomato paste, garam masala, ginger, paprika, chili powder, and diced tomatoes.
Cook on the poultry setting for 12 minutes.
Natural pressure release for 5 minutes and then quick pressure release for the remaining time.
Once it is done, ensure that the chicken is cooked to 165 degrees.
Stir in coconut oil.
Change to saute, whisk in 1 tablespoon of cornstarch. Let cook for a few more minutes to help it thicken up a little bit.
Serve over rice with naan.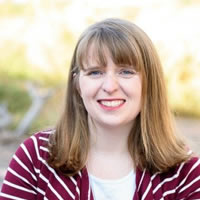 Katie is a Colorado-native, BYU graduated, and most importantly, wife to one and mother to three beautiful boys. She is passionate about sharing her experiences with others – especially about pregnancy, breastfeeding, cooking, and crafts. She is an International Board Certified Lactation Consultant. She loves spending time with her family and helping others find joy in family life.