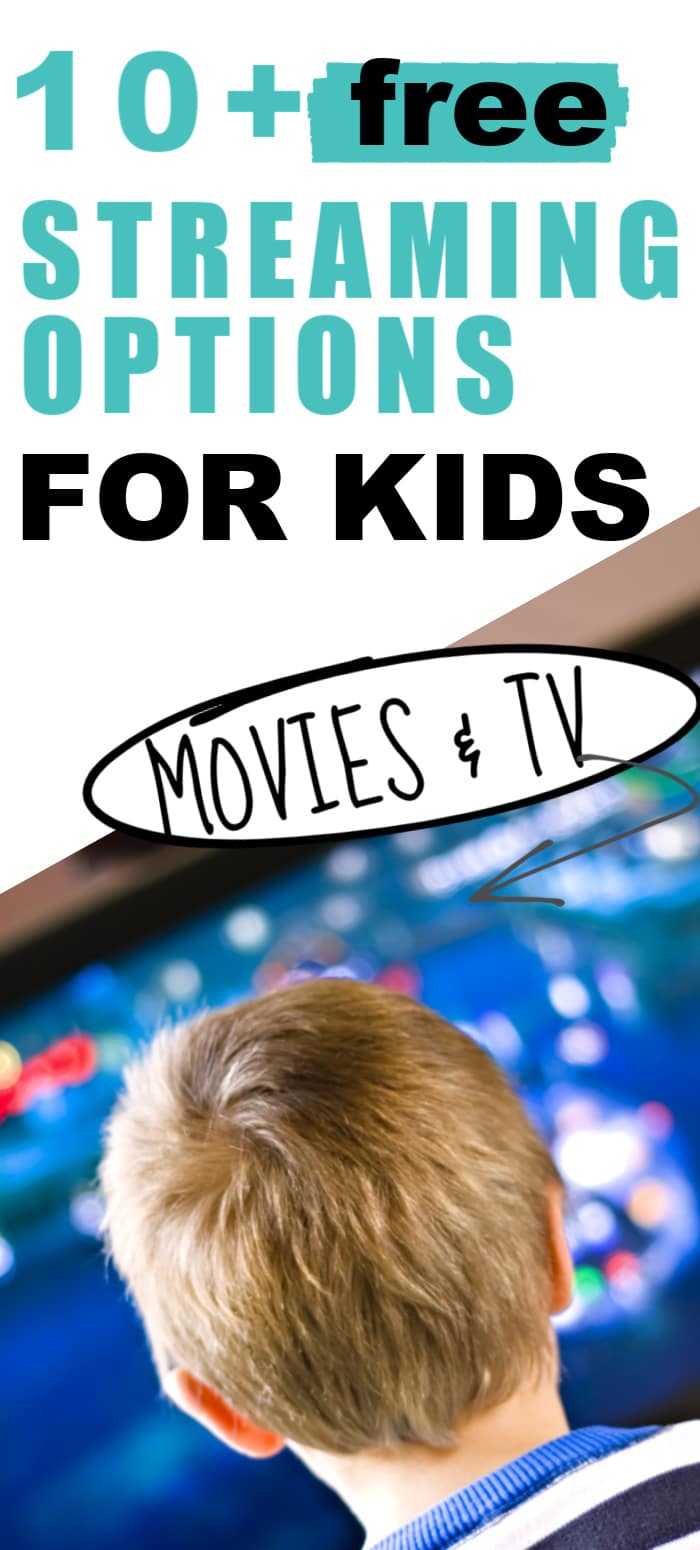 If you want to entertain your kids without spending a penny, then this is the resource for you. I list sites and apps that have free movies and television shows for kids.
All of the shows that I list are not necessarily for younger kids.
I've included some content for older kids, such as shows rated TV-14.
Some sites have a lot of content for kids, and some have a little.
However, if you search enough you can find some real gems, and likely something that your child is interested in watching!
If you're looking for something specific, you might try using your browser to search the text of this page.
Keep in mind that this content changes, so the listings of what can be found where is not guaranteed.
Additionally, I know that these lists are not the most interesting to look at.
However, I hope they give you an idea of the number of titles and the types of titles that each platform has, so you can go to that platform to check out the options more fully yourself. Enjoy!
PBS Kids Video app and pbskids.org has a lot of great education television shows for free. You can stream live PBS Kids shows 24/7 on most devices. Plus, there are a number of companion apps. The PBS Kids Games app has games and activities that help reinforce the education material in the shows.
The fact that PBS Kids is free makes sense when you remember that PBS stands for Public Broadcasting Station. As a public resource it is mainly funded by taxpayers and donations.
I've hard a hard time figuring out how many episodes are available of each show. It seems to me that there are a limited number, but a new episode is made available each week. There is a good variety of shows.
Here are some of the shows that PBS Kids had available:
Daniel Tiger
Wild Kraft's
Pinkalicious and Peterrific
The Odd Squad
Molly of Denali
Xavier Riddle and the Secret Museum
Curious George
Let's Go Luna!
Clifford the Big Red Dog
Nature Cat
Ready Jet Go
Arthur
Dinosaur Train
Dot's Spot
Scribbles and Ink
Cyberchase
Sesame Street
Esme and Roy
Mister Roger's Neighborhood
Splash and Bubbles
Peg + Cat
The Cat in the Hat
Wordgirl
The Ruff Ruffman Show
Super Why
Maya and Miguel
Fizzy's Lunch Lab
Caillou
Sid the Science Kid
Design Squad
Plum Landing
Martha Speaks
Oh Noah!
SciGirls
and WordWorld.
Hoopla is similar to PBS Kids, because it might be available to you due to public funds.
Some libraries make digital content available through Hoopla. In other words, taxpayers and the library budget pay to give you access to some digital content, such as movies and television shows, through the Hoopla platform.
Pluto TV is an interesting source of free television. Pluto TV has themed channels with content that is being streamed all of the time, labeled Live TV. The setup is similar to a traditional cable channel guide. There are some children's channels between channel 700 and channel 749. I have seen flipper on a general classic TV channel as well.
Pluto TV has an On Demand section. Their content here seems to largely be movies.
Their movies include:
Planet 51
Alpha and Omega
Alpha and Omega 3
Wild Thornberrys Movie
Hey Arnold! The Movie
All Dogs Go to Heaven
All Dogs go to Heaven 2
Rock A Doodle
The Care Bears Movie
The Secret of Nimh
Howard Lovecraft and the Kingdom of Madness
The Boxcar Children: Surprise Island
Howard Lovecraft and the Frozen Kingdom
A Turtle's Tale
A Turtle's Tale 2
Ribbit
The Strawberry Shortcake Movie: Sky's the Limit
Sea Level
Mouse Hunt
Snowflake: The White Gorilla
The Magic of Belle Isle
A Mouse Tale
Sabrina the Teenage Witch
Finding Rin Tin Tin
The Missing Lynx
Hatched
Connecticut Yankee in King Arthur's Court
Love, Kennedy
Where the Red Fern Grows
Tom Sawyer and Huckleberry Finn
Zapped
Total Wipeout UK
Pluto's free shows include Bo on the Go, Flipper, The Little Rascals (sonar), and The Adams Family.
Pluto's Latino section has some Spanish channels for kids.
IMDB TV has a number of movies for older and younger kids, including:
Elmo in Grouchland
Dolphin Tale
Shrek: The Final Chapter
Little Big League
Muppets in Space
Hey Arnold! The Movie
RV
Max
Max 2
Monsters vs. Aliens
Stuart Little
Stuart Little 2
Open Season
Cloudy with a Chance of Meatballs
Cloudy with a Chance of Meatballs 2
and Escape from Planet Earth.
IMDB TV has a limited number of television shows including: Wolverine, X-Men, Iron Man, Ironman, The Adventures of Tintin, and Nancy Drew. The superhero shows are TV-14.
Xumo is similar to Pluto TV. Xumo has live channels that you can stream. Xumo has a lot of free television shows for kids. Some appear to be older and some seem to be in more of a YouTube format.
First, here are some of Xumo's movies for kids:
Harriet the Spy
The Rugrats Movie
Rugrats in Paris
The Spiderwick Chronicles
Ernest in the Army
Slam Dunk Ernest
My Dad's a Soccer Mom
Tad: The Lost Explorer.
Some Shows I saw – On Demand shows under different channels:
The Cat in the Hat Knows a Lot About That
Inspector Gadget
Babar
Gumby Adventures
a category called: Lego Shorts
Batman Unlimited
Dino Squad
Pirates – Adventures in Art
Rufus the Dog
Messy's Questions
Mika's Diary
Talking Tom and Friends
Sooty
The Stupendous Drew Pendous & His Mighty Pen Ultimate
Nursery Rhyme Time
Nikki's Science and Wiki
Crafty Carol
Story Time with Ms. Booksy
Pac-Man and Ghostly Adventures
Angry Birds Toons
Pocoyo
Bernard
Badanamu
Nursery Rhymes
Gummibar & Friends
Bluefish 4k Nursery Rhymes
3 Rabbits
Antiks
Om Nom Stories
Zoonicorn
Suckers
Angelo Rules
The Tube Family
Transformers Prime
Kiwi & Strit
Dream Defenders
Future Card Buddyfight Ace
Pokemon Diamond and Pearl
Sonic X
Transformers Animated
Gisele and the Green Team
Thomas Edison's Secret Lab Music
The Adventures of Annie and Ben,
Afrina's Playtime (animals)
Bananas in Pyjamas
Gordon the Garden Gnome
The Adventure of Bottle Top Bill
The Toothbrush Family
Classic Tales
Faireez
Sea Princesses, AFV (America's Funniest Home Videos)
Popcornflix is a platform for free movies and television shows, and it is ad-supported. There are fewer ads than what would be there if you were watching traditional cable.
Here are the movies that I found on Popcornflix:
Paws to the Rescue
Antboy
A Turtle's Tale
A Turtle's Tale 2
The Mighty Kong
Sabrina The Teenage Witch
Ernest's Greatest Hits Volume 2
Ernest Rides Again
Mouse Hunt
Jungle Shuffle
Babar and Father Christmas, and more.
Here are the TV Shows that I found on Popcornflix:
Redwall (G)
Superman (PG)
Sonic the Hedgehog (TV-Y7)
Inspector Gadget (TV-Y7)
The Adventures of Paddington Bear (TV-Y)
Animal Tales (G)
The Fairies (G)
Popeye (PG)
Popeye and Son (PG)
Deltora Quest (TV-Y7)
Barney Google and Snuffy Smith (PG)
Defenders of the Earth (PG)
Little Angels (PG)
Cool McCool (PG)
All Star Specials (PG)
Super Sentai Zyuranger – look like Japanese Power Rangers – (Family/Kids)
Ruby Gloom (G)
Sam & Max (G)
The Adventures of Flash Gordon (PG)
The New Adventures of Flash Gordon (PG)
My Pet Monster (G)
The Legend of Prince Valiant (PG)
My Dad the Rockstar (G)
Maggie and the Ferocious Beast (G)
Birdz (G)
Bounty Hamster (Family/Kids)
Blazing Dragons (G)
The Magical Adventures of Quasimodo (PG)
Pet Alien (TV-Y7)
Wheels on the Bus (Family/Musical)
Tales from the Cryptkeeper (G)
The Busy World of Richard Scary – in some countries.
Crackle is a site with free content that is funded by ads. From my experience, there are only about four ad breaks for every full-length movie. There is a lot of older and less in-demand content for adults and children.
Here is a list of what I found on Crackle:
All I Want for Christmas
All Saints (PG)
Annie
Baby Geniuses
Bebe's Kids (PG)
Bobby Jones: Stroke of Genius (PG)
Bye Bye Birdie (G)
Country Remedy (PG)
Explorers (PG)
Godzilla 2000 (PG)
Jack and the Beanstalk
Mouse Hunt (PG)
Mr. Smith Goes to Washington
My Girl (PG)
My Girl 2 (PG)
Operation: Neighborhood Watch (Not Rated, Adventure, Family)
Snow Day (PG)
The Amazing Wizard of Paws (Not Rated)
The Next Karate Kid (PG)
Stuart Little (PG)
Stuart Little 2 (PG)
Little Women (PG)
Crackle TV Shows:
Animal Tales
Men in Black: The Series (TV-Y7)
The Spectacular Spider-Man (TV-Y7)
Spider-Man: The New Animated Series (TV-PG)
The Jackie Chan Adventures (TV-Y7)
Iron Man (TV-14)
Wolverine (TV-14)
X-Men (TV-14)
YouTube has the self-published clips that everyone is familiar with. However, also, it has a Movies & Shows section. Within that section there is a category of Free with Ads that includes some children's movies and shows.
Here are the titles that I found:
Sea Level (PG)
Arthur's Missing Pal (PG)
Beyond Beyond (PG)
Furry Vengeance (PG)
Snow Queen (PG)
The Legend of King Solomon, Khumba (Ages 6+)
Ribbit (PG)
All Dogs Go To Heaven
Dinosaur Island (for ages 9+)
The Legend of King Fu Rabbit (PG)
Snowflake the Gorilla (PG)
The Little Ghost (PG)
Once I Was a Beehive
The Legend of Secret Pass
The Great Bear (PG)
Wish Upon a Star (PG)
Inuyasha the Movie 3: Swards of an Honorable Ruler (PG)
Ernest Goes To School, A Cowgirls Story (PG)
My Dad's a Soccer Mom (for 8+)
Inuyasha The Movie: Affections Touching Across Time (PG)
Pixies (PG)
Rodgers and Hammerstein's Cinderella (G)
Inuyasha the Movie 4: Fire on the Mystic Island (PG)
Pete's Christmas (PG)
Ernest Rides Again
Ernest in the Army
Sailor Moon R: The Movie (PG)
Christmas Story (PG)
Street Fighter Alpha
Who Gets the Dog? (PG)
Freedom Force (PG)
Inuyasha the Movie 2: The Castle Beyond the Looking Glass (PG)
Cricket in Times Square (for 4+)
Journey to the Christmas Star (G)
Christmas on Salvation Street (PG)
Birds of Paradise (PG)
Santa and the Three Bears (G)
Marco Polo: Return to Xanadu (G)
and Dwegons and Leprechauns (PG)
Vudu sells and rents movies, but it has ad-supported free movies and shows, as well.
As you can see below, there are a ton of titles. These were under the Kid's and Family and Free filters of the Vudu site. It is probably better to go there so you can see the cover photos and rating information of the movies.
Here are some of the free movies for kids that I found on Vudu:
Norm of the North
Rock Dog
Son of the Mask
The Karate Kid
Monster Hunt 2
Ace Ventura: Pet Detective Jr.
All Dogs go to Heaven
Look Who's Talking
The Karate Kid II
Alpha and Omega
The Next Karate Kid
Look Who's Talking Too
The Little Vampire
The Karate Kid Part III
Furry Vengeance
The Care Bears Movie
Heidi, Cats Don't Dance
The Muppets Take Manhattan
Look Who's Talking Now
All Dogs Go to Heaven
Agent Fox
The Giant King
Rock A Doodle
Mummy
I'm a Zombie
Duma
And many, many more.
Here are their free titles that are tagged as for Kid's & Family:
Merlin
The Hive
Sonic X
Grounded for Life
Me, Eloise
Transformers: Animated
Alf, Dennis the Menace
Deltora Quest
Hero 108
Dive Olly Dive
Cosmic Quantum Ray
Toddworld.
CW Seed has some TV-14 rated animated series.
Here is what I found:
Batman are Mystery of Batwoman
Freedom Fighters: The Ray.
BYU TV programs and streams are provided by Brigham Young University.
They create original, family-friendly content.
Some is for a Latter Day-Saint audience, but most of their content is geared toward a general audience.
Studio C, a popular YouTube sketch comedy show is one such option.
Story Trek is a show that simply interviews random people around the country to hear their stories.
I've really enjoyed Making Good and The Fixers.
Kids mighty enjoy Dwight in Shining Armor, Splatalot, Ice Stars, Xploration DIY Sci, and Gym Stars.
Additionally, they do purchase the rights to, and share non-original content such as Heartland and The Karate Kid.
Other Streaming Posts:
Forrest lives in Colorado with the wonderful Katie Clark and their two sons. Forrest was raised in North Carolina, graduated from BYU with a degree in political science, and loves to dabble in lots different things. Plus, he is a big MLS fan.