I participated in an Influencer Activation on behalf ofInfluence Central for MedImmune. I received product samples to facilitate my review as well as a promotional item to thank me for my participation.
It's that time of year where the weather gets colder, noses starting running, and people start coughing. As much as I enjoy the cooler weather, I dread all the germs that are everywhere. While most people will just get over these sicknesses pretty quickly, it's important to remember that when you are sick, you need to avoid contact with others, especially newborns.
I feel especially passionate about encouraging people to keep their germs away from babies because of this: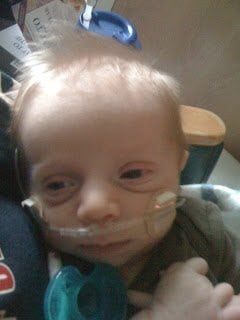 That's my sweet Jack at about two weeks old. He was born full-term and was perfectly healthy until somehow he contracted RSV! We still don't know where he even got it (nor does it matter), since we never even left our house, but regardless, it was a very scary eight days when he was in the hospital. When you have a new baby, all you want to do is be able to protect and snuggle them from home. Even though I snuggled him plenty in the hospital, it was still not how we imagined spending our first few weeks as parents – sleeping in uncomfortable chairs and wondering when his oxygen levels would increase.
Even though we were discharged after eight days, Jack had to be on oxygen for a few weeks after that. All because of RSV. Last year I wrote a post on tips for preventing RSV, and I highly suggest reading it. Even if you don't have a newborn, or don't plan to be around one, I think it's important to be aware of effects it can have on those who don't have the strongest immune systems.
RSV is extremely common – most children will have it by the time they are two years old! However, most won't have a severe reaction, so it's hard to even recognize they have it. However, it's the leading cause of hospitalizations of babies under the age of one each year. It's estimate that there are 125,000 infant hospitalizations and around 200 deaths from RSV in babies each year. Kind of scary! Before Jack was born, I didn't even know what RSV was.
Even though Jack wasn't a preemie, that is the category of infants that are most at risk. And at first, his symptoms weren't even that bad. The oncall doctor had us bring him in, since his temperature was about 100 degrees Fahrenheit. The doctor even said he probably didn't have it, but we should head over to the hospital to have him tested — just in case. I will forever be grateful to that doctor for having us do that, because Jack did test positive. We were told time and time again in the hospital that Jack had a less severe case than he would have, had we waited a few more days to take him to the doctor. Even then, his oxygen was dangerously low within a few hours of his diagnosis – I can't even imagine what would have happened if we didn't get him on oxygen when we did!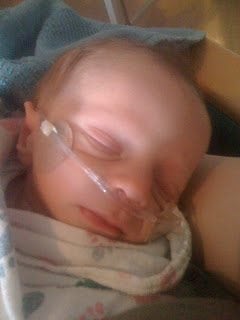 Because the symptoms can be somewhat subtle, and indicative of other sicknesses, it's important to monitor your child carefully. Here are some of the common symptoms — if your baby has them, then I'd recommend having them checked. You can never be too careful when it comes to babies getting sick!
RSV Symptoms
Persistent coughing or wheezing (may result in chest retractions)
Blush color around mouth or fingernails
Rapid, difficult, or gasping breaths
Fever – if your infant under three months has a rectal thermometer of over 100.4, it is cause for concern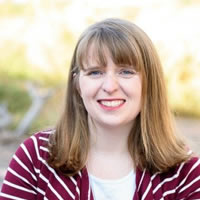 Katie is a Colorado-native, BYU graduated, and most importantly, wife to one and mother to three beautiful boys. She is passionate about sharing her experiences with others – especially about pregnancy, breastfeeding, cooking, and crafts. She is an International Board Certified Lactation Consultant. She loves spending time with her family and helping others find joy in family life.