Cutting cable or satellite subscriptions for streaming devices is getting more and more common — here is a comparison of streaming devices on the market to help you decide which one is best for your family.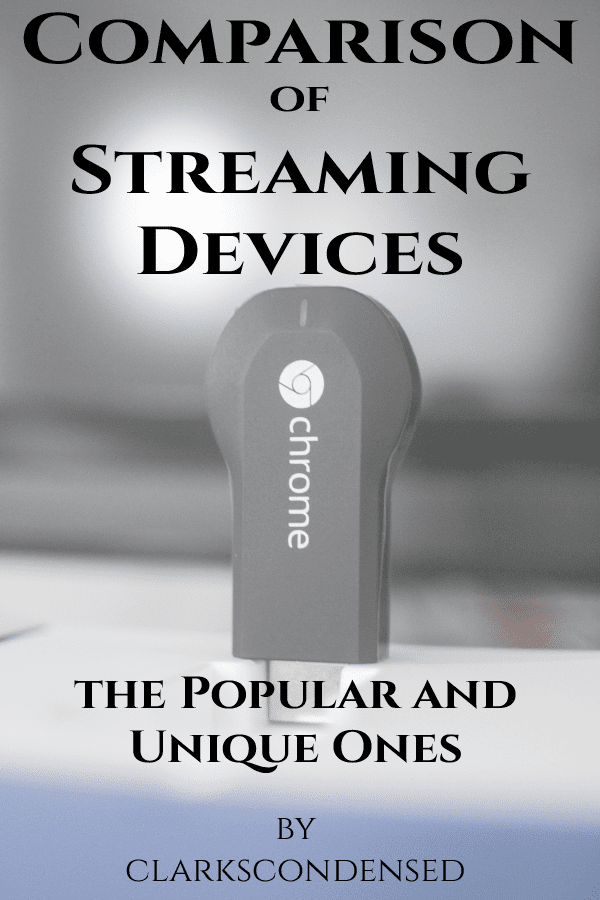 Thank you to Staples for a sample of the Chromecast to help facilitate this post. All opinions are our own. 
For tips on how to save money by getting rid of cable or satellite television, be sure to read this post. 
Introduction and Commonalities
More and more people are using devices to stream media content to their televisions. Whether it is television shows, movies, radio or your own personal content, people are getting rid of cable and satellite television providers daily, including my parents and me. To me, many of their packages are overpriced. However, I have noticed that many television providers offer complimentary subscriptions to online streaming services such as WatchESPN with your traditional television package. Internet speeds have continued to rise, slowly, nationwide. Streaming your media through dedicated devices is only going to become more and more popular. Easy-to-use devices like the Google Chromecast, Roku, AppleTV, and the new Amazon FireTV make it easy to stream content to your television. These devices aren't just for youthful techies but some might not be very kind to your technology challenged elders. I've created this comparison guide to help people better understand what is out there and what advantageous certain devices offer. I'm going to avoid the oft-used comparison chart and offer more layman's style explanatory descriptions and comparisons.
Overall, there are a few patterns that I have noticed. It is easier to stream high-quality video if you have good internet speeds and a good WiFi router.  Almost all streaming devices have the potential to transmit 1080p video. The right device might depend on what type of devices you use. If you're an Apple user then the Apple TV offers AirPlay streaming from apple devices through the Apple TV. Accordingly, Android and Chrome users can stream through the Chromecast, and Amazon Fire users can stream through the Amazon Fire TV. Newer and larger devices are generally faster and more powerful, but, obviously, you get what you pay for. The streaming devices are as useful as the content and subscriptions for which you have paid.
Google Chromecast: The Affordable Option
Priced at only $35 this is the cheapest streaming device. It is described as a thumb sized streaming device that plugs into an HDMI port on your TV. The Chromecast is thus named because it can broadcast what is on your Google Chrome browser. In that sense it is probably the most versatile streaming device in terms of what it can stream. Basically, it causes your TV to mirror what is on your computer. Technically, I think that broadcasting a random Chrome tab is a Beta feature. You could even use it for business presentations to connect your laptop to a television or projector in a conference room. Additionally, with the help of the Chromecast app you can stream from the very popular Android devices to the Google Chromecast. From what I have seen there are a lot of affordable android phones, and now there is the very affordable Chromecast streaming device to go with them.
However, the Chromecast has a singleband wifi connection, and a smaller processor than other streaming devices. Considering its size that isn't really surprising. I had a few issues with connection speed the first time I used the Chromecast. I think it had to do more with the WiFi connection the Chromecast was getting and less with the processing power of the Chromecast. I just adjusted the settings to a lower picture quality, and the Chromecast worked great. By the way, it was easy to setup, especially after I realized that you didn't actually download any apps or channels to the Chromecast itself. However, the Chromecast plugin and mobile app does optimize other apps and the Chrome browser for the Chromecast. The source device and the Chromecast just have to be connected to the same WiFi network in order to transmit the video. Overall, for less than half of the investment you get most of what other streaming devices offer.
Roku 3: The Safe Option
If you have a little extra money, $100, the Roku 3 might be the right device for you. Roku has been around for a little, which might seem obvious since it is clearly the third generation device from Roku. Their platform has been well tested and it has proved to get decent reviews and ratings from users over time. The Roku 3 is what can be described as a set top box, which means it is a box that is set on top of your television, or wherever nearby you want it. The Roku 3 has a dual-core processor and a dual-band WiFi antennae, thus it is plenty fast. It has an Ethernet, USB, and microSD ports which a lot of other devices don't have. The Ethernet port could mean that with a direct wired internet connection you could get higher internet speeds for your streaming. The microSD port is basically an optional mini-hard drive. SanDisk introduced a 128 Gigabit microSD card this year, so the MicroSD slot could be more useful than you might thing for storing movies or music. I have used a Roku 2 in the past, and one underrated feature I like is that the Roku 2 doesn't turn off. It is always on, so I never have to wait for it to turn on. It doesn't use very much energy, so it isn't really annoying that it is always on. Since the Roku platform has been around for awhile there have been a lot of different apps/channels made for the Roku. A new feature of the Roku 3 is its one stop search that searches all of its channels at the same time for what you are looking to enjoy.
A big part of the Roku 3 price tag is for the remote. One, there is a remote. Two, it is motion sensitive, no line-of-sight is required, and you can plug your headphones into the remote. I am still considering upgrading just for the headphone option. I got some wireless headphones a few Christmas' back, but they didn't work very well. They were way more expensive than they are worth. The headphones are great if you have a newborn and you need to spend long hours occupying yourself while holding your baby. There is a Roku app for mobile devices to be used as a remote, and as mini-keyboard. Basically, Roku has been around for awhile is a safe bet for high-quality streaming device.
Apple TV: The Apple Option
The original Apple TV was one of the first set top streaming devices to come out, and unfortunately Apple hasn't made huge changes since. It runs for $100. There are rumors that Apple has been working on an actual Apple smart television. In true Apple style it would all be combined. The major benefit for Apple users is that you can stream from Apple devices using AirPlay. It does have a single-core processor, but it does have dual-band WiFi. Apple has made setting up the Apple TV very easy if you have a later model mobile Apple device. All you have to do is hold you device near the Apple TV with your Bluetooth turned on, and the Apple TV will get your home network information from your mobile device. Obviously, the Apple TV makes it easy to use iTunes and iCloud content. If you're a die hard, all things apple user then this is the right streaming device for you.
Amazon Fire TV: The New Option
It seems like the major theme with the Amazon Fire TV is speed. Speed in processing power, and speed in usability. Though new and  highly powered the Amazon Fire TV sells for the same amount as the Roku 3 and Apple TV, $100. The Amazon Fire TV has a dedicated Graphics Processing Unit to help display high-quality images better. It isn't just the hardware that is built for speed, but, supposedly, there is some interesting software that is supposed to make navigation very quick. For one, there is a microphone in the remote for voice search. Two, a feature called ASAP predicts what you will watch and buffers them so when you select that item it will already be partially buffered. The Amazon Fire TV has 2 GB of storage, as opposed to 512 MB from other devices, and Amazon boasts a large library of games. There is even an optional game controller you can buy. So, with the extra storage and processing power you might actually be able to play some exciting games.
One interesting customer service feature that Amazon offers is your Amazon Fire TV arriving pre-registered to your Amazon account. If you have a Amazon Fire Tablet and kids then I would suggest signing up for the very cheap Amazon FreeTime. It provides a kid friendly selection of movies, shows, books, apps, and other things.
Amazon has come out with a condensed version of their Amazon Fire TV box that has 4x the storage and 2x times the memory of the Google Chromecast. Plus, it comes with a remote and apps so it can work independently of another device. I have tried it, and I really like it. It is small, but it still works plenty fast. I recently tried a Roku streaming stick that didn't even work out of the box. This seems like a better option to me. You can't 'fling' content from as many devices as the Chromecast, but if you have compatible Amazon devices you could 'fling' some content to the Fire Stick. Also, you can use the Amazon Fire Stick app as a remote and to do voice searches.
Dyle.TV: The Unconventional Mobile Option
Apparently, there is a company, Dyle,  that transmits television service through a cellular data type network. There aren't a huge number of channels, and the coverage is a little spotty in some places. Nevertheless, it is an intriguing option that might work for some people in some areas, and it is something to keep an eye on for the future. You can use a receiver (some just plug into the end of an iphone) to pickup the signal and watch television. I think you just have to pay for the device, and the rest is free.
Simple.TV: The Stream to Yourself Option
The basic idea is that you use a DVR to record television from an antennae, then you use a cloud service to help stream what you have recorded to your devices. I guess you could say that in some ways it is more of a replacement to Hulu+ and Amazon Prime. You would still need something for your television to receive the stream and transmit it to the television. It seems perfect for my parents though. They have a huge antennae in their attic, and the just got rid of their satellite service.
Forrest lives in Colorado with the wonderful Katie Clark and their two sons. Forrest was raised in North Carolina, graduated from BYU with a degree in political science, and loves to dabble in lots different things. Plus, he is a big MLS fan.