Do you like Taco Bell Crispy Potato Soft Tacos? Well, now you can make them at home (and they are much better for you!) This yummy copy cat crispy potato soft taco recipe is a great meatless meal, and they are easy to throw together. They also feature a Taco Bell copy cat spicy chipotle sauce recipe as well!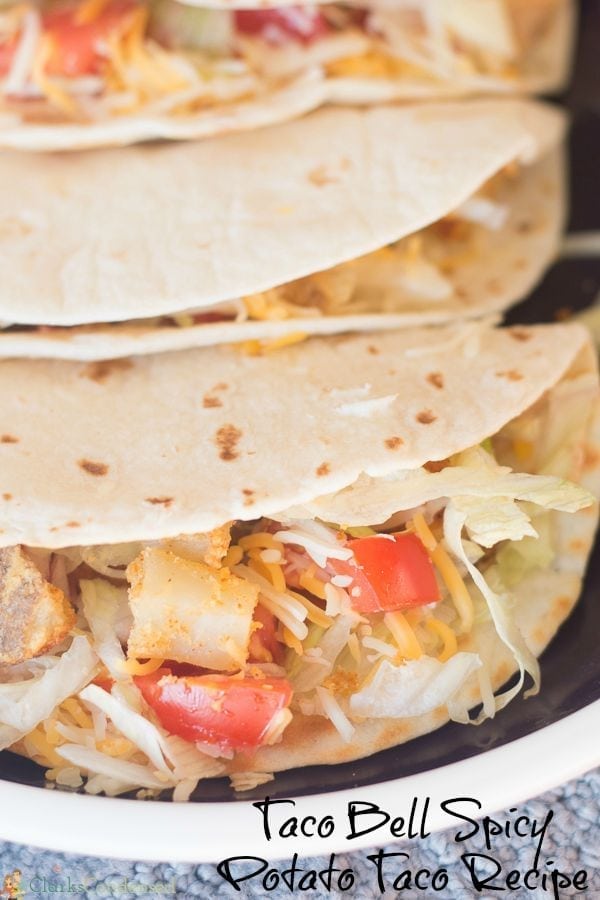 Taco Bell Spicy Potato Soft Taco
Ingredients
1 large russet potato, cleaned and diced
1 tablespoon olive oil
1 heaping tablespoon white flour
1 teaspoon onion powder
1 teaspoon garlic powder
1/4 teaspoon paprika
1/4 teaspoon cayenne pepper
Soft taco tortillas
lettuce, shredded
Tomatoes, diced
Colby Monterrey Jack shredded cheese
Spicy Chipotle Sauce, See recipe below
Instructions
Preheat oven to 400 degrees.
Place potatoes in a bowl and toss with olive oil.
In another bowl, mix together the white flour, onion powder, garlic powder, paprika, and cayenne pepper.
Toss with the potatoes until coated.
Spread potatoes on a lightly oiled cooking sheet.
Cook for 10 minutes, flip, and then cook for another 10 minutes.
While the potatoes are cooking, heat a frying pan. Once fully heated, place tortillas on it and cook for about a minute on each side. No oil needed.
Prepare chipotle sauce.
Once the potatoes are done, let cool a few minutes then assemble tacos - tortilla, a spoonful of chipotle sauce, potatoes, lettuce, tomatoes, and cheese.
Spicy Chipotle Sauce
Ingredients
¼ cup sour cream or plain Greek yogurt
½ tablespoon white vinegar
¼ teaspoon onion powder
¼ teaspoon garlic powder
¼ teaspoon sugar
⅛ teaspoon salt
⅛ teaspoon paprika
¼ teaspoon cumin
½ teaspoon chili powder
Instructions
Combine all ingredients in a small bowl and mix together until combined.
Store in an airtight container in the refrigerator.
I know, fast food is bad for you, and Taco Bell is probably at the lowest end of the fast food totem pole. But…I still like it. However, in an attempt to be healthier, we've been avoiding fast food more. Still, I find that a crave a few things from places like Taco Bell every now and then.
I've already shared a copy cat Mexican Pizza from Taco Bell, as well as a copy cat caramel apple empanada. Today, I'm going to be sharing one of my favorite items from Taco Bell – the spicy potato soft taco. This version is a lot better for you, and it tastes even more delicious. It's a great meatless meal as well.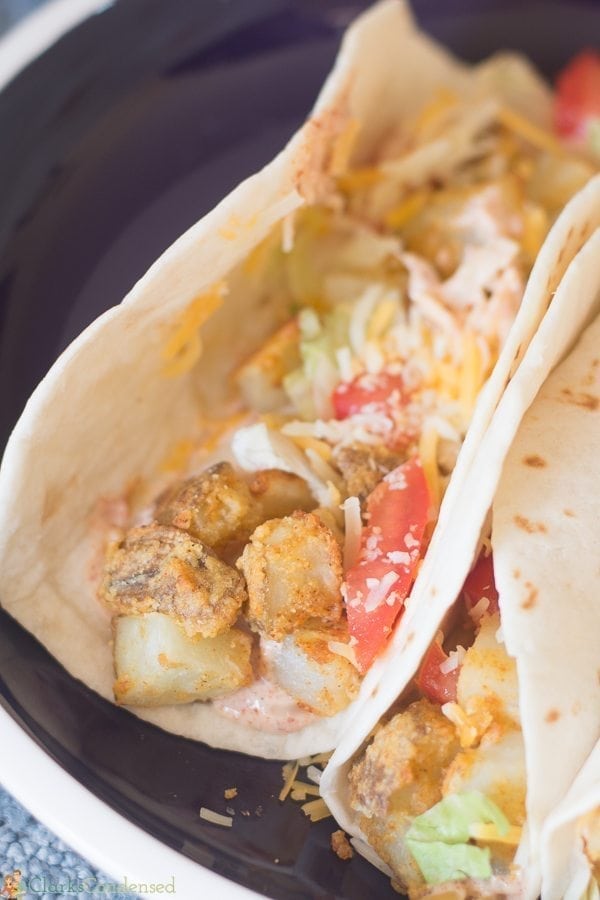 I went to Taco Bell's website, and they list everything that is in their food. Admittedly, reading some of the ingredients made me gag a little bit, but I got over it, and I was able to pull out the essential ingredients and make something rather delicious!
We all really enjoyed this meal, and it was very filling! Forrest was surprised when he realized there was no meat in them, and that the potatoes were completely satisfying in the taco. While they taste very similar to the kind you can buy at Taco Bell, you can rest assured knowing what's in them!