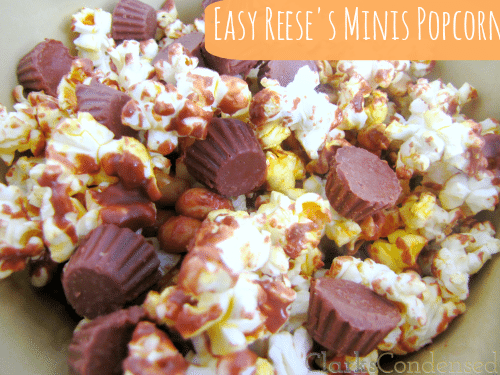 Happy Halloween everyone! I hope you all can have a fun and enjoyable day. I know our day is jam-packed full of fun! Today, I'm going to be sharing with you a fun way to use up extra Reese's candy from Halloween, and is perfect for all the NFL football games that are around this time of year.
As much as I wish I could say I enjoy watching sports — especially on television — I really don't. Occasionally a game will catch my eye, but really, most of the time, I fight to stay awake. However, I will admit that during my early college years, I caught a bit of the sports bug and often went to NCAA Football games at BYU. I mainly went for the socialization with roommates, but I couldn't help but get into the spirit of things and cheer on my Cougars to victory.
Since we got married, and had Jack, my days of going to the games are over, and I don't really pay attention to games much. However, Forrest is still a fan of all sports, especially NCAA® football and basketball, so I try and support him with that. When we are in Colorado, he often watches the game with my dad, brother, and grandpa, and, of course, snacks are a must! Even if I don't particularly love watching sports, at least I can enjoy making treats, right?
One of Forrest's favorite sweet treats is anything Reese's®. He just loves the combination of chocolate and peanut butter. One of my favorite snacks to make is gourmet popcorn. So, I thought this yummy popcorn would be the perfect treat for watching a football game — it has traditional, football snacking foods like popcorn and peanuts, and the Reese's® Minis had a delicious sweetness, that pairs nicely with the saltiness of the peanuts and popcorn.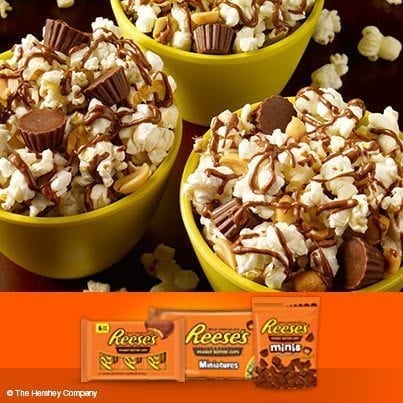 Be warned though — this stuff is SO addictive. I'm glad I made it right before we went on a trip, because I think I could have eaten it all myself. It was so easy — only three ingredients.  It's super cheap to make as well!
NEVER Miss Another Recipe!
Sign up for our food and recipe newsletter today
Free eRecipeBook upon signup
Free Meal Planning Bundle
Easy and Family Friendly Recipes EVERYONE Will Love!
Ingredients
8 cups Popped popcorn
3/4 cup Clover Valley Party Peanuts (or any variety)
1-1/3 cup (8 oz. package) Reese's® Minis
Instructions
Pop popcorn and separate kernels.
Line a tray or cookie sheet with tin foil or parchment paper. Spread popcorn and 1/2 cup peanuts (more if you like lots of peanuts) on the tray
Chop 1 cup Reese's® into pieces and place in a microwave-safe dish. Microwave for about 1 minute, and stir. If the minis haven't been completely melted at this point, microwave in 15 second intervals.
Drizzle over the top of the popcorn. Let harden in refrigerator for about 30 minutes.
5. Place in bowl and sprinkle remaining Reese's® and peanuts on top.
7.8.1.2
996
https://www.clarkscondensed.com/food/reeses-popcorn-2/
This recipe was created on ClarksCondensed.com. Feel free to distribute as needed, but if you post it on your own site, please link to back to ClarksCondensed.com
COMMENT POLICY:
All we ask is that you be kind. We welcome differing opinions, but any comments containing personal attacks, sarcasm, etc. will be removed immediately. Keyboard warriors aren't welcome 🙂 All comments are moderated and may take time to be approved. Anything not pertaining specifically to the content of a post will be removed (including comments about ads).