This easy pizza sauce is sure to become a family favorite in your home. We love making this on top of our fast and easy pizza dough for an easy weekend meal.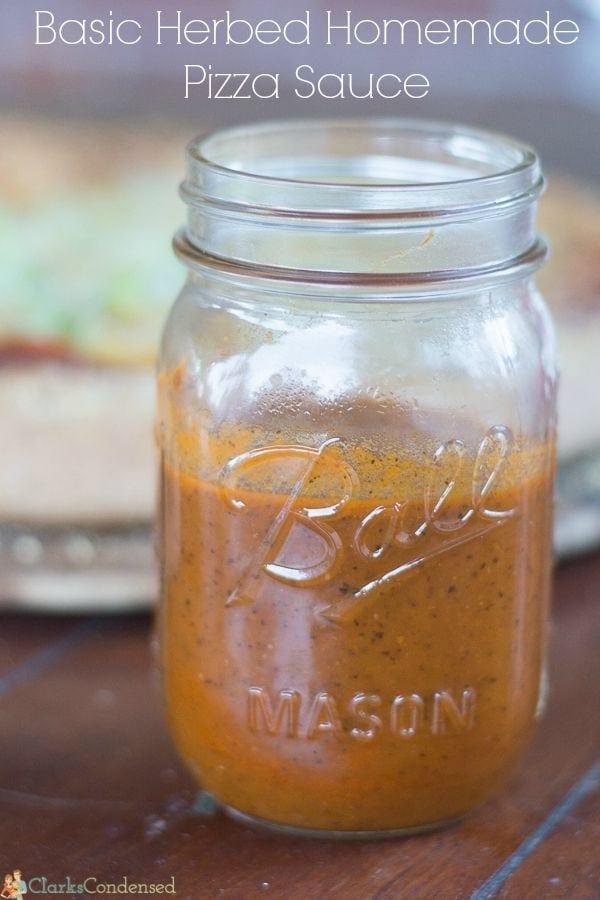 Best Pizza Sauce Recipe
Around here, if we are making pizza…we are making homemade pizza sauce. There's just no way around it! Forrest takes great pride in creating flavorful pizza sauces, and if he's willing to make it – that's fine with me. I have yet to find a jarred pizza sauce that beats out the flavor and spice of the pizza sauces he creates.
This is a basic herbed pizza sauce – we made it with some ingredients from our garden, and it was absolutely fantastic. I could almost just eat it by the spoonful. We didn't make this as spicy as we sometimes do, but if you want a kick, adding some red pepper flakes is always a nice addition.
This is perfect on top of of our easy pizza dough recipe or even on top of English muffin pizzas. This is always a huge hit with everyone who tries it – we are always being asked for the recipe.
So if you are looking to make a pizza sauce from scratch, this is definitely the recipe you'll be looking for.
How to Make Pizza Sauce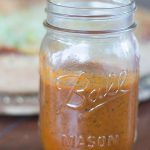 Easy Pizza Sauce Recipe
Ingredients
1 can tomato sauce
1 small can tomato paste
1 tablespoon oregano
6 basil leaves
1 teaspoon parsley
1 teaspoon thyme
1 tablespoon molasses
1 teaspoon onion powder
1 teaspoon garlic powder
1 tablespoon olive oil
1 teaspoon salt
Instructions
Mix all ingredients together until combined.

You can put the sauce in a sauce pan and heat over low heat for about 20 minutes. However, it tastes without doing that as well!

NEVER Miss Another Recipe!

Sign up for our food and recipe newsletter today

Free eRecipeBook upon signup
Free Meal Planning Bundle
Easy and Family Friendly Recipes EVERYONE Will Love!
OTHER RECIPES YOU MAY ENJOY:
Pulled Pork Green Chile Pizza
COMMENT POLICY:
All we ask is that you be kind. We welcome differing opinions, but any comments containing personal attacks, sarcasm, etc. will be removed immediately. Keyboard warriors aren't welcome 🙂 All comments are moderated and may take time to be approved. Anything not pertaining specifically to the content of a post will be removed (including comments about ads).