This easy chicken pad thai recipe takes less than one minute and can be made in just ONE pot! It features a delicious Pad Thai sauce – a great gluten free recipe.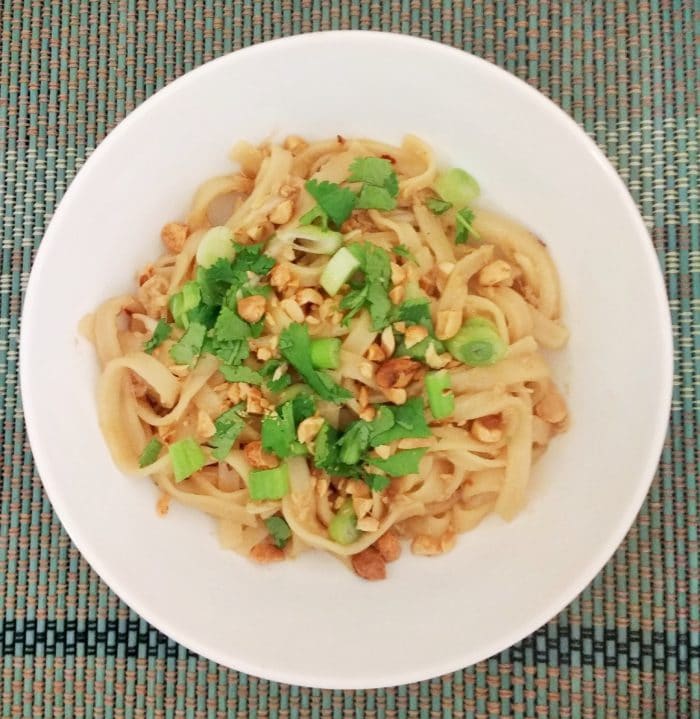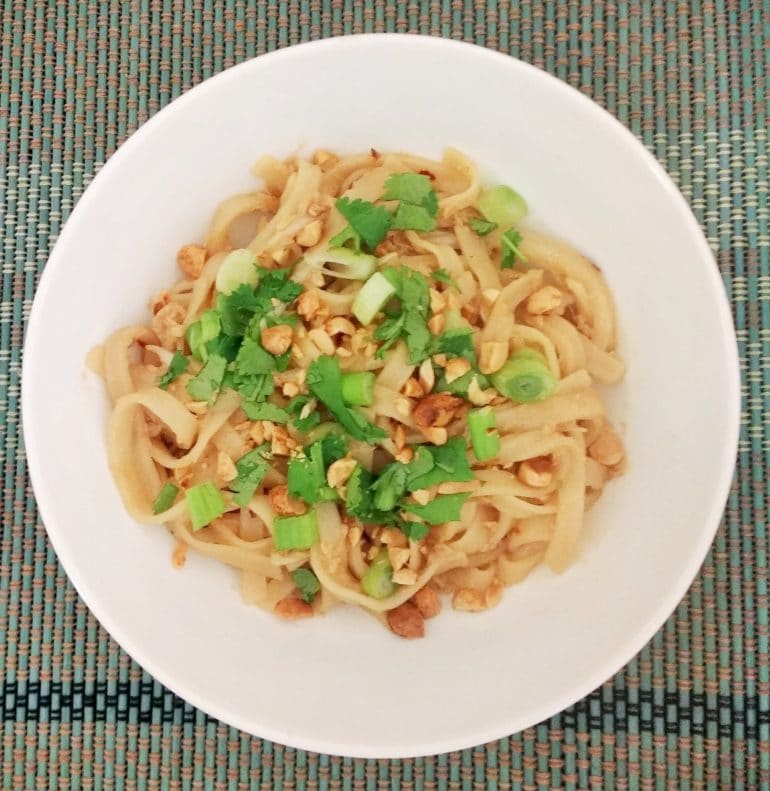 One Pot Pad Thai
This post was sponsored by Harris Teeter but reflects my personal experiences and opinions.
Pad Thai disappears quickly in our house.  This dish is even more enjoyable when I make it using organic products. We are free from all those scary words–
pesticides, artificial preservatives, antibiotics, and growth hormones
! As I was picking up ingredients at Harris Teeter I was impressed by the variety of organic products they offer at a low price.  They have 351 Harris Teeter Organics products conveniently identified in purple (my favorite color).  I have always enjoyed shopping at Harris Teeter because they have a great selection of groceries, the staff is always helpful, and the produce section always has samples that my two-year old enjoys.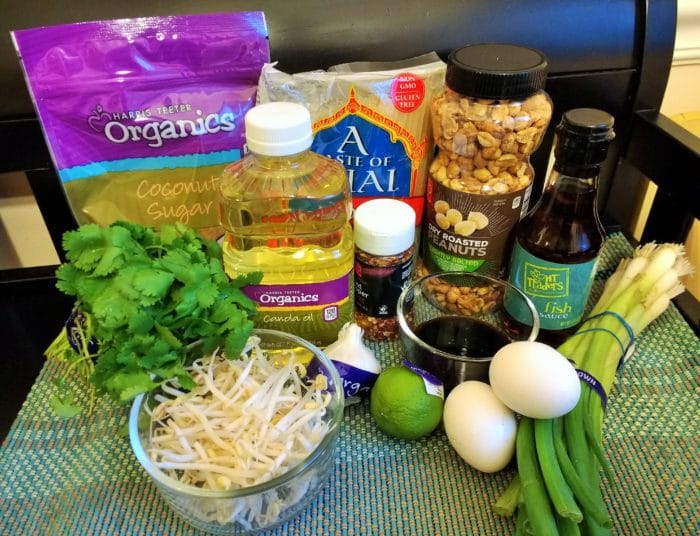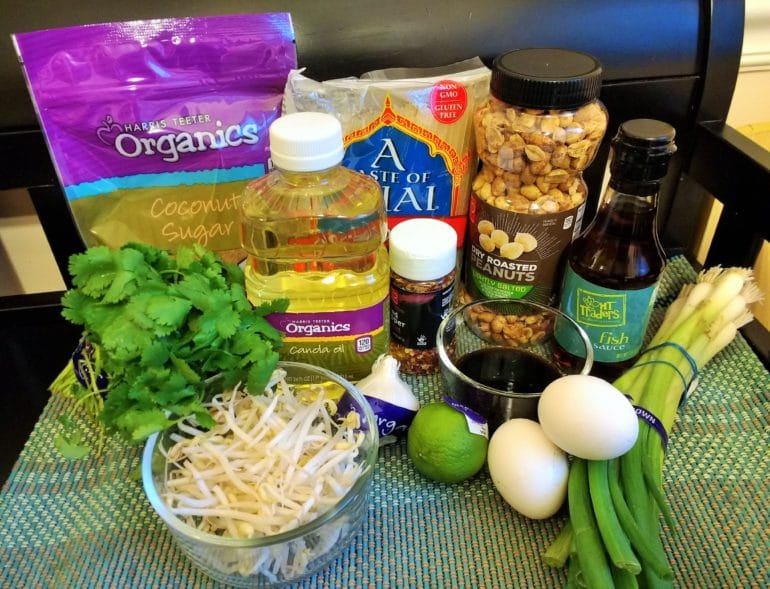 The shopping trip to collect the ingredients for my Pad Thai could have been disastrous since I had two kids with me—one child had just had 4 shots that morning and the other was my 2-year-old who skipped her nap that day.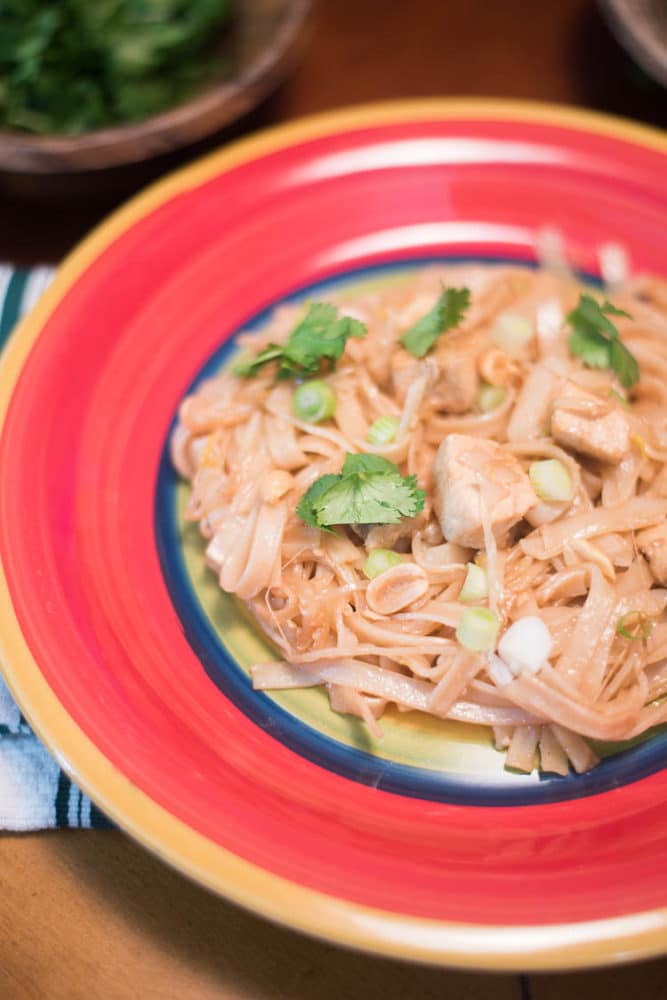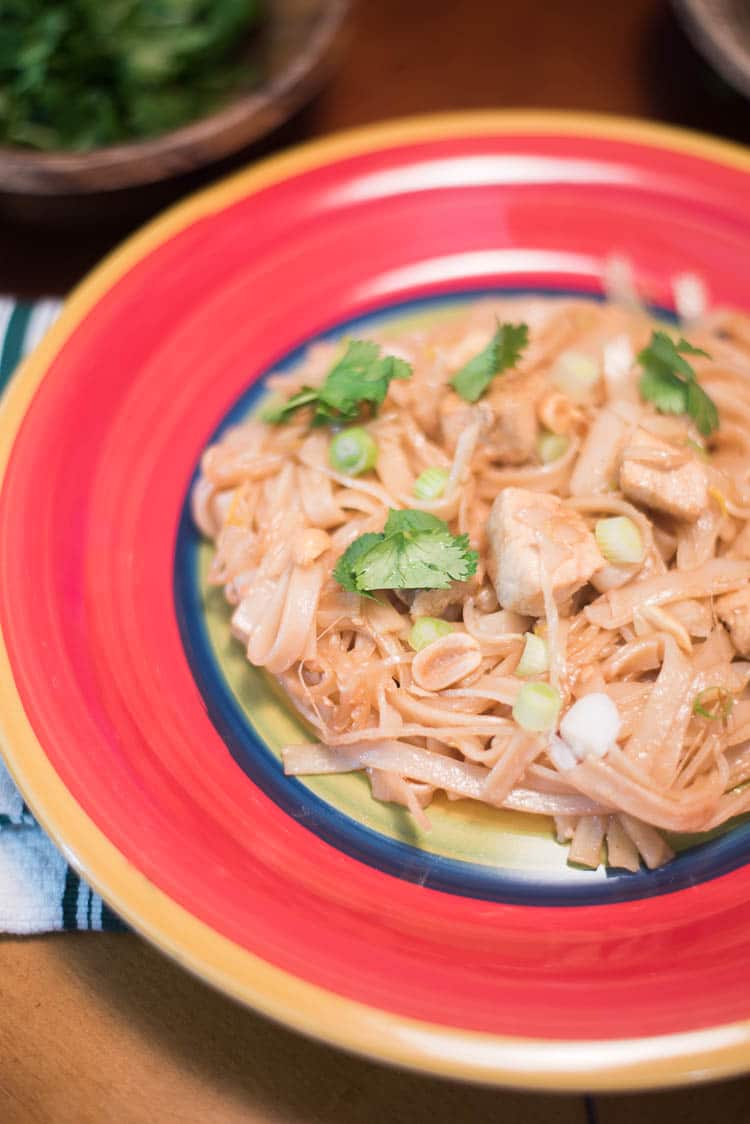 Three things saved me. 1) The organic products are all labeled in purple making the selection process easier. 2)  The checkout staff helped me to my car so I could load my kids while they loaded my groceries. 3)  They have free WiFi so my child could watch an episode of Peppa Pig instead of asking to get out of the cart the entire time.
I already loved this recipe but using Harris Teeter Organics made it even better.  I knew I was making a healthier choice for my family without breaking the bank.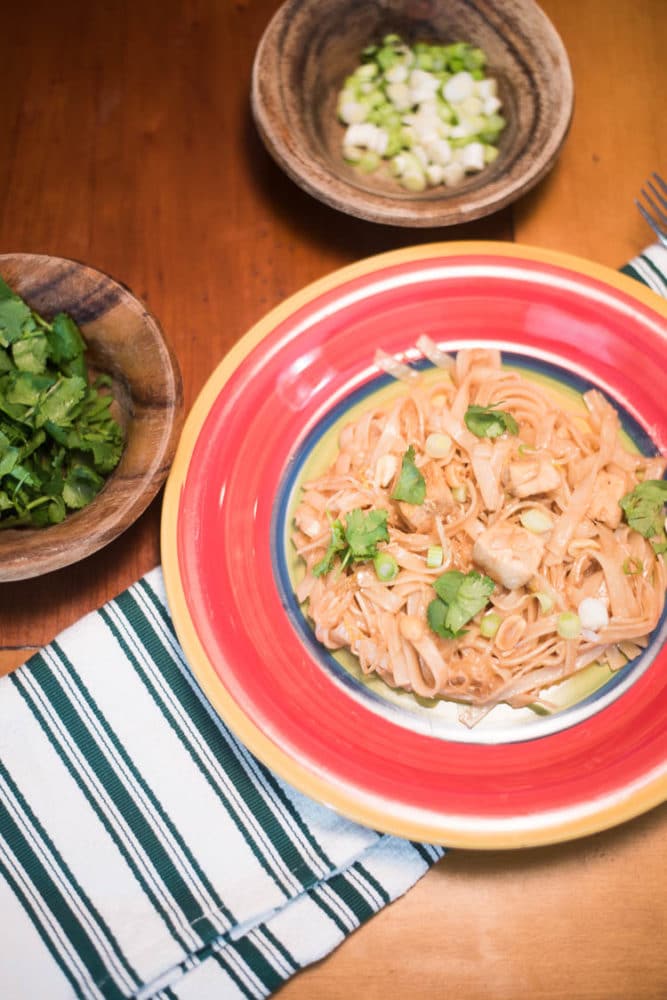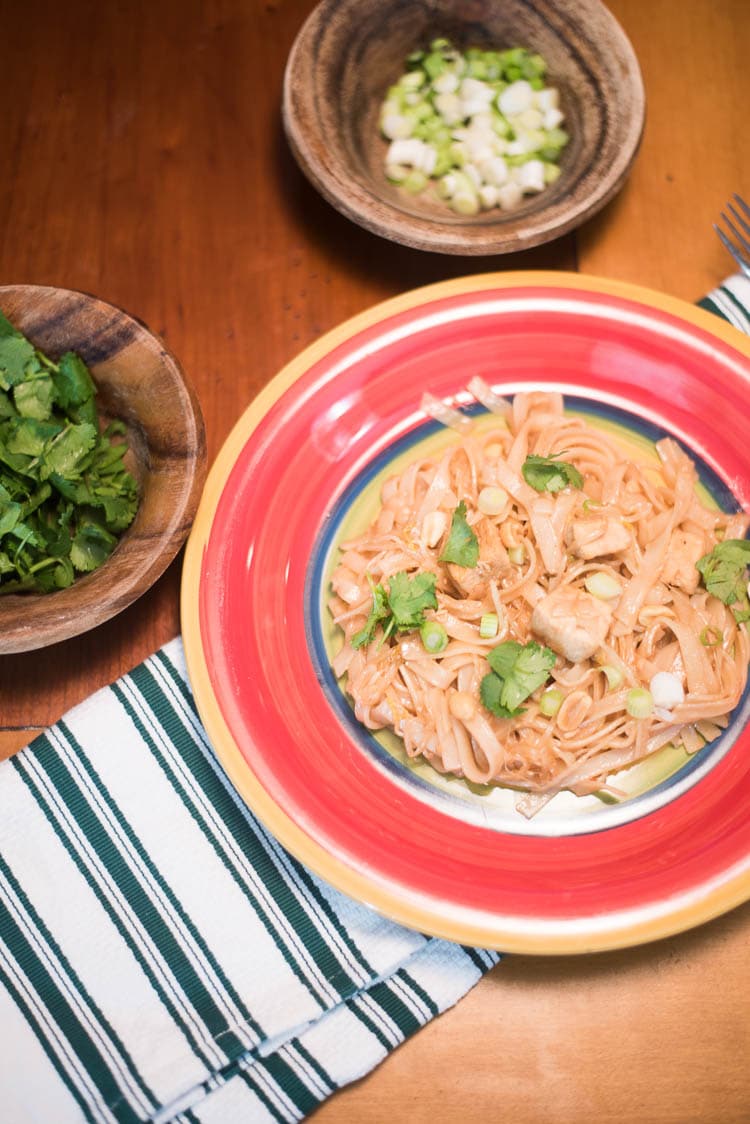 This Pad Thai recipe is super easy, and if you don't want to make the sauce yourself, you can purchase Pad Thai sauce, but I prefer to make it myself since I can adjust it to my preferences and I know it is made with fresh organic ingredients.
You will need noodles, a protein (chicken, shrimp, eggs, or tofu), sauce, and toppings.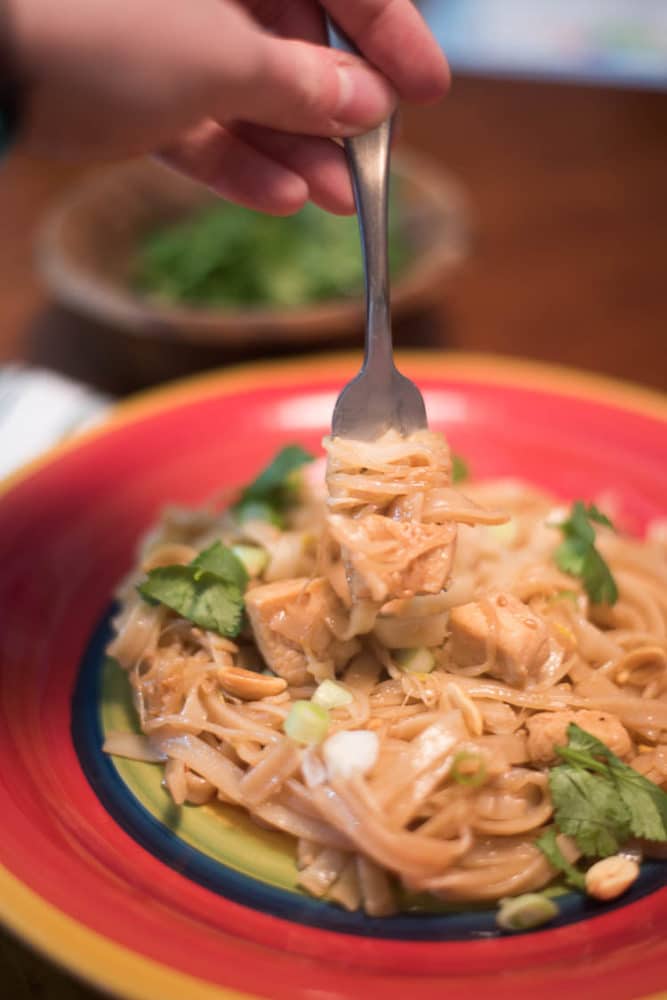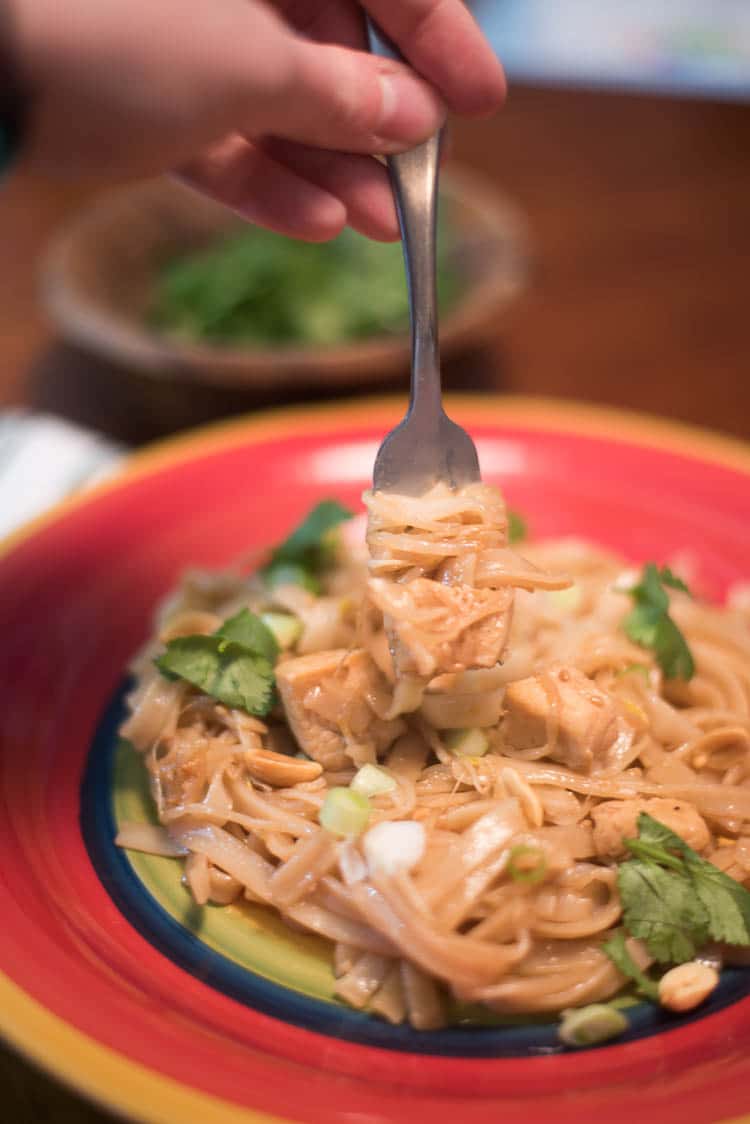 Organic Easy Pad Thai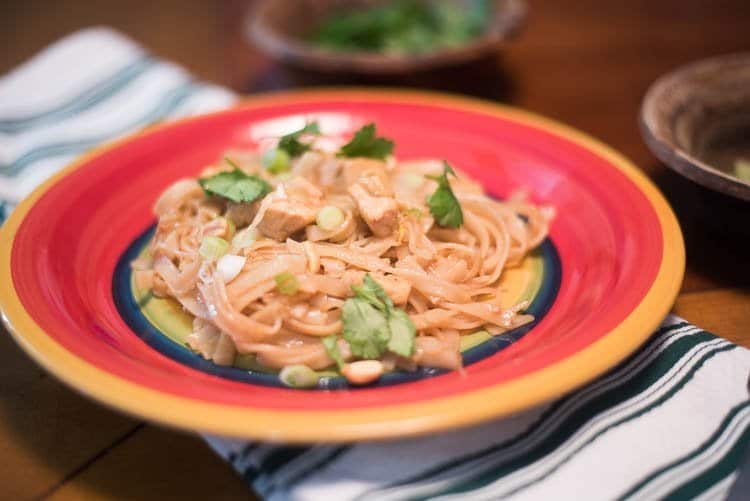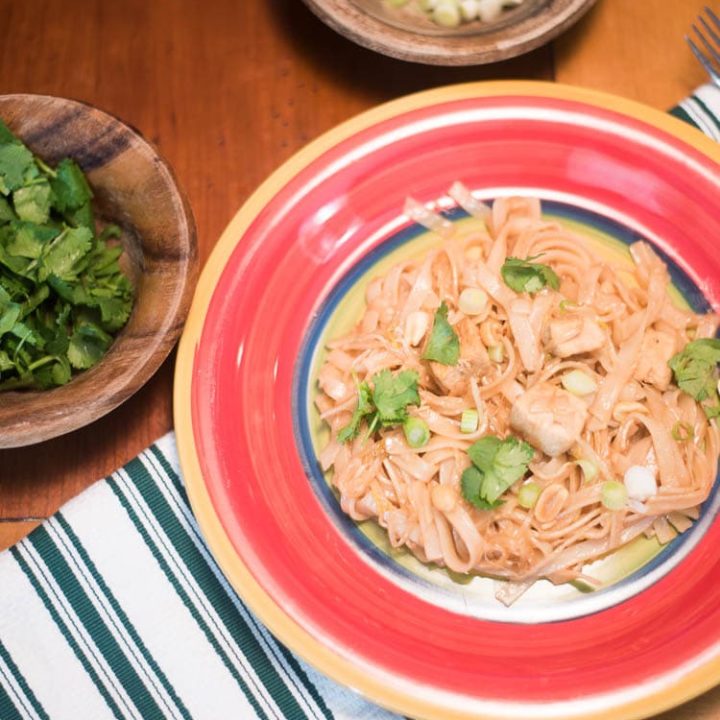 One Pot Chicken Pad Thai Recipe
Ingredients
8 oz Pad Thai rice noodles, flat pasta like linguine can be substituted if necessary
8 oz Chicken, cubed (possible substitutions: shrimp, 2 scrambled eggs, or tofu)
2 Tablespoons HT Organics Canola Oil
1 Clove HT Organics garlic
2 Cups Bean Sprouts
Sauce
2 Tablespoons Soy Sauce
2 Tablespoons lime juice, about 2 HT Organics Limes
2 Tablespoons HT Organics Coconut Sugar, Or HT Organics Brown Sugar
1/4 teaspoon Crushed Red Pepper
1 Tablespoon Fish Sauce
1/2 Cup HT Organics Chicken Broth
Toppings
1/4 bunch HT Organics cilantro chopped
1/2 Cup peanuts chopped
2 HT Organics Green Onions, sliced
Instructions
Soften the rice noodles in boiling water for 7-8 minutes until almost cooked (keep a bit chewy). You will finish cooking the noodles in the sauce. Drain and toss the noodles with a splash of canola oil.
Heat 2 tablespoons of canola oil over medium heat. Pan fry the cubed chicken. When the chicken is cooked add the minced garlic and bean sprouts. Continue cooking for an additional minute. Remove the pan from the heat.
To mix the sauce combine soy sauce, lime juice, coconut sugar, crushed red pepper, fish sauce, and chicken broth. Of course you may adjust this recipe to your level of heat (red pepper), sweetness (sugar), or tanginess (lime and fish sauce).
Add the noodles and the sauce to the pan with the chicken and garlic. Gently toss together. Heat on medium heat until the noodles absorb the sauce (about 2 minutes).
Plate and top with chopped cilantro, peanuts, and green onions. Enjoy!