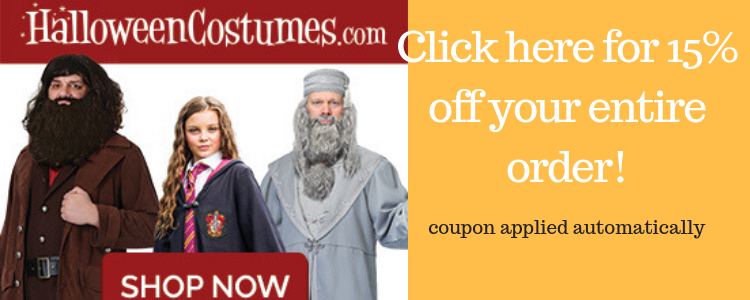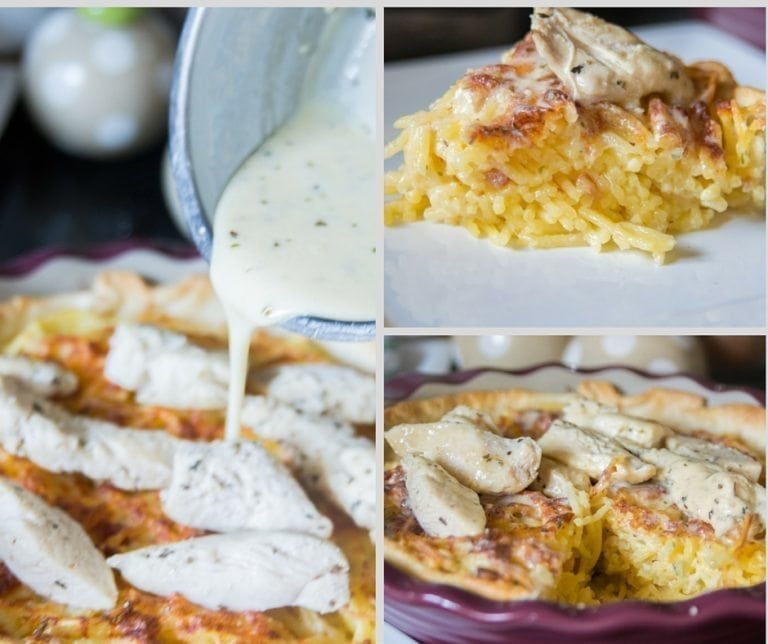 You know those kiosks at the mall that try and sell you products that you don't really need?
Yeah, I avoid those like the plague. Once one of them draws me in, it's hard for me to pull away. They are just so convincing. I'd be lying if I said I hadn't bought something from them in the past (usually to promptly return it the next day.)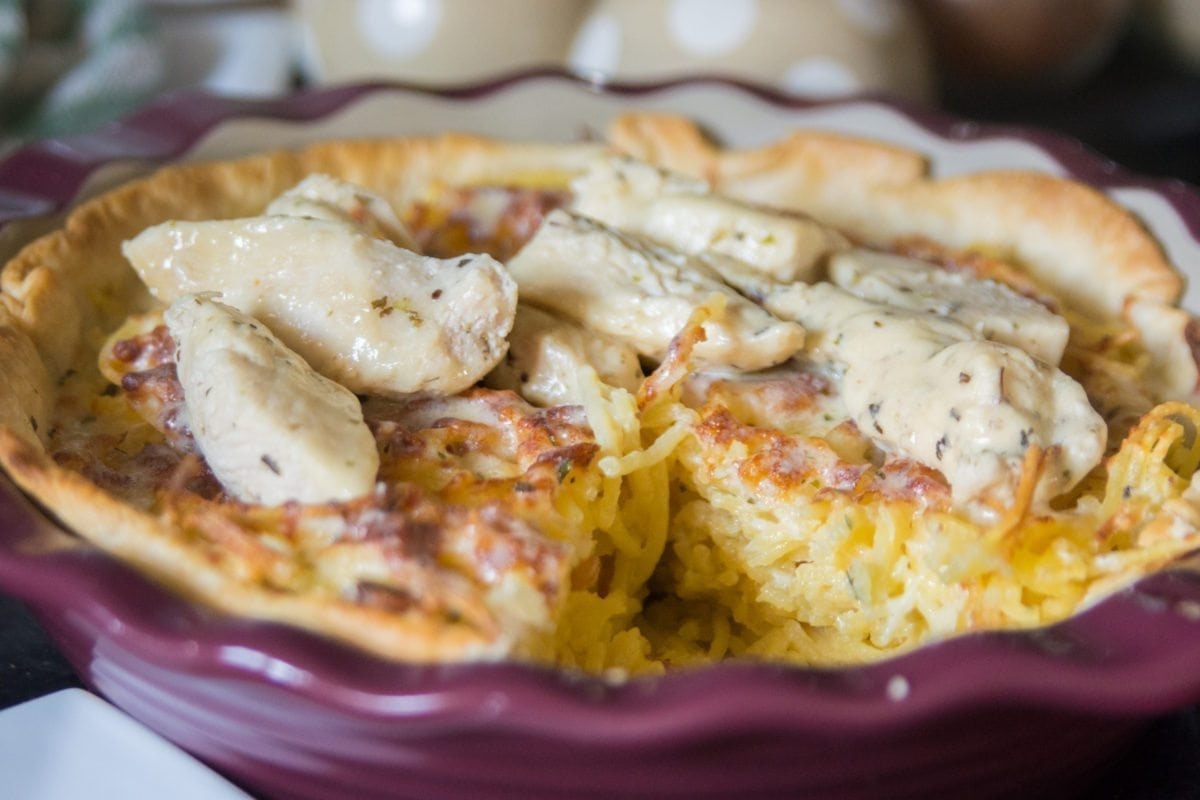 It's the same way at Costco. I'm a sucker for the samples and often buy a product we sampled (even though 9 times out 10, it doesn't taste nearly as good when we make it at home!)
The other day, I got an email from Olive Garden.
It announced that this was the LAST week to get their new Spaghetti Pies…apparently, they were only on the menu for a short time.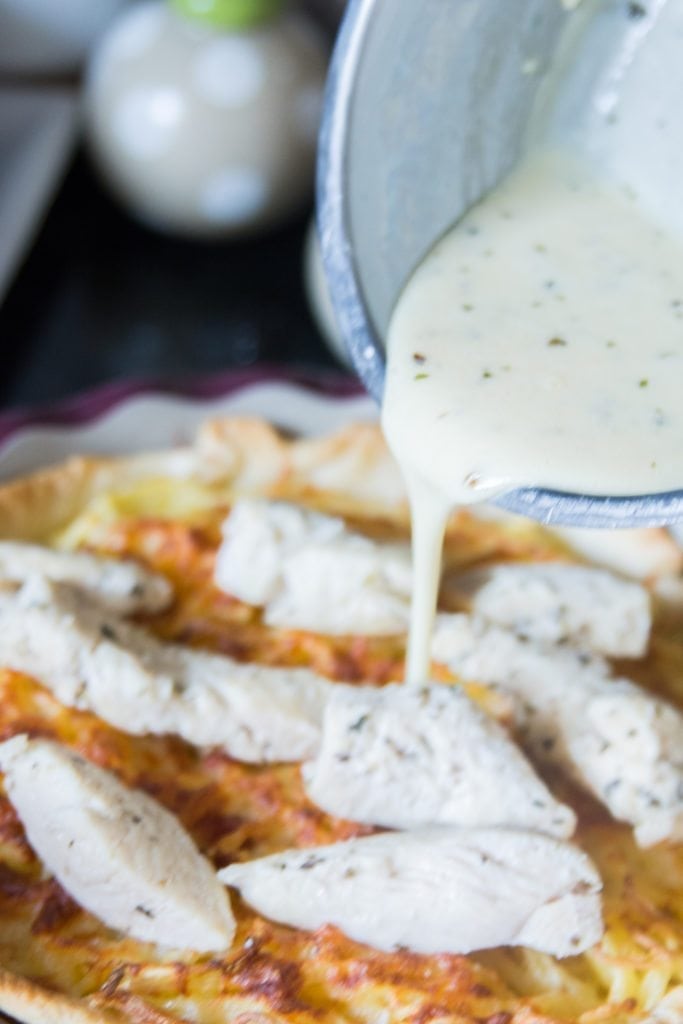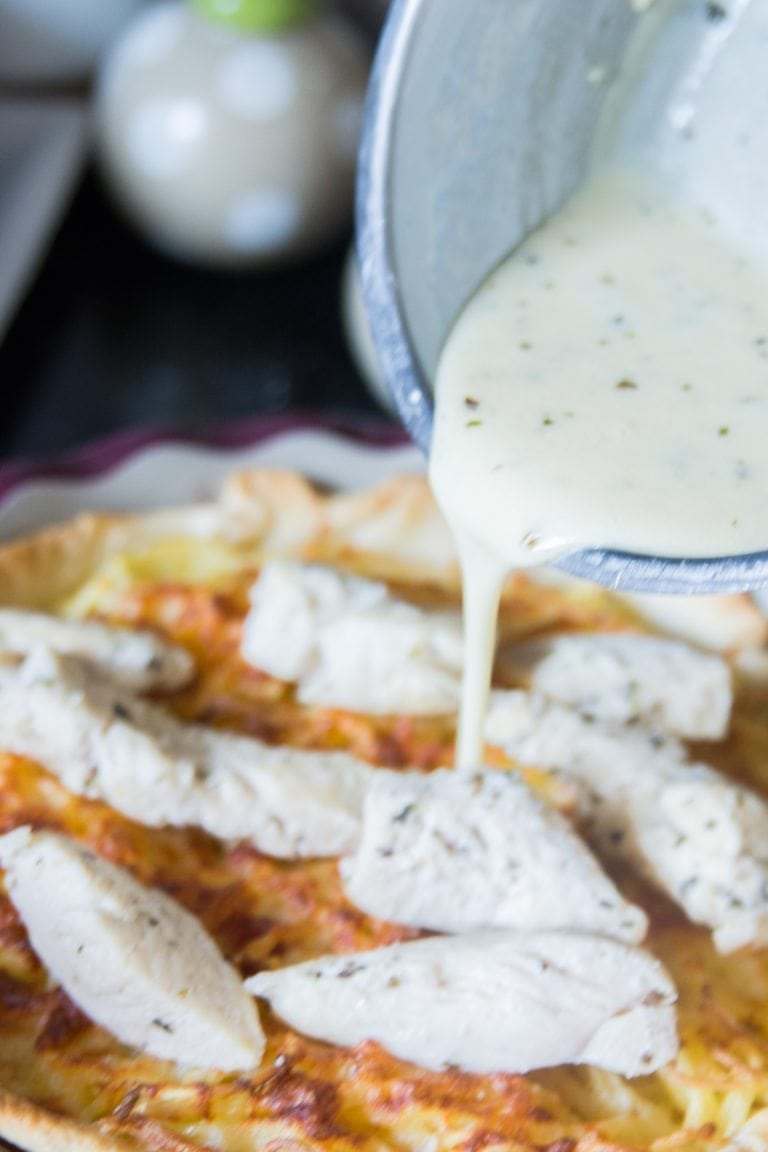 Whoever did the advertisement should get a high-five, because it convinced me that I needed to try them STAT. The pictures looked so delicious, and I couldn't stop thinking about it.
So, we went. And let me tell you, no buyers remorse here. We ordered the chicken alfredo spaghetti pie, and it was so good. Quite possibly one of the best things I've ever gotten at Olive Garden. And I really like most everything I've ever eaten there!
I had never had anything like it before, and it was absolutely delicious. It had a flaky crust, cheesy pasta, delicious chicken, and it was topped with the classic Olive Garden alfredo sauce.
Amazing.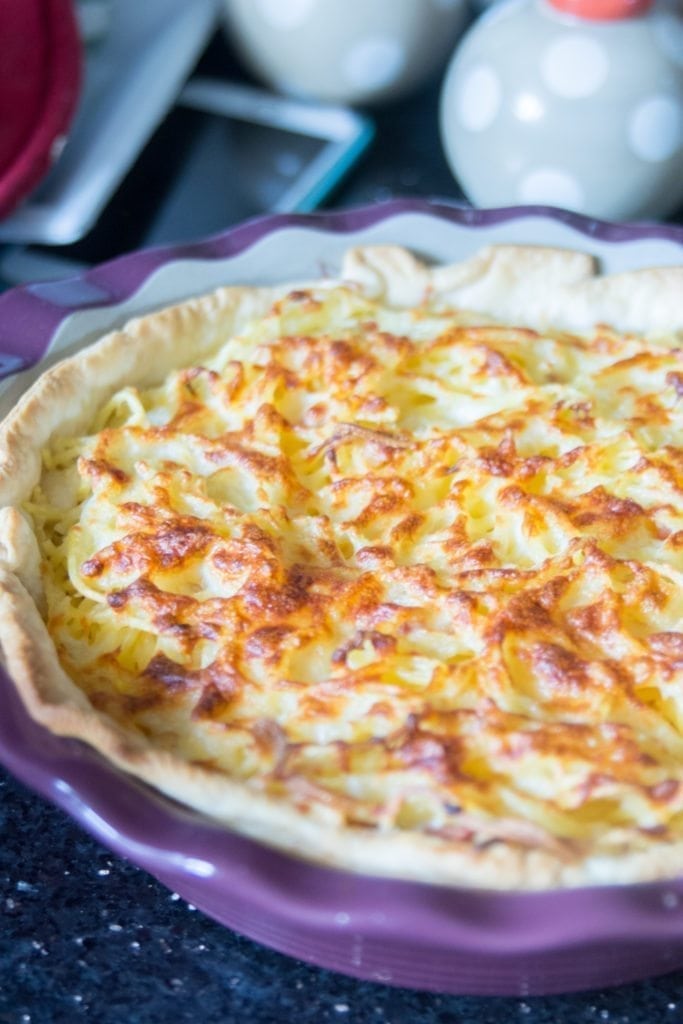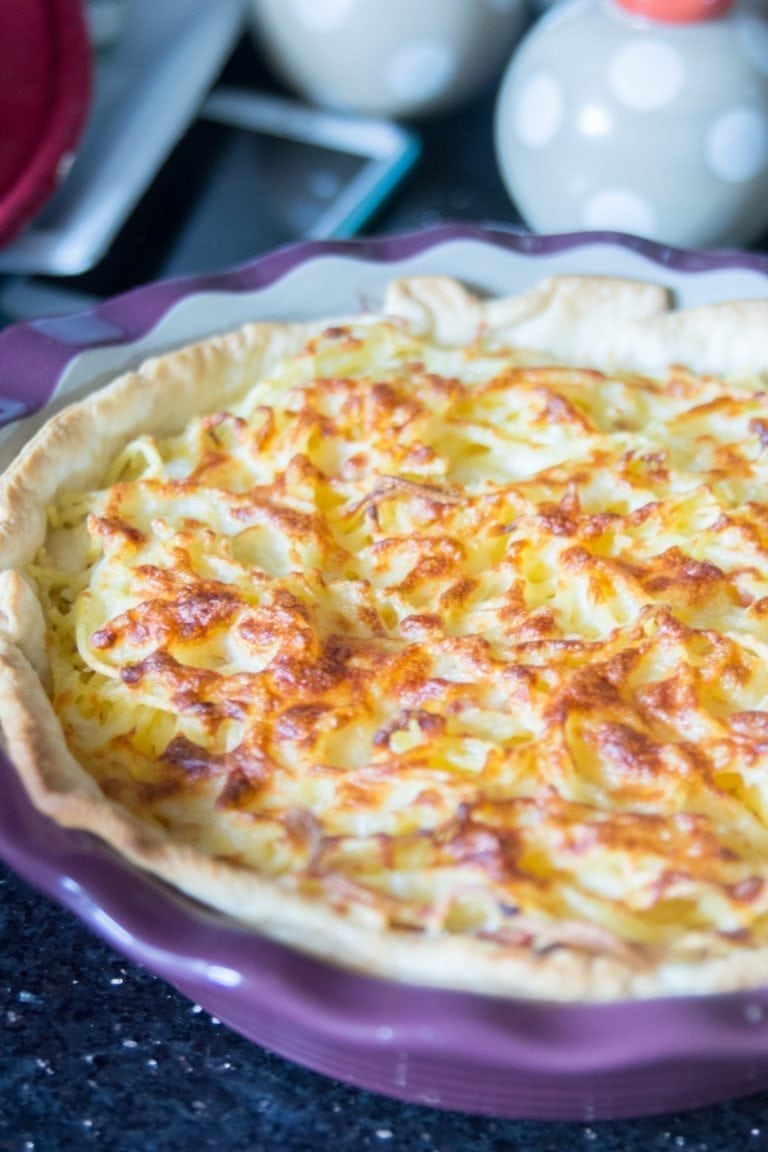 Forrest and I shared it, and it filled both of us up. I mentioned to our waitress how much I enjoyed it, and how they should totally make it a permanent part of the menu. She said she heard they might be…but when I checked tonight, it's nowhere to be found on their website.
Fortunately, I was able to make a pretty good copycat version of it. I wish I had made a little more alfredo sauce, as it was a little lacking in that. However, it really turned out pretty similar to the delicious kind I had at Olive Garden a few weeks ago.
The description from Olive Garden said it was a delicious pasta combined with seven Italian cheeses and Italian bacon (aka pancetta), topped with grilled chicken and their famous alfredo sauce, all nestled inside a pie crust!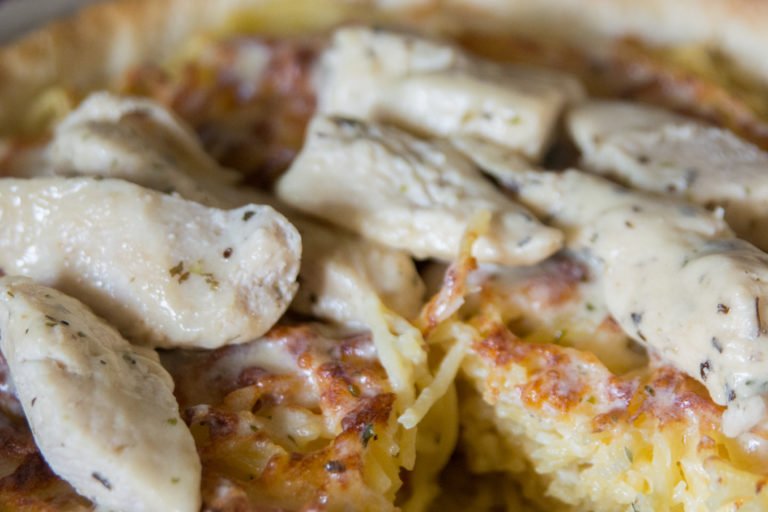 The version I made uses a refrigerated pie crust, and I bought a package of shredded Italian Cheese (it only has five cheeses). I found pancetta in the refrigerated deli section. I made alfredo sauce, but next time I plan to use this version from the Olive Garden website.
We all really liked it, and we even had seconds the next day. Which says a lot about it for me, because I never eat leftovers.
I hope you all enjoy this as much as we did!
Make sure to check out other discontinued restaurant items here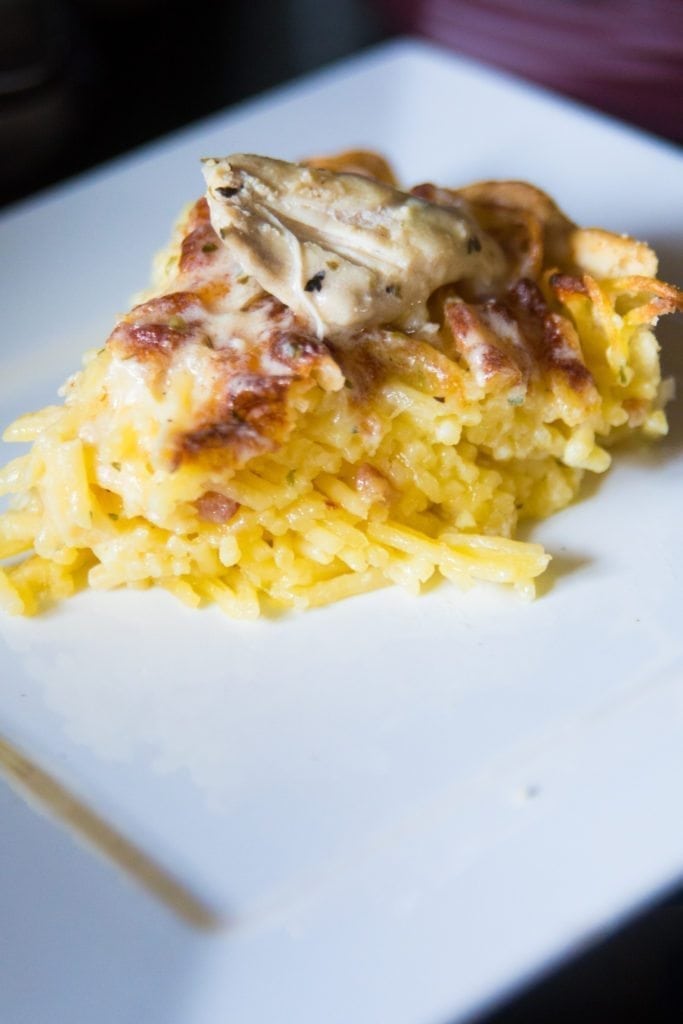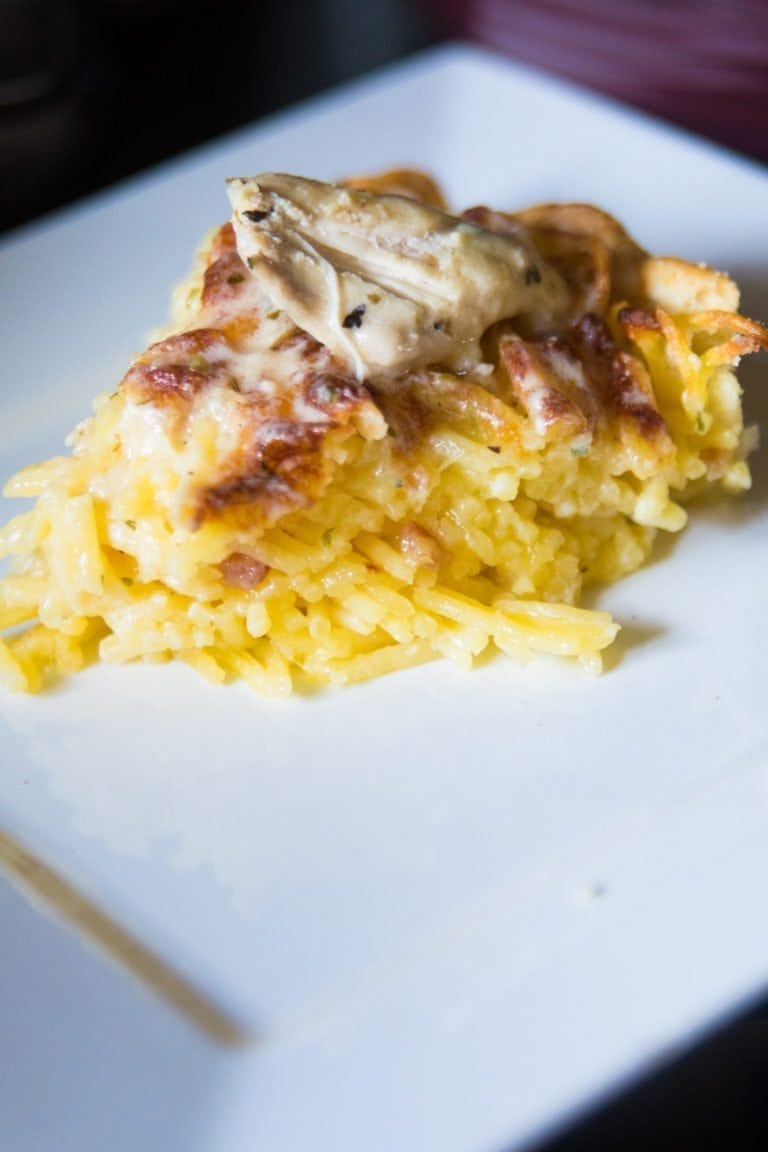 Katie Clark
Yields 4-6 servings
Copy Cat Olive Garden Chicken Alfredo Spaghetti Pie
20 minPrep Time
25 minCook Time
45 minTotal Time
Ingredients
1 package (16 ounces) of spaghetti noodles
1/2 cup cooked pancetta
1-2 cups of homemade alfredo (see comments for Alfredo recipe suggestions)
2 cups Italian cheese shredded cheese blend
1/2 cup grated parmesan cheese
1 refrigerated pie crust (or homemade if you really want)
1 to 1 1/2 lb chicken breast, sliced
Olive oil
Salt
Pepper
Garlic Powder
Italian Seasoning
Instructions
Preheat oven to 350 degrees.
Bring a pot of water to a boil and put noodles in. Cook until al dente.
While cooking, put a pastry pie shell into a deep dish pie pan.
Drain the excess water from the pasta and then add in 1 1/2 cups shredded Italian cheese and parmesan cheese. Stir quickly so the cheese doesn't get gloppy. Add pancetta.
Pour the pasta evenly into the pie shell. Top with remaining 1/2 cup Italian cheese.
Bake for about 25 minutes, or until cheese on top is bubbling and brown.
While baking, grill chicken on stove top in a small amount of cooking oil. Toss chicken before cooking in pepper, salt, garlic powder, onion powder, and Italian seasoning.
Make the alfredo sauce as well.
When pasta comes out of oven, top with chicken and alfredo sauce. Reserve extra alfredo sauce for people to add.
Notes
We love this alfredo sauce: http://www.clarkscondensed.com/food/skinny-alfredo-sauce/ But here is the official Olive Garden alfredo sauce recipe from their website: http://www.olivegarden.com/recipe/alfredo-sauce/man-imp-reci-prd-69
7.8.1.2
484
https://www.clarkscondensed.com/food/copycat-olive-garden-spaghetti-pie-chicken-alfredo/
This recipe was created on ClarksCondensed.com. Feel free to distribute as needed, but if you post it on your own site, please link to back to ClarksCondensed.com
Olive Garden Copy Cat Recipes
If you are a big fan of Olive Garden, here are all our copycat recipes from them:


COMMENT POLICY:
All we ask is that you be kind. We welcome differing opinions, but any comments containing personal attacks, sarcasm, etc. will be removed immediately. Keyboard warriors aren't welcome 🙂 All comments are moderated and may take time to be approved. Anything not pertaining specifically to the content of a post will be removed (including comments about ads).