Babies and Disneyland don't have to be mutually exclusive – in fact, it's one of the most baby-friendly places! Here are all our secrets, tips, and tricks for having a magical trip with an infant in tow.

Disneyland with a Baby
A few years ago, I read an article about annoying things at Disneyland, and the author mentioned babies.
She couldn't understand why anyone in their right mind would bring a baby to Disneyland. As I read the comments, she got a lot of criticism for that (and if she was worried about them crying, let's be real – it's so noisy anyways there! Like you'd even notice).
We were well into our planning for our Disneyland trip, but it did make me stop to think about how it would be.
I knew he would never remember it, and that it would limit some of what we could do. However, I thought it would be just fine taking him.
And guess what – it was!
I thought having a baby with us just made the experience all the more fun. Oliver just soaked everything in – he loved going on the rides and looking at all the colors. He was perfectly content to be carried in my baby carrier the entire time. And really, it was nice to have an excuse to sit down and rest every now and then.
I always hate when people say not to do something before your kids will remember it – because guess what – YOU will remember it. And your memories count, too. We've been to Disneyland a few times since that first time we took Oliver, and I've loved every experience because of how unique it was for both of our boys.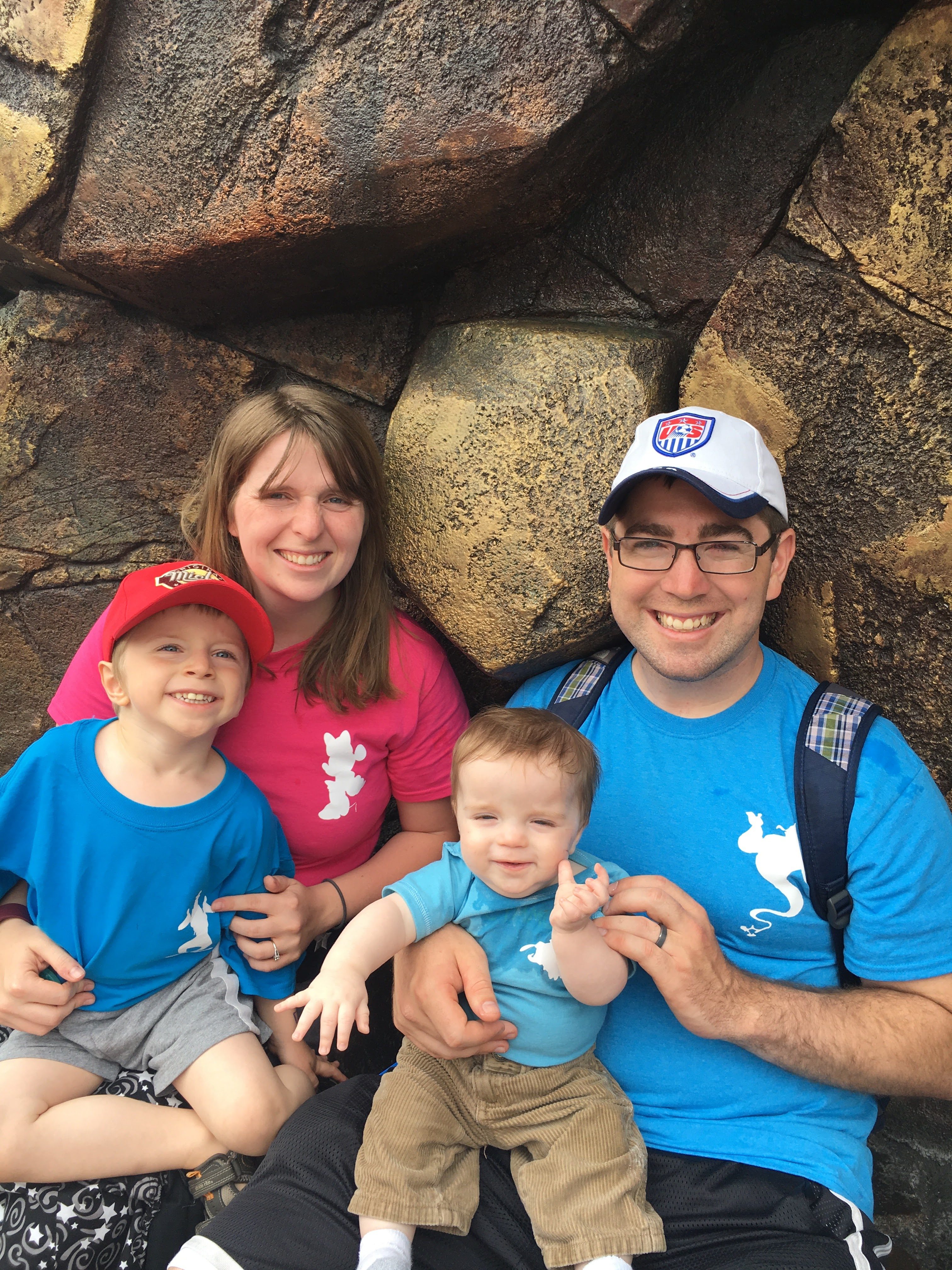 So today, I am going to share everything you need to know about babies and Disneyland so you can have the very best trip possible!
Disneyland for Babies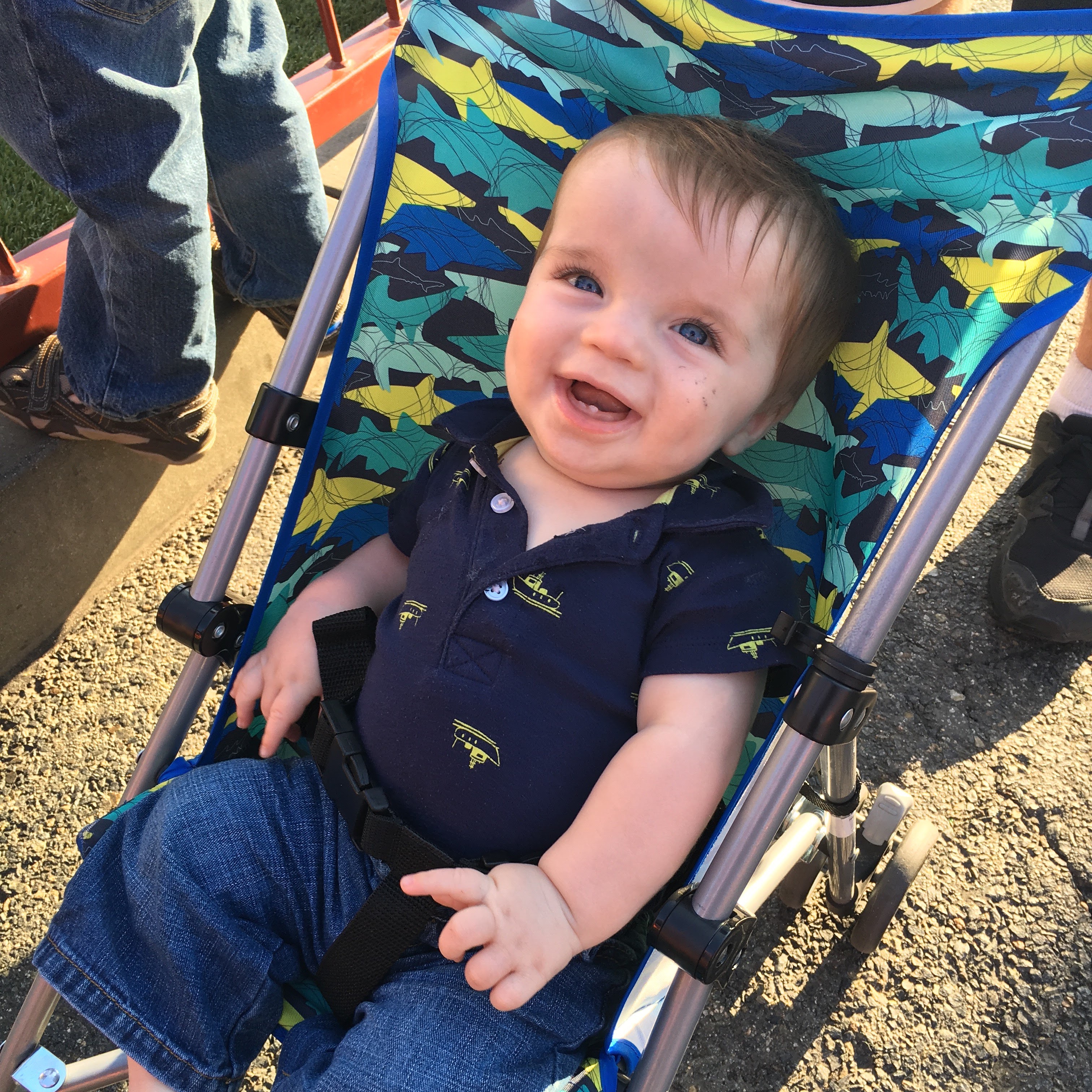 1. Baby Carrier
While you can certainly bring a stroller with you (and I'll talk more about that in a moment), I think it's smart to bring some kind of baby carrier.
I purchased a Baby Ergo carrier a few weeks before I left, and it was one of the best things I did. I've used other baby carriers, but this is really the only one that Oliver loved and seemed content in. It's also the only carrier (beyond the Moby, which he had outgrown) that didn't make my back hurt. He slept really well in it, I was able to go on some rides with him in it, and it was easy to use throughout the day.
2. Rider Switch, MaxPass/Fast Pass, and Single Rider Line
These are three options that will be your best friends while visiting Disneyland with a baby. They make it so everyone can enjoy a ride, even if you have a baby that can't go on the ride
First, there is the Rider Switch. On any ride, you can request from a cast member in the queue for a rider switch pass. This allows another rider to bypass the line and ride the ride after the current party goes. When we went to Disneyland this last time, they gave us a pass for two people,which I thought was nice. Jack ended up being able to go on twice the rides. I highly recommend downloading the Disneyland App, because they can load the Rider Switch pass directly on to your ticket.
Second, there is the MaxPass (or the FastPass). The Fast Pass system has been around for a long time – you go and get and pass from different kiosks for popular rides, then you go back at a certain time and get a minimal wait time.
However, the MaxPass is even better because you can do it all from your phone. When you have a little in tow, it having to run across the park for a Fast Pass is amazing. It is $10 extra per person, per day, but to us, it was so worth it. This last time we went, we only bought two, because we combined them, with the power of the Rider Switch!
And finally, single rider lines. Several rides have a line for people to go on the ride by themselves. This is good if someone doesn't have a FastPass and just wants to get on the ride right away after they are done watching the baby.
3. Baby Care Centers
Both Disneyland and California Adventure offer these rooms – they are full-service centers that are available to help you take care of your baby. They have a nursing room with comfortable chairs, a changing room with changing tables, high chairs for feeding baby, a kitchen, and even a room with a television.
They also have an onsite store where you can buy diapers, wipes, formula, etc. I think this is a great option for when you want to get out of the hot sun.
The one in Disneyland is located next to First Aid at the end of Main Street, and the one in California Adventure is next to Ghirardelli Soda Fountain and Chocolate Shop and across from The Bakery Tour in Pacific Wharf.
4. Bring Others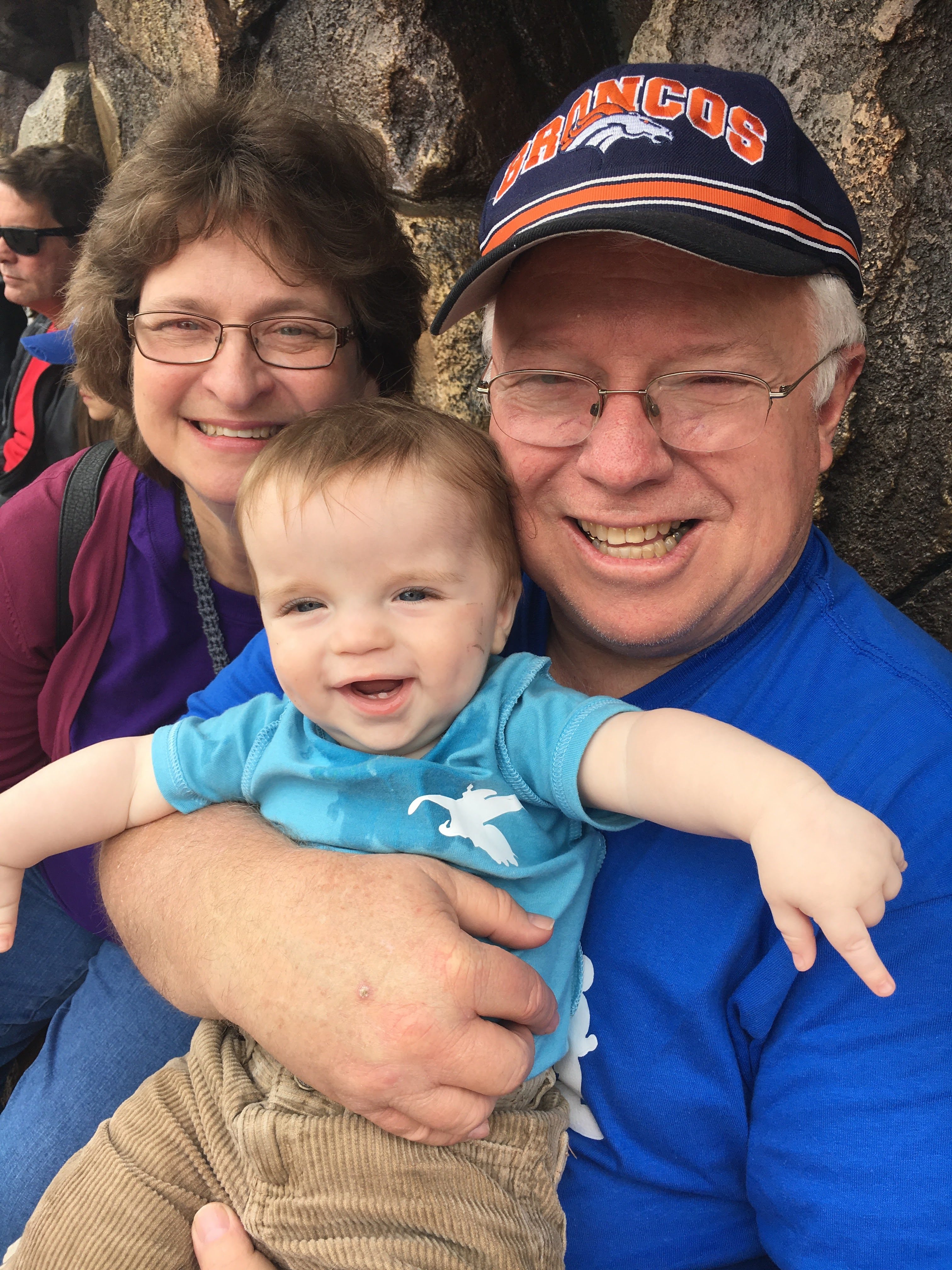 I think what made our trip to Disneyland more successful was having some of our family there. It was nice to have a few extra hands to hold Oliver if Forrest, and I wanted to go on a ride with Jack that Oliver wasn't big enough for. Oliver loved having lots of people to talk to him and dote on him, too!.
Plus, if you are lucky, they might offer to watch your child at night for a few hours so you can go back and have some kid-free fun 🙂
5. Avoid hot or busy months
We went in May, and it was starting to get quite warm. However, it wasn't as hot as it could be. When we went back in 2008, it was over 100 every day. I would avoid going during those days because I think it's just too hot for a little baby. Heat exhaustion is a real risk for anyone, but especially for young children.
If you do go during a hot time of year, make sure you keep baby hydrated. You really shouldn't give a baby under six months water, and only a minimal amount over that, so just make sure you take regular breaks to nurse or bottle-feed your baby.
If you go during peak times of the year, you need to be prepared for longer wait times for rides, food, entertainment, etc. Oliver did pretty well with us as we waited in line, but that might not always be the case, especially if your baby doesn't nap unless they are in their crib! It probably wouldn't be fun for anyone if you get to the very front of the line, only to have your baby start screaming, causing you to leave! 🙂
If you can, summer months should just be avoided altogether. I have heard that a Wednesday in the middle of September is the perfect time to go!
6. Baby-friendly rides at Disneyland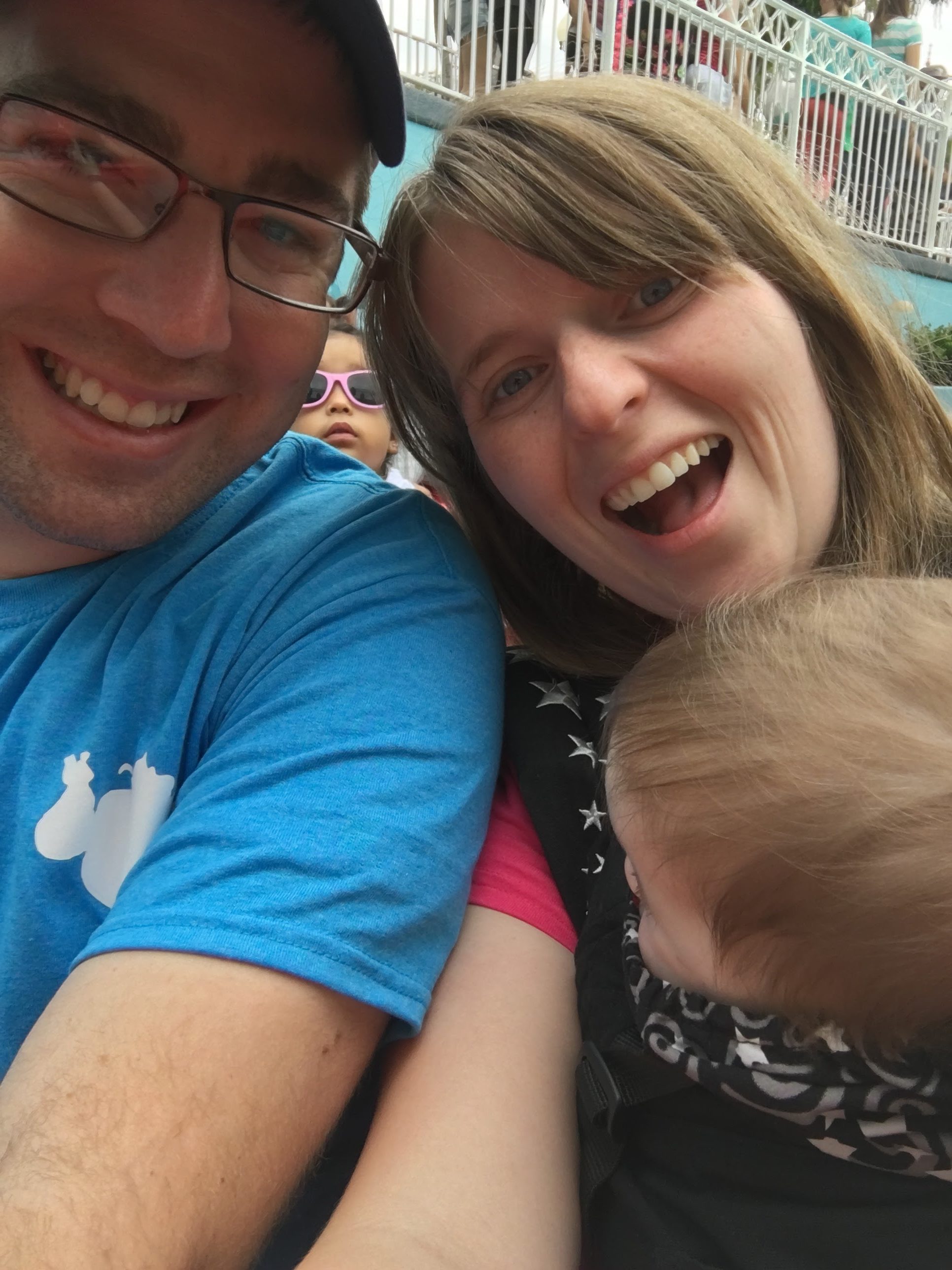 There are a lot of great rides you can go on with your baby at Disneyland. Most of the classic, original rides are baby friendly (even if they are kind of scary!) I was able to wear Oliver right onto most of them.
Here are several rides that were baby friendly. Oliver actually really enjoyed all of them – or at least, he looked around in awe and didn't cry! Keep in mind that these rides can get a bit loud, so you may want to invest in some hearing protection earmuffs (which will come in handy for fireworks).
Disneyland
It's a Small World – this has been Oliver's favorite every time we go
Snow White's Scary Adventure**
Dumbo
Haunted Mansion**
Casey Jr. Circus Train
Disney Railroad
Finding Nemo Submarine Voyage (just FYI, I got totally claustrophobic in here and just wanted to get off! Oliver was fine, though!)
Jungle Cruise
The Many Adventures of Winnie the Pooh
Peter Pan's Flight**
Pinocchio'sScary Adventure**
Pirate's of the Caribbean**
Storybook Land Canal Boats
King Arthur Carousel
Monorail
Disneyland Railroad
Pirate Island
Mark Twain Riverboat
**has scary scenes and sequences
California Adventure
Sadly, the most baby-friendly area in Disneyland no longer exists – Bug's Land. I was so sad to learn this. There are still a few areas babies can go, though.
Fun Wheel (You can get a stationary or a moving cart. We went in the moving cart with Oliver in my carrier…but the stationary might be a better option if you are holding the baby!)
Monster's Inc: Mike and Sulley to the Rescue
Ariel's Undersea Adventure
Frozen at the Hyperion Theater
Redwood Creek Challenge Trail – okay not really a baby place, but if you have other kids, it's a fun place for them to come and run around while you can sit with your baby in a (almost always) I crowded area
Keep in mind that there are a lot of non-ride attractions in the park, as well. There are parades during the day in both parks, fireworks and a parade at night, live entertainment, meet and greets with characters, etc. These non-rides are great for taking your baby to.
7. Where to stay
In an ideal world, I think it would be fun to stay in the park, especially if we had a baby. So much time is wasted driving to the park, parking, getting on the carts that bring you to the park, etc.
Unfortunately, it's not cheap, and I have a hard time feeling like I could justify it. I do recommend staying in a place that is within walking distance of the park. That way you can avoid having to park and ride the tram or having to ride the ART. The ART is the resort transit, but when we took it, there was standing room only, and it was so hard with our stroller and trying to make sure no one fell over.
It can be tricky to know which hotels near Disneyland are truly within walking distance. A lot of the, claim to be, but that is up for debate 🙂 Here are a few that are quite close:
We always book through Get Away Today for all of our Disneyland and Southern California vacations. They make the process so easy, and they are always willing to give suggestions based on what you are looking for. They always have the best rates on Disneyland tickets, too! You can get $10 off any package of two nights or more with a two-ticket minimum with the code Clarksconensed. Click here to learn more about what they offer.
8. What to bring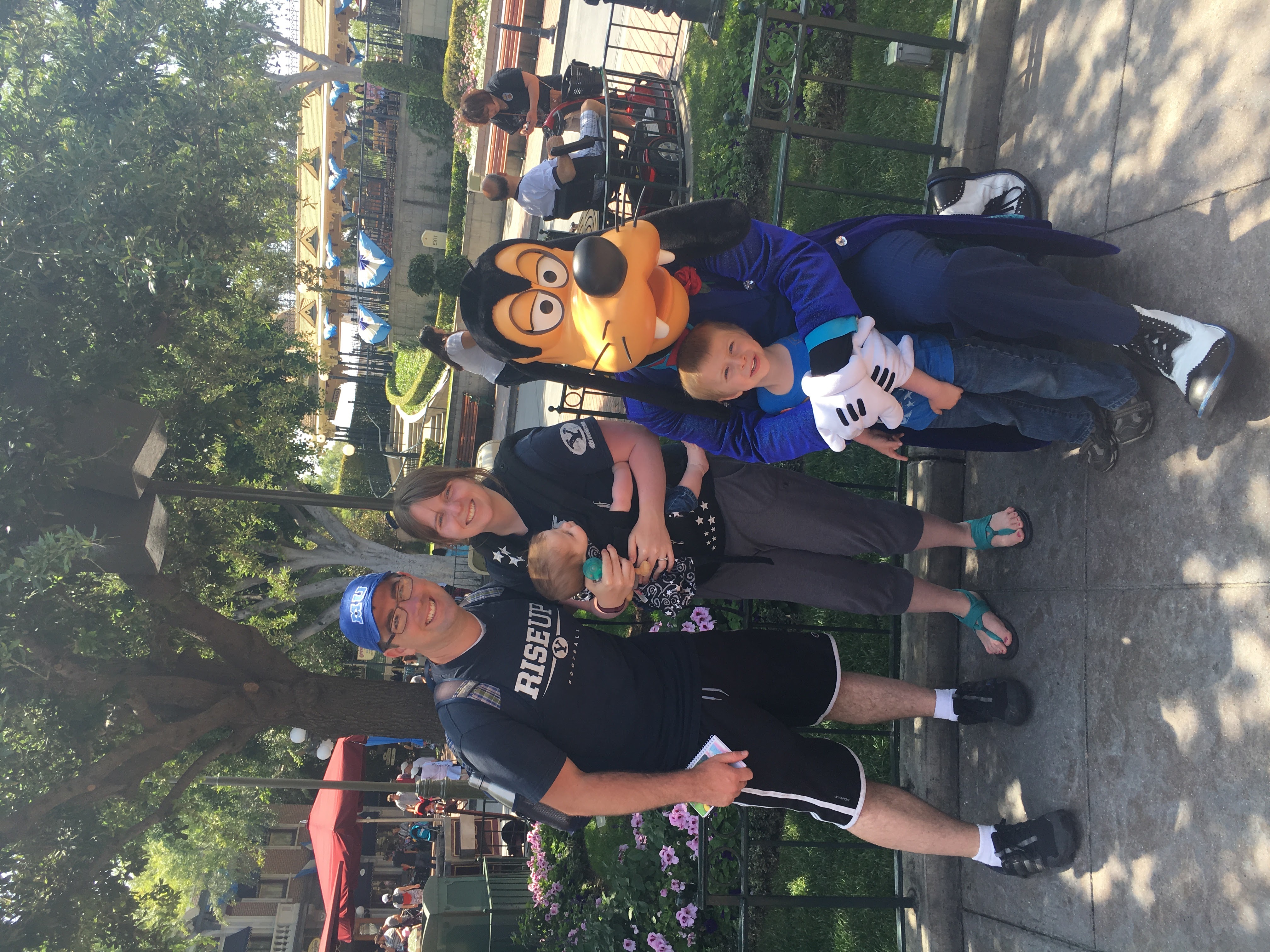 It does require a little bit more equipment to go to Disneyland with a baby – or, well, anywhere! Here are a few things I recommend:
Snacks – Obviously is your baby is just on breast milk or formula, you don't need snacks (though you should bring some for you!). But if they are of eating age, make sure you bring lots of food – baby puffs, fruits, veggies, fruit and veggie pouches, PB&J…just whatever you want. You can bring food into Disneyland, so go crazy (okay, not too crazy)
Extra clothes – This last time we went, Oliver was three. And no, he's not potty trained. And yes, he happened to get a weird stomach bug in the middle of the trip. The second day, he had a gigantic blowout all down his pants…and we had no extra clothes and had to buy a $25 swimming suit. The second day I brought extra pants…but he had a blowout down his pants and UP his shirt. So I just left. I was done. Moral of the story – bring extra clothes.
Diapers – Self-explanatory
Wipes – Again, self-explanatory
Spray bottle – If it gets hot, this can be helpful to cool everyone down
Baby carrier – I have already talked about this, but this is my #1 must-have at Disneyland
Stroller – More on this below
Portable bottle warmer – if you have bottles and need to warm them up, a portable bottle warmer will be really helpful to you
Nursing cover – Don't want to nurse with a cover? No problemo. But it can be super distracting and crazy at Disneyland, and I always preferred to wear one while I was there.
Blanket
9. Ways to cool off
If you do go during the warmer parts of the year, you will definitely want to make sure you keep baby from overheating. I would say the best thing you can do is just find shade and take breaks frequently. The baby care centers are air conditioned. The Plaza Inn in Disneyland and Flo's V8 Cafe in California Adventure are two of my favorite food places to recommend. They are quick service and usually don't have lines, and there is lots of seating. Plus, they are air conditioned!A stroller fan might be a good thing to bring as well.
10. Fireworks and Parades
These can be the highlight of a trip to Disneyland. Disneyland puts on AMAZING shows. However, they are loud. And I don't know about your babies, but my kids do not like loud noises when they are babies (or quite frankly, now). If you are going to go, make sure you bring baby earplugs or noise canceling headphones.
I would recommend getting a seated spot early, which means someone may have to sacrifice some rides. However, the last thing you want to do is pushing through the crowds trying to find somewhere you can sit with your baby.
Obviously, the best places for the fireworks are going to be the busiest – like right in front of the castle. However, there are some less crowded areas that offer a great show still:
By it's a small world
Near Rivers of America
There are some paid options as well. I know that certain dining packages come with reserved seating. In California Adventure I think it's with the Carthay Restaurant and Wine Country Trattoria. In Disneyland, you can get tickets at the Tomorrowland Skyline Lounge, which includes a box of treats.
And if you just want to see the fireworks but don't care about the show, just make sure to book at a hotel where reviewers say you can watch fireworks from. Many of the hotels I listed above will allow you to see the Disneyland fireworks, but there are plenty that are a little bit more of a walk/drive where you can sit and watch them as well. Be sure to talk with Get Away Today – they will definitely know!
11. Stroller
I honestly don't know how people can get through these parks without strollers. We always bring one, and it makes things easier (except for finding stroller parking). It makes for great storage as well to carry around all your extra loot.
We always just bring our own, but Disneyland also rents strollers out. With that said, there are other places – such as City Stroller Rentals – that usually cost less.
Any stroller will do. You can bring a Keenz wagon. They are expensive, but I was seriously jealous of all the ones I saw. Because it has a push handle, it falls under their rules for a stroller. Most wagons are not allowed.
If you are at Disneyland and pregnant, make sure you read this post.
Other Disneyland Posts You May Enjoy:
Other Family Travel Posts You May Enjoy: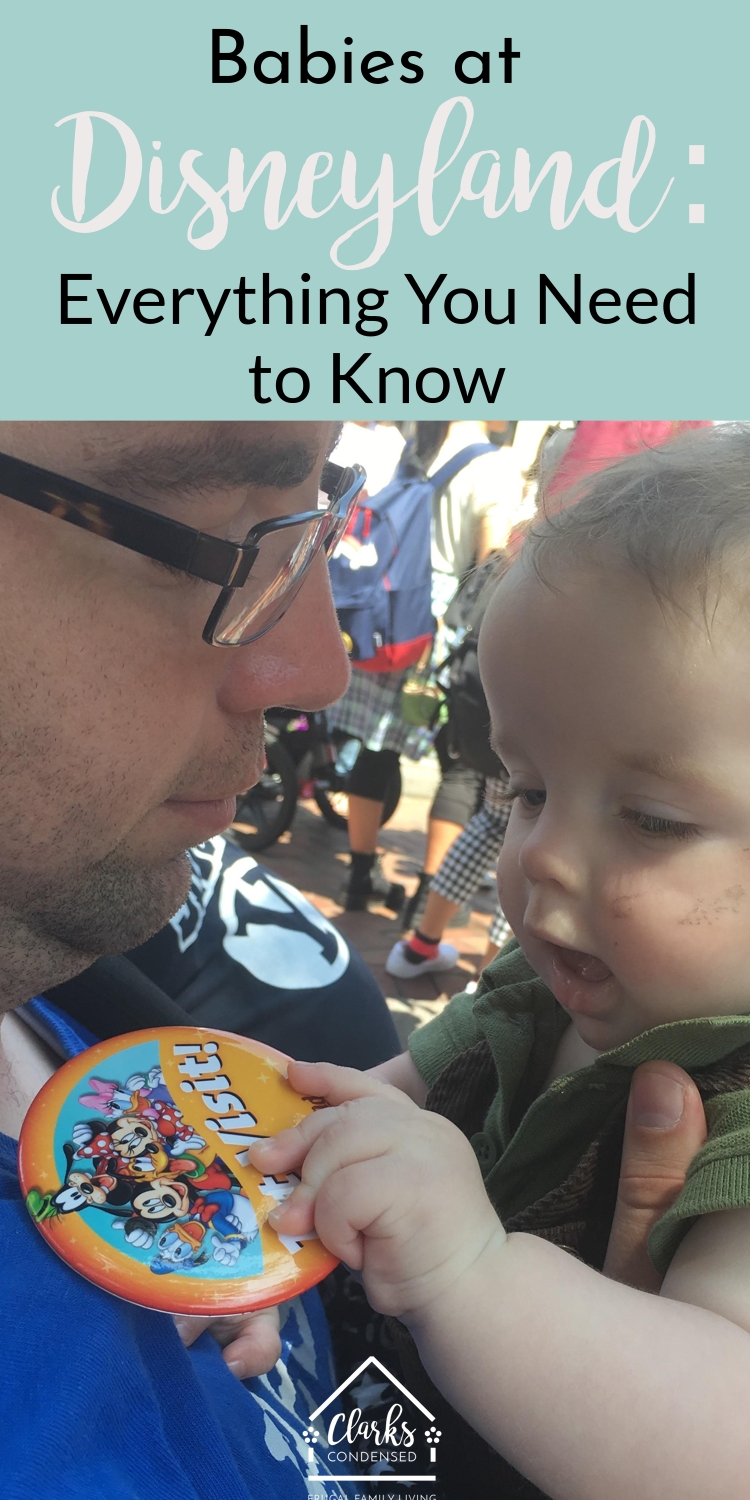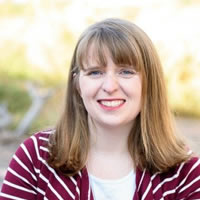 Katie is a Colorado-native, BYU graduated, and most importantly, wife to one and mother to three beautiful boys. She is passionate about sharing her experiences with others – especially about pregnancy, breastfeeding, cooking, and crafts. She is an International Board Certified Lactation Consultant. She loves spending time with her family and helping others find joy in family life.