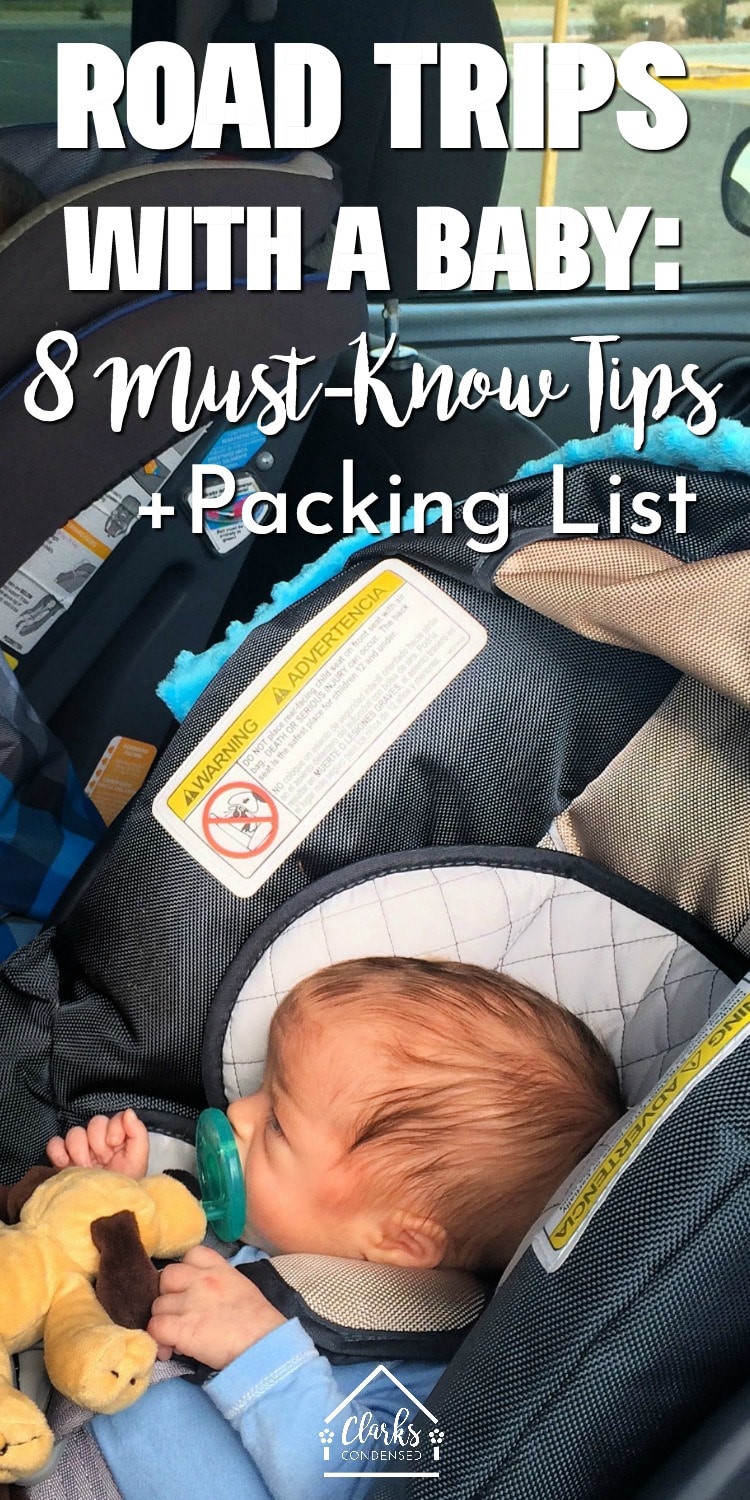 Road Trips with Baby
Road trips – you either love em, hate em, or tolerate them out of necessity.
Before I had kids, I was pretty well settled in the "tolerate them out of necessity" category.
They weren't my favorite – but I didn't hate them either.
That all changed when I had a baby.
I went more into the "hate 'em" category – until that baby got a little older.
But then we decided to have another baby, and it all started over again!
However, by the time our second came around, we had a pretty good handle on how to survive a road trip with a baby.
Right now, both of my boys are 7 and 3, and they do awesome on road trips. My third child is due in September, so we'll see how trips go after that…but at least I'm prepared!
If you are planning your first road trip with a baby – or are hoping to get tips on how to make things go a little more smoothly next time…then you are in the right place!
Originally posted in 2013; updated in 2019.
Long Road Trip with Baby
1) Split trip into smaller sections
I know this isn't an option for everyone, but when we went on our first big road trip with Jack, we decided to split it into two days.
It turned out to be perfect because five hours was about as much as Jack could stand being in his car seat!
We found a great deal on a hotel from Priceline (be sure to check out our best tips for using Priceline), were able to leave a little later in the day, right when Jack's naptime was about to start, and we didn't get in too late.
We didn't have to make a ton of stops — just once for Jack to nurse. And it was just overall, more pleasant.
Any time we've attempted a really long road trip with one of our kids as a baby, there was usually a good 1-2 hour stretch where they just were really upset. So when we can justify it, we split up our trips.
2) Plan for Interruptions
The days of pushing through a 10 hour trip with only one stop for gas are over.
Well, I guess you could technically still do that — but you'd end up with a very upset baby!
Don't leave on your trip at the very last second possible, especially if you are traveling to something that is time sensitive (like a wedding.)
Just accept the fact that you might have to make a lot of stops.
Baby might get upset and need some time out of the car seat, blowouts inevitably will happen.
And obviously – they are going to need to eat every couple of hours anyway!
3) Feeding Baby During a Road Trip
The most common question I get from moms is the best way to feed their baby in the car.
Honestly – whether you breast or bottle feed – I think it's important to stop and feed them.
If you are breastfeeding, there is no safe way to do this in a moving car.
If you are bottle feeding (formula or pumped milk), you can technically give a bottle in a moving car, but the safest option is just to stop.
It's best to get baby out of their car seat every couple of hours anyway, so if you can try and plan this along with your stops, it will make life easier for everyone.
4) Snacks
Once your child is eating solids, you can have snacks ready for them in the car.
Make sure these are snacks they aren't going to choke on easily – such as puffs.
I don't normally advocate filling up on empty calories, but sometimes, when you are traveling…it's the only thing you really can do – especially when you can't stop.
5) Toys and Mirror
You don't need to bring along your entire toy room, but a few small, car-friendly toys can help keep your baby entertained.
There are even toys that are specially designed on car seats, that small infant will particularly enjoy just looking at and grabbing.
My boys always loved these linking rings.
We purchased a mirror to put in front of Jack before one of our road trips, and I think he really liked it.
I also loved it, because I could look back at Jack, see if he was asleep, or more easily find a pacifier he dropped.
This is the mirror we have, and I found it to work well for us (and it is inexpensive!)
There are some other fun mirrors that have lights and fun colors if you are looking for something that is functional and fun.
6) Make a Car Bag
Find a small basket or bag, and put some of the essentials in it, right next to you.
You can put snacks, bottles, books, and toys in it.
This way, you don't have to clutter up your diaper bag, or just have random things strewn throughout the car.
You could also put the snacks for you and anyone else in the car as well, just to keep everything organized.
I'd also recommend having diapers and wipes easily accessible, so you can just grab them quickly.
On the same note, be sure to bring a portable diaper changing pad. You never know where you might have to stop and change a diaper!
And definitely put extra pacifiers in this bag. I can't tell you how many times Jack would throw his or spit it out, and I could not find it anywhere while we are driving.
Something like this would be perfect to just keep in the car!
7) Sit in the Back
Okay, I know this isn't always possible.
When you only have one child, they usually have to sit in the back by themselves.
But if you find your baby getting particularly antsy or sad, maybe sit back there for a while.
It will give them someone to interact with, and hopefully, make the long trip more bearable (for everyone!)
If you have more than one child, you've got this covered. Let them entertain each other!
8) Stop and Stretch
This goes along with several of the things I've mentioned, but I just want to stress it again.
Stop, get out, and stretch.
Let your baby crawl around for a while, or just sit outside on a blanket.
It can get really boring, staring at a seat for hours upon hours.
We usually like to look for a nice rest stop with grass for this. You can even map these out ahead of time! There is an app called "USA Rest Stops" that even shows ratings!
9) Timing is everything
If you can try and feed your babe right before you leave, that is best.
And if you happen to be traveling with other nursing babies, if at all possible, get them on the same schedule!
One summer, we went to a family reunion in Southern Colorado, and we drove in a caravan with my sister, Diana.
Her little girl is just a few weeks older than Jack, and their eating schedules were about an hour different.
And believe me, these little ones were not about to let us switch up those schedules that day!
So our trip took a lot longer than it normally would have. If you can also try and leave, right when your baby is about to nap, that is good as well.
We've been blessed with a baby who loves his car seat (maybe a little too much…he still sleeps best in it!) and he usually falls asleep as soon as we get in the car — regardless of if it is naptime or not.
So if your baby is the same way, and you don't want to mess up their schedules, try and leave when they would normally nap.
10) Download music, apps, or shows suitable for babies
I know, I know. You aren't supposed to let your kid have screen time until they are two or something like that.
But I'd be lying if I said we didn't ever use some baby-friendly apps on our iPad with our older babies/toddlers when we travel. So kill me.
We LOVE the Fisher-Price apps that are available for the iPhone, iPad, or iPod Touch (and they are free!), and our kids adored them.
I also downloaded a bunch of free Sesame Street episodes before, and Baby Einstein is another good choice.
I would recommend getting a baby-proof case for your tablet or iPad, though!
Make sure you do keep the screen time to a minimum. Just use it as a last resort – but don't feel guilty if you do!
Definitely not for younger babies though. A newborn doesn't need entertainment.
You could also download some fun, baby-friendly music to your phone or buy a CD. Babies love music!
Baby Road Trip Checklist
Diapers
Wipes
Bottles
Breast Pump (if you need one). A manual pump might be the best option in the car – I love this one.
Extra pacifiers
Car-friendly snacks (if the baby is old enough)
Window shades to block out the sun
Portable diaper changing station – there is no guarantee rest stops will have a changing table (and those can be pretty nasty, too).
Baby-friendly CDS or music download to a phone
Hand sanitizer
Car seat toys – my kids always liked these in the car.
Plastic bags (for dirty/wet clothes, diapers, etc.)
Extra clothes
Bibs
What are some of your tricks for surviving a road trip with a baby?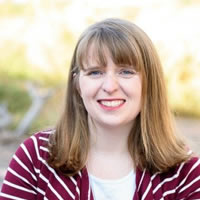 Katie is a Colorado-native, BYU graduated, and most importantly, wife to one and mother to three beautiful boys. She is passionate about sharing her experiences with others – especially about pregnancy, breastfeeding, cooking, and crafts. She is an International Board Certified Lactation Consultant. She loves spending time with her family and helping others find joy in family life.