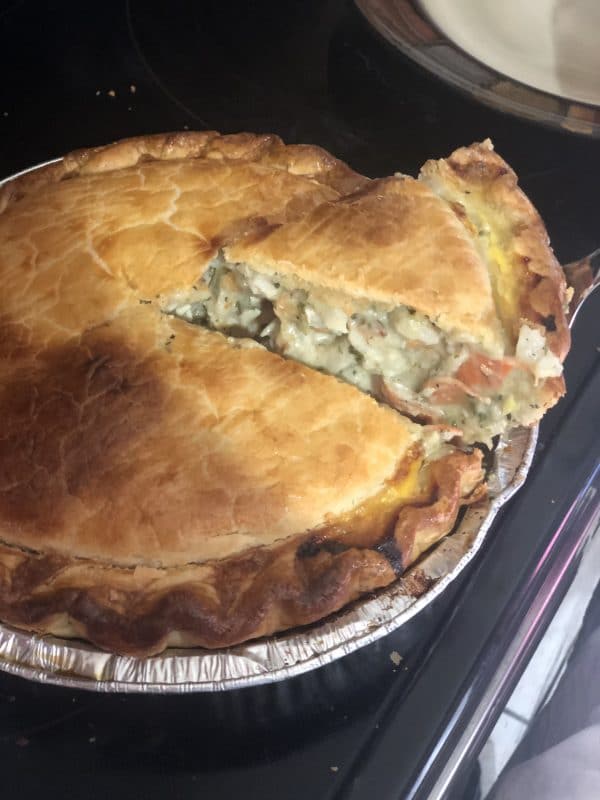 As much as I enjoy cooking, it can certainly become a daunting task.
This whole year, I've either been pregnant or taking care of a newborn…and by the time dinner rolls around, I just want to go to bed.
But I have other people in my family who need to eat – so that's not really an option!
For about a year, I've seen some of my friends RAVING about a company called Crust Club.
These friends would share on Instagram how they'd get homemade and delicious meals sent straight to their door – all they had to do was bake.
Sadly, it was only available in Utah! And as tempting as it was just to move back to Utah to be able to use it (kidding), I just admired it from afar.
Well, a few months ago, a friend of mine Marco Polo'ed me to let me know that they were now delivering to Colorado!
I hopped on the website to confirm what she told me, and I was SO excited. My baby was due soon, and I knew this was something I wanted to try out.
I reached out to Crust Club to see if they worked with bloggers – and they did – and they gave me a little bit of credit to try out their products.
In addition to that credit, I spent my own money to buy more of the products to stock my freezer and so I could give a really good review of this service.
I placed my first order when I was 37 weeks pregnant, so I thought I'd have plenty of time for it to arrive…but Andrew surprised us by coming two days later! Because I'd ordered Thursday night, it didn't arrive until Tuesday…which was the day after I came home. It was perfect timing!
We've tried a variety of their items over the past few weeks – and I'm just about to place my second order…so I think I'm ready to review Crust Club!
So if you've been curious if Crust Club is worth trying – hopefully this review will help. We also have a promo for anyone wanting to try it out, so keep reading to get that as well.
Also, I highly recommend following Crust Club on Instagram. Val – the company's owner – shares lots of great recipes each week on Instagram stories (and then posts them on RecipesbyVal.com), and they are SO good. They also occasionally post promotions there, so it's worth following to get the most bang for your buck!
I apologize for the poor quality of the photos in this post! Make sure you check out their menu page for much better pictures of their offerings.
What is Crust Club?
Crust Club is a company based in Utah. They have a store there where you can purchase their products, but they also deliver to certain areas in Utah, Colorado, and Arizona.
They offer ready-to-bake/make meals, and most of them involve a CRUST of some kind, such as pot pies, hand pies, pizza, etc. They also offer casseroles, soups, mac and cheese, and more.
I'm the type of person that just loves homemade comfort food, and that seems to be at the heart of what Crust Club offers.
How Much Does it Cost?
So there are a couple of different costs to keep in mind.
Anyone can purchase from them – they do NOT require that you join their membership club.
The food range anywhere from $15-30, depending on what you get. Full meals cost more, the desserts are the least. Different sizes are available for some of the food.
For people who want to order from them regularly, you'll want to join their membership club. It costs $35 a month, but it includes:
A $35 credit each month that doesn't expire
Free delivery on qualifying orders (must order 4 items at a time)
Send gifts with free shipping
Referral credits
Member-only promos
No commitment – cancel at anytime
Crust Club Promo Code
I've been given a FREE shipping code that you can use to try out Crust Club. I definitely recommend trying them out first before signing up for the membership, and this code makes that a little easier.
Just type in REFERFREEIKQI4LKU at checkout or CLICK HERE to get your shipping cost taken off!
Where does Crust Club deliver?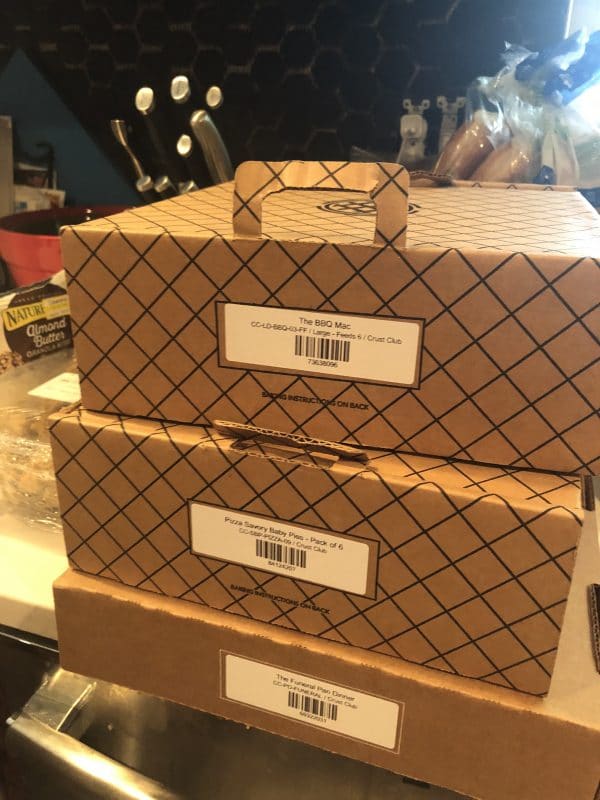 They currently only deliver to Utah, Colorado, and Nevada. However, I know they are trying to expand to other places.
if you live in Utah, you can also pick up at their store anytime between 10 AM and 6 PM, Monday through Saturday.
Everything comes flash frozen and packaged really well to make sure it arrives in one piece.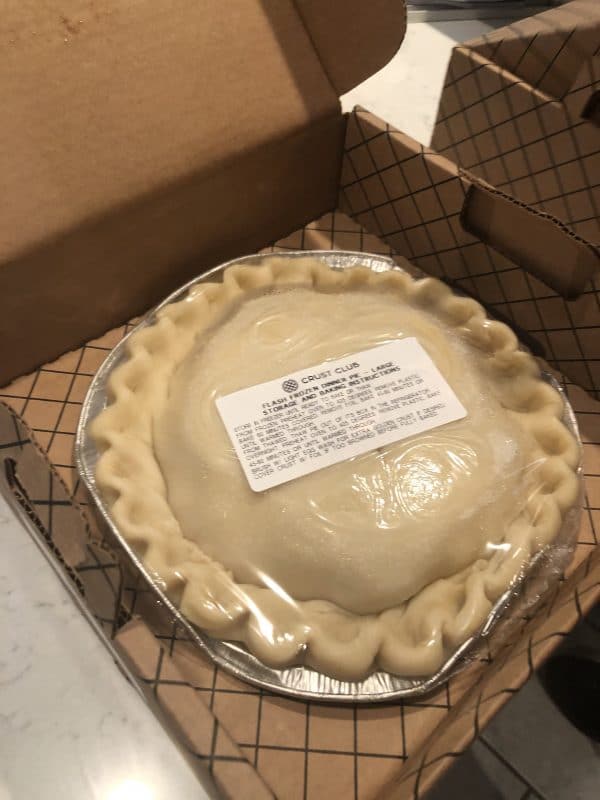 What Types of Food Do They Have?
As I mentioned above, they specialize in crust-based foods, so at any time you'll find a variety of pot pies, pizzas, and hand pies.
They also offer side dishes like breadsticks and mac and cheese, casseroles, cookies, and soups. They are always coming up with new items, so you definitely want to check back regularly.
Our Experience
As I mentioned, we got our first order in September. We are still making our way through what's in our freezer, but so far, we've enjoyed what we've eaten.
Forrest and I both agree that the crust on everything we've tried is AMAZING. For a place that is called the Crust Club, I would say that's a good thing.
It's flaky, buttery, and so delicious. Forrest just asked me if they sell just their crust so we could use it ourselves! Which, I just checked, and they do!
I thought I'd go through each item we've gotten and share my thoughts:
Original Pot Pie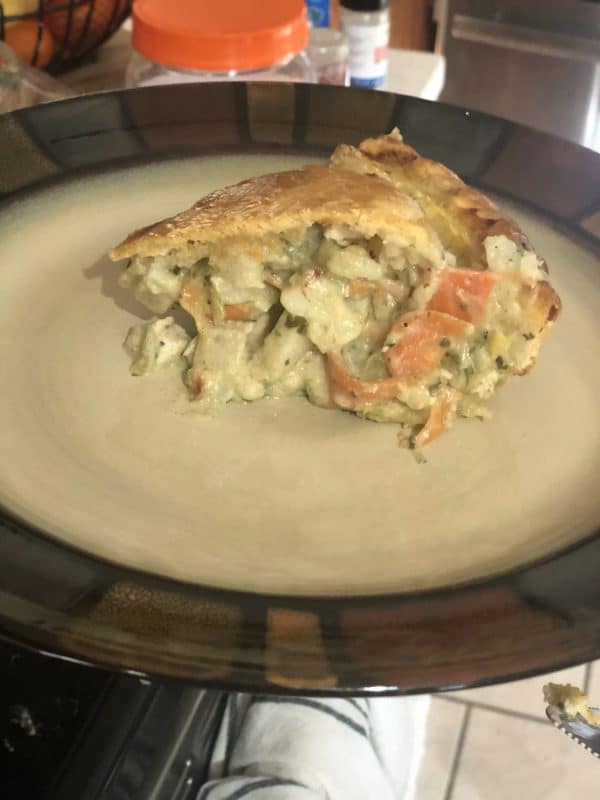 We got the one that feeds six people, and I would say that's pretty accurate. We had about two slices leftover after our feeding Forrest, me, Jack, and Oliver.
The crust was, as I already mentioned, amazing. I don't think I've ever had such a perfect crust with a pot pie.
The outer edge is a little thicker, and Forrest and I both felt it was almost dumpling-like. So good.
The filling was good. Forrest felt like it could have bad more vegetables – I felt like it could have had a little bit more chicken. But overall, I thought it had great flavor.
As Forrest and I were talking about it, he said, "I'm not sure where else I'd go for a better pot pie."
I saw one review that said it was a bit mushy inside with too much potato…which I could see. But honestly, it's not something I thought while eating. It just tasted like a good, old fashioned chicken pot pie.
Poppyseed Chicken Casserole
I really enjoyed this – more than I thought I would! It's pretty heavy on the rice, but all the flavors and textures went together well. Definitely two thumbs up from me!
I love a good casserole, and this one was really good. I followed the cooking instructions, but it was still pretty cold in the center after I took it out of the oven, so I had to cook it for a while longer than the instructions said (I cooked it from frozen).
Raspberry Cream Babies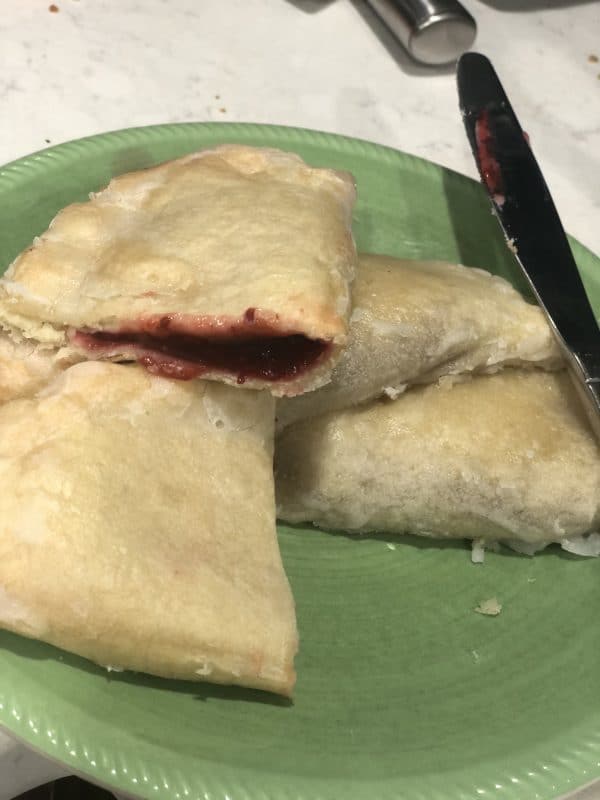 These were a really tasty treat! 3 out of the 4 of us really enjoyed them. Oliver told me, "They taste a little funny." Ha!
They kind of reminded me of those pies that you can buy really cheap in the lunchroom or a gas station…but higher quality.
The instructions just said they come fully cooked and ready to eat, so we just kind of guessed on the cooking time. We put them in our toaster oven for about 15 minutes, and they came out great.
Again, the crust was phenomenal. I enjoyed the filling as well. Four came in the package, and we didn't have any issue eating all of those amongst the four of us.
Pizza Babies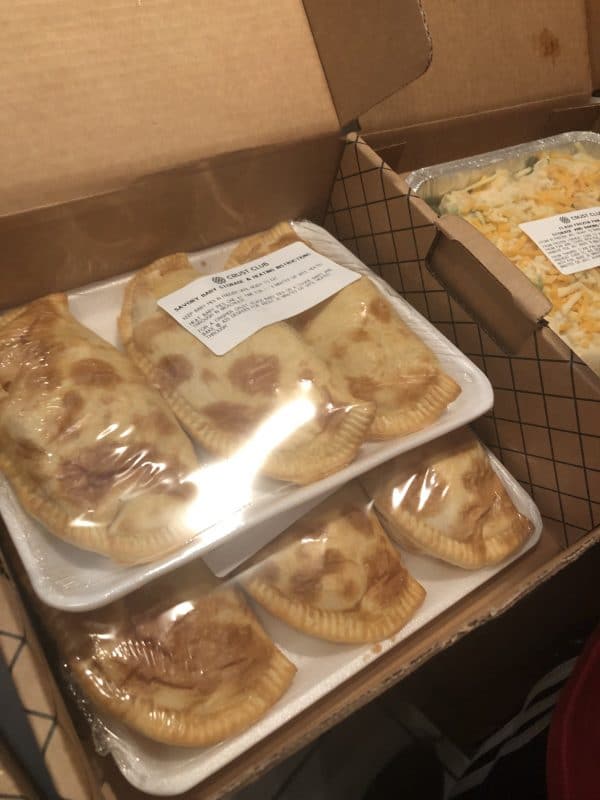 I thought these seemed interesting, and we had them for dinner one night. I think they are probably better fit for lunch.
I really liked the overall taste, but I wish there was a little bit more filling in them. I would definitely order them again, though. I'm curious to try the other lunch "babies"
**Update – I was just told they've started adding more filling! Yay!)**
Pumpkin Mini Cookies
These were AMAZING. I can't even describe how much I enjoyed these.
During my pregnancy, I had Gestational Diabetes, and all I wanted were cookies that whole time. So when these arrived the day after we came home from the hospital from Andrew…it was like divine intervention.
They are so tiny and delicious, and I ate far too many of them. They go out of stock pretty quickly, so you may or may not have a chance to try these…but they are dang good.
They have other mini chocolate chip cookies, which we ordered this time around, and I think those are usually in stock. They've had other kinds as well, as such as brownie minis, and I think they always are trying to come up with new versions!
Chocolate Chip Cookie Minis
These are delicious. When Forrest first tried them, he said, "If I didn't know they were cooked, I would think they were cookie dough." And later he added, "It's a talent to make something be fully cooked but taste like cookie dough."
They are the perfect treat and have great flavor. I love the combo of semi-sweet and milk chocolate chips. Definitely order these!
The BBQ Mac
Here are some of the other things we have in the fridge (or that is currently en route to our house). I'll update later after we have tried them.
Chicken and Bacon Casserole
This one was pretty tasty. Definitely serve with a vegetable.
Funeral Casserole
I absolutely love this! Such a fun take on some classic favorites.
Minestrone
This is one of my favorite items from Crust Club. It cooks up so quickly and tastes so yummy. I've made it on the stove top but also in my Instant Pot!
The Shepherd
Pretty good, though I think it was a little heavy on the potatoes.
Rico Suave Babies
Really enjoyed this. Great flavor!
Overall, we've been very pleased with everything we have tried so far.
Pros
Delicious
The food really is great. It's all homemade and made from scratch – which isn't always easy to do when you have a busy family.
It really does taste like you spent all day slaving in the kitchen – only, you didn't. I don't have any complaints about the flavor or quality of ingredients used – it's clear that they take pride in creating high-quality food.
The food doesn't taste like a store-bought freezer meal. It really does taste like you made it yourself.
Makes dinner easier
I am a huge fan of freezer cooking – and this just takes it a step further because you don't have to do anything!
I have been adding one of these meals a week to our meal plan (just so we can stretch them out), and I really look forward to it. It's so nice just to take it out of the freezer, cook, and know that we'll have something delicious to eat soon.
Promos
The cost can be a little bit pricey, but they occasionally have promos which make it more affordable.
When I placed my first order, quite a few of the casseroles were on sale, which I thought was great.
Great for sending as a gift
I haven't done this yet, but I plan to. How often have you had a friend or family member need a meal for one reason or another – but you can't take them one because you live too far?
This is the perfect solution! Sure, you can always send food via Uber Eats, but these meals are home-cooked and just a bit better than that!
Easy to Order
I found the website to be very easy to navigate, which is always a plus!
Cons
Things go out of stock
While they have standard items that always seem to be in stock, there's no guarantee what you want will be there when you go to order.
For instance, I was going to order a pizza with our order this time around, but there weren't any available at the time. It was kind of a bummer!
If you follow Crust Club on Instagram, they will usually post when something that is in higher demand (such as the pumpkin cookies) goes live – so make sure you follow them there.
Pricey
The meals are expensive. I mean, I could make a chicken pot pie myself for far less than $25. So this is certainly one of those services I can't justify using ALL the time.
However, if you factor in your time and the convenience, it's definitely worth doing if you can afford it. The food definitely is good quality – much better than just buying something from the frozen section at the grocery store.
And it's certainly cheaper than going out to eat for a family of four (well, five, but the baby isn't eating!) It's a great option for those nights where you might be tempted just to go out to eat.
Have to order four items at a time
Because of how these are shipped to keep them frozen, you have to order four items at a time.
This is kind of a bummer if you just want to order one or two things – or maybe if you want to order 5 or 6!
CLICK HERE TO PLACE YOUR FIRST ORDER. USE CODE REFERFREEIKQI4LKU FOR FREE SHIPPING.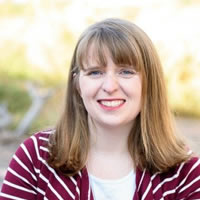 Katie is a Colorado-native, BYU graduated, and most importantly, wife to one and mother to three beautiful boys. She is passionate about sharing her experiences with others – especially about pregnancy, breastfeeding, cooking, and crafts. She is an International Board Certified Lactation Consultant. She loves spending time with her family and helping others find joy in family life.