Interested in baby led weaning? Here are the best baby led weaning must-haves for the modern parent.
Introducing solids for the first time is a milestone most parents anxiously look forward to.
There's just something so fun about seeing a baby's reaction to their first real food that isn't breast milk or formula!
There are different "philosophies" on how to introduce solids, and the one our family always seems to end up with is baby-led weaning.
Honestly, it was by accident with my first. He did NOT like pureed foods, and until almost eight months, he wasn't eating much beyond breast milk still.
Then one day, he reached for something we were eating, and we decided to just give him whatever we ate.
I didn't even know what baby-led weaning was at the time – we just did what felt right.
With our second, we gave him our food from the start. They both are still great eaters!
While we are aways off from introducing solids to Andrew, I'm sure we will follow the same path. While you don't need anything fancy for baby-led weaning, there are a few products that have been released in recent years that I do think would make introducing solids even easier.
We've compiled this list of the best products for baby-led weaning below. Be sure to tell us what you've found helpful!
What is baby led weaning?
Before we get into the products, I thought I'd share what exactly baby led weaning is for those who are new.
"Baby-led weaning (often also referred to as BLW) is a method of adding complementary foods to a baby's diet of breastmilk or formula. A method of food progression, BLW facilitates the development of age-appropriate oral motor control while maintaining eating as a positive, interactive experience. Baby-led weaning allows babies to control their solid food consumption by "self-feeding" from the very beginning of their experiences with food. The term weaning should not be taken to imply giving up breastmilk or formula, but simply the introduction of foods other than breastmilk or formula."
Basically, it's allowing your baby to feed themselves and guide what they are eating. It typically means forgoing pureed foods and giving age-appropriate portions of the foods your family eats (while being careful too much fat, sugar, or salt). I'm a big believer intuitive eating and that babies are the best at it, and baby-led weaning goes hand and hand with that philosophy.
There's no "right" way to introduce solids, but for our family, we have found baby-led weaning to be very helpful and non-stressful.
Best Products for Baby Led Weaning
IKEA's Antilop High Chair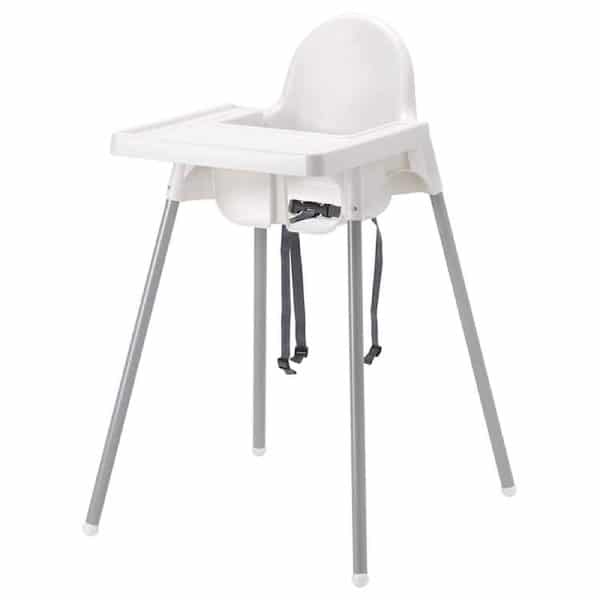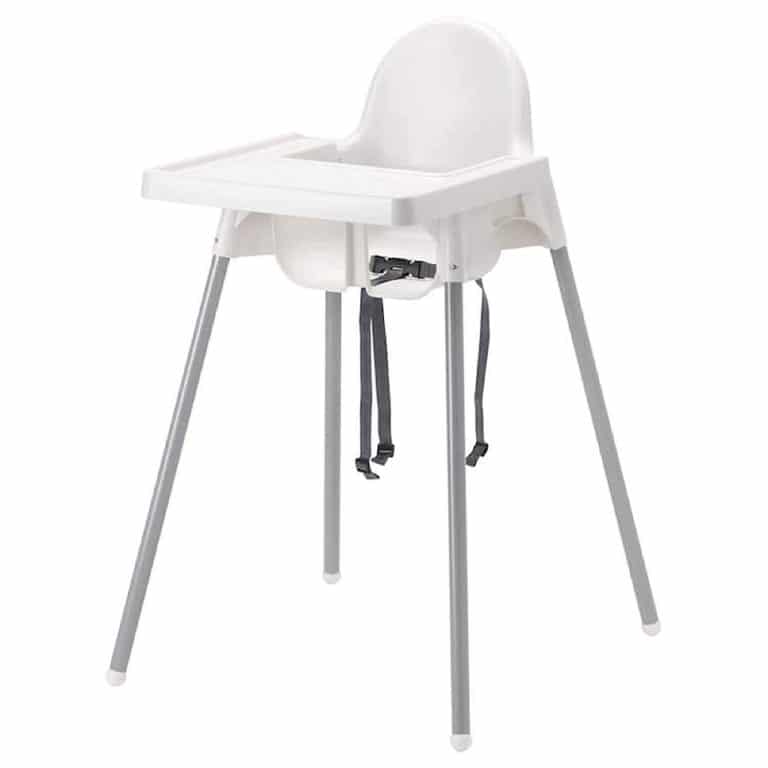 Highchairs can be super expensive which is where IKEA's Antilop Highchair differs. The price is a bargain and it does the job of any other highchair.
It's also very easy to clean and if a feeding session gets extremely messy, you can disassemble the legs and rinse under the tap or showerhead. 
Travel High Chair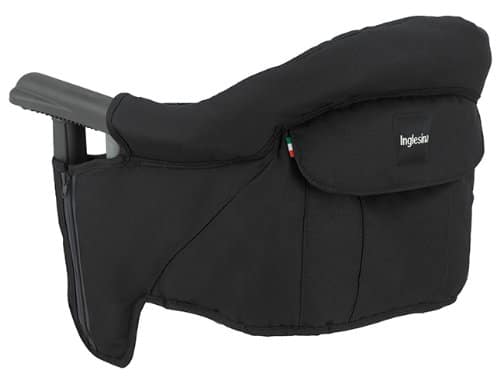 It's never advisable to rely on a restaurant's ability to cater for your needs when it comes to baby high chairs- after all, you don't know how well they have been cleaned and maintained and your baby's safety is the most important thing.
Luckily this travel high chair is easy to take traveling with its portable, collapsible design and fastens securely to (the majority) of tables. Take it with you on family outings like the beach or a relative's house. Having one extra place for your little one to sit is a happy addition to your supplies.
Washable High Chair Splat Floor Mat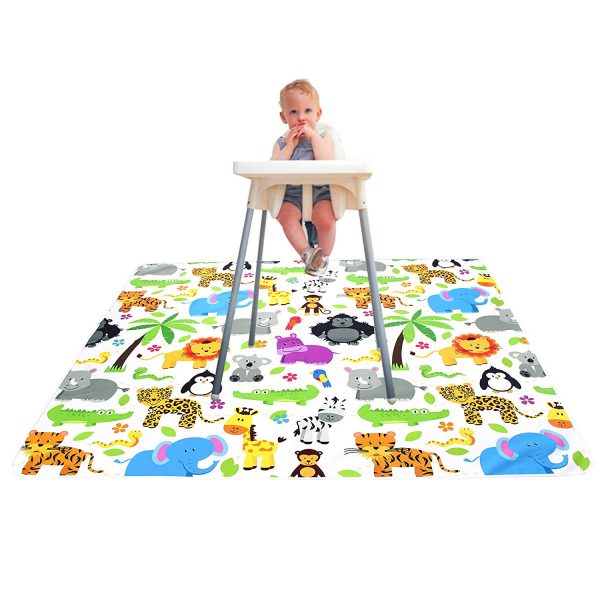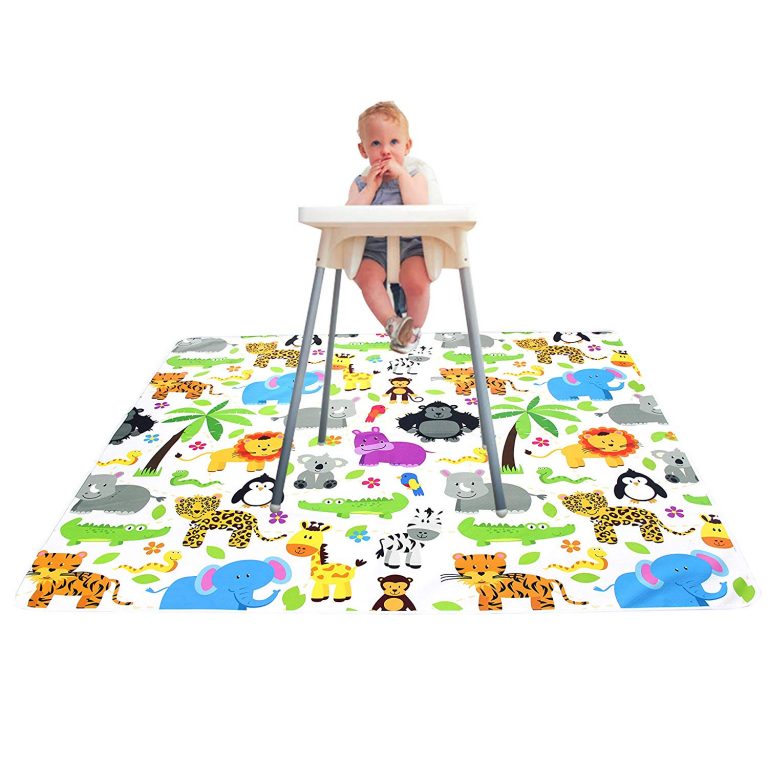 Highchair splat floor mats are brilliant for protecting your floor from all the scraps and splats of food that end up on the floor while baby eats.
These mats are non-slip, come in really cute prints and are washing machine friendly. They fold easily and are lightweight which is great for traveling purposes and you can also use them as general mats for your baby or toddler when they play on the floor.
Silicone Bibs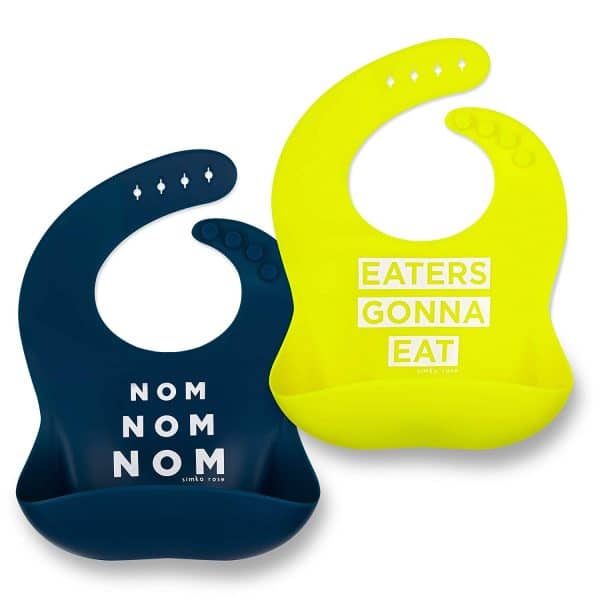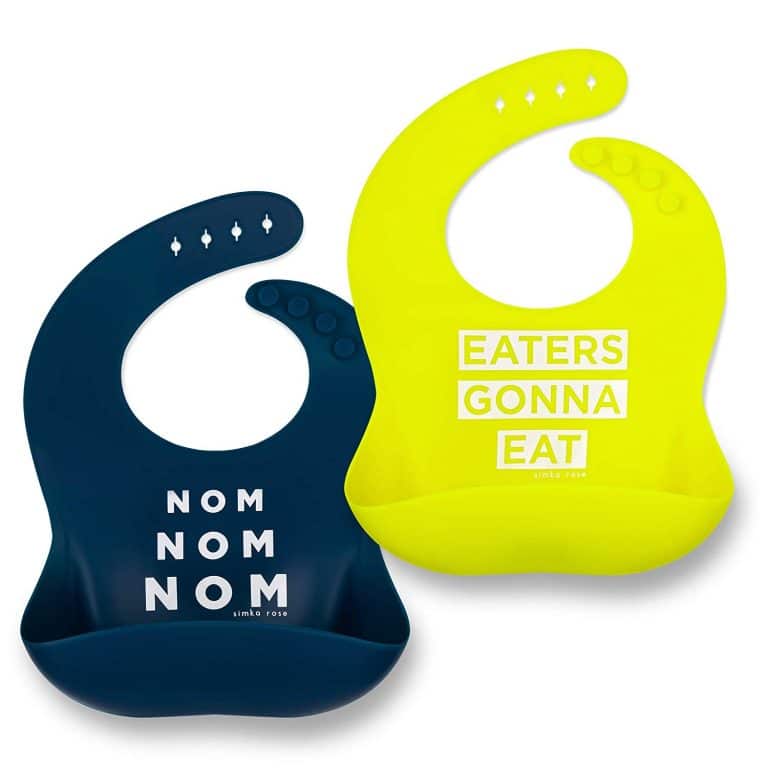 Cloth bibs can be cute but it's no longer cute after a few sessions of feeding which leave them stained. Now there's a great solution to this problem by switching to the easy silicone bibs which are designed with safe materials and with baby's comfort as a top priority.
Long-Sleeved Bibs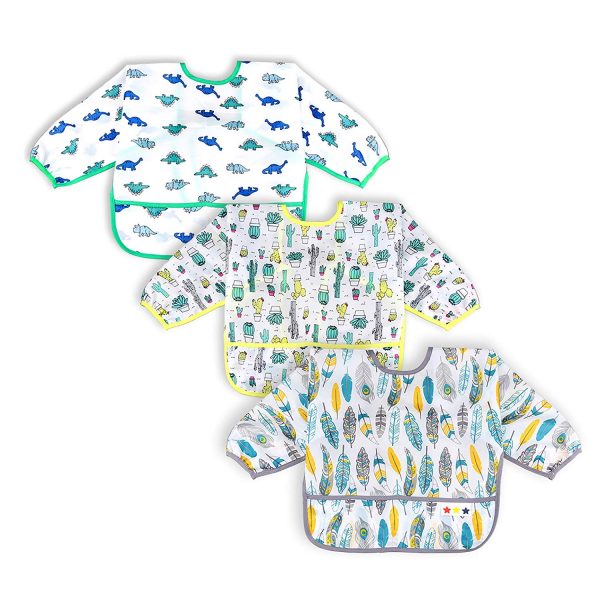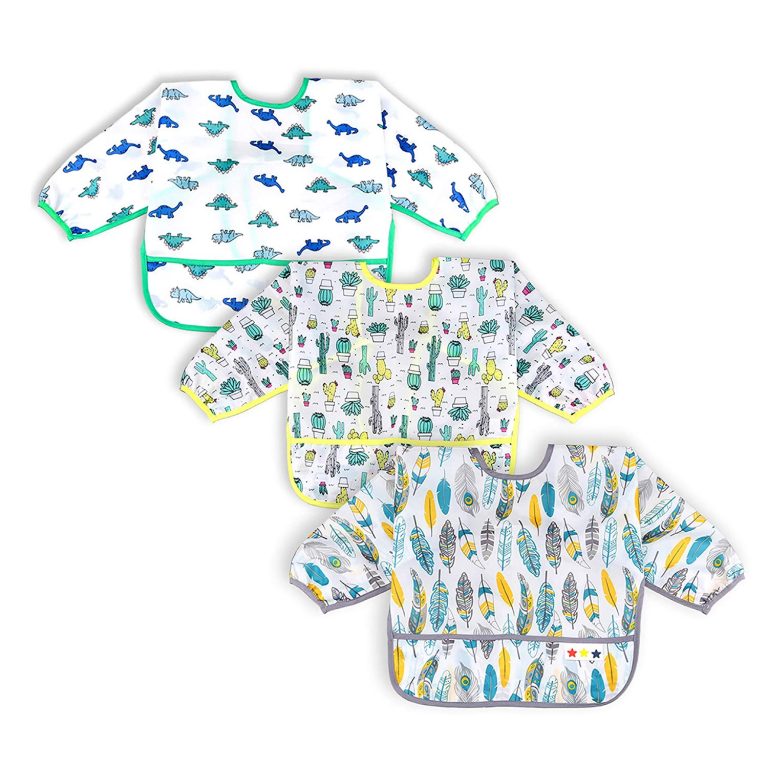 If you thought the silicone bibs were a great idea then this long-sleeved bib is going to change your life, especially for those particularly messy meal sessions where most of the food ends up on your baby's body rather than in his/her mouth!
It is fully waterproof, comes in some seriously adorable designs and made from safe materials. Protect your baby's clothes from food stains and spend less time in the laundry room each week by investing these very practical bibs.
Easy To Use Feeding Utensils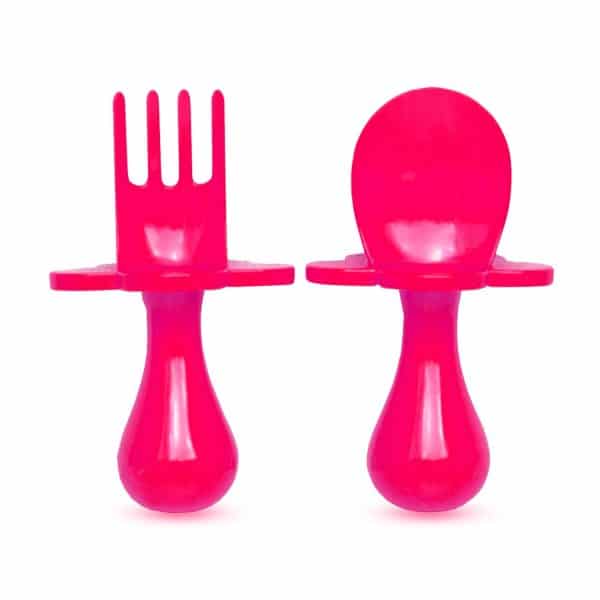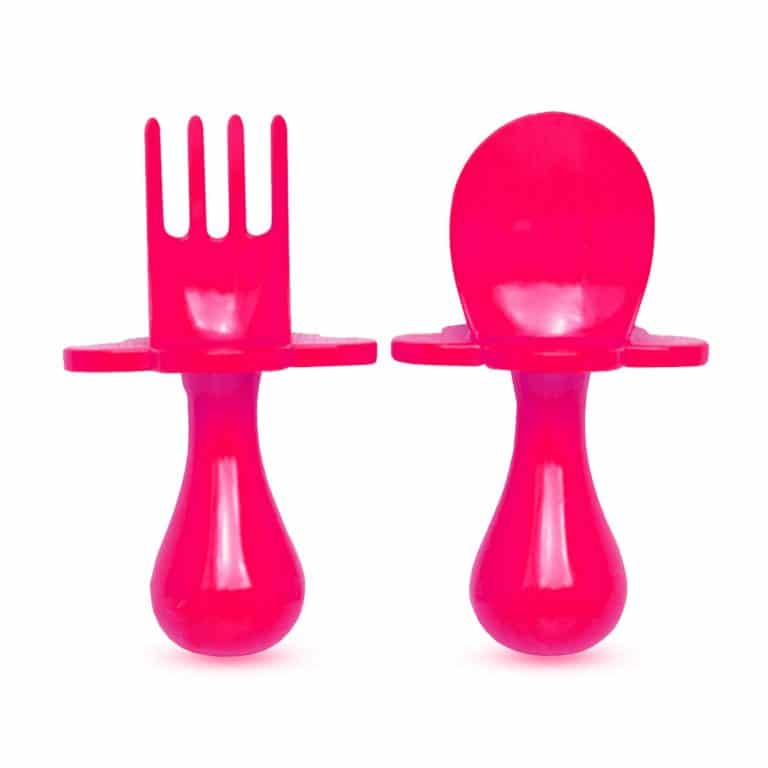 When your baby is first learning to feed on solids, s/he will not immediately grasp the concept of eating utensils. But don't despair, as with everything it just takes practice.
Fortunately, these Grabease feeding utensils have been designed to simplify the experience for babies and are especially handy for small fingers making it easier for your baby to grab. And their design also protects against choking with its choke protection barrier!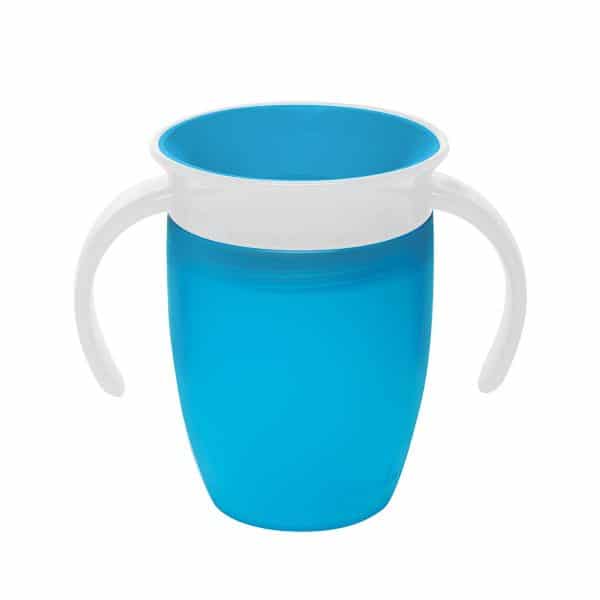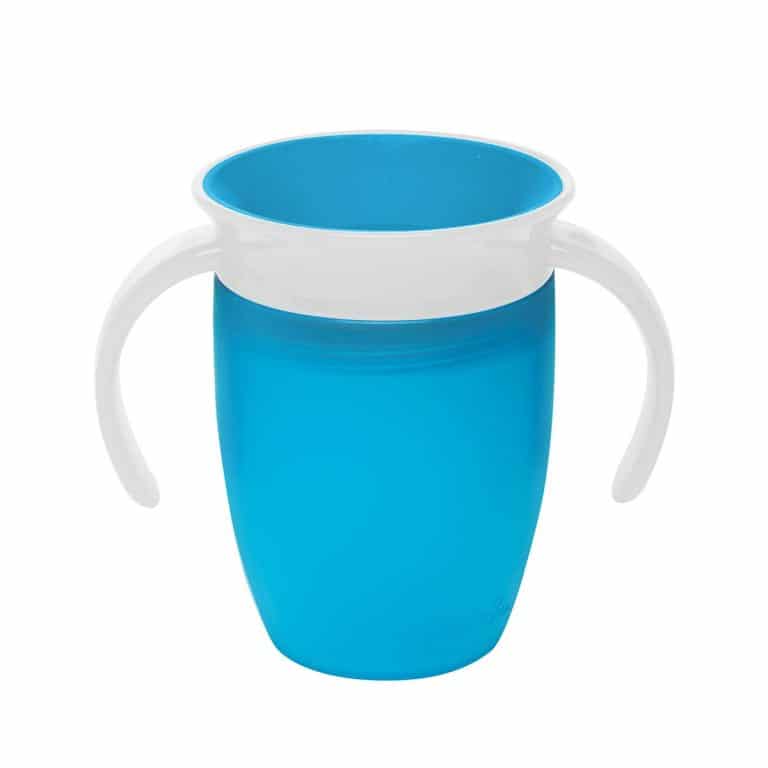 This spill-proof trainer cup is ideal for babies from 6 months and up and is designed to make the transition from bottle or breast that much easier.
It eliminates messes while promoting dental health and encourages your baby to sip anywhere on the rim of the cup which supports normal muscle development. The absence of extra spouts, straws or pieces makes the trainer cup very easy to clean!
EZPZ Silicone Placemat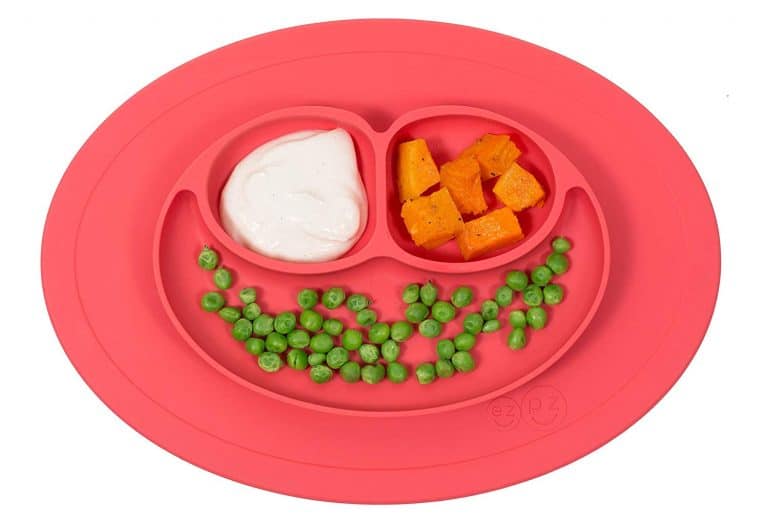 This all-in-one placemat and plate greatly assist with containing the mess and encourages self-feeding and the development of fine motor skills.
It suctions onto flat surfaces that prevent overturned or knocked plates and fits most highchair trays.
Wavy Chopper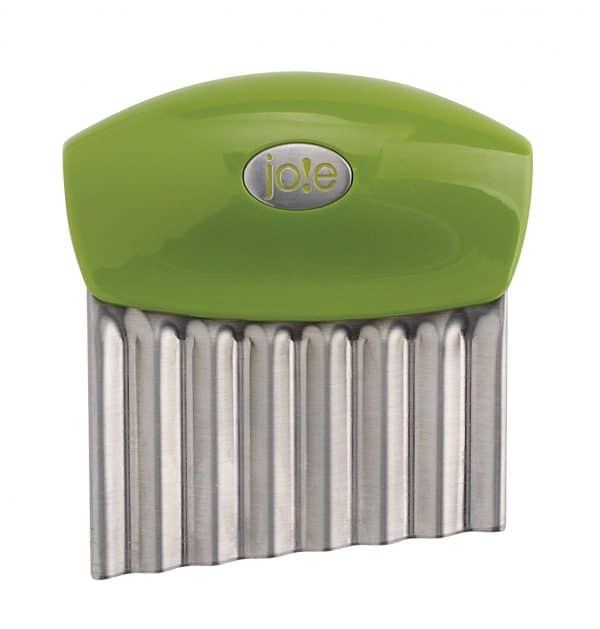 This Wavy Chopper may just become your baby's new best friend. It adds texture to fruits and veggies which makes it that much easier for baby to pick up. Fruit wedges like apples can be tricky to pick up when they stick to surfaces but with Wavy Chopper, any food-time frustrations will fade away.
Steamer Insert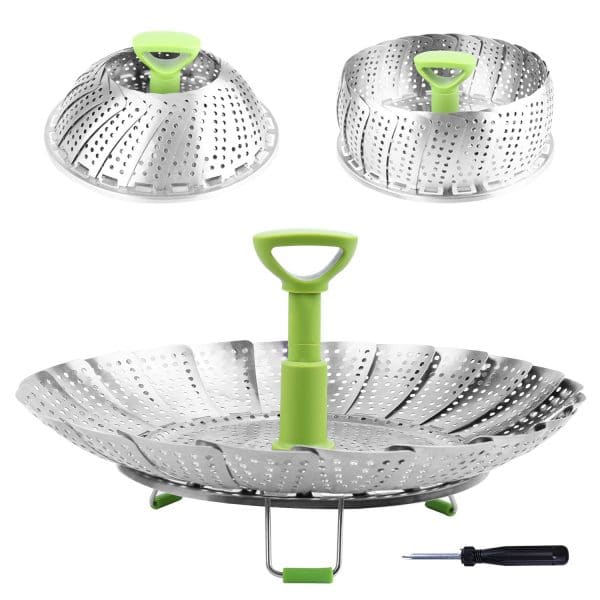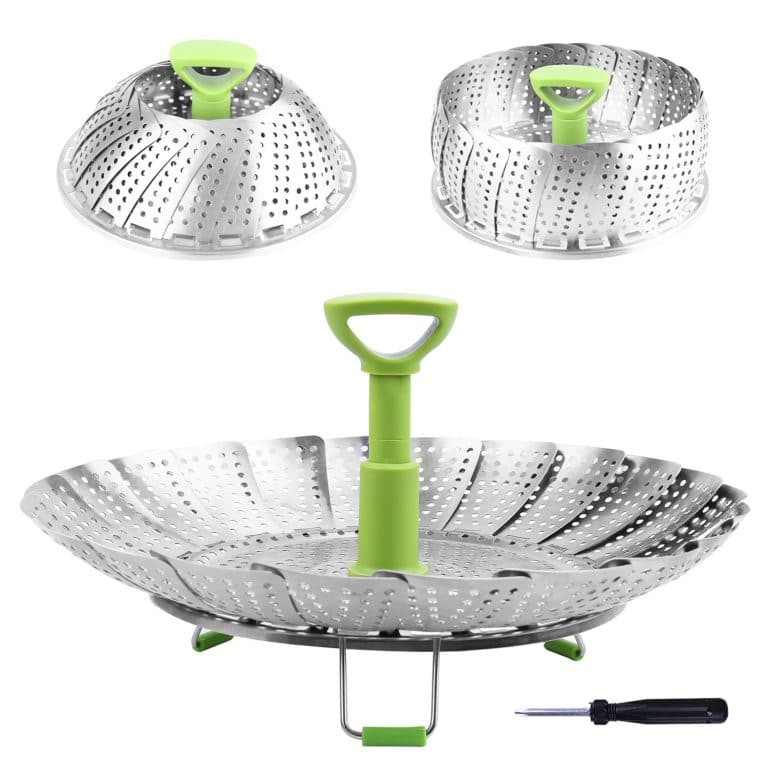 Steaming vegetables for your baby is a much better method of preparing their food as it reduces the nutrient loss that would have ordinarily occurred through boiling the food in the water.
Simply add water into your pot and place the steamer insert over the water with the vegetables placed on top. Close the lid and steam until desired tenderness of the vegetables is reached.
This steamer isn't just for your baby though, you can use it for preparing family meals too!
Pinterest is always great for getting inspiration for new recipes but when you already have so much going on, a comprehensive go-to resource full of nutritional and manageable meals for baby-led weaning is exactly what the doctor ordered!
This cookbook also provides great advice on how to minimize feeding mess, which best foods to start with as well as snippets of information from other parents who practice baby-led weaning.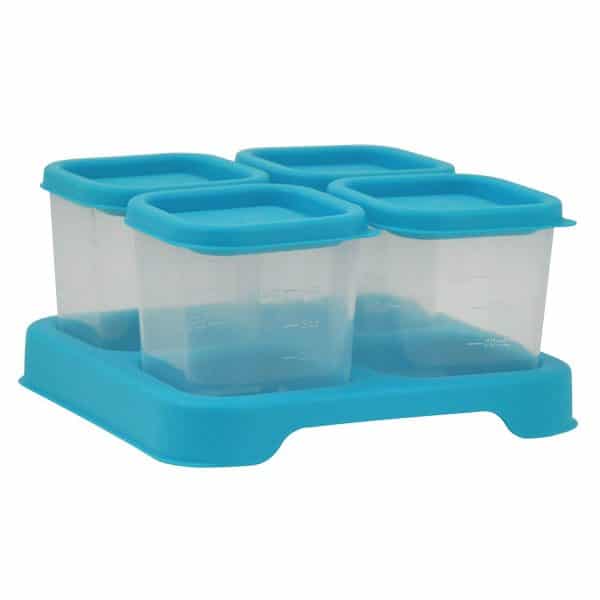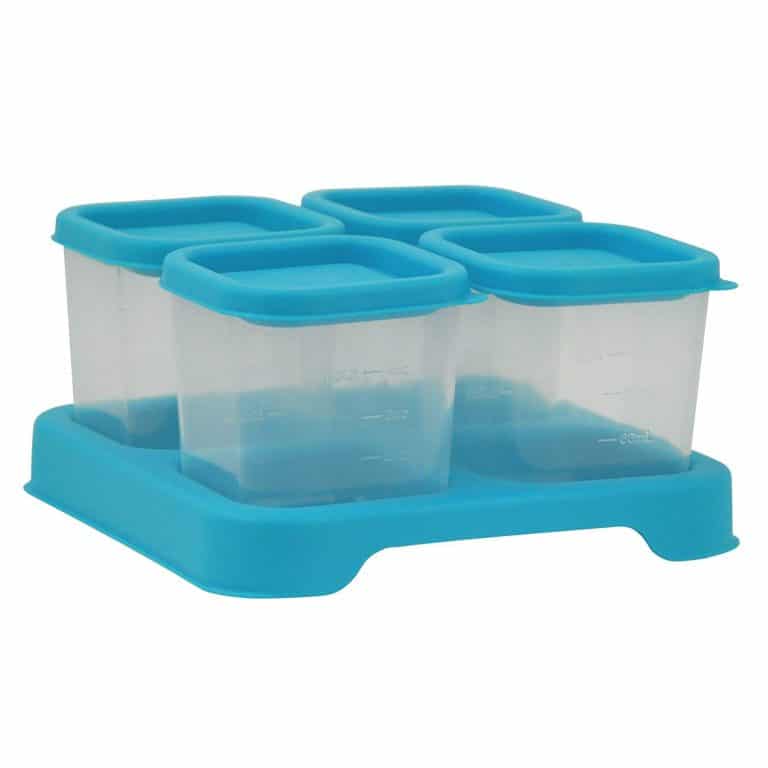 The 4oz sized cubes are much more practical than the 2oz cubes and are perfect for defrosting single-serve puree meals or for storing other leftovers, either to be placed in the fridge or freezer.
LifeFactory Storage Containers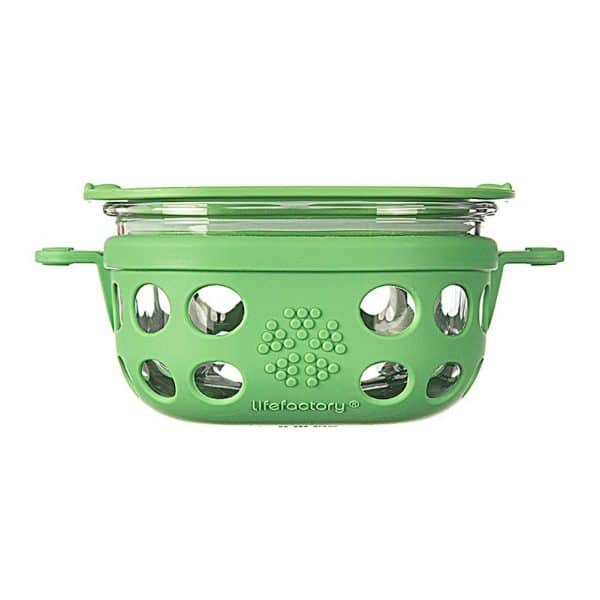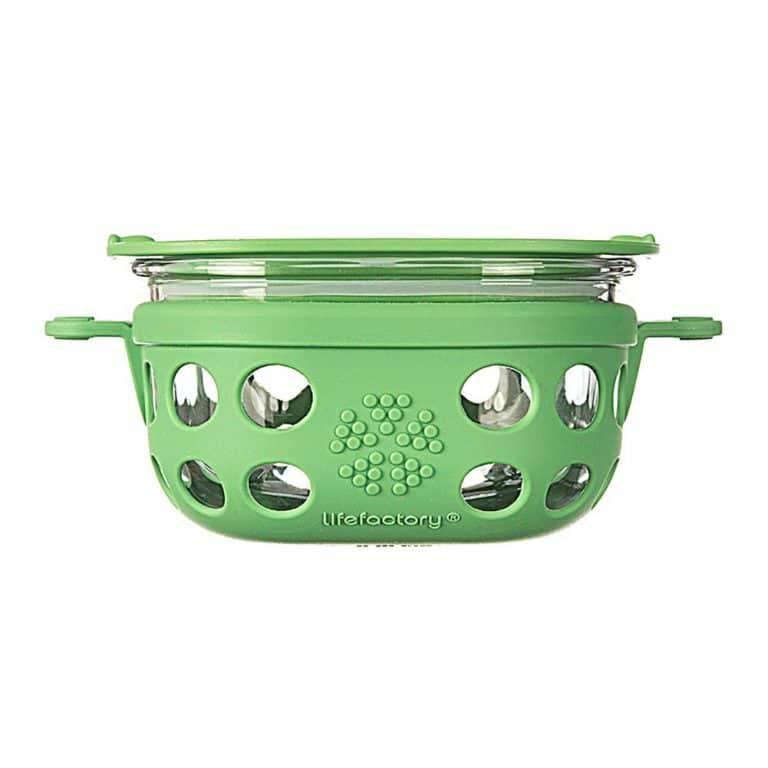 Not crazy about microwaving baby's food in plastic containers but also concerned about handing your little one a glass container?
Don't fear because LifeFactory Storage Containers have your back! These super cute glass containers are protected by their medical-grade silicone sleeves which you can place in the dishwasher without even having to remove the sleeves.
The 1 Cup size is perfect for snack purposes but of course, they have an array of options to choose from.
Getting messy during this time of solid feeding is inevitable but it doesn't have to be a major chore or something you and baby find unpleasurable! Ditch any overwhelm you might have had with starting to feed your baby solid foods by equipping yourself with these super helpful items listed above!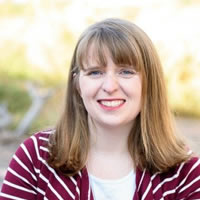 Katie is a Colorado-native, BYU graduated, and most importantly, wife to one and mother to three beautiful boys. She is passionate about sharing her experiences with others – especially about pregnancy, breastfeeding, cooking, and crafts. She is an International Board Certified Lactation Consultant. She loves spending time with her family and helping others find joy in family life.