Diapers can take up a big part of your budget – if you're like us, you are always looking for the best ways to save on diapers! While they are an inevitable part of having a child, it doesn't have to break the bank. Here are some easy tips for how to save on diapers.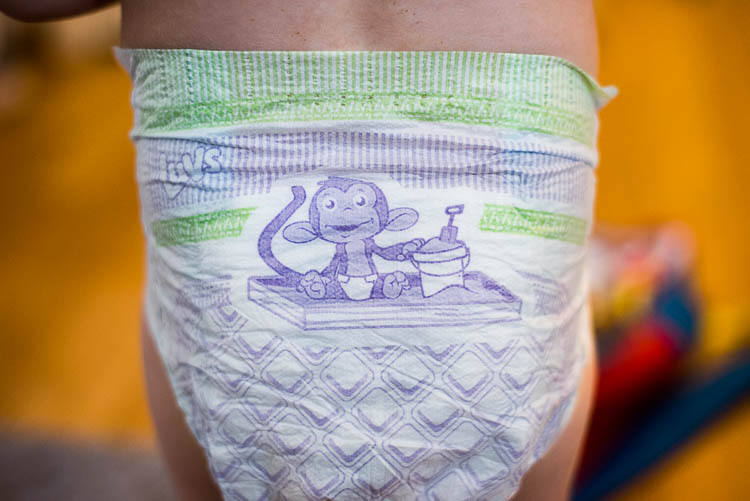 How to Save on Diapers
Thank you to Luvs for partnering with us!
"Oh, cleaning and scrubbing will wait till tomorrow,
But children grow up, as I've learned to my sorrow.
So quiet down, cobwebs. Dust, go to sleep.
I'm rocking my baby. Babies don't keep."
How is it that my baby is turning three next month?
And my first baby is in FIRST grade. We're talking big kid school now.
When you are in the thick of the middle of the night feedings, worrying about milestones, and wondering if your baby is having enough diapers, it feels those days will never end.
But I'm finding far too much lately that they do end – and it's oh-so bittersweet.
Although my children are still not that old, I feel that I've gained some wisdom over the years.
I worry less (about some things ;-). I sleep more (even though I'm still exhausted). And I snuggle my little ones just a little more.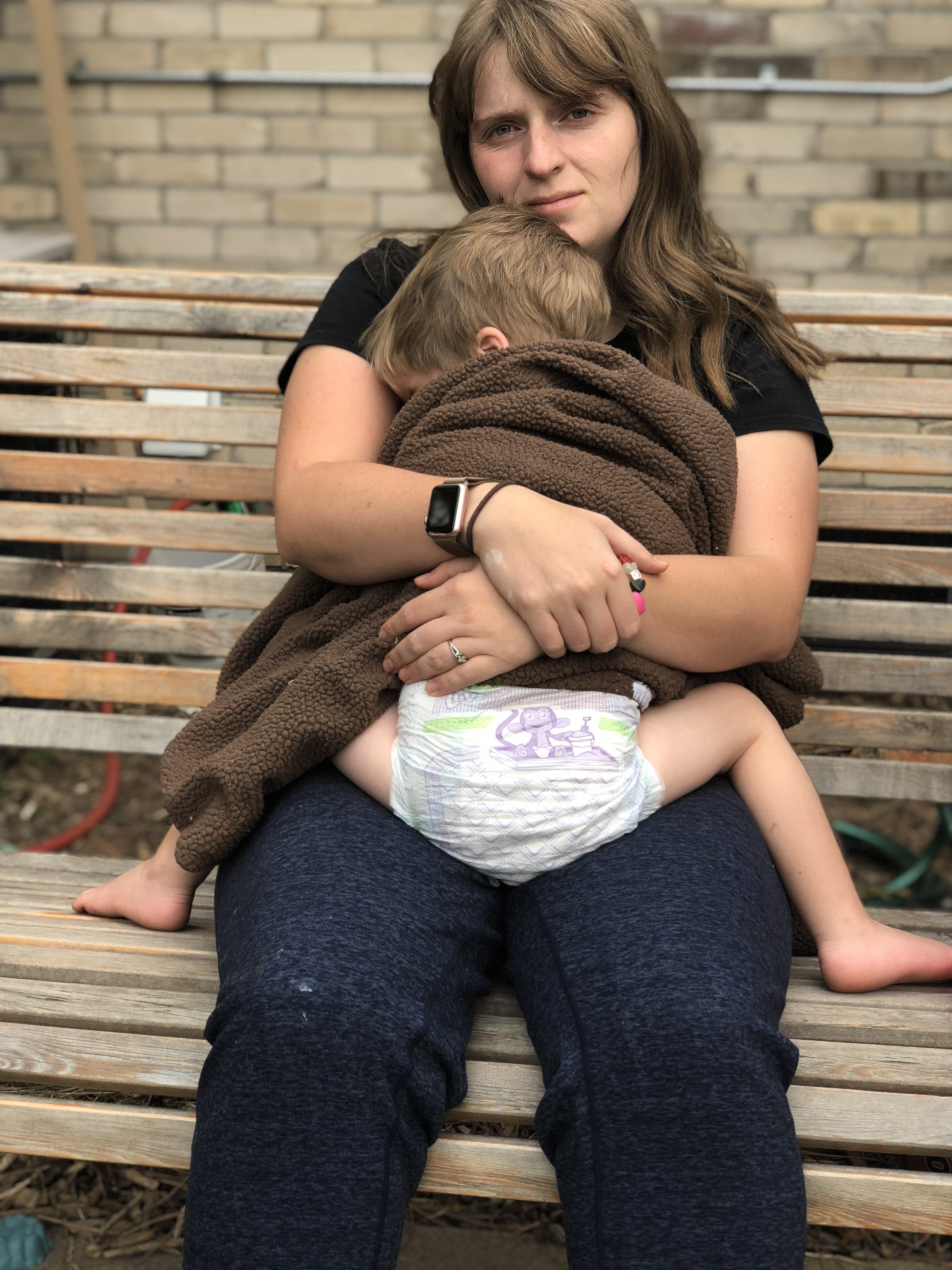 Because if you hold on tight, they will stay little just a *tad* bit longer.
One thing I've learned for sure is this:
Because if you hold on tight, they will stay little just a *tad* bit longer.
One thing I've learned for sure is this:
Never pay full price for diapers.
While there are many things you don't need for your baby…diapers are definitely a necessity.
No matter how you choose to diaper your baby, you are going to have to find money in your budget for it! But that doesn't mean you have to pay full price.
When Jack was a baby, money was always tight. We often recall times where we weren't even sure we would be able to have enough money for rent (and we were only paying $400 a month for a dingy apartment in Provo, Utah…so when you can hardly pay for that, you know it's bad!)
Somehow, we were able to get diapers – it just took some scrimping and saving.
Even though we are fortunate enough to be able to buy diapers without much trouble these days, we still try and save money on them as much as we can.
A while back, we wrote this post – The Ultimate Guide to a Diaper Stockpile – and it's been a huge hit. It goes all over the tips and tricks you need to know to build a diaper stockpile.
I touch on a few ways to save on diapers in that post, but today, I wanted to share all the tips and tricks I could find and have used myself to save on diapers over the years.
Since most children will be in diapers for 2-3 years, it definitely can add up, so hopefully, these tips will help you save just a little bit more.
And believe it or not…you *might* just miss the diaper stage at some point.
How to Save Money on Diapers
Buy on sale & Know when to stock up
I know, duh. Buying on sale is always going to be a great way to save on diapers – but it's important to know what sales are even worth doing.
Everyone should have a "price point" that they are willing to buy a diaper at – typically you go by price per diaper rather than price per pack. Some packs of diapers from different brands will look the same size, but they will have less diapers for the same size!
There are a lot of opinions on what price point you should look for (and it changes depending on size of diaper), but in general, I recommend spending looking between 10 and 15 cents per diaper.
Buy Value Brands
When J was a baby, there was only one brand of diapers that would work for him. Despite all my best efforts, if we didn't use this brand, he would pee out of them and have blowout after blowout.
He also had lots of diaper rashes, and that also factored into what diapers we chose.
So in that situation, you may be a little more stuck in your diaper choices.
However, if your child seems to handle most diapers the same – don't feel like you have to get the most expensive brand. Value brands offer some of the best overall protection for babies, and they can save you several dollars per package when you buy them.
LUVs is one of those brands they are a great quality brand. I'm sure you've seen their commercials about how second-time moms choose LUVS most, and I believe it. There are some less expensive brands that are horrible, but LUVS definitely doesn't fit into that category. It's always going to be a great deal no matter when or where you buy them.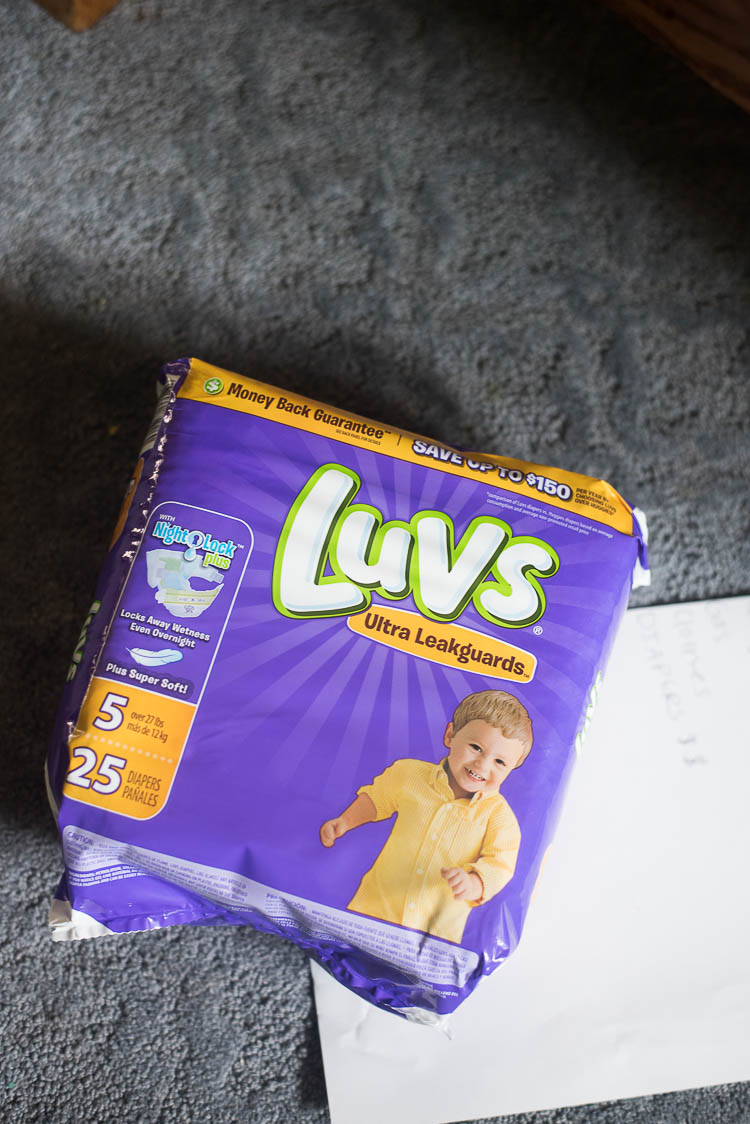 But if you can get them on sale or with a diaper? Even better. On August 26th, 2018, there will be a BrandSaver coupon in the Sunday newspaper – so make sure you grab it. It's for $2 off two bags or one box of LUVS at Walmart. When you pair that with a sale, you'll be saving big time.

Gather Coupons

There are so many coupons available for diapers – and I can almost always find one. Here are a few different places you can get coupons:

Online – TONS of printable coupons are available online. I like Coupons.com for finding them the easiest.

On Package – Sometimes companies will have peelie coupons on the package or inside the package once you open them. Don't throw away the diaper box without carefully inspecting it!

Store Apps – Many stores have apps now where you can directly clip coupons. I'm always finding diaper coupons this way – it's even better when they have a coupon on diapers that are already on sale!

Mailers/Circulars – Occasionally you can find coupons in the mail. There are also often coupons in the Sunday newspaper. Even if you don't take the newspaper, ask your friends or family members who don't have children in diapers to save the coupons they find. These can be VERY valuable.

Directly from the company – Maybe send them a nice email or tweet letting them know how much you like their diapers. Back when J was a baby, I did this with a couple companies and specifically requested coupons, and they sent them! You can also check their websites – right now, LUVS has a coupon on their website.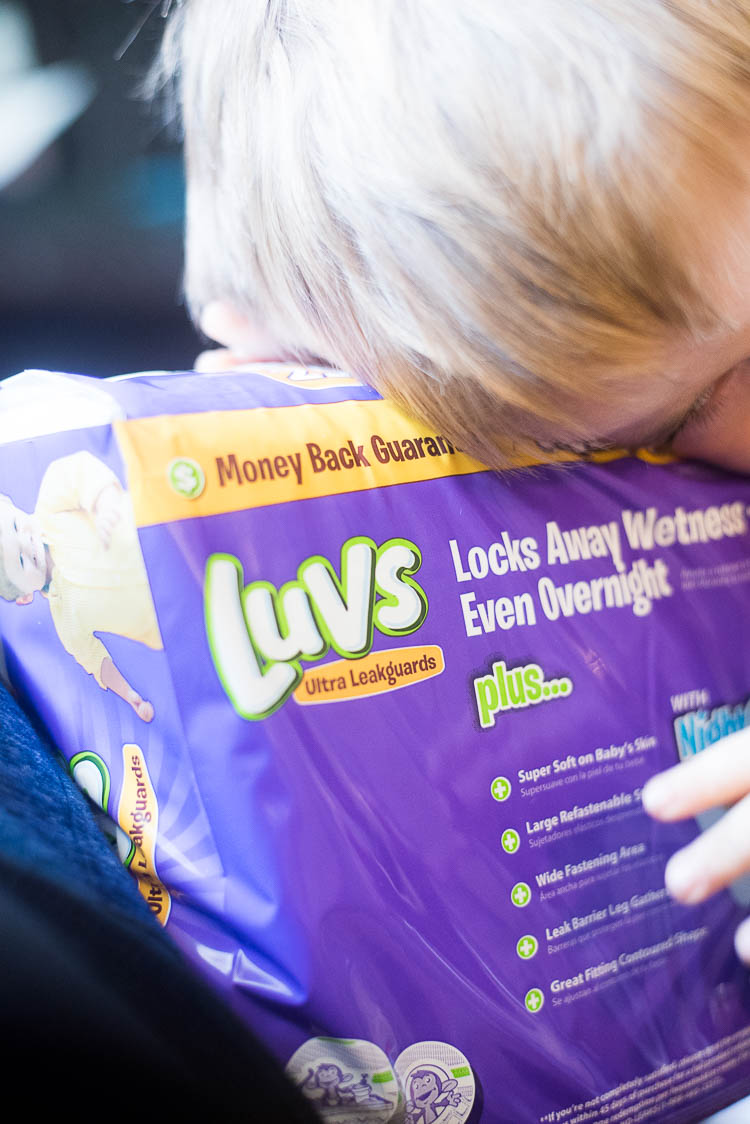 Money Back Apps and Websites
Not a big couponer? I can't say I blame you – I'm not either! However, as I've said in the past, my favorite method of "lazy" couponing is money back apps and websites, such as Ibotta or Ebates.
These resources give you money back when you make purchases. All you have to do is scan your receipt or activate the browser extension while shopping online. They are available with most major retailers, and you can save anywhere from a couple cents to a few dollars, depending on the active rebates.
Facebook Groups
Join some hyperlocal Facebook groups! I'm always seeing people post diapers for sale for discounted prices in there – either they decided the diaper brand didn't work with their child, or their child went up a size in diapers before they finished the package. I've even seen people giving away diapers for free (just make sure you meet up in a public place!)
Follow Deal Sites
This is how I usually find the best deals on diapers – I follow websites that make a living sharing deals! I am in a few Facebook groups and also get emails from them, which is really helpful. I used these resources religiously when J was a baby, and it helped us afford diapers so much more easily.
Switch sizes slowly
Don't switch diaper sizes simply because your child meets the minimum weight recommendation for the diaper weight. Always go by fit – all babies are different, and while one 15 pound baby will be in size 4, another might still be in size 2. Diapers get more expensive the bigger they get, so the longer you can keep your baby in one size, the better. We don't move up sizes until the last possible moment!
Buy in Bulk
Buying in bulk can save you overall, though make sure you don't buy too much in bulk. You don't want to end up with WAY more diapers than you need. In my diaper stockpile post, I share roughly what size and how many diapers in that size you will need, so that's a good guide to go off of when buying bulk. You can buy in bulk from a club warehouse, though you can also buy in bulk when diapers are on a crazy sale!
Discounted Gift Cards
There are a bunch of different websites that offer discounted gift cards to retailers such as Walmart. If you can score a couple of these, you can use them to buy diapers. Obviously, gift cards are like cash, but if you can pay $28 for a $30 gift card, you're saving $2 when you put it toward a diaper purchase!
Put diapers on correctly
Make sure you put the diapers on correctly! Have the ruffles out, secure them tightly, etc. This will help prevent baby from leaking out of them, which makes them last longer.
Rewards Programs
Many diaper companies have reward programs where you can earn points for diaper purchases. These can be put toward
Buy online
This isn't always possible, but some of the best deals can be found online!
How much money do you save with cloth diapers?
I am not a cloth diaper parent, but it can save you money in the long run if you decide to go that route. There is more of an initial investment, but you can save about $350 if you choose to cloth diaper over disposables (source).
Register for diapers
If you are still pregnant, register for diapers! When I was pregnant with O, I was given a baby shower by a lady at church, and I seriously didn't buy hardly any diapers for the first year because that's pretty much all people gave me. I know that diaper showers are really popular (be sure to check out our free diaper raffle printables).
Don't open packages until you need them
I know it can be exciting to get your nursery all set up and looking beautiful, but don't open the diapers until you need them! Most of the time, you can return unopened packages and get your money back.
Grab Free Samples
Stores will occasionally hand out diaper samples. If you are lucky enough to be there on the day they are passing them out, don't pass it up! You can even ask for extras – sometimes they'll be super generous with them! These all add up!
Other Posts You May Enjoy
This is a sponsored conversation written by me on behalf of Luvs at Walmart. The opinions and text are all mine.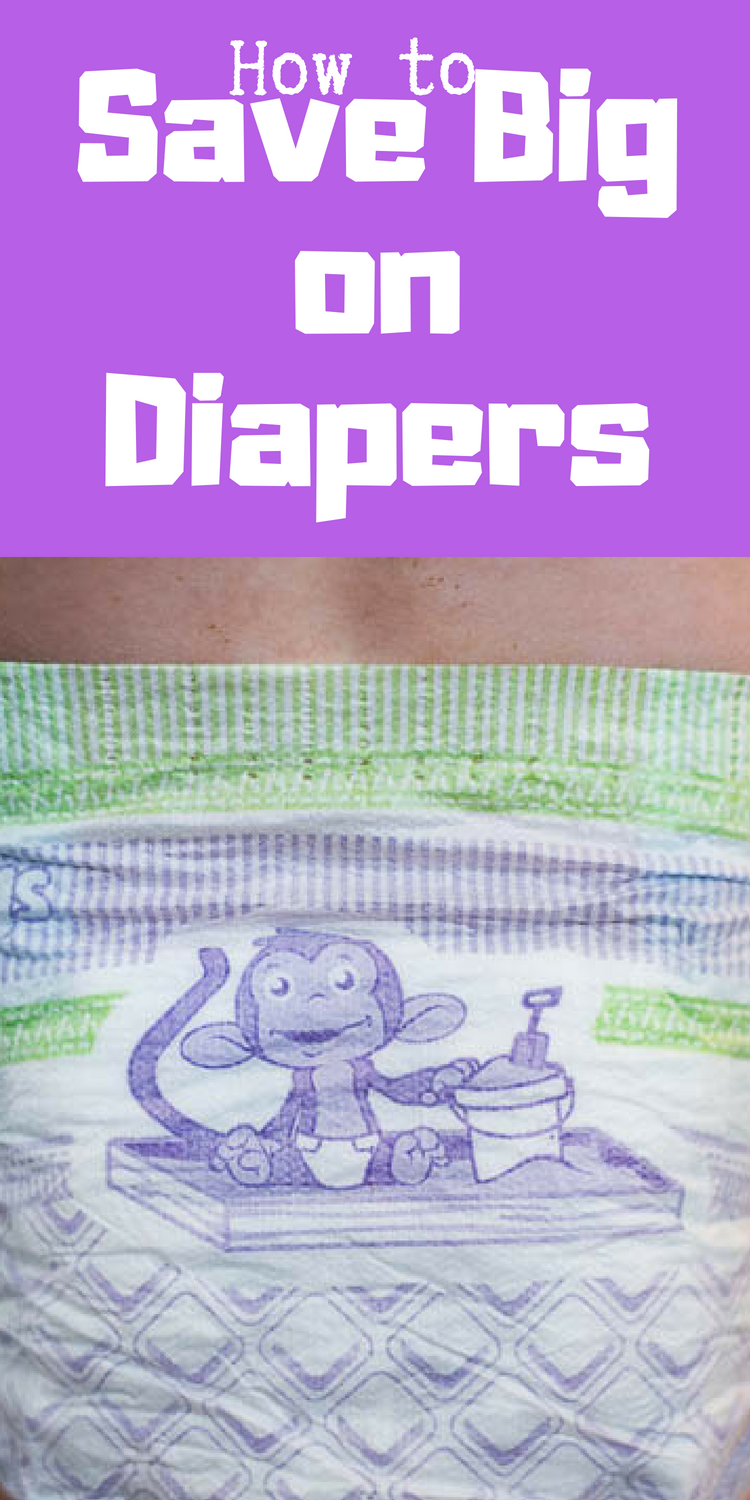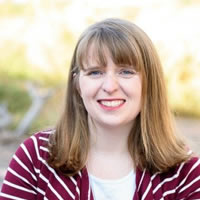 Katie is a Colorado-native, BYU graduated, and most importantly, wife to one and mother to three beautiful boys. She is passionate about sharing her experiences with others – especially about pregnancy, breastfeeding, cooking, and crafts. She is an International Board Certified Lactation Consultant. She loves spending time with her family and helping others find joy in family life.