Three ingredient bacon wrapped little smokies that can be made in the crock pot for a delicious party appetizer!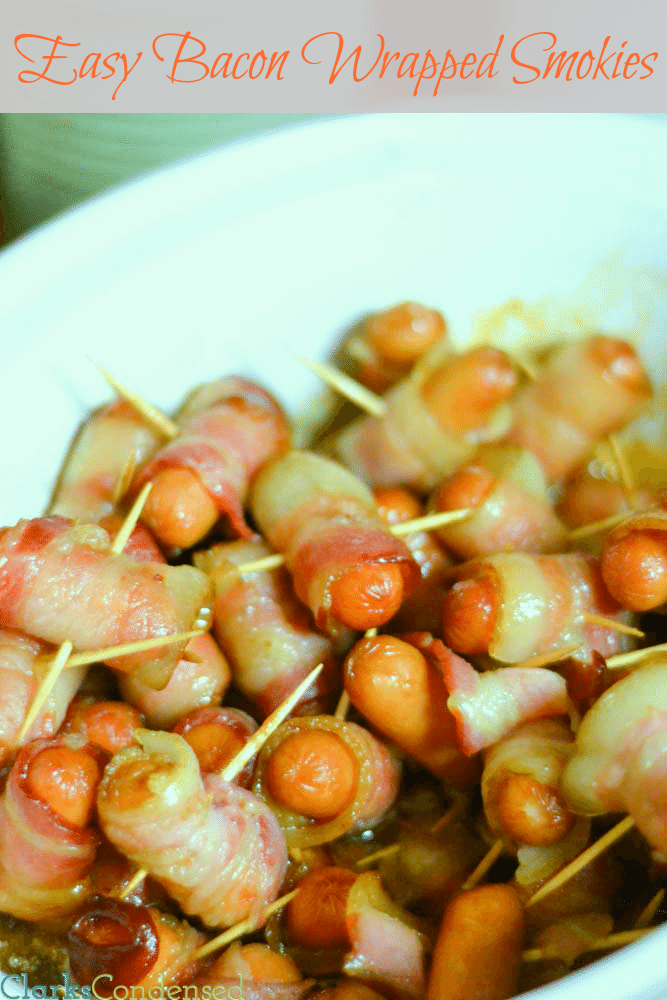 Do you have staples for parties? You know, that one recipe that you feel a get together would be incomplete without? That's how I feel about these bacon wrapped little smokies.
They are so easy, but are always a huge hit and gone in a flash. I think my family has them on every Christmas and New Years, as well as other times scattered throughout the year. I often will bring these to church potlucks, and I always walk away with people asking for the recipe. I'm always a little embarrassed to admit how easy they are!
This recipe has rather rough amounts — it really depends on the size of your crock pot. However, if you have a standard sized slow cooker, think I would definitely say follow the amounts listed in the recipe. Otherwise, just adjust as needed (you'll need more for a larger crock pot, and less for a smaller one.) Good luck! This is definitely a winning recipe you'll want to keep in your collection for years to come.
Bacon Wrapped Little Smokies #AppetizerWeek #Analon
Ingredients
One package bacon
1 1/2 packages of 14 ounce little smokie (Hillshire Farms is my favorite)
about two cups brown sugar
Instructions
Put a thin layer of brown sugar on the bottom of a crock pot.
Take one-third of a strip of bacon and wrap it around one little smoky. Secure with a toothpick.
Cover the brown sugar with a single layer of smokies.
Put another layer of brown sugar, then another layer of smokies. Repeat until you reach the top of the crock pot.
Cook on high for two hours. If bacon is is cooked after two hours, turn to low for one more hour. If not, keep on high.
Once done, keep on warm or serve.
http://www.clarkscondensed.com/food/bacon-wrapped-little-smokies/
This recipe was created on ClarksCondensed.com. Feel free to distribute as needed, but if you post it on your own site, please link to back to ClarksCondensed.com
The following two tabs change content below.
Katie Clark is a Colorado-native, a journalism graduate from Brigham Young University, and most importantly, a mother to the cutest little boy and wife to the most handsome man. She is a woman of many (random) talents, which include writing, cooking, sewing, technology, social media, and being a self-proclaimed Google expert. She loves spending time with her family, learning about parenting and pregnancy, and just enjoying life to the fullest.