This easy lasagna recipe has been a family favorite for decades – and it really is so simple! It only requires a few simple ingredients, and for those looking for a lasagna without ricotta, this one fits the bill. It freezes beautifully, too!
Easy Lasagna Recipe
If there's one type of food I never get tired of, it's Italian.
Unfortunately, Italian is not one of my mom's favorites, so we didn't have it as often as I would have liked.
But, there is one dish she made a lot, and it's always a hit.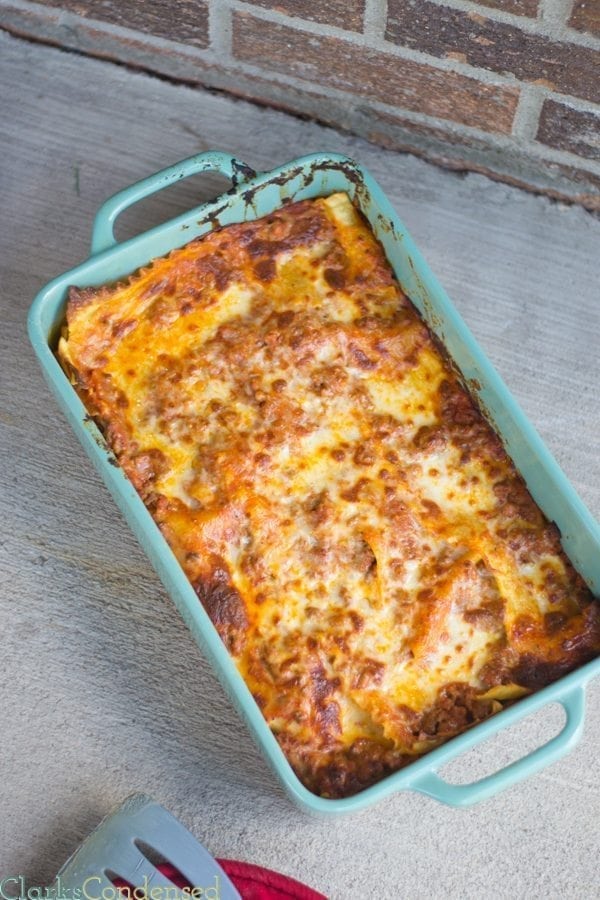 I LOVE  this Rachel Ray casserole dish, pictured above. Large, deep, and perfect for lasagna.
That's right, lasagna.

I know, I know. EVERYONE has a lasagna recipe. But there's something different about this recipe for lasagna. It's full of meat, cheese, and sauce. Plain and simple.
And, at my house, we aren't big fans of adding fancy cheeses, like ricotta or cottage cheese. Nope. The only cheeses in this are mozzarella, colby jack, and parmesan!
This is the meal my dad, and my grandpa, always requests on their birthdays. It's the only lasagna one of my good friends has ever liked (and let me tell you, her mom makes a killer lasagna.)
Whenever I'm missing home, this is the meal I make. While it is not a weight watcher's friendly meal by any means, I think breaking a diet is okay every once in awhile — especially for something like this.
If you're a meat lover though, look no further. It has both ground beef and sausage, which combine together amazingly. Granted, you could always add some veggies to make a little bit more healthy, but I love it just the way it is. This is such an easy lasagna recipe and smells absolutely divine as it cooks.
This recipe is just so simple. It has:
Ground beef
Ground Sausage
Pasta Sauce
Mozzarella
Parmesan
Colby Jack Cheese
Noodles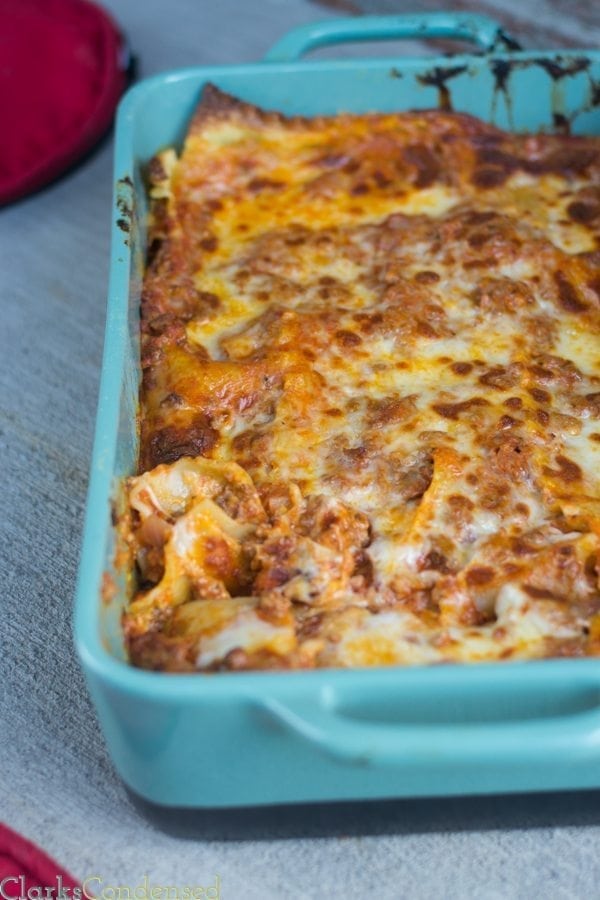 So if you're on the lookout for a new, easy lasagna recipe — look no further. This is it. And in case you're like me, and love to make recipes even easier, when you are the grocery store, pick up a package of oven ready lasagna noodles.
They work like magic and eliminates the need for one more dish to clean up afterward. And if you want to a lot (and believe me, it disappears quickly), this Rachel Ray casserole dish works perfectly. It's deep and large. Perfect for a large family, gathering, or just if you want a little left over. My mom got one a while ago, and I've wanted it ever since!
Here are a few tools I recommend from Pampered Chef
(their products stand the test of time – if you'd like to earn free product, like the items above, sign up for an online party here. You can also join our holiday baking party online for more cooking and baking tips/recipes and prizes).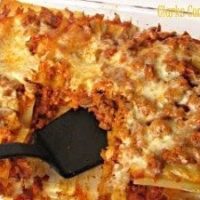 Easy Lasagna Recipe
Yield: 8
Prep Time: 15 minutes
Cook Time: 1 hour
Total Time: 1 hour 15 minutes
This easy lasagna recipe has been a family favorite for decades - and it really is so simple! It only requires a few simple ingredients, and for those looking for a lasagna without ricotta, this one fits the bill. It freezes beautifully, too!
Ingredients
16 oz can spaghetti sauce
8 oz can tomato sauce
¼ cup onions, chopped
1 tablespoon Italian Seasoning, this brand is great https://www.pamperedchef.com/pws/clarkscondensed/shop/Food/Seasoning+Mixes/Italian+Seasoning+Mix/9719
2 tsp garlic powder
2 tsp onion powder
1 cup water
1 pound ground beef or turkey
1 pound Italian sausage, any variety
2 cups mozzarella cheese
2 cups Colby jack cheese
15 lasagna noodles *oven ready make this recipe even easier*
Several tablespoons powder Parmesan cheese
Instructions
Preheat oven to 350 degrees.
Fill pot with water and bring to a boil, then cook lasagna noodles until al dente.
In the meantime, dice onions, and then put them in a deep skillet with the sausage and ground beef.
Brown the meats. Add spaghetti sauce, tomato sauce, and water to meat and onion mixture. Add in all the spices, and let simmer 15 minutes.
When lasagna noodles are done, drain excess water, and put off to the side.
Sprinkle Parmesan cheese on the bottom of a 9x13 pan. Layer four lasagna noodles on the bottom of the dish. Then layer 1/3 of sauce, then ½ cup of colby jack cheese 1/2 cup of mozzarella. Sprinkle with Parmesan.
Repeat noodle, sauce, cheeses two more times. Make sure the top layer of the lasagna is mozzarella cheese. If there are any gaps at the ends of pans where there are no noodles, put a noodle there as well. Cover with tin foil and bake for 50 minutes. Then remove tin foil and let bake about 10 more minutes.
If cheese is still not melted completely, put on broil for about two minutes.
Here's a dutch oven version of this recipe:
Don't miss out on these other amazing casseroles!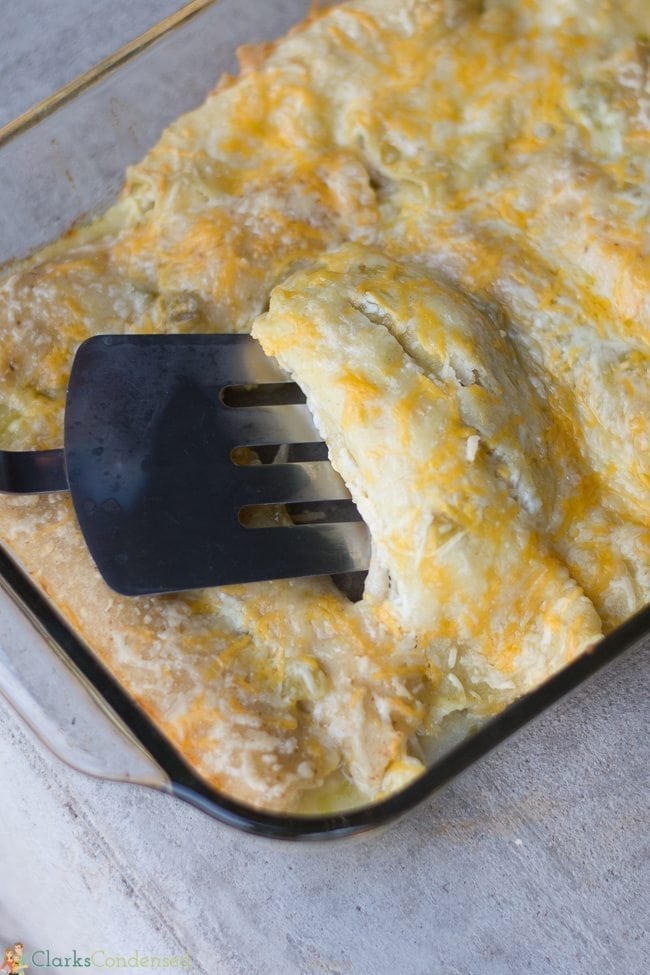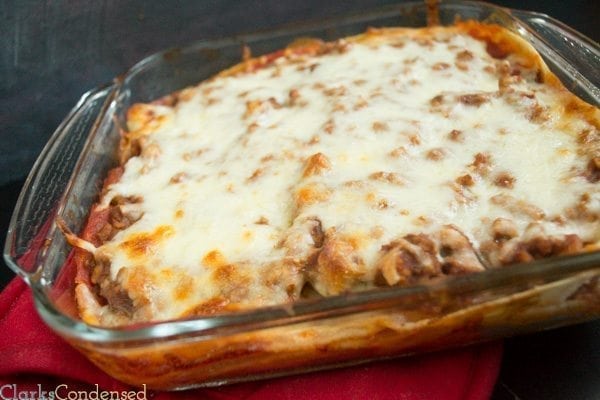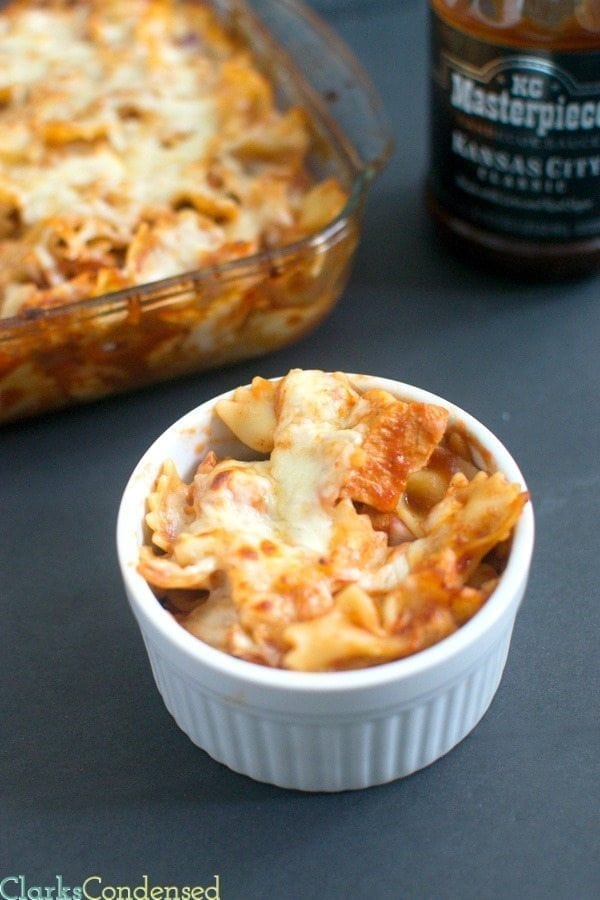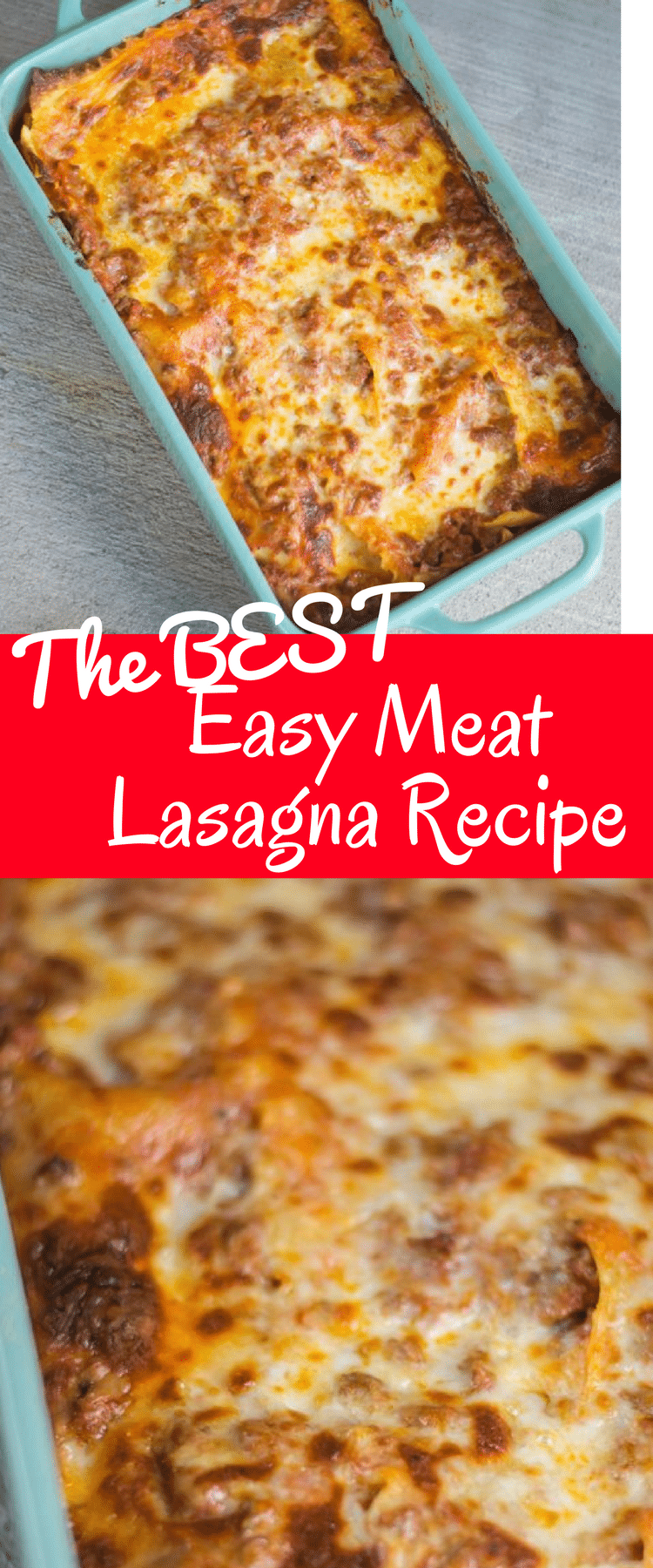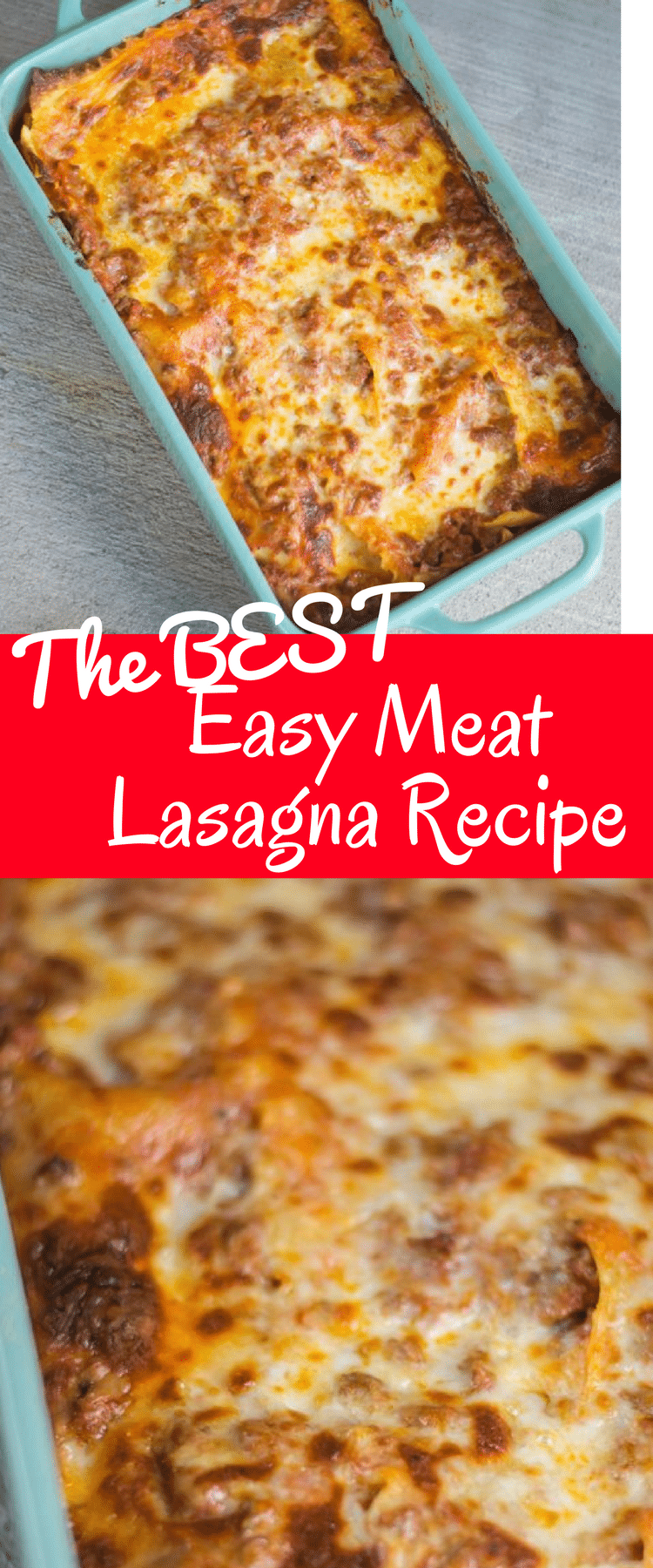 COMMENT POLICY:
All we ask is that you be kind. We welcome differing opinions, but any comments containing personal attacks, sarcasm, etc. will be removed immediately. Keyboard warriors aren't welcome 🙂 All comments are moderated and may take time to be approved. Anything not pertaining specifically to the content of a post will be removed (including comments about ads).