Making your raised garden bed plans come to life can take some time – here are the 4 "S"'s to help get you started on the right path!
Having a garden has always been a great way to grow your own food and be closer to the earth. For many of us though, getting started is intimidating and time-consuming. But this last year has taught us how important it is to be self-sufficient, and to have healthy, home-based activities.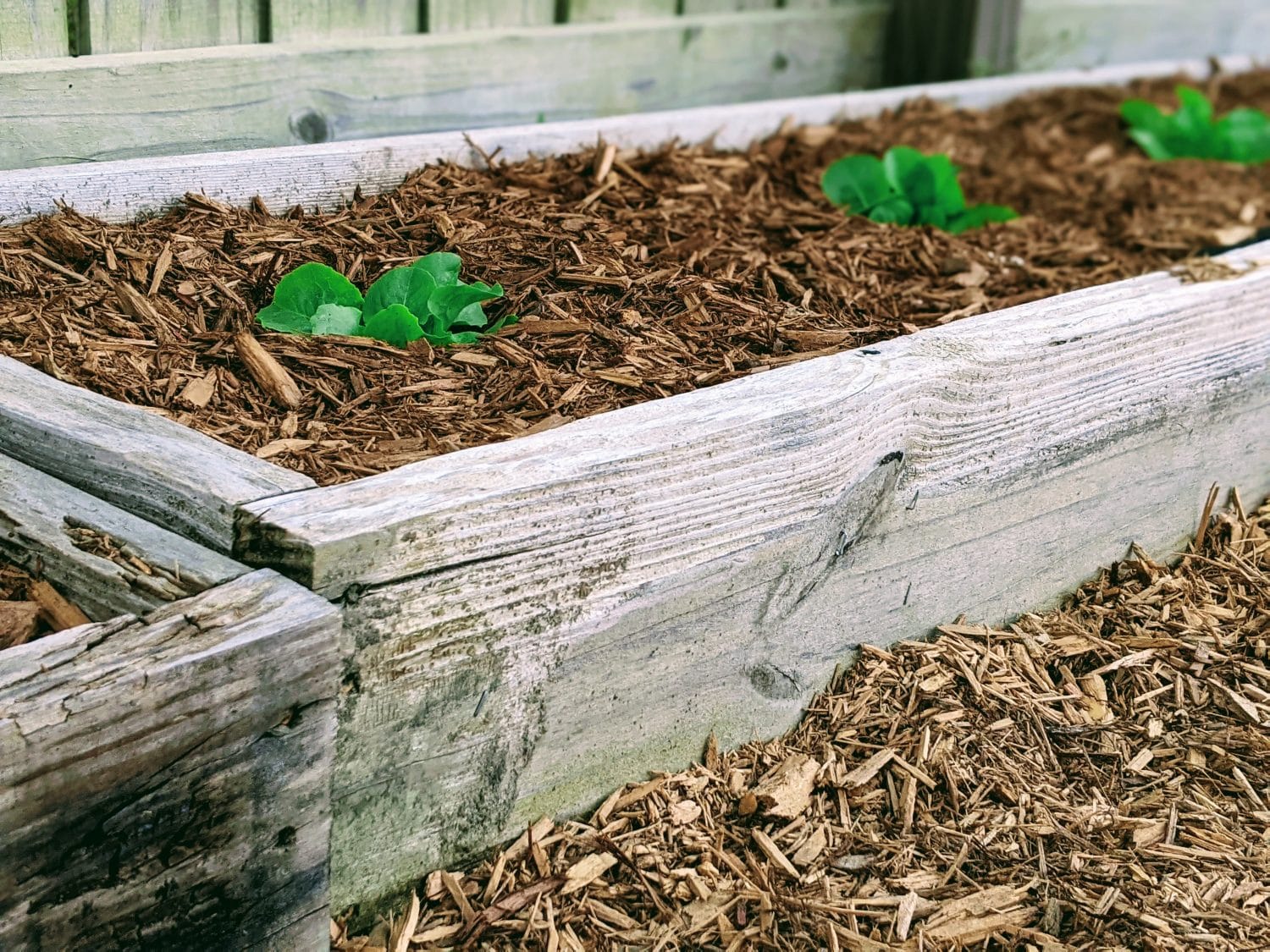 One of the best ways to get started with gardening is with raised beds. They are very popular because they are easy to construct and maintain, and are less susceptible to problems than in classic gardens. We'll identify the four most keys to undertaking a raised garden project so you can learn how to make a raised garden bed on your own!
Once you've reviewed these steps, this article will help you successfully construct a raised bed.
The Four S's of Preparing a Raised Garden
Sunlight
Plants need three things to survive: Sunlight, water, and nutrients. Water and nutrients can be supplemented, but you must put your garden in a place where it gets enough sun. It can be in the yard, the driveway, on the porch, or the balcony, so long as there's good sunlight.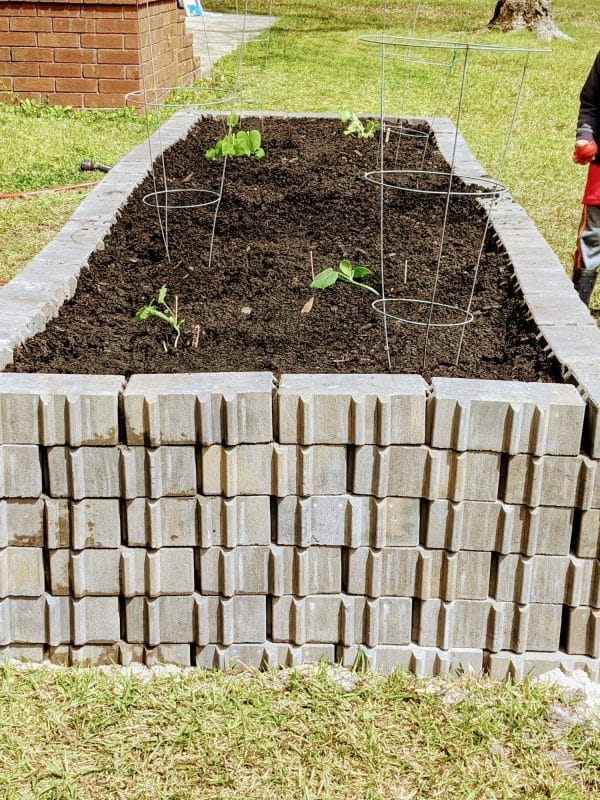 Adequate sunlight for most plants means at least six hours of full sun exposure daily. To make sure your planned spot will work, check it out several times a day for a few days. Is it getting full sun? Or do trees, buildings, or other obstructions block the sun for a good portion of the day?
The first time I tried to garden as an adult, I planted several pots of
tomatoes, squash, and strawberries on my covered porch. They never grew, no matter how much I attended to them, because they didn't get enough sunlight.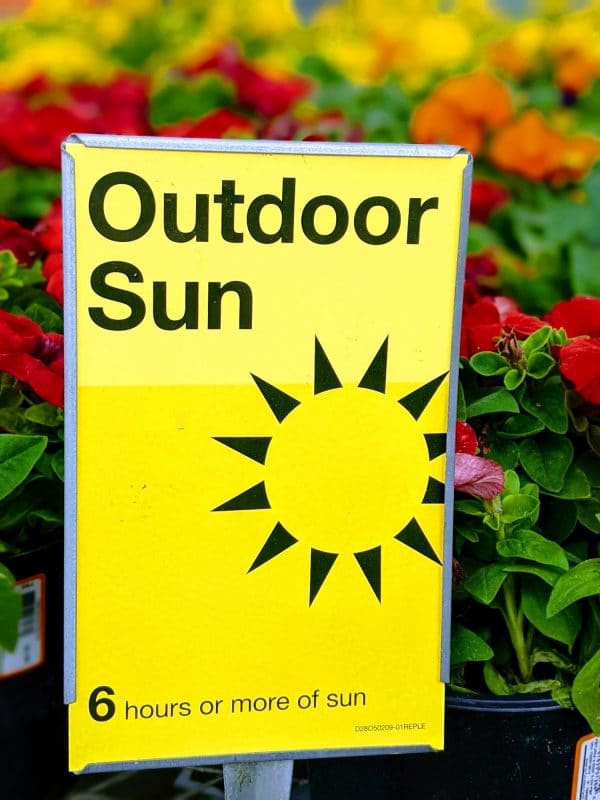 Most produce needs "full sun" meaning a minimum of six hours of direct sunlight every day, and will do better with even more. Plants grown for their fruit or produce (squash, peppers, tomatoes) need full sun to maximize yield. Some plants, such as beans and peas prefer full sun but can tolerate some shade. Leafy plants such as lettuce, broccoli, and beets, will tolerate more shade, but still need daily sunlight.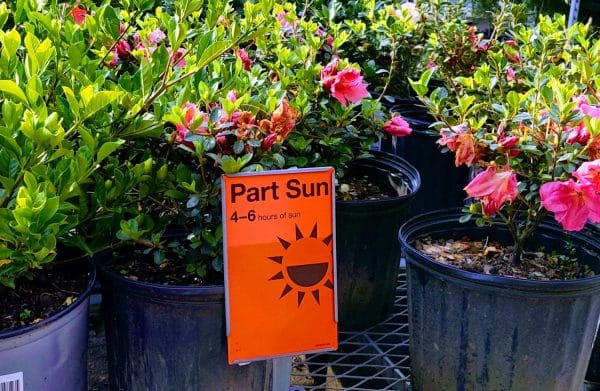 Once you've established an area that gets enough sun for the plants you want to grow; or once you've identified what sunlight is available in your ideal garden location, you can move on to the next step.
Size
Now that you know where you can put a raised garden, you can determine how big the garden will be. Do you want a small flower bed? Or do you want to feed an army from your garden? Do you have a large unused lawn, or just a patio big enough for a small garden?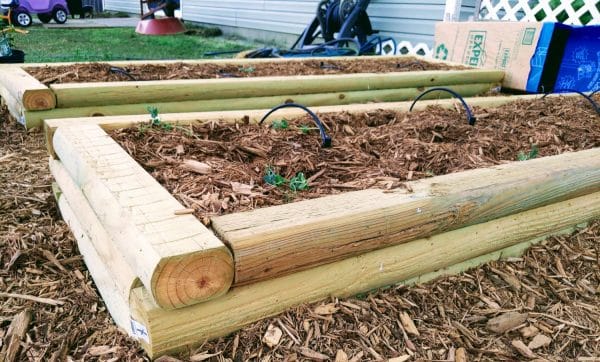 A raised bed should be at least eight inches deep. If your bed rests directly on the ground, it will actually grow deep into the ground below, and you don't need much "raised" garden to be successful. A raised bed built entirely off the ground should be eight, or up to twelve, inches if possible.
If you have a large space for your garden, it can be tempting to turn it all into one big bed. This, however, is not ideal. You need to be able to reach to the center of a raised bed to weed, water, and harvest. A standard rule of thumb is no more than four feet wide, on the outside. Any bigger and you'll struggle to access all of the bed without hassle.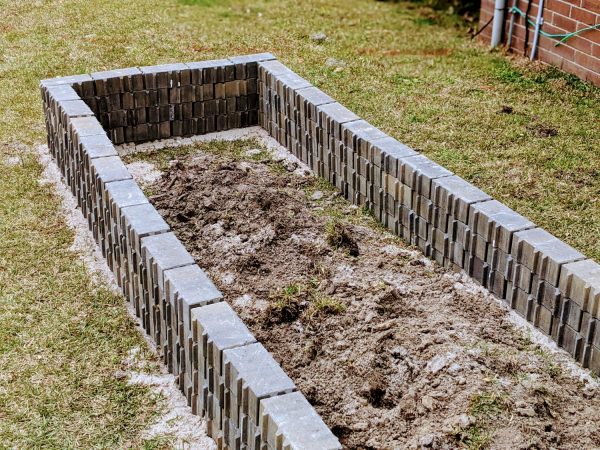 How long should the bed be? In theory, it can go on as long as you want. In practice, you don't want it too long. You have to navigate around the bed every time you weed or water. If it's too long, you'll find yourself wasting time, dragging hoses, and looking for shortcuts. Multiple small plots no more than 12 feet are better than really long rows.
When determining height, don't forget to account for personal preferences and health concerns. If you're stiff and don't like bending over, a taller raised bed will be better for you. But if you plan to be on your knees, a too-tall bed will be hard to reach across and access all the plants. Visualize, and maybe even practice at the intended site, to determine what will be best for you.
So, your garden should be at least eight inches deep, no more than four feet wide, and up to twelve feet long.
Stuff
Once you know where you'll put your garden, you can really start to plan what you'll grow! Consider your garden size, what you want to do with the garden, in addition to what you want to eat from it. Don't grow things you don't like, and don't grow things you can't maintain.
Also, pay attention to your climate and try to grow things that will thrive in your area. Local nurseries will be informed about your region, as will your state's university extension office, which should have a treasure trove of information online.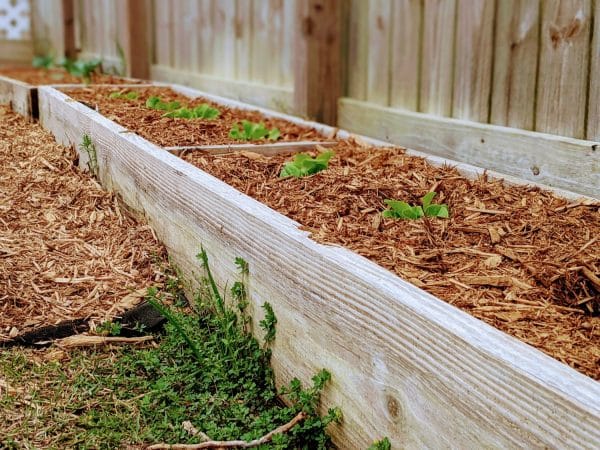 If your plot is very small, choose plants that do well in small areas. For produce, this means looking for tall plants like tomatoes, beans, and other things that grow "up". If you want things that grow along the ground, like squash, you'll need to find "bush" varieties or install trellises at the start of planting. Trellis before the root system is developed, as sticking a cage or stakes into the soil can fatally disturb a root system.
It's important not to over-plant an area. Plants need lots of space above ground to grow fruit, but they also need lots of room for their roots to get the water and nutrients they need to make that wonderful produce.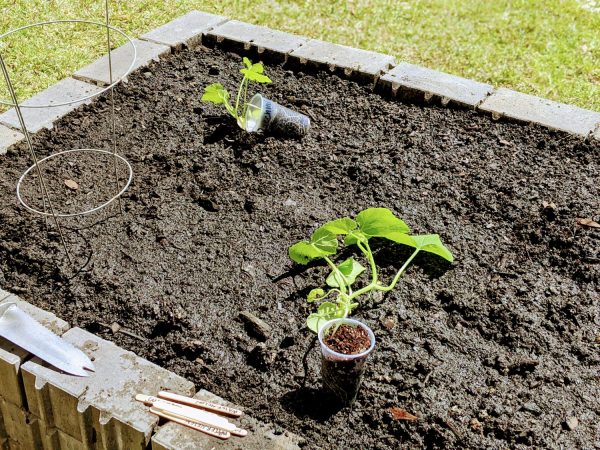 The label that comes with a starter or the information on the back of the seed packet will give you a good idea of what that plant needs to thrive. Do not get ambitious and try to overfill the garden. It may look sparse and empty when you plant, but it needs room to grow!
Soil
It took me a few years of gardening to understand that different gardens and plants require different soil. Simple "dirt" won't yield the best results. A raised bed should have a mix of topsoil, compost, and potting soil or other lightweight filler.
There are entire blogs, books, and advanced degrees dedicated to finding the perfect blend, but a simple rule of thumb is 50 percent topsoil, 30 percent compost, and 10 percent filler such as potting soil or vermiculite. This is just a guideline, and experienced gardeners know it will take a few years to get your soil just right. Again, local nurseries and extension offices can guide you for making the best choices for your region.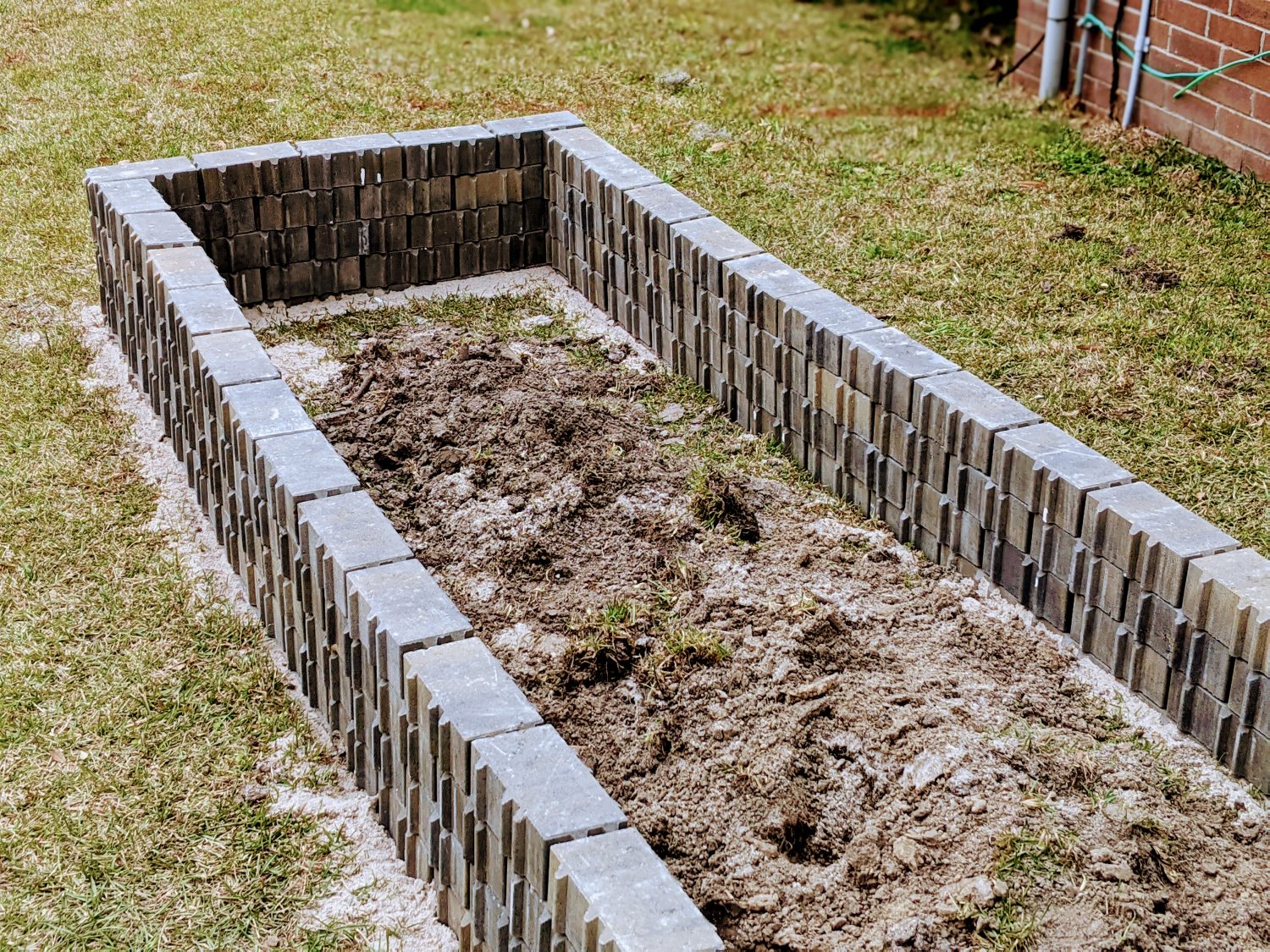 If you have a small raised bed, you can get bagged soil from the garden section of any hardware store, but if you have a larger bed, you should look into a bulk order from a nursery or specialty store. The upside to a bulk purchase is that the soil will be a blend of local matter, giving you a head start in developing a successful garden. Most nurseries deliver for a fee, which is still cheaper than using bagged soil for larger jobs.
To calculate what you need, measure the width, depth and length of the garden and convert it to cubic yards for larger beds, and cubic feet for smaller. There are online calculators to help in this process. Plan to add extra soil as the garden compacts over time. It's best to water the garden a few times before planting, to ensure things settle and that the soil is moist and ready for plants to grow.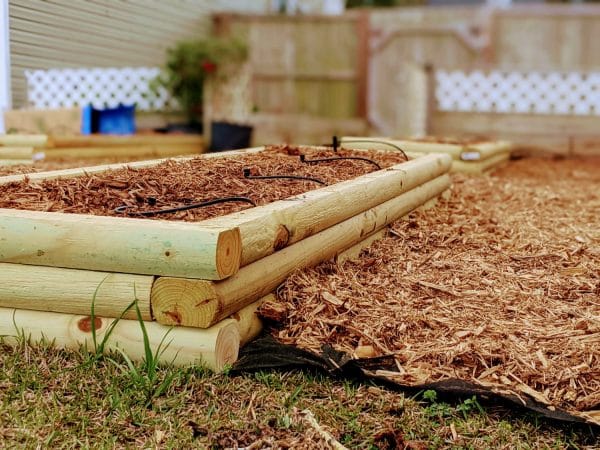 Once you know the four S's of preparing your garden, you'll be set for a summer full of bountiful produce. Good luck!
More Posts You May Enjoy: