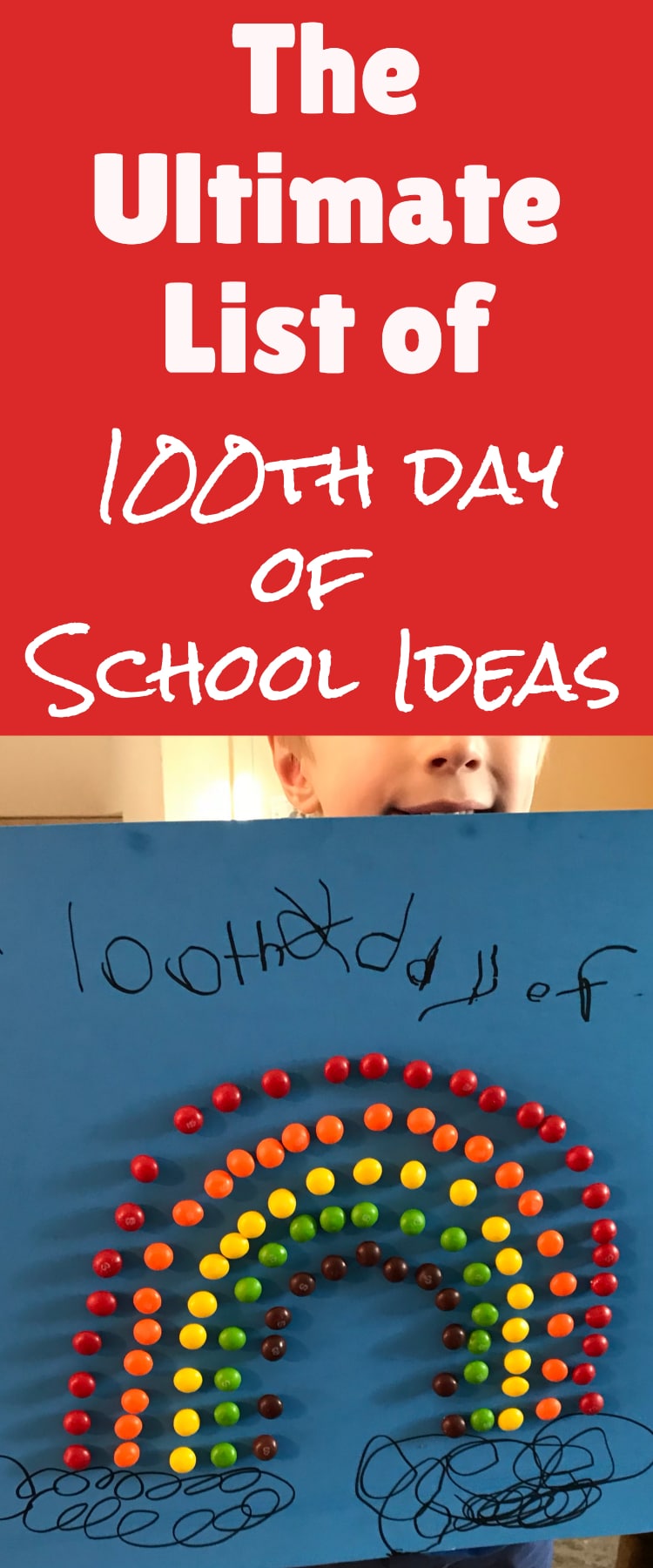 The 100th Day of School is always a big deal! Here are TONS of projects and resources for teachers and students alike to make this day even more special.

100 Days School Project
Many schools celebrate the 100th day of school by having a "100 Days of School" celebration.
This celebration may vary between schools due to different days off or when school started but it typically occurs at the beginning of February.
It is a fun time for students, teachers and parents to get creative and have some fun. If you are a home school parent you might consider celebrating this occasion with your children, too.
There are so many different activities and crafts that can be done to celebrate the 100th day to make it exciting for everyone! My kids have enjoyed this tradition and look forward to this day every year!
Some of my favorite ways to celebrate the 100th Day have been quite simple- but memorable!
100th Day of School
100 Days of School Items
Have your students bring in a collection of 100 items to show the class. Encourage the students to bring them in a jar or clear bag so it is easy to see. As a parent, discuss with your children how much 100 is and look through your home to see if you have items already. This activity is a great visual for children to see what "100 looks like"
100th Day of School Glasses
You can find a great printable for glasses showcasing the number 100 right here.
Kids will have so much coloring or decorating them how they choose and can enjoy wearing them throughout the day.
100-Year-Old Me
Give the children the prompt: ""I think that when I am 100 years old….." and have them fill in the blank. It is a great writing activity that will make them stop and think about the future and they will get to use their creativity.
Some schools will encourage the students to dress like 100 years old for the 100th day of school. Here are a few fun ideas:
Flour in hair
Suspenders
Glasses
Cane
Go to Goodwill to find older clothing
Hats with flowers in them
Dress up like their grandparents
100th Day Snack
You can get creative with sending your child to school with a lunch centered around the number "100" or 1 and 0. Or it could be a fun snack!
apple rings (to look like the number zero) with peanut butter in the middle
mini bagels
grapes
a sandwich cut out to make a 1 and two 0's
donuts
Don't forget to take a peek at these other fun 100 Days of School ideas!
100 Days of School Project Ideas
And here are a bunch of other 100 Days of School project ideas to get the juices flowing!
<div class='InLinkzContainer' id='763866' >
<a  rel='nofollow' href="http://www.inlinkz.com/new/view.php?id=763866" title="click to view in an external page.">An InLinkz Link-up</a></div>
<script type='text/javascript' src='https://static.inlinkz.com/cs2.js'></script>
Other Posts You May Enjoy: