Are you interested in taking the Online Prenatal Class for Couples? Wondering if you even need to take an online birthing class? Here is our review of this unique online course – as well as an exclusive coupon code!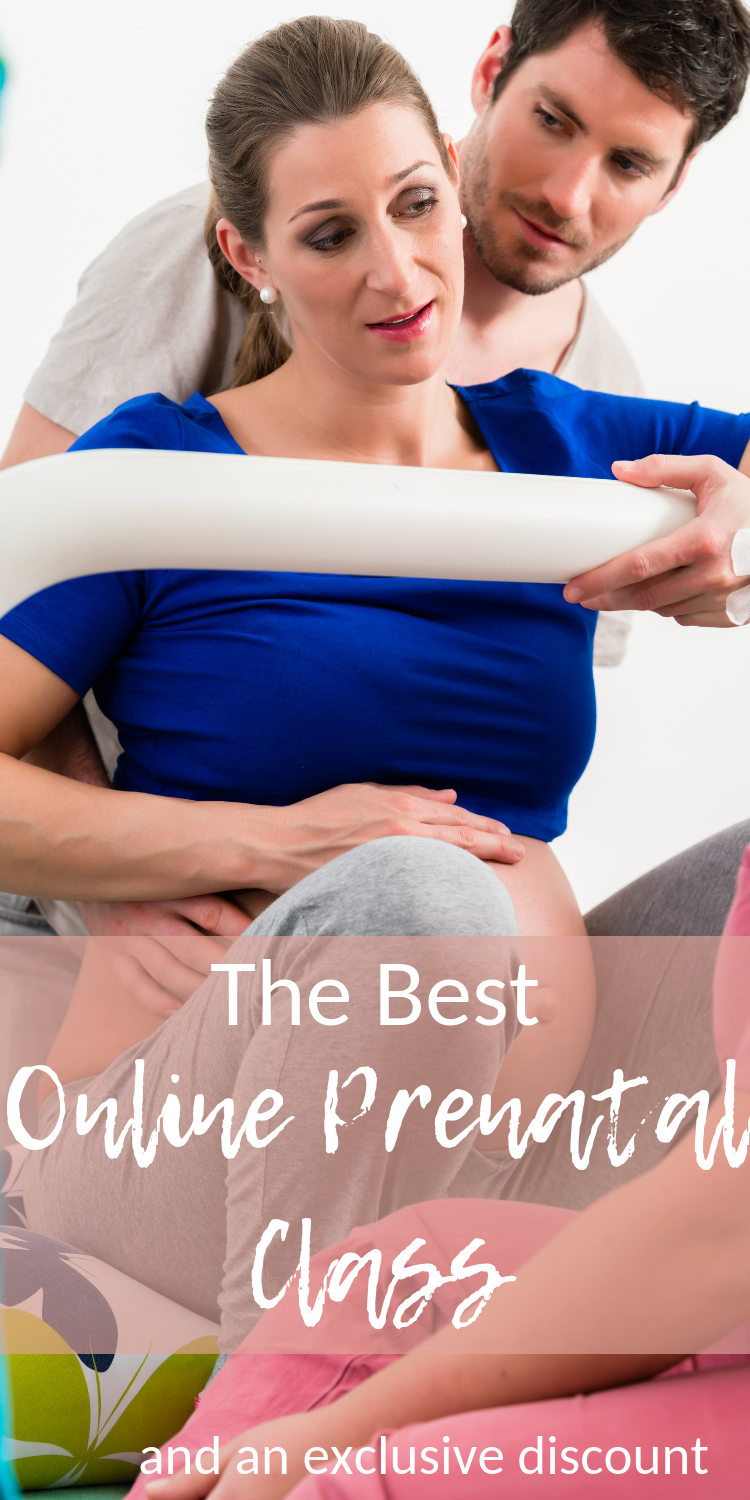 Online Birthing Class
Whether it is your first baby or fifth- sometimes it is nice to take a prenatal class to help you calm your fears or give reminders on everything pregnancy and labor and delivery.  Often times you come away learning something new and leave feeling more prepared than when you started.
Because time is precious and life gets busy I appreciate online courses over anything else. But how do you know what class is right for you- and if it's worth it?
<
Today I'm giving a review on the
best online prenatal class
from Pulling Curls. It is filled with great information that will leave no question unasked.
Don't forget to use the coupon code CLARKS for 10% off!
So, let's talk about the elephant in the room first – what is the cost of this online prenatal class?
Hilary knows that everyone has different budgets and needs, and she has something to fit every budget. Here is a screen shot of the pricing options for her course: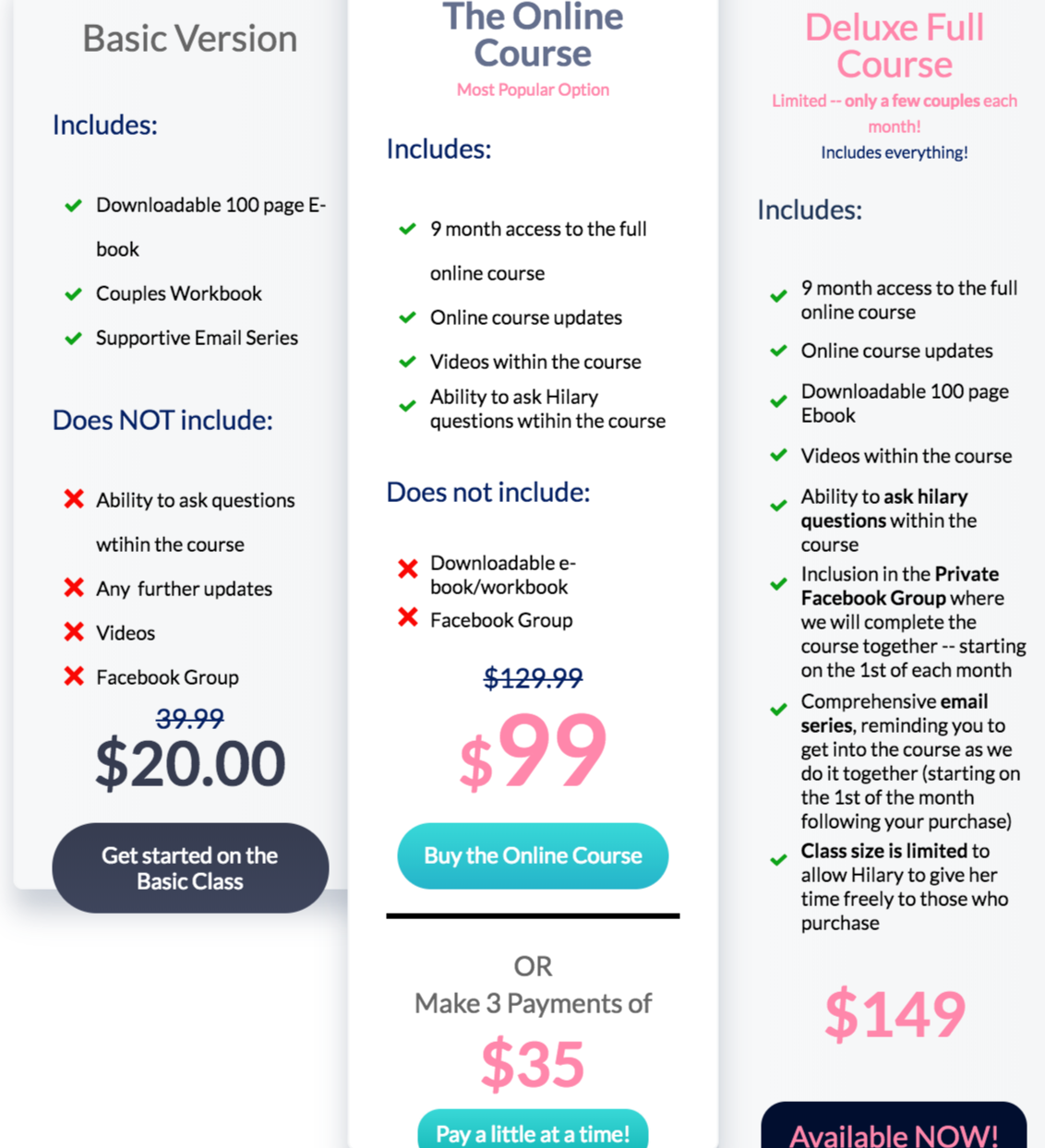 And if you don't already know, nurses are basically the heart and soul of your hospital delivery experience. They know their stuff. They have seen it
all
and they are knowledgeable.
So, in my opinion, this course is worth every penny just because of how informative it is and because of the manner it is given in.
Because we want to make this course more accessible to all our readers, we've arranged an exclusive discount of 10% off – you can use the coupon code CLARKS. You must click through our link to redeem this deal!
Online Prenatal Class
So, if you are looking into an online prenatal class, you may be wondering if this is a good option for you. You are in the right place!
First of, all, this class is ideal for people who:
Are first-time parents
Planning on a hospital birth
Need a flexible option for an online class
Second (or third…or fourth) time mom who just needs a refresher
Anyone who is nervous about giving birth
It's really great for just about anyone who is planning to give birth in the hospital – even if you are planning to go all natural, you will still gather a lot from this class.
Here are some of the pros and cons of this online birthing class:
PROS:
Okay, there are so many pros to this course. Let's jump right in!
Flexible
First of all, this course is flexible.
Because it is online you can do it at your pace, on your time, and in the comfort of your home. And when you're pregnant- all three of those factors are important.
There's no need to schedule an appointment or waste time driving to and from a class.
You can go through it at night time when your spouse is home and other kids are in bed, or during the day when you have a free minute. It's also designed to be taken as a couple, so it's a great date night activity.
It keeps track of where you left off and how much of the course you have completed- which is a great way to gauge your progress.
As mentioned before, Hillary, the course instructor, is an experienced Labor and Delivery nurse.
Throughout the course, she shares her knowledge and expertise in a down to earth manner that is relatable- but at the same time she is blunt and tells it like it is.
There's no such thing as an embarrassing topic to touch on, and I appreciate how real she is and how she is explains everything in a way that is easy to understand.
Because of her profession, she has a lot of experience regarding labor, delivery, medications- basically anything to do with pregnancy and delivering your baby.
The information you'll find in this course is far better than any in-person class I have attended. Because you have purchased this course it is yours to go back and re-read or watch if you need to.
Everything is in writing and in fun video clips so you don't have to worry about taking notes, either. Because who has time for that when you're growing a human?
Did I mention this course is actually fun? Yes! Be sure to tell your husband! You really feel like you are talking with one of your best friends when it comes to this course because of how open and friendly Hillary is.
You might even forget you are watching through your screen as you watch more of the videos and feel like you are actually friends with Hillary. She has a calm demeanor that makes it easy to listen to and watch.
Each lesson is thoughtfully planned out and written in an easy to read format. She makes it fun to read and it feels like she is chatting with you- not spewing out information in a text book format- which we all know can be super boring!
You can choose to scroll down and catch the bold topic headers for questions you may have. Although, I do recommend reading everything because the information is that good and includes topics everyone should at least be aware of. You may even find out something you weren't expecting or that you thought you knew- but clearly didn't have all the information on.
Researched, Informative and Interactive
At the end of every section, she includes additional reading material that could be helpful and provides links for easy access.
There are also chapter couple discussion questions for you and your partner to read together at the end of each lesson.
They include several questions you may not have thought about before- but are still important to discuss together. It is a great way to review what you've just read or learned through that chapter and to put a  plan in place for different scenarios. These questions get you thinking and talking to your partner and can help start an open dialogue to make sure you're both on the same page.
You can easily ask a question at the end of each chapter that posts in an open forum for everyone to read and see. Hillary responds back and answers questions and responds to comments as well.
So even though you aren't having a live session where you can ask a question right then and there, you do have the option of still asking that question and just waiting for her to reply.
I also love how other readers comments show up in case they ask something you were wondering, too!
CONS:
Fortunately, there aren't a ton of cons to this class. In fact, I really had to rack my brain to find them. I'm not sure I would even consider most of these *that* bad, but I think it's important to share a few things to consider:
Not covered by insurance – many hospital classes are covered by insurance, but this one is not.
Not live – all information is pre-recorded or written. Some people may do better in a course where they can get immediate feedback and help.
Mostly suitable for hospital births – if you are hoping for a home birth, this probably isn't the course for you.
As you can see the pros far outweigh any "cons" when it comes to this course. You really can't go wrong if you are planning to have a hospital birth
Click here to signup for the Online Prenatal Class for Couples. Don't forget to use the coupon code CLARKS for 10% off!
Cindy Maudsley lives in Utah with her husband and five children. Aside from writing, her passions include her family, faith, and spreading infertility awareness. She also loves a good book or podcast, true crime documentaries , Netflix binge, diet Coke and Target run