Moving is a pain, and there are usually "hidden" costs involved. Here are 11 hidden moving costs you may not have considered otherwise.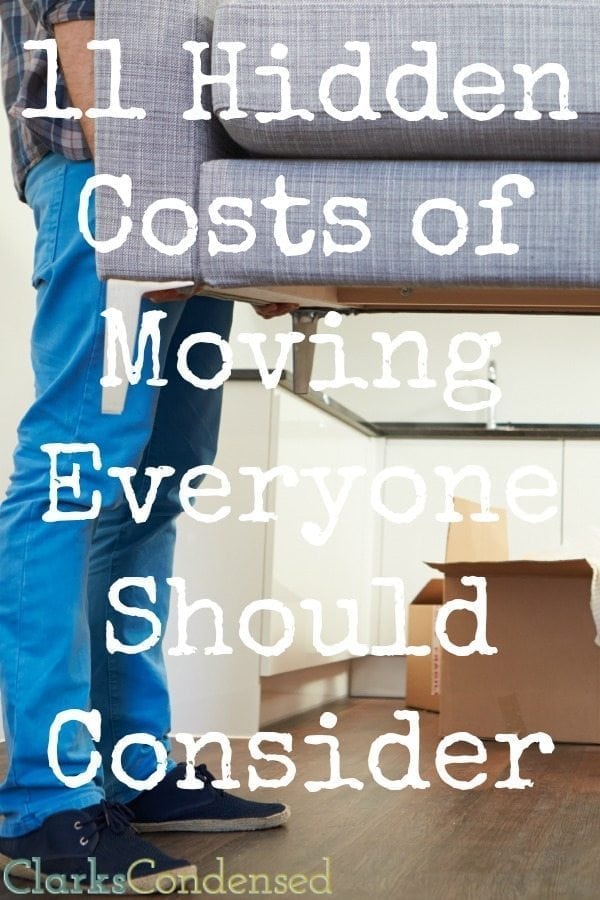 Costs of Moving
Moving, in theory, seems simple enough. You move your stuff from one place to another. However, as anyone who has moved recently can attest, there is a lot more to it than that.
It seems to me that those who haven't moved in twenty years have forgotten all of the work in involved to not just move but to do it wisely. The costs of moving can add up quickly, and before you know it, you'll want to throw all of your life savings out the window to make everything go away. However, for those of us who do not have the luxury of paying for others to do things that we could manage to do ourselves, there are options to make the experience more manageable.
Something to consider with many aspects of a move is that time is money. Many different parts of a move require time and energy, and you have to ask yourself if it is more valuable for you to allow someone else to spend the time and energy. Opportunity cost.
Originally posted in 2015; republished and updated in October 2018. 
Hoping to organize your home better once you move? Great idea! There's no time like moving to help get your organization kicked into gear. While you are at it, make sure you check out "The Organized Home" – an amazing online organization course. It has changed the way I organize (and it doesn't make you feel guilty if you fall short :). You can get 10% off using the code CLARKS – click here to signup.
1. Distance
The farther you move the more it will cost. If you are traveling out of state or over 100 miles you will need to avoid local moving companies and services. Long distance movers will need to make sure they have the requisite licenses to operate in the required states of your move. Plus, there is the unavoidable cost of gas to simply transport the space and weight of one's possessions. The effort and time of driving a moving truck is another potential cost made greater by distance.
2. Time Spent Packing and Unpacking
Katie and I recently moved, and it seemed amazing to me how much stuff we accumulated in our small apartment. A surprising number of things needed special care in wrapping and packing. I have a few antiques from my grandmother that should have been packed better. If we had nicer things in general then I would have tried to pack more carefully.
Since I work from home I felt I had the time to do most of the packing and moving myself, but I was amazed by how tedious the process can be. I started out packing everything very carefully and labeling very well (our label maker definitely came in handy.)
However, by the end I was tired and under a deadline, and I couldn't pack things so well. There are a few things that I hope to be able to repair in the future, that were slightly damaged because I did not spend the time or money packing things properly. It takes time to pack things properly.
I recently saw this great moving kit from The Dating Divas that I wish we had when we moved. It's just $11, and it has everything you need to have a more organized move.
3. Physical Capabilities
If you have a bad back, a little too far over the hill, or for some other reason feel you are incapable of doing the heavy lifting, you will need help moving. Some people are lucky enough to have friends, family, or neighbors that are willing to help for free, for food, or for a little compensation. However, if you're like me you might be cheap enough to risk back pain and damage to furniture to move almost everything by yourself. It mostly worked out. Thank goodness for furniture dollies!
Katie wasn't feeling too well when we moved, but she was a big help in doing as much as she could. I was hoping to avoid hiring laborers, which meant I needed a lot of time to do the work myself. I risked potential future medical costs – albeit,  low possibility in my case – in order to not hire movers. It is important to know beforehand whether you'll need extra help moving in your new place if it is up a flight of stairs, and whether your new place has doors large enough to fit your larger furniture. Otherwise you're paying to move things for nothing. You actually can hire movers from Amazon Home Services.
4. Moving Tools
There are a number of tools that you'll want that can add up a little bit. There are the basics such as packing tape, sharpies, boxes, and newspaper/bubble wrap. There is the dolly that you'll need to move large objects such as washers, dryers, dressers, and large couches. If your apartment doors are as small as mine were, you might need a few screwdrivers and a hammer to take your door off of its hinges in order to fit your couches through. Another tool I used was a little paint for the existing apartment in order to touch up a few accidental scrapes.
Something else that might come in handy are specialty boxes for transporting large televisions, mirrors, or photographs. If you want to be more careful you'll need something like moving plastic wrap and thick moving blankets. If you have even larger specialty items like large pianos and the like then you might need professional helpers with the right tools.
5. Time Spent Researching Moving Options
Sometimes I'll spend hours researching ways to save money that I don't want to spend only to not really find a better option. Sometimes things justifiably cost more money than we usually spend, and there is not getting around it. Sometimes in trying to be too cheap you take risks that cost you more in time and money in the long run. It can be best to go with a reputable company that is easy to find, instead of trying to find some miracle cheap option from a cousin of a buddy of yours that saw something once a few years ago.
6. Possible Weather Costs
It is easy to build up a bunch of random junk in closets and other random places in your house. If you don't end up thoroughly going through everything you have and donating or throwing away things you don't want then you'll end up paying to move things you don't want. It was amazing how much stuff we got rid of when we move and how much stuff we still have for those few times a year when that random object will come in handy.
7. Flexibility
We had our stuff held for us because there was a gap between when we had to be out of our old apartment and could move into our new home. Many companies can charge for this. Some moving companies won't deliver your stuff for weeks. Time is money, and it may be more valuable to you to have a company that can deliver your things quickly.
Another part of flexibility is how much time you have to pack and unpack. Katie and I were able to pack our stuff into ReloCubes from U-Pack relocation cubes, for three days, and we had at least three days to unpack. Plus, due to a weird situation with our old landlord and the tenants in the apartment we were moving into, we couldn't move in for two weeks. Luckily, we were able to stay with Katie's parents, which saved us a lot of money.
Plus, the ReloCubes were small enough to fit along a road, with a very big shoulder, and in our driveway. I couldn't fit them in our apartment parking spaces, but we were able to fit them nearby on the road for several days. Plus, when it comes to weather some moving companies aren't as flexible as you might hope. We definitely recommend using pods – you can get a free quote here.
8. Tipping the Movers
One cost to consider if you pay for someone to help you pack and unpack the moving truck is the cost of tipping. Here is a link to a small guide to tipping movers. I never know how to tip at anywhere other than a restaurant, so I end up tipping more than I really want to so I don't feel guilty.
9. Costs Related to Babysitting
If you have kids, are planning on doing a lot of moving yourself, then you might be interested in investing in some babysitting. Kids like to think they can help, but more often than not small children can be more of a hindrance than a help, in my experience. Plus, if you're planning on driving your own moving truck, then you might have to have an additional vehicle if you have kids in car seats. If you're taking the whole family with you to unpack and move in together then a moving truck is not the best family transportation vehicle.
10. Unusual Driving Route
Katie and I moved from Utah to Colorado. The route we usually take has some serious mountain driving, and I don't think I could have handled driving a moving truck up and down those windy steep grades. I'd probably end up using one of those emergency pull-off ramps on the side of the mountain. Plus, just traveling up a mountain will use a lot of gas and slow you down.
11. Travel Expenses
If you happen to be moving a long distance, you will likely have to stop the night once or twice. Even though we were only driving about seven hours, we left around six o'clock at night, and then we stopped halfway there. We got a great deal on a hotel through Priceline, which we highly recommend doing. You also need to factor in the gas expense of traveling, and, if you are traveling far enough, plane flights. We also looked into one of our cars being transported to Colorado, which would have been about $300-$500.
Why U-Pack Was The Right Choice For Us
Katie and I really like the moving option that we choose. We used U-Pack to help us move. We felt that it was the best fit for our financial situation and flexibility needs. We have moved locally within Utah a number of times, and all of those times Katie and I did most of the moving with very little help.
I had a good understanding that with a lot of work we wouldn't need help physically packing boxes and moving boxes in and out of a moving truck. However, in order to pack everything I knew I would need a couple of days. Additionally, U-Pack was able to give a little bit of buffer room with figuring out how much truck space we would need. We got for of the ReloCubes even though we weren't sure that we would need four of them. In the end, we needed every bit of those four ReloCubes, and we are glad that we had the flexibility to ask for that even though we would only pay for it if we used it.
We moved from Utah to Colorado, and the route is very mountainous. Katie and I have driven that route a number of times, and I knew that I wouldn't want to drive the moving truck to Colorado. Katie doesn't like to drive very much, so she definitely wasn't going to be driving with Jack through the mountains. Fortunately, with U-Pack, they send a truck out with a small forklift that lowers itself down from the back of a specialized flatbed and the lift all of your full ReloCubes onto the back of their truck and they take it away. It was a huge relief and load off of our shoulders. We still had to clean our apartment and pack a few last things into our car to drive the car.
We had a weird situation where we couldn't move in for a few weeks, and so we needed to take advantage of U-Pack service that allows us to have our ReloCubes stored somewhere for a bit a time before we have them delivered to our new apartment. It was very good to have the flexibility. I would have hated to move everything into a storage unit and then put it back into a moving truck to then take it to our new apartment.
Obviously, if you have loads of money you can pay someone else to all parts of a move. However, you have the desire to save money and the capability to do a lot of the packing and moving then U-Pack is the perfect option. Maybe you just want to get your stuff in boxes and have someone else do the lifting. If so you might want to check out https://www.movingstaffers.com/.
Moving Pod Costs
Here is the estimate we were given from U-Pack. Keep in mind that this will vary depending on how far you are moving, location, and space needed:
SERVICE OPTIONS
(Includes taxes and fuel)

DOOR
TO DOOR
TERMINAL
TO TERMINAL
$1,208
$613
$1,552
$887
$1,769
$1,103
Grab your FREE moving quote here.
I say this with a caveat – the brands you recognize are good. If you don't recognize them…I would probably shy away.
This post was done in partnership with U-Pack. All opinions are 100% our own.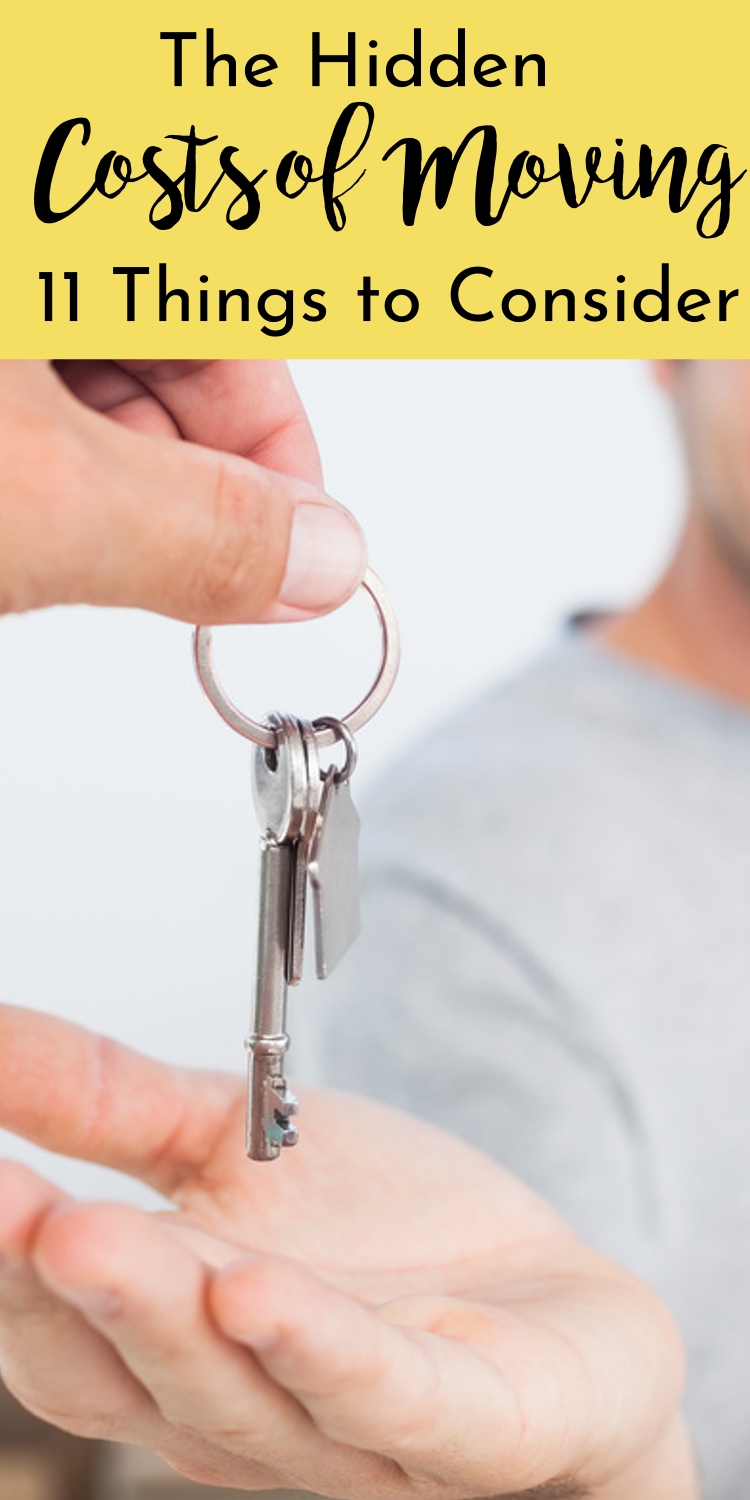 Forrest lives in Colorado with the wonderful Katie Clark and their two sons. Forrest was raised in North Carolina, graduated from BYU with a degree in political science, and loves to dabble in lots different things. Plus, he is a big MLS fan.