Want to make your Target excursions even more productive? Don't miss these 20 Target secrets that will do just that!

How to Shop at Target
Like most moms (or people with a pulse), I love Target!
Whether it's just for a quick trip in or for some long strolls down every aisle, it's just a fun place to be.
But really, who doesn't love shopping at Target? There is seriously nothing more exciting than browsing the aisles and scoping the dollar spot section. Okay, there might be one thing more exciting, saving money!
Here are some strategies to help you save money at Target – some are Target clearance tips while others are just general "good to knows", but either way, hopefully this will help your Target shopping trips be even more successful!
[thrive_leads id='55023′]
How to Save Money at Target
Check Target.com for coupons
Target's app has many cartwheel offers, and some of those will include manufacturer coupons. However, you will find so many if you start by looking at Target.com for coupons before you go to the store. You'll find pages of coupons every single day that you can print off and take with you to the store.
Stalk the end caps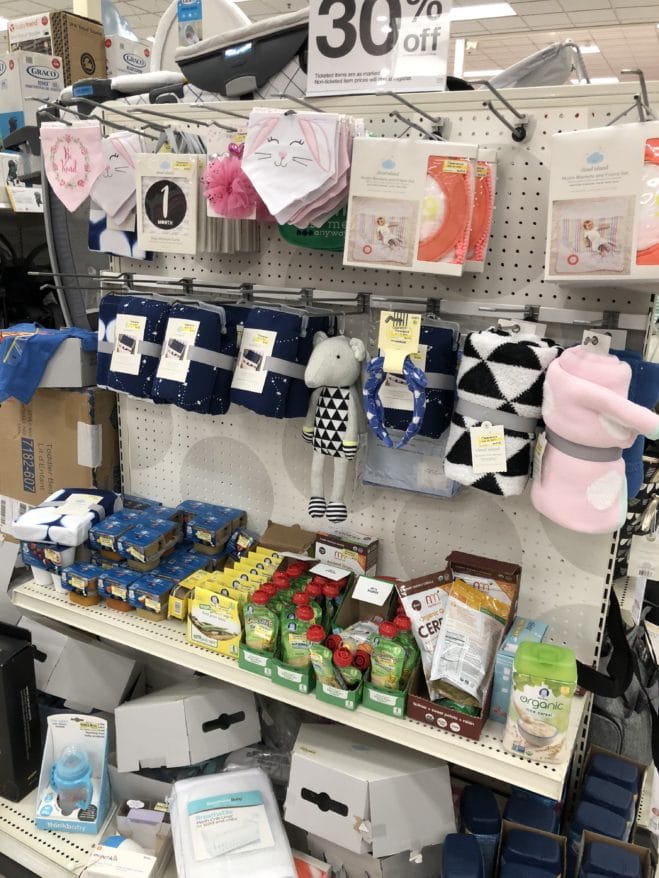 Unlike some stores, you won't find Target's clearance items hidden within the shelves. Instead, you'll have to do a little extra digging. At the end of the aisles, you'll find clearance items for each section of the store, and some of these items are up to 70% off or more! This is where all the great bargains are, and even some things you couldn't find on the shelves!
I've found some great discounts on food, baby products, office supplies, and everything in between. I can't go through Target without looking at the end caps!
Wait a few days to shop after holiday sales
Target is a great place to score all of your holiday needs at a deep discount. After the holidays you can find items starting at anywhere from 30-50% off after just one day! Three days after, these same items will be 75% percent off!
Of course, a lot of the best stuff is gone the day after a holiday, but I am always able to find a few treasures even a few weeks after the matter. Storage is almost always on sale after Christmas!
Don't miss a great deal
Target's app, and on Target.com you will find Daily deals at Target. These are items that are deeply discounted and are usually only available for a day or until they run out of stock. If this is an item you're looking for, you could save big on these items!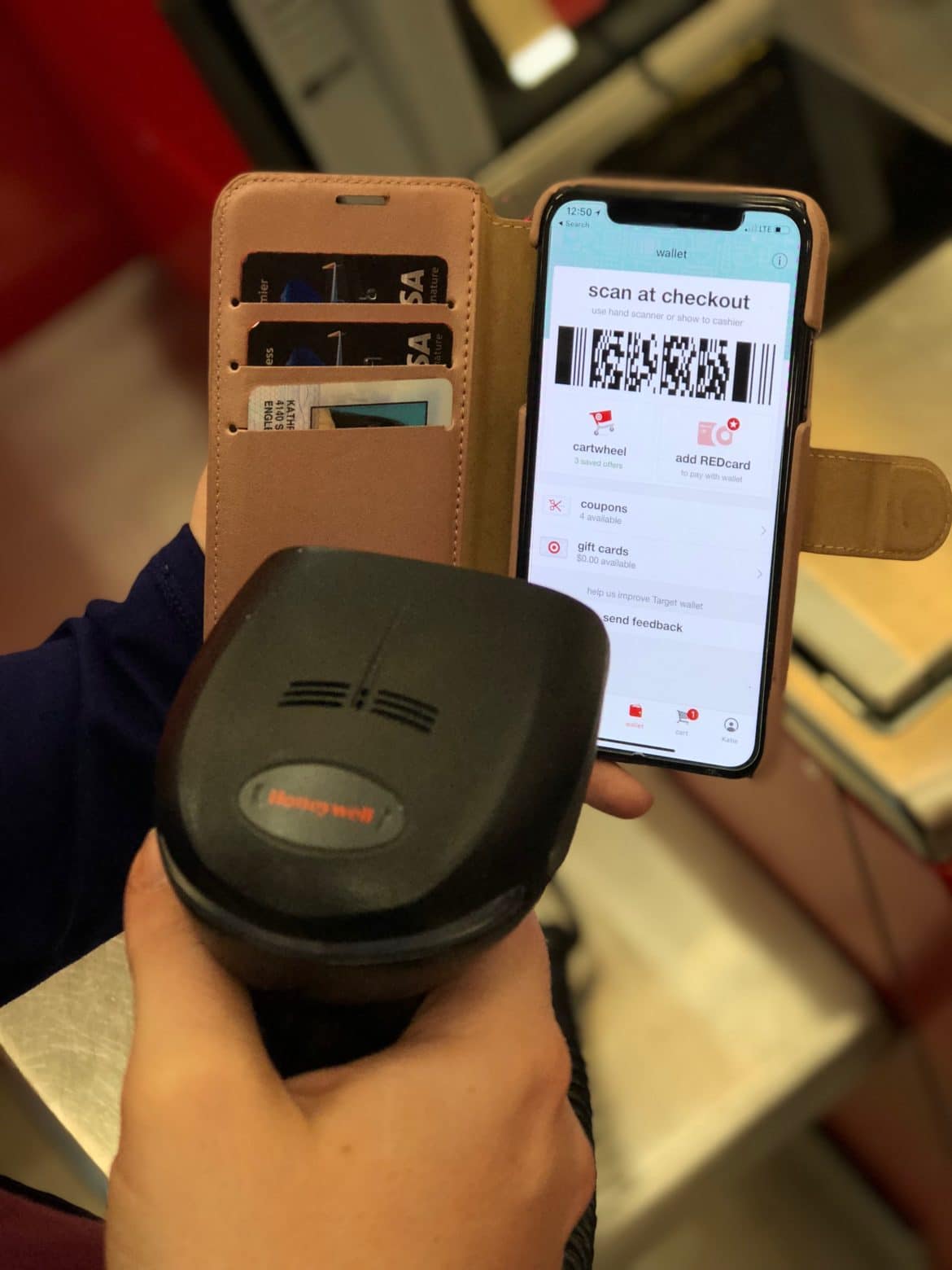 With the Cartwheel deals, always check them! They have TONS of great every day deals on brand and generic products, and I rarely go through Target without being able to use a couple. Always check their coupon deals in the checkout part of the app – they often give great dollar amounts off in areas like home, food, or baby.
The app gets about 10 new deals each week, so always check! I often find seasonal ones during holidays.
Target App
I've already mentioned this a few times, but make sure you download it! It's where you'll find the cartwheel deals, other coupons, and it makes it easy to find items in store. I can't tell you how many times I've been not sure where to find something I was looking for, and I just had to type it into the app, and I was told the exact aisle to go to. So helpful!
PRO TIP: You can link your REDCard to your app and pay directly from your app at the store. I don't know if I'm the only one who seems to forget their wallet more often than not, but this has saved me!
The Target REDCard offers some great benefits. You can either get a debit version, which is just connected to your bank account or you can get a traditional credit card. The benefits include:
Free shipping on Target.com (no $35 minimum!)
Extra 5% off all purchases
30 days extra for returns
We don't like having extra credit cards laying around, so we just have the debit card. No approval needed for that one, either! It's especially helpful around the holidays!
Click here to signup for the REDcard now!

Check out the Bullseye's Playground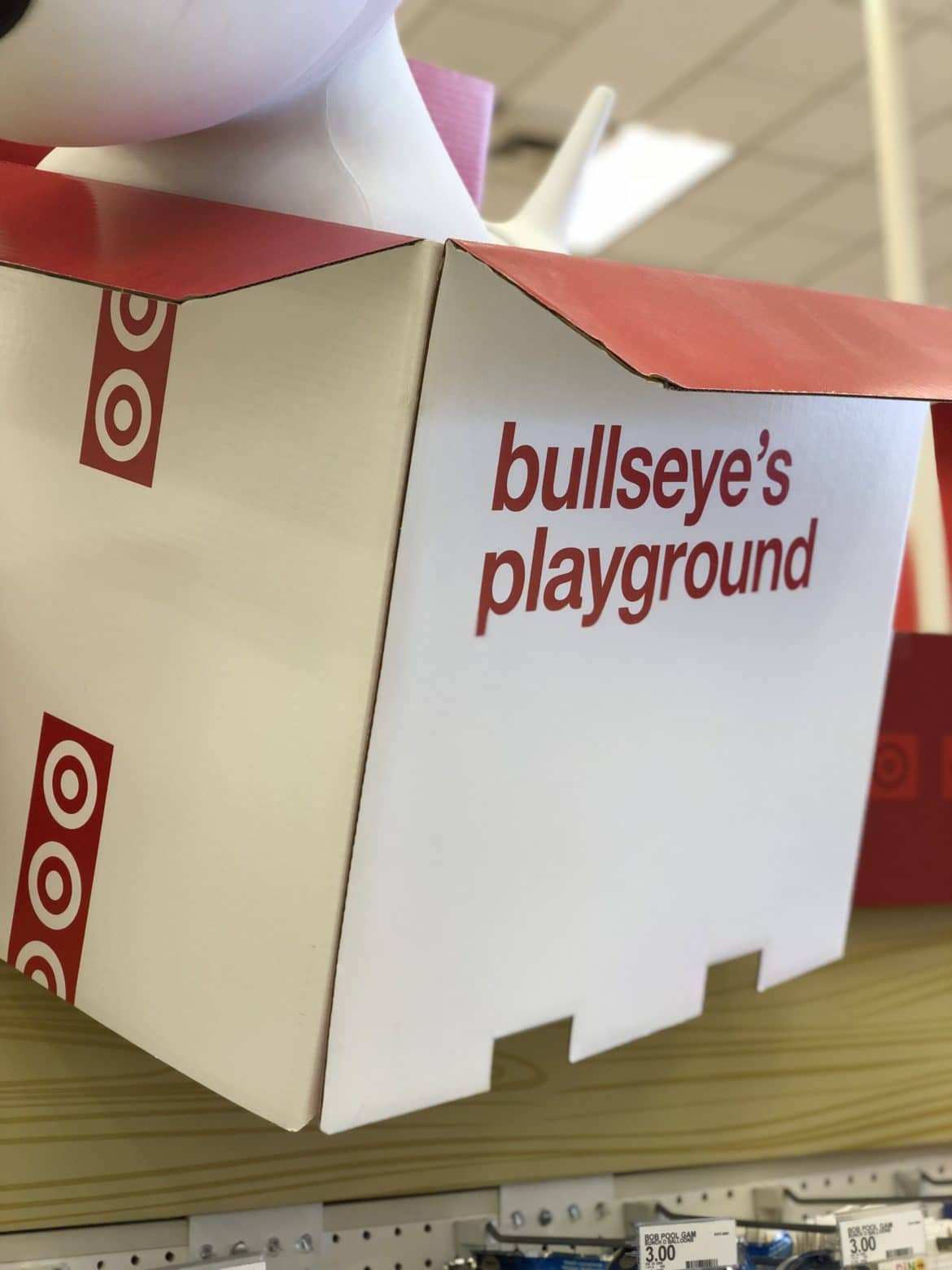 Target's Bullsyeye's Playground area has everything from fake succulents in the spring to stocking stuffers at Christmas time!
You may be shocked to find the items you were looking for at just a few dollars in this section. Be sure to browse this section for some unique finds before heading to other parts of the store. I often find gifts for my kids here, decorations, and all sorts of fun knick knacks. I can never get out of the store without browsing at least once!
Look for the Big Clearance Signs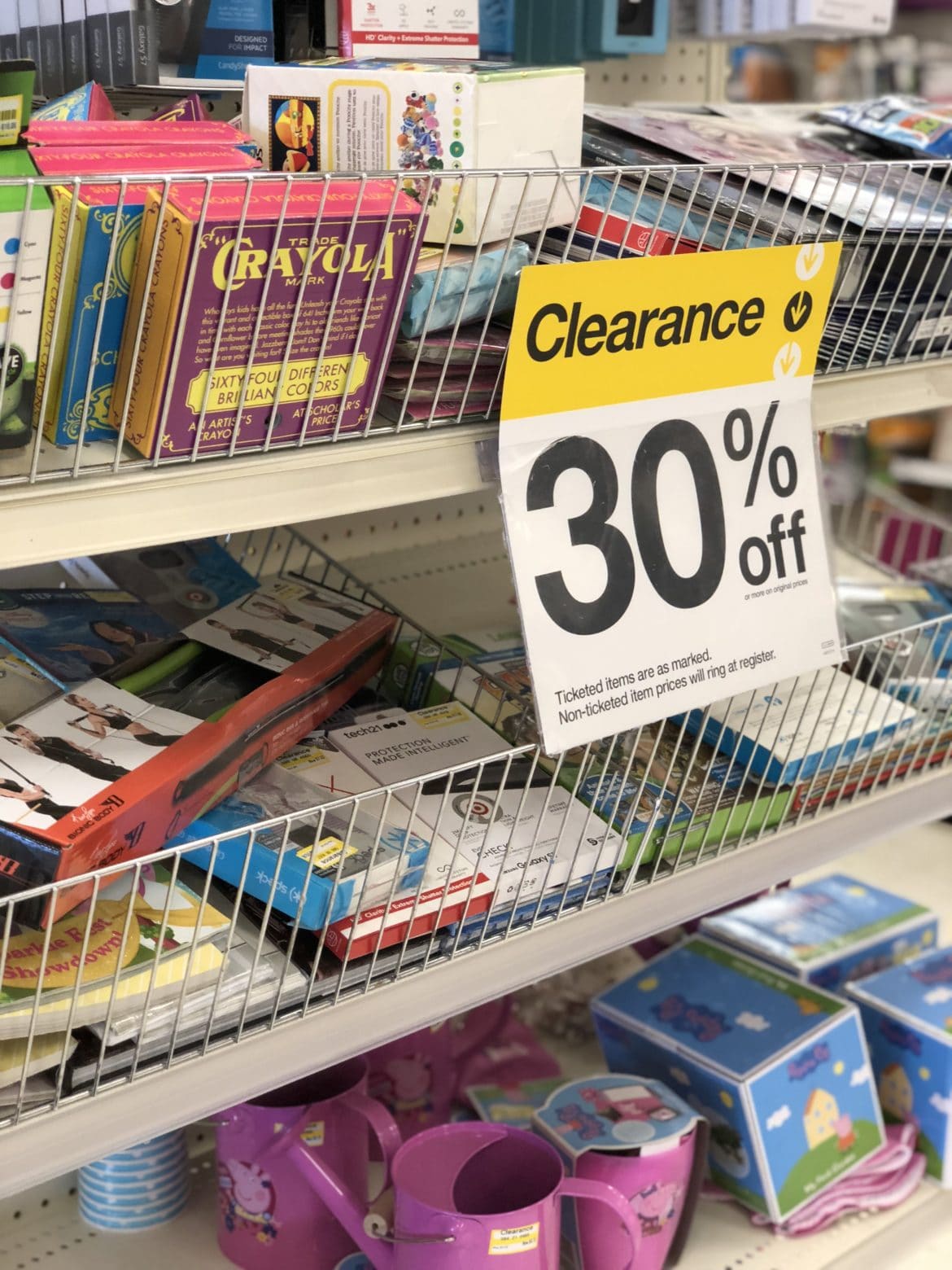 These are the big yellow signs indicating where some great deals might be hiding. I always look for these in the clothing section especially because Target's clothing clearance can be a big steal. I've gotten clothes for all of us for just a few dollars! They are often last season or past holidays…but you can always stock up for the next year, too!
Pay Attention to the Price Tag
If a product has been marked down and has the elusive red tag on it indicating this – make sure you look at the last few digits. You'll be able to tell if it will be marked down again or if that's it's final price!
Ending in .06 or .08 – the price will be marked down again
Ending in .04 – this is final clearance, and the lowest the price will go.
Ask for a raincheck
Did they run out of something that they had on sale? Not all is lost! You can often get a raincheck for many of these items that you can redeem at a later date (regardless of the price at that time). There are some exclusions with this, but it works quite a bit!
Check out Good Will and TJMaxx
A lot of unsold merchandise gets sent to Good Will and TJMaxx, and it's always new and in the package. Head to either of these places to see if something you were hoping to get ended up there!
I'm a big fan of Ibotta for, well, everything. Target is one of their participating retailers, so make sure you always go and see what cash back offers they have before you shop. Never used Ibotta? That's okay! It's pretty easy and if you click here, you'll get $5-10 back when you redeem your first rebate!
Markdown Schedule
Target has a markdown schedule so you can make sure you get there right on the days you need to! All Things Target has the scoop on this, so head over there to see what they have to say.
Free Treats for Kids
This can vary depending on location but most Targets offer some kind of treat for kids. At our Target, they can either get a piece of fruit or some kind of baked good (typically it's a cookie). It's a great way to get the kids to behave! haha.
Limit on returns without a receipt
They do have a limit on the number of returns you can do without a receipt – I believe it's $75 per year.
Do Registries!
Okay this is only applicable if you are getting married or having a baby, but Target is a great place to register at. Not only is it convenient for most people, but they also offer a completion bonus that will allow you to get a certain percentage of anything left on your registry after the date occurs. If you are doing a baby registry, you'll even get a special gift!
Price Match
Target has a great price matching policy which you can read about here. A few things to keep in mind:
Must be an identical item on Target.com, certain online competitors, or in local print ads for competitors. So random eBay sellers don't count!
You can request a refund within 14 days of purchase if you find it for sale at a qualifying retailer!
Online might be cheaper
I often notice that the online prices at Target.com are better than their in store prices. You can either opt to pick up the product in the store (usually within an hour) or you can have it shipped to your house. If I'm buying something that's not food, I will often check online while I'm in the store to make sure I'm getting the best price.
.05 cents off for reusable bags
Again, another thing that may vary by location, but you should be able to get 5 cents back for every reusable bag that you use!
Call Ahead
Sometimes I am looking for something specific (especially during Christmas and birthdays), and I will check online first to see what retailers have it. If Target says they have it in stock, make sure you call to verify that they actually do. On more time than one lately, the item they said was in stock was no where in sight. Either it was in someone's cart, or their website just hadn't updated yet. But it's been frustrating every time! So just call first.
[thrive_leads id='55023′]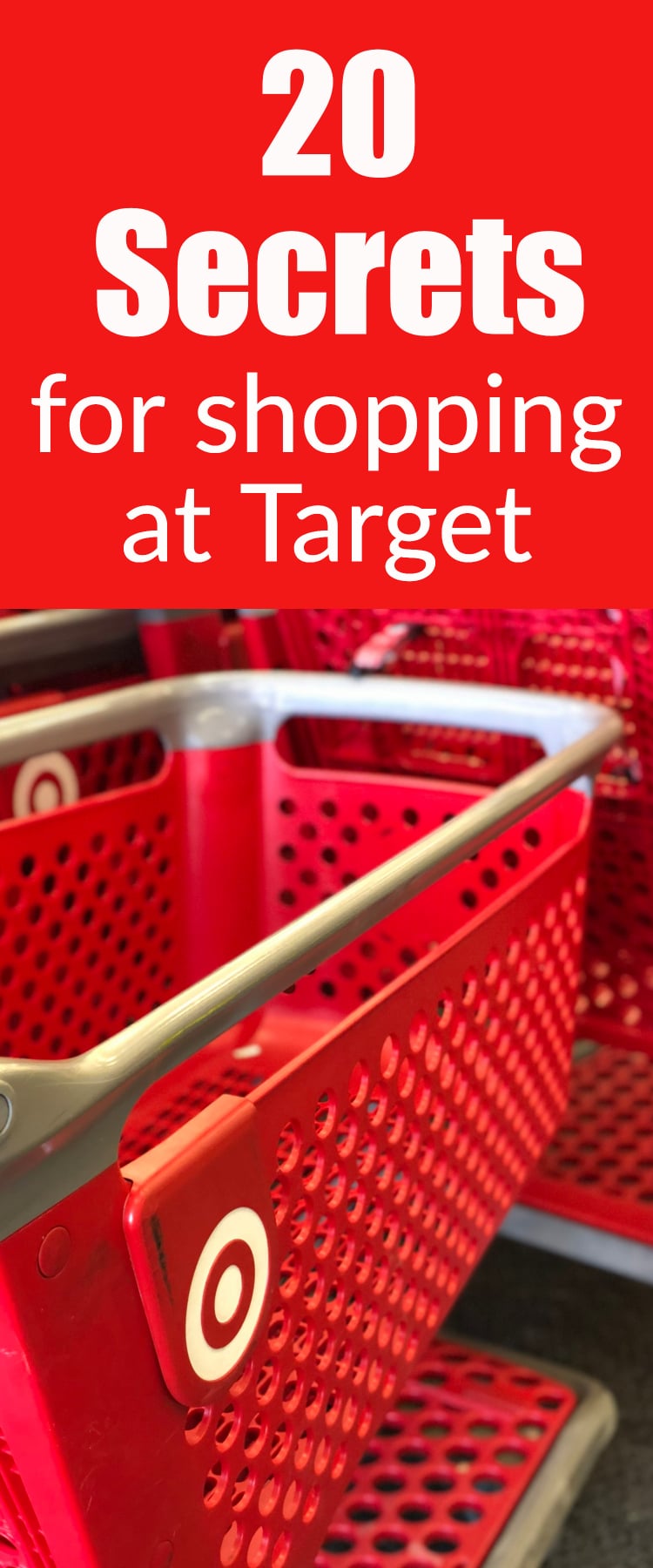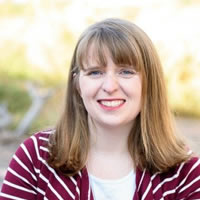 Katie is a Colorado-native, BYU graduated, and most importantly, wife to one and mother to three beautiful boys. She is passionate about sharing her experiences with others – especially about pregnancy, breastfeeding, cooking, and crafts. She is an International Board Certified Lactation Consultant. She loves spending time with her family and helping others find joy in family life.