Perfect for those busy mornings, these healthy breakfast burritos are super tasty and full of ingredients that will give your morning a jump start, and a easy to freeze for a quick meal. Seasoned sweet potatoes, turkey sausage links, eggs, and wheat tortillas make this a winning breakfast.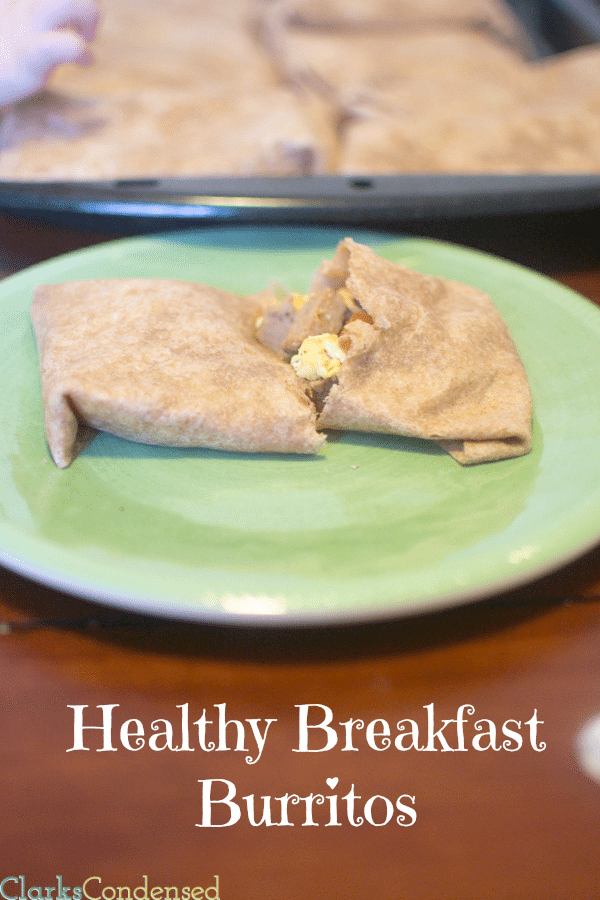 One of the first recipes I shared on Clarks Condensed were these freezer breakfast burritos, and I've kind of been surprised at their popularity. The picture aren't that great, and I don't think they look particularly appetizing…but apparently people liked them!
In an attempt to be healthier, I decided to make a new version of those freezer breakfast burritos, and just healthy them up a little bit. I swapped out white tortillas for wheat tortillas, sweet potatoes for regular potatoes, and Jimmy Dean turkey sausage links for pork sausage. I thought about just using egg whites, but I didn't want to do anything too crazy 😉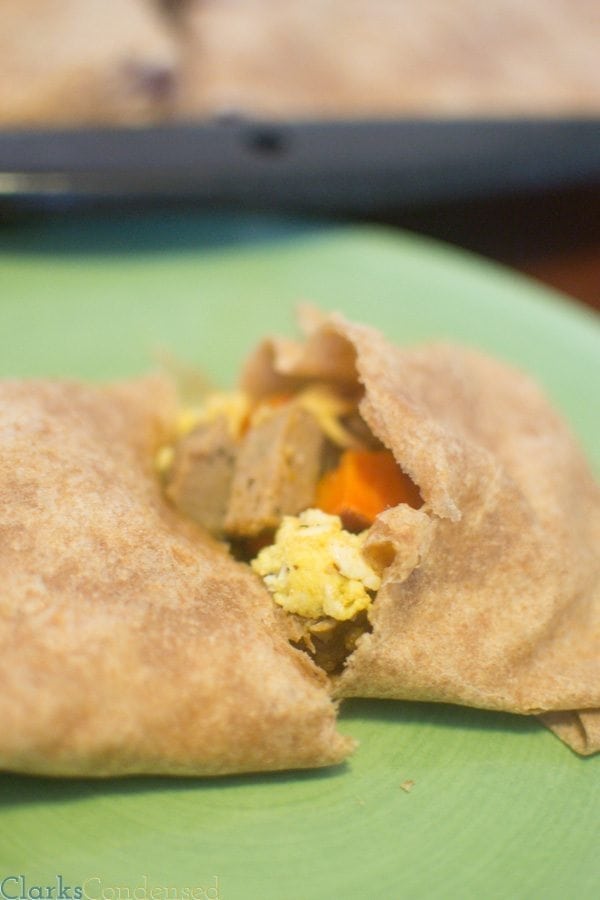 And the verdict? So yummy! I know I say that about every recipe I post, but truly, would you want me posting a recipe that I didn't think was yummy?!
To be honest, I liked these ones so much better than the other ones. Don't get me wrong — the other ones are delicious too, but these just had a slightly better taste, and they do taste healthier (in a good way). They are super easy to freeze, and only take less than two minutes to heat up in the microwave. Perfect for a breakfast on the go, or for those mornings you don't feel like making anything else (so, pretty much every day in my case!)
I think the all-star ingredient in these are the sweet potatoes. Now, if you don't like sweet potatoes, or have never tried them…I highly recommend trying them how I prepped them for these burritos. They are perfectly seasoned, sweet, and can be made in the microwave. If you have a good knife (we recently purchased this set and love them) that makes all the difference when dicing sweet potatoes. And that's the hardest part!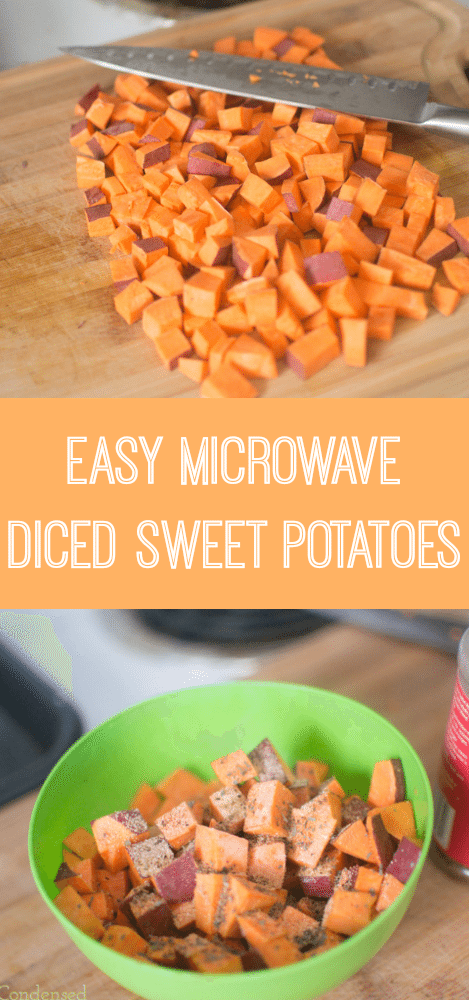 They do take some time to assembled — you've got to make the potatoes, and cook the eggs: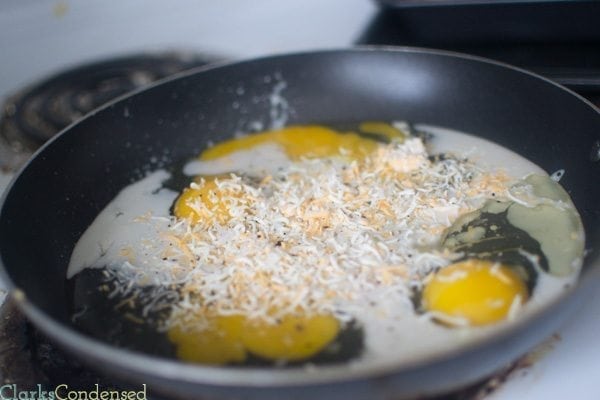 However, once you get those things done, all you have to do is throw all the ingredients into the pan you made the eggs in (make sure you use a large skillet!), heat, and then assemble!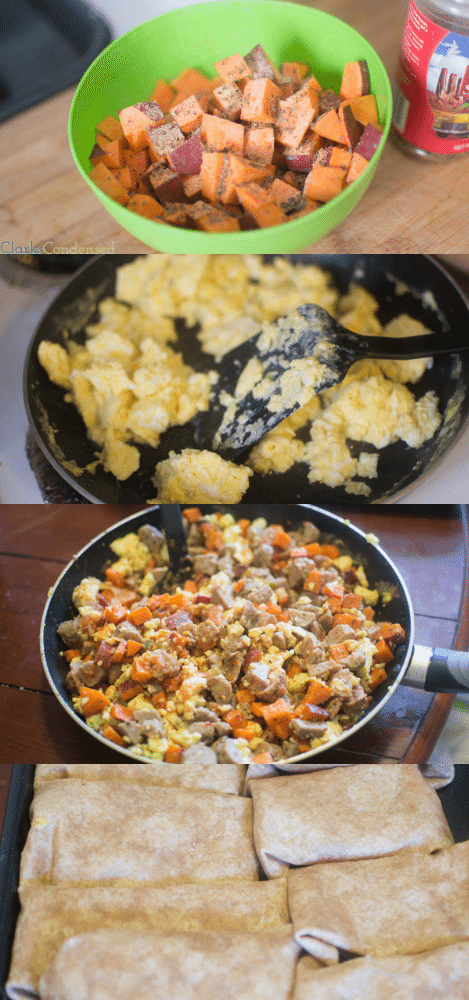 I mention a seasoning called Celestial Seasonings Spicy Southwest. Here's a picture, but if you can't find it, feel free to use whatever spicy seasoning you want!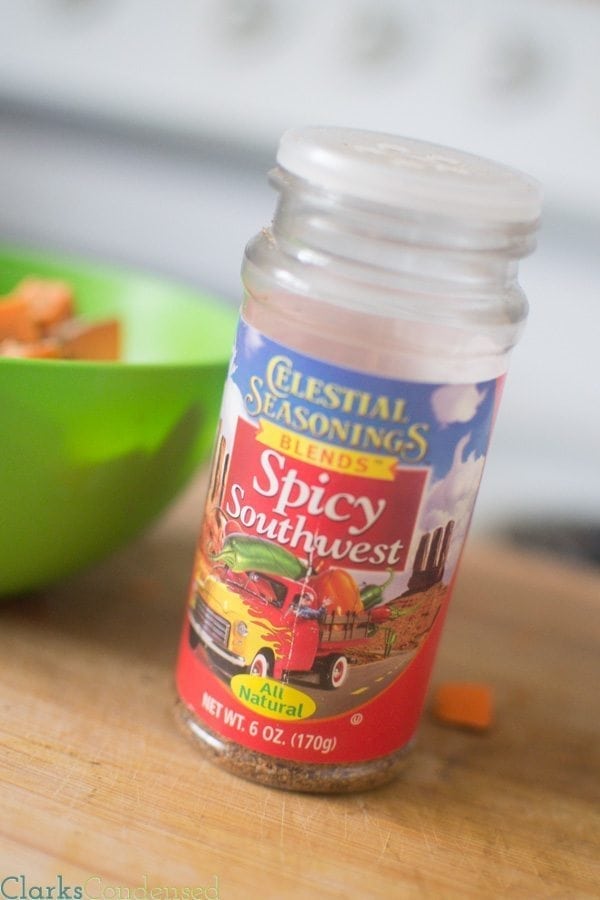 And if you want to freeze them follow these easy instructions:
Fold burritos and place on a jelly roll pan or cookie sheet
Place in the freezer for two hours for a "flash freeze"
Remove from freezer and wrap tightly in plastic wrap
Place plastic wrapped burritos in a gallon sized freezer bag
Place in freezer
Viola!
When you want to reheat them, remove plastic, place on a piece of paper towel, and cook for 1:30 – 2 minutes.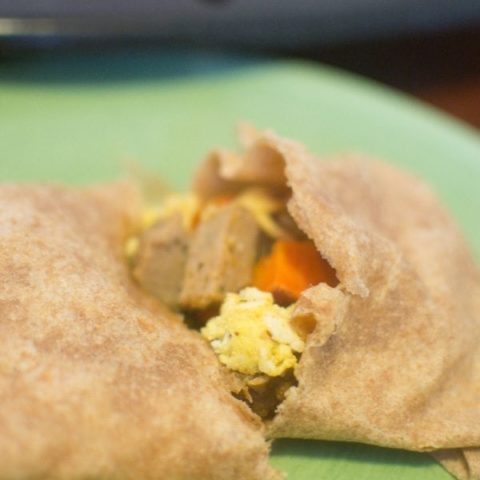 Healthy Breakfast Burritos
Ingredients
1 1/2 cups diced sweet potato mixture, see below for recipe
5 eggs
1 tablespoon olive oil
1/4 cup milk
Pepper, For taste
1/4 cup colby monterrey jack shredded cheese, or your favorite kind
10 pre-cooked Jimmy Dean turkey sausage links
1/2 cup salsa, any variety
10 wheat tortillas
Instructions
Prepare sweet potatoes (see instructions below)
Cook eggs with olive oil, milk, pepper, and cheese in a skillet until they are about 90% done. You want them to stay slightly un-cooked so when you cook the burrito in the microwave it doesn't get overcooked.
Cut sausage links into small pieces.
Add sausage, sweet potatoes, and salsa to the eggs and mix until combined.
Place about 1 spoonful of mixture in the middle of a tortilla. Fold into a burrito.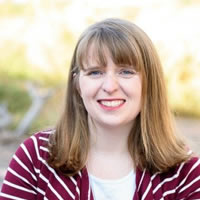 Katie is a Colorado-native, BYU graduated, and most importantly, wife to one and mother to three beautiful boys. She is passionate about sharing her experiences with others – especially about pregnancy, breastfeeding, cooking, and crafts. She is an International Board Certified Lactation Consultant. She loves spending time with her family and helping others find joy in family life.