An easy strawberry pie recipe that can be a no-baked dessert (if you use a graham cracker crust.) When topped with blueberries and whipped cream, this dessert becomes the perfect Red, White, and Blue pie recipe for Fourth of July!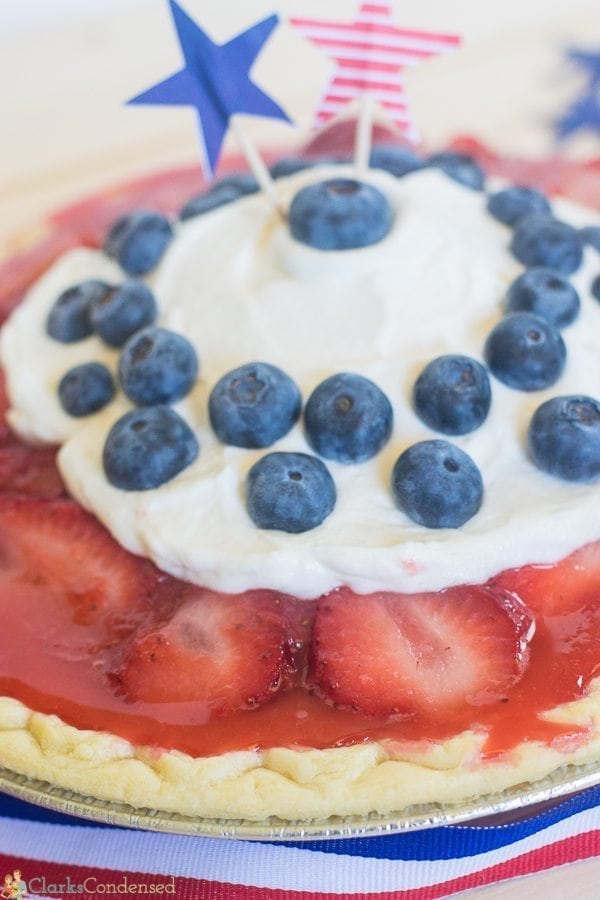 Strawberry Pie Recipe
About this time of year strawberries and blueberries are in season which usually means they are a lot cheaper. When I was in college I started really cooking on my own for the first time. One of the things that I became known for making was a simple strawberry pie. I used to pick strawberries with my mom during the summer in North Carolina, so they might have reminded me of home. I usually made strawberry pies for girls I was interested in dating. Who doesn't like a free strawberry pie? Whenever this would randomly come up for some reason or another Katie would always remind me that I still have never made a strawberry pie for her. Here is a slightly modified version that I have upgraded to be a perfect summer and Fourth of July treat.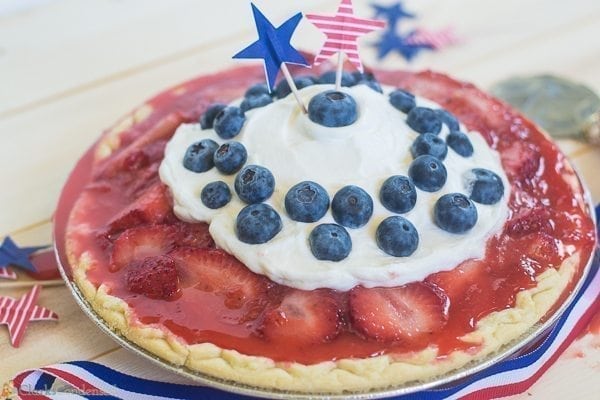 One of the great things about this recipe is that if you use the mini-graham cracker crusts that I use in the video, then it the recipe is a no bake recipe. That means you don't have to heat up your house during the summer with oven heat. You still have to cook on the stove for a few minutes, but that should create a lot less heat. Plus, in the video I use a straw to de-core and de-leaf the strawberries. I'm sure there is a word for that, but I'll admit my ignorance of it.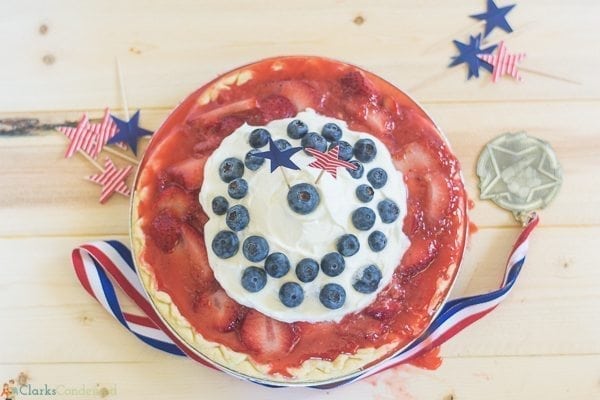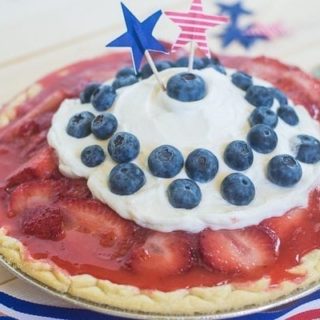 Red, White, and Blue Strawberry Pie
Yield: 0
Prep Time: 15 minutes
Cook Time: 5 minutes
Total Time: 20 minutes
Ingredients
5 cups quartered or halved and hulled strawberries
1/4 cup cornstarch
2/3 cup sugar
1/8 teaspoon salt
1 teaspoon vanilla extract
1/4 teaspoon almond extract
1 tablespoon lemon juice
Pie Shell, either a pastry or graham cracker crust will work great.
Instructions
Mash two cups of strawberries, and add them to a sauce pan. You could mash them in your sauce pan if you don't have a nonstick pan you're worried about scratching.
Add sugar, corn starch, vanilla extract, almond extract, lemon juice and salt. Bring to a simmer over medium heat and stir occasionally until glaze has thickened. Heating the glaze should only take three to five minutes. Let it cool completely. The heat might bring extra liquid, that you don't want, out of the strawberries that you are going to add.
Combine remaining 3-5 (it is really up to you) cups of strawberries with cooled strawberry glaze. Stir until strawberries are well coated. Spoon strawberry filling into cooled pie crust.
Refrigerate pie 2 hours before serving. Then add the whipped cream and blueberries on top! Enjoy!
Forrest lives in Colorado with the wonderful Katie Clark and their two sons. Forrest was raised in North Carolina, graduated from BYU with a degree in political science, and loves to dabble in lots different things. Plus, he is a big MLS fan.