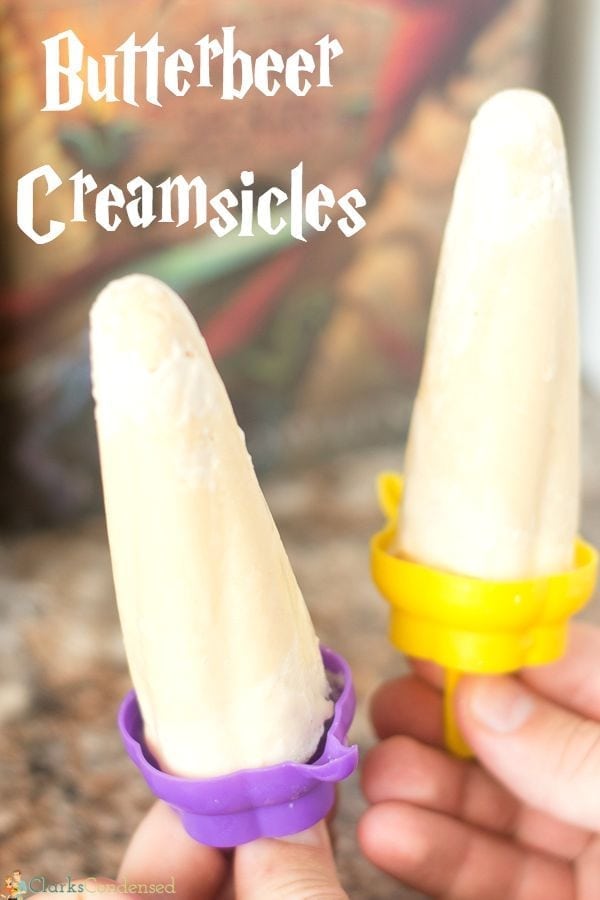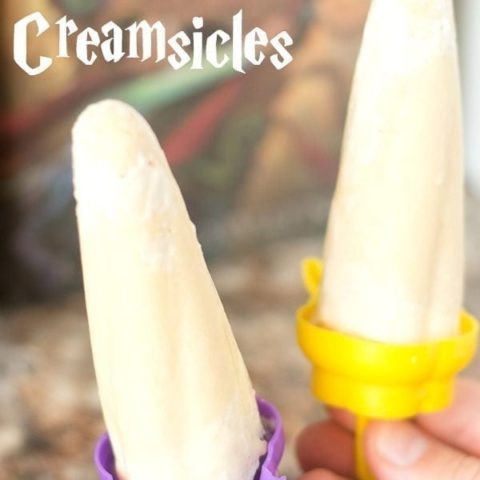 Butterbeer Creamsicles Recipe
Ingredients
1 cup vanilla ice cream
1 tablespoons butterscotch, divided
1 teaspoon imitation butter flavoring
1/2 cup cream soda
1 pinch of salt
1/3 cup cool whip
Instructions
In a small bowl, mix together cool whip and 1 tablespoon butterscotch topping.
In another bowl, mix together vanilla ice cream, 1 tablespoon butterscotch topping, butter flavoring, and 1/2 cup cream soda. It will likely turn somewhat liquid-y.
Spoon about 1 to 1 1/2 tablespoons of the cool whip mixture into each popsicle mold.
Then, spoon the cream soda mixture into the rest of the popsicle mold, filling to the top.
Place in freezer overnight.
When you are ready to eat, run hot water over the outside of the mold for about 5 seconds or so. This is essential to making sure your creamsicle slides out. Otherwise, the popsicle stick may come out without anything on it!
My love for Harry Potter started back in grade school. I remember that my friend, Cortney, first told me about them, and I thought, "That sounds stupid." Fortunately I corrected my initial thoughts quickly, and I was instantly drawn into the magical world of Harry Potter.
I anxiously awaited the released of each new book, and when they were made into movies, I diligently attended the midnight premieres. I remember standing in lines at Barnes and Noble to get the next book in the series for hours, and then staying up for a few more hours afterwards to start in on the book. I really believe there's been few series that have captivated people as much as Harry Potter did. Forrest loves Harry Potter as well, and we definitely have duplicated copies of the books on our shelf.
I remember in 7th grade, my English teacher banned me from counting Harry Potter on reading minutes because I kept reading them, and she wanted me to "broaden" my reading selections. It was totally lame.
Like most people, I thought that butterbeer sounded spectacular. And obviously there are many recipes out there for it now – I hope to go to the Wizarding World of Harry Potter someday to try the kind they serve.
When Marissa from Rae Gun Ramblings announced that she was looking for people to participate in her annual Happy Harry Potter series, I jumped on board right away. Forrest and I brainstormed a couple different things we could do, and we finally settled on a fun twist on butterbeer – butterbeer creamsicles.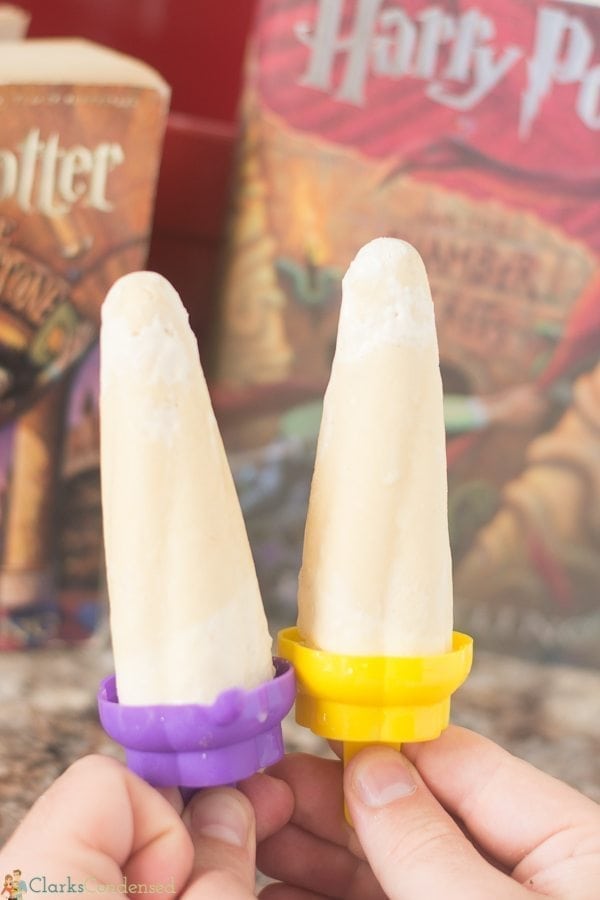 Now, I want you to know that this recipe took a lot of testing to get right, but it is absolutely fabulous. Sure, it's basically sugar, on top of sugar, on top of sugar….but it's delicious.
At first, we put the cream on the bottom…but that ended up not being thick enough to carry the weight of the popsicle stick. Instead, we put it in first, and then the cream soda/ice cream mixture on top of that, and that worked much better.
We got the last package of popsicle molds at Target, but I would recommend getting ones that have long sticks. It makes it much easier.
Here's just a brief picture tutorial on how to make these!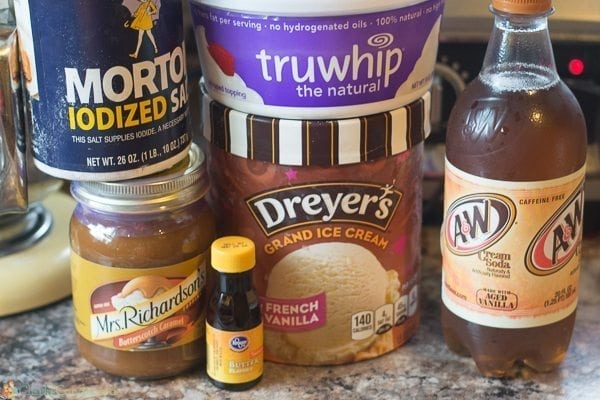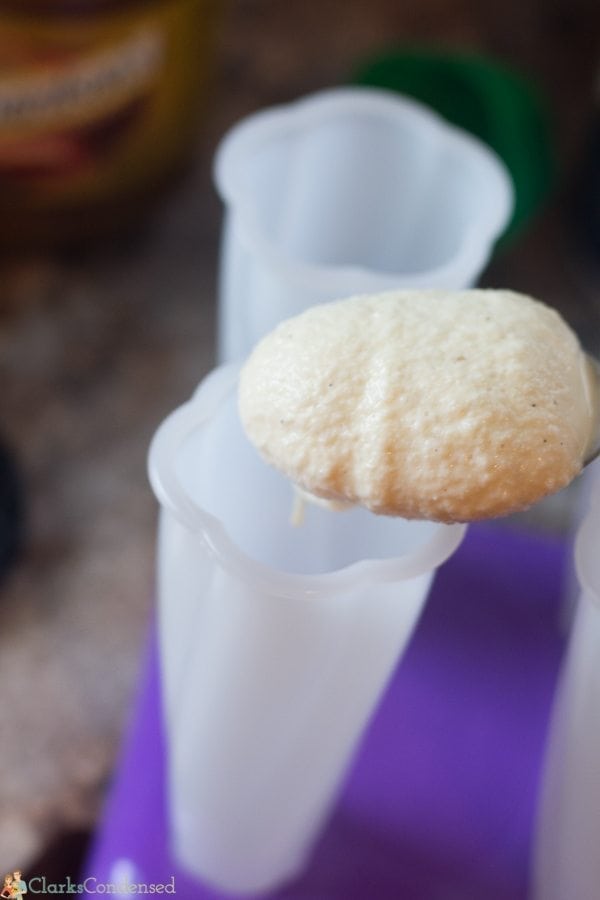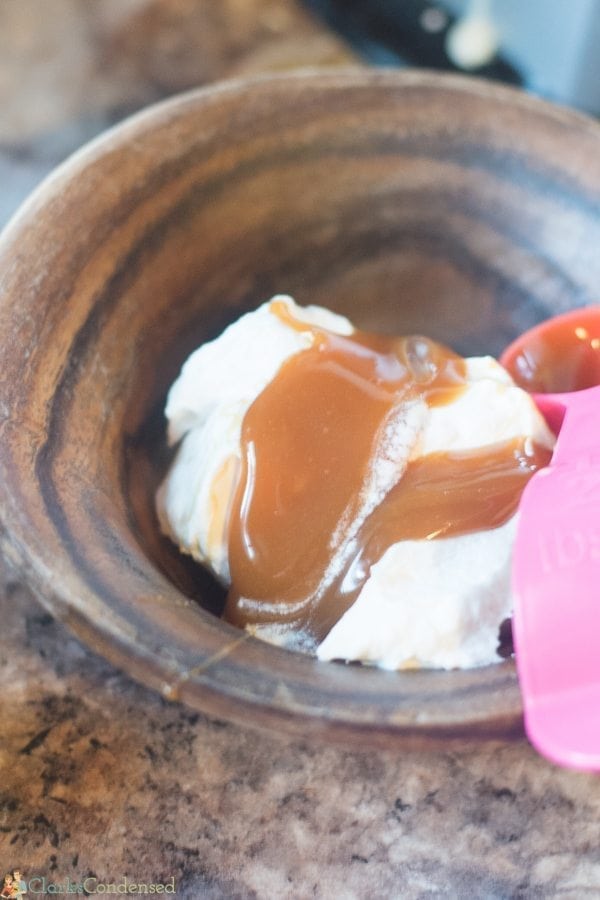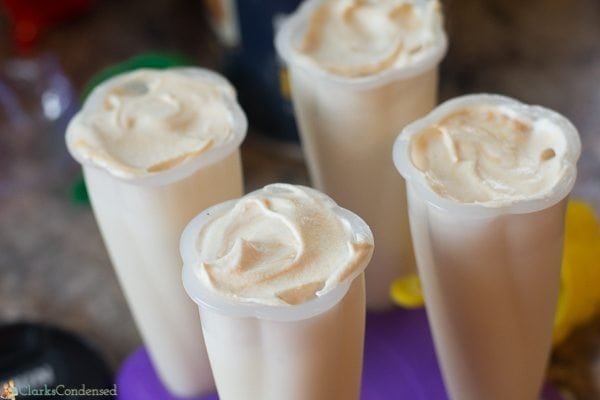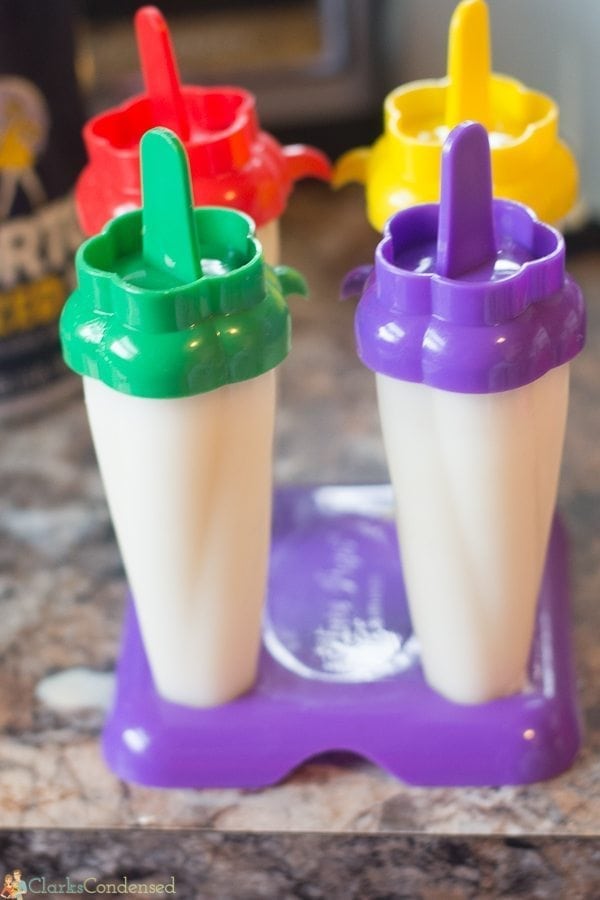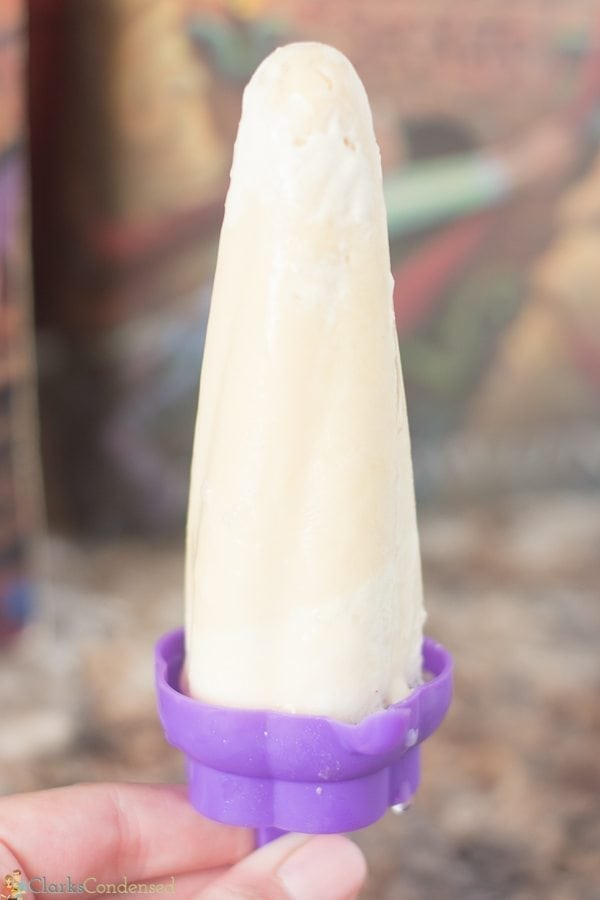 And for any of you Harry Potter fans out there, be sure to enter this AWESOME Harry Potter-themed giveaway. You can win: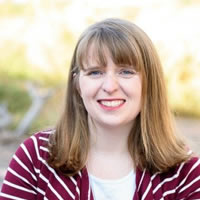 Katie is a Colorado-native, BYU graduated, and most importantly, wife to one and mother to three beautiful boys. She is passionate about sharing her experiences with others – especially about pregnancy, breastfeeding, cooking, and crafts. She is an International Board Certified Lactation Consultant. She loves spending time with her family and helping others find joy in family life.