This easy and amazing dutch oven lasagna recipe will bring some amazing flavor and class to your outdoor cooking – whether it's in your backyard or camping, everyone will enjoy this amazing family classic!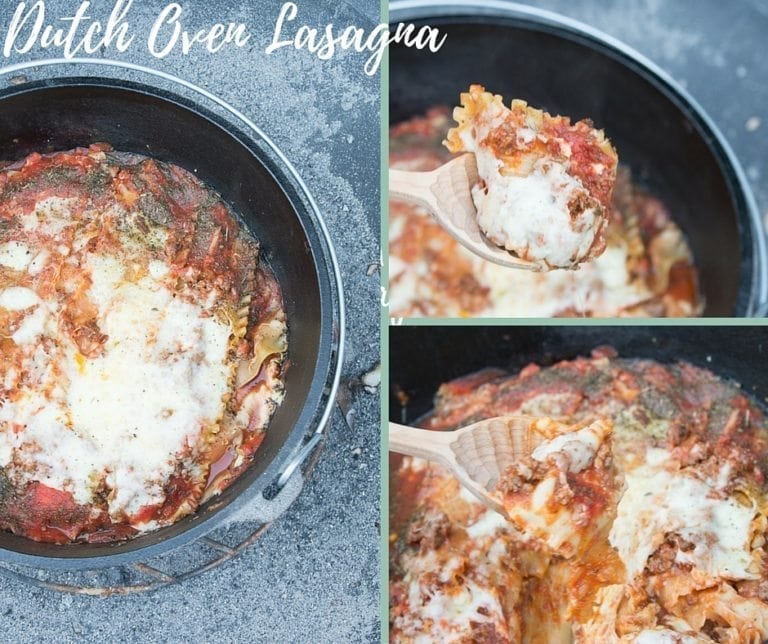 Dutch Oven Lasagna Recipe
Thank you to HomeRight for partnering with us on our dutch oven cooking series!
Last week, we shared a review of the
HomeRight Electrolight Fire Starter
. I mentioned that we would be partnering with HomeRight in the coming weeks to share some AMAZING and delicious dutch oven recipes. Well, the time has come for the first recipe in this series. And boy am I excited about it!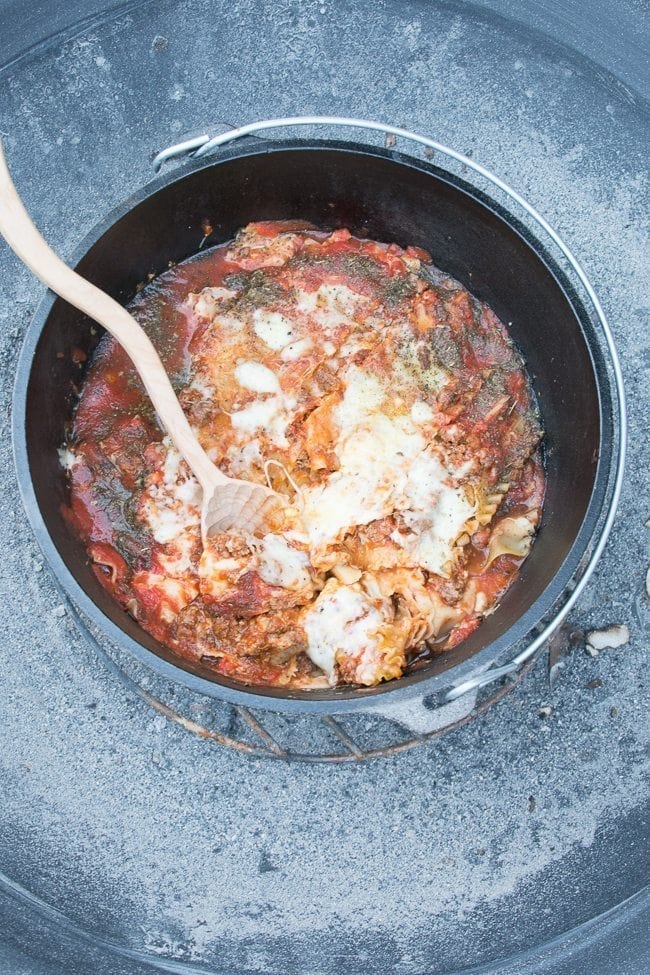 If you're a long-time Clarks Condensed fan, you may be familiar with our
easy meat lasagna recipe
. It's easily the most popular recipe we have on our blog and for good reason – it is delicious and easy. We just LOVE a good
lasagna recipe
in our house! When I was trying to decide what dutch oven recipe to create first, I thought it would be fun to make a dutch oven lasagna recipe. I've seen a lot of chicken, beef, etc. recipes for dutch ovens, so I thought this would be a bit more unique. Our
dutch oven BBQ chicken and potatoes
has always been a big hit, so I'm hoping everyone enjoys this.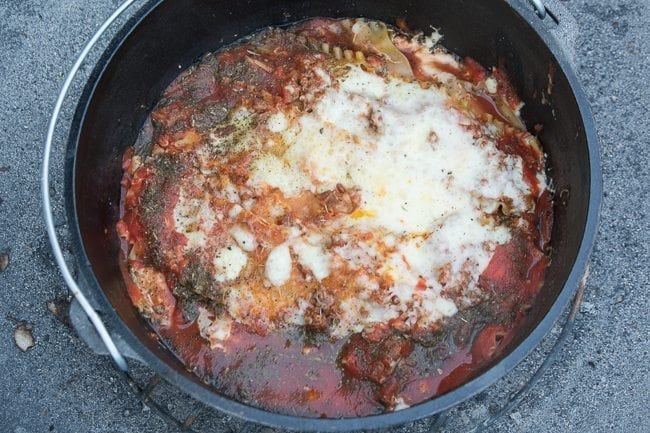 I had hoped to get our "Dutch Oven for Beginners" post up before this, but with our move, a few things have been pushed back on our editorial calendar. But one thing I discuss in that is that if you make something in the oven, you can almost always make it in the dutch oven! There are SO many easy dutch oven recipes out there – it's something even easier than using the stove or oven.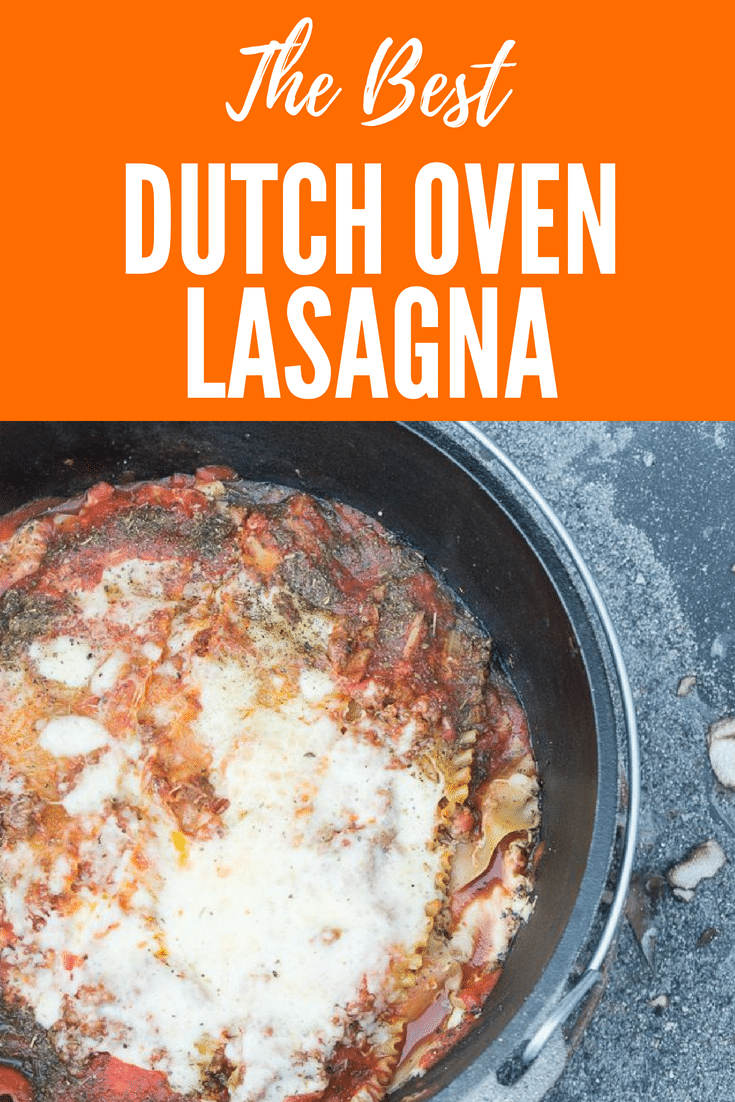 The key is just figuring out the right amount of coals to use. There are a bunch of websites that discuss how many you need – which is dependent on the size of dutch oven, the temperature you want to achieve, and what kind of cooking you are doing. I'll go into the science of it in the other post (though
here is a great resource
until then), but I think that the
Dutch Oven Gourmet app
 for Android or
Dutch Oven Helper Lite
for iOS devices are great for deciding how many coals you need. For 350 degrees, you generally will need 16 coals on top and 10 coals on the bottom.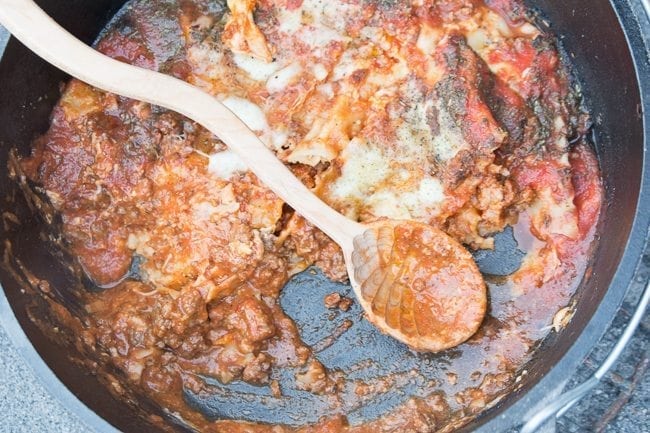 We also used our
HomeRight ElectroLight Fire Starter
to get our coals burning. Seriously, if you are going to be doing any amount of outdoor cooking this year, you should buy this. It makes lighting coals or a fire SO much easier.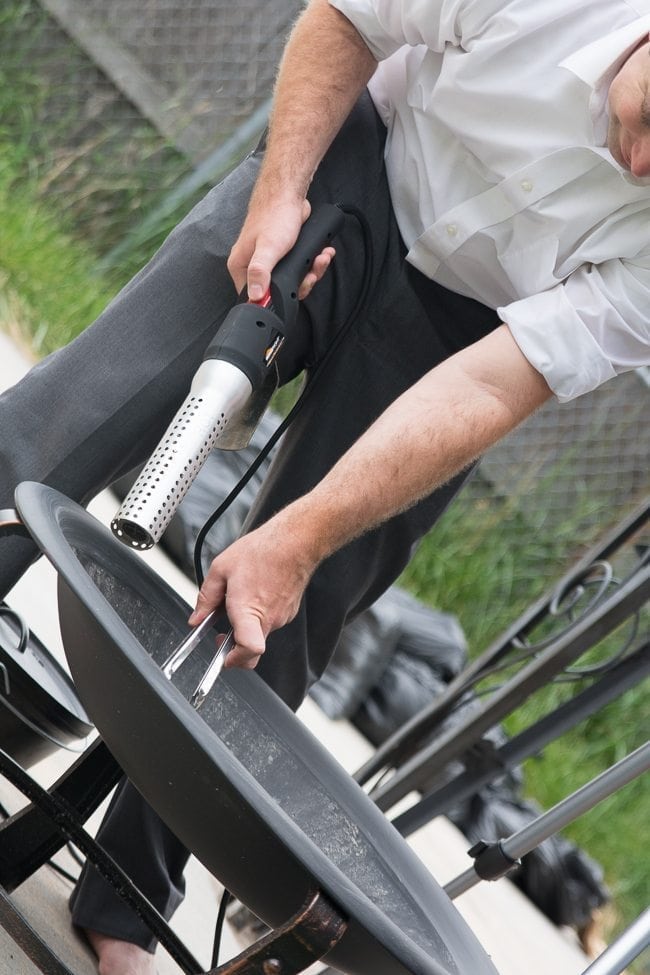 Obviously, you need to be near some kind of outlet (lots of campgrounds have them), but it's an easy way to light charcoal without any chemicals – plus you can get the
charcoal briquettes without lighter fluid
, which are way cheaper. Here's a video about it and you can
buy it here
. Anyways, once we got the coals lit, I just layered the lasagna like I would normally. We used a
12″ dutch oven
, and it worked well. As you'll see in the video, I don't put the extra layer of sauce that I mention in the recipe. When we went to take the lasagna out, the top layer of noodles weren't cooked at all…which, since they weren't covered in very much sauce, makes sense! You need a little more liquid than you might think, so before you put on your final layer of cheese, make sure you pour over the extra jar of spaghetti sauce.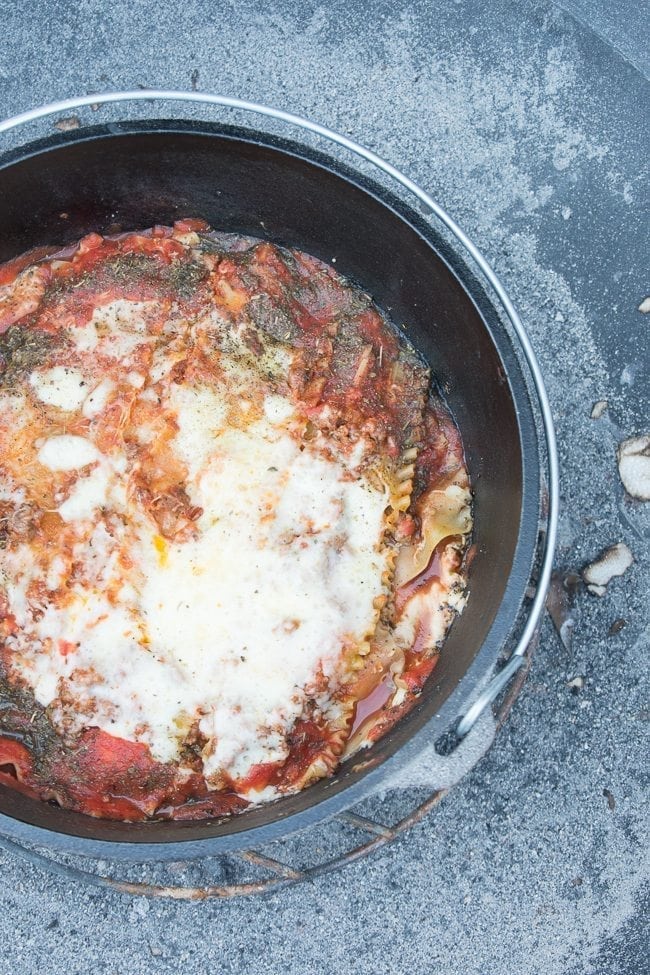 You can cook your sausage and ground beef in the dutch oven or in another camping cooking dish, but really, I would just make it before you go, put it in a ziploc bag, and put it in a cooler. It is something easy you can do before you leave.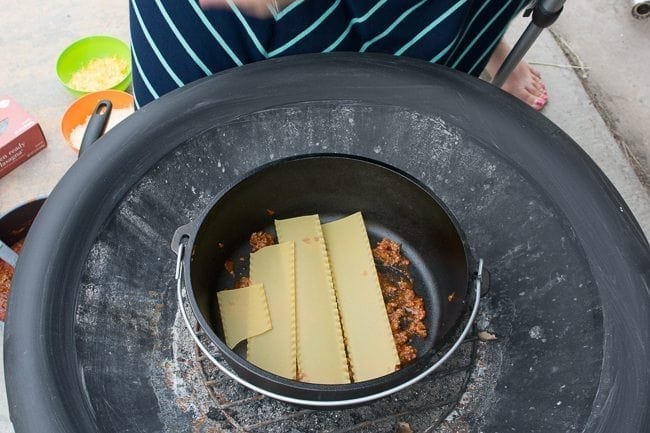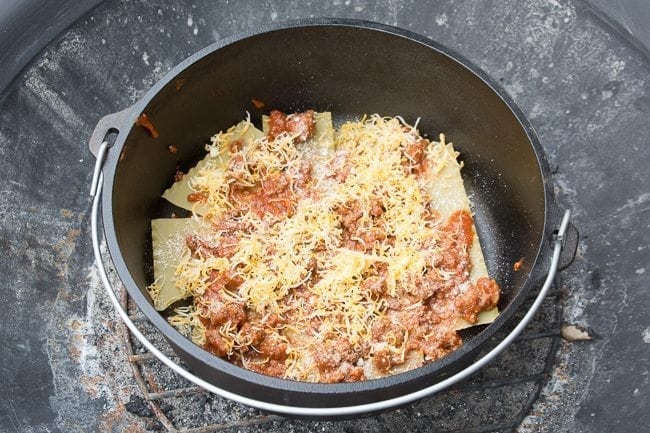 Also, Forrest tried to use pieces of used charcoal briquettes at first, which didn't work. So just use full, new pieces.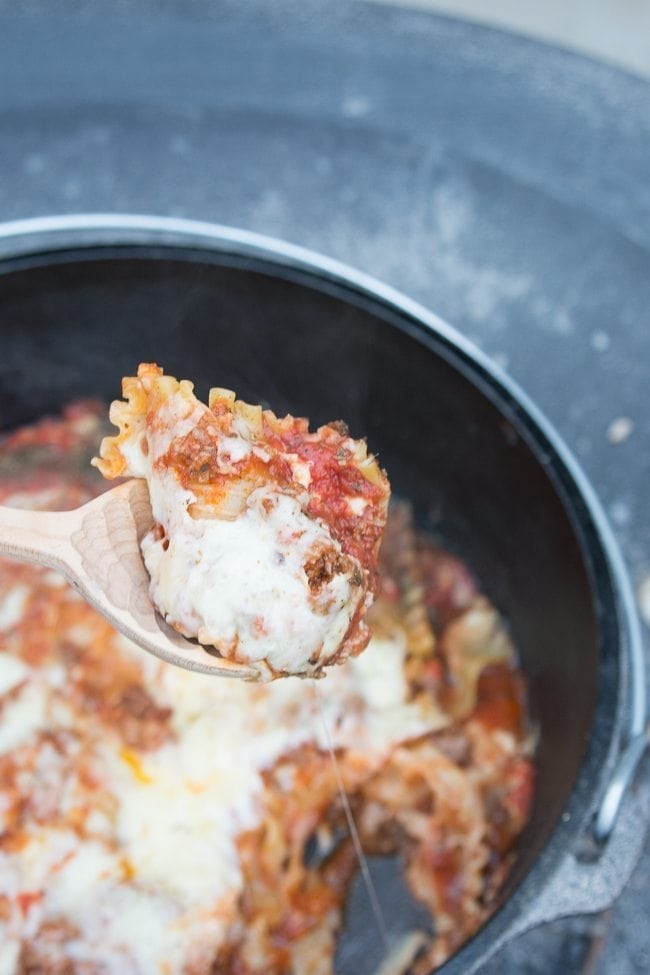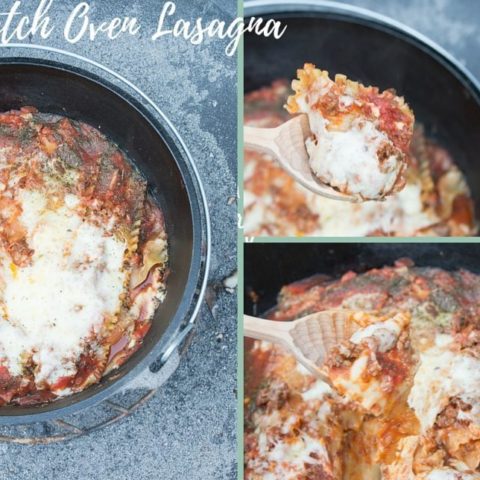 Amazing Dutch Oven Lasagna Recipe
Ingredients
10-12 oven ready lasagna noodles
1 lb Italian sausage, cooked and crumbled
1 lb ground beef, cooked and crumbled
2 jars of spaghetti sauce
1 cup mozzarella cheese
2 cups colby monterrey jack cheese
3/4 cup grated parmesan cheese
12 " cast iron dutch oven
26 charcoal briquettes
Instructions
Heat charcoal.
Place 10 pieces of lit charcoal in the bottom of the pit. Place 12-inch dutch oven on top.
Combine 1 jar of spaghetti sauce with the ground beef and sausage.
Put a thin layer of sauce on the bottom of the dutch oven.
Put 3-4 lasagna noodles across the bottom.
Spoon a layer of meat sauce, sprinkle parmesan cheese, and put a layer of the colby jack cheese
Repeat two more times.
Pour an additional jar of spaghetti sauce over the lasagna, making sure all the noodles are covered. Add water if needed to do so.
Top generously with mozzarella cheese.
Put dutch oven lid on top. Place 16 lit charcoal briquettes on top.
Cook for about 60 minutes or until noodles are cooked and cheese is melted.
Other Easy Dutch Oven Recipes You May Enjoy: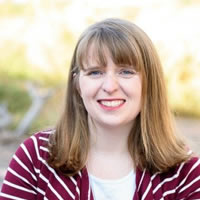 Katie is a Colorado-native, BYU graduated, and most importantly, wife to one and mother to three beautiful boys. She is passionate about sharing her experiences with others – especially about pregnancy, breastfeeding, cooking, and crafts. She is an International Board Certified Lactation Consultant. She loves spending time with her family and helping others find joy in family life.