An easy and fresh appetizer for the new year — chicken and bacon bruschetta pizza sliders, made with multi-grain baguette, marinara sauce, tomato, chicken, and bacon. 
I mentioned last week that my family always has appetizers on New Year's Eve, and this year was no exception. I had a few ideas of what I wanted to make, but wasn't totally sure, so I went with my mom to Walmart to get some ideas.
As soon as I saw this package in one of the first freezers, I had an idea: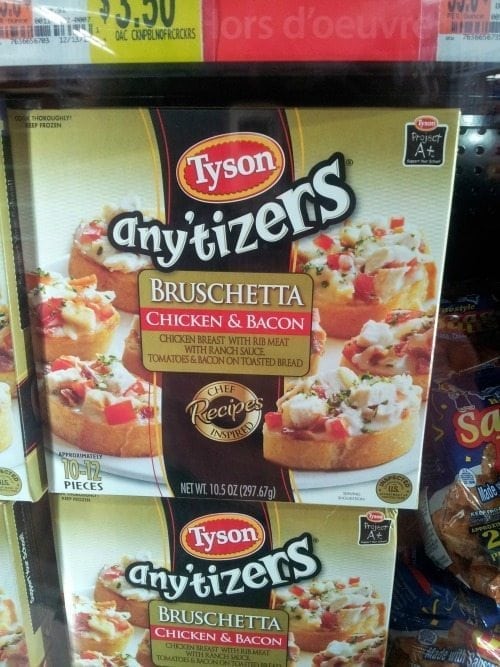 To be honest, I was tempted to just buy these Tyson Any'tizers, but after seeing that sauce was a ranch dressing sauce, I thought it might be better to make them myself. I could use a multigrain baguette, a lower fat cheese, fresh tomatoes, and marinara sauce to make it a little more fresh and healthy. Plus, they would be more of a smart food than traditional, especially since they wouldn't have typical pizza toppings like sausage and pepperoni.
Of course, I still wanted it to be easy, so I didn't really want to buy chicken breasts to trim, cut, and bake in the oven. So, I went further down the frozen aisle until I found the chicken I wanted to use – Tyson Grilled and Ready Oven Roasted Diced Chicken Breast. I've always been a fan of this line of chicken (I used it all the time in college for quick meals that I wanted to be somewhat healthy) and I knew it would be the perfect chicken to use for these sliders. It was pre-diced, I could easily cook it up and top my pizza sliders, and I know the chicken is good quality. If you've never used Tyson Grilled and Ready (which come in both the frozen and refrigerated variety), there will be in-store demos at 1,067 Walmart stores January 16-19th. I wish there was one closer to where I live! And, all Grilled and Ready products are now on rollback at 5.87! Awesome deal in my opinion.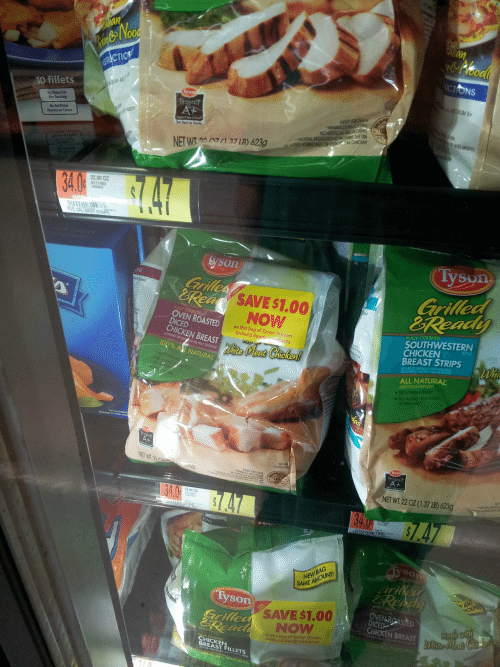 These sliders were so easy to put together. Sure, they weren't carrot sticks and celery, but I felt like they were a lighter appetizer that was still filling, and everyone loved them! I highly recommend getting a good quality marinara sauce – I used a pesto marinara that was phenomenal  (or make your own — that's usually tastier  and better for you.)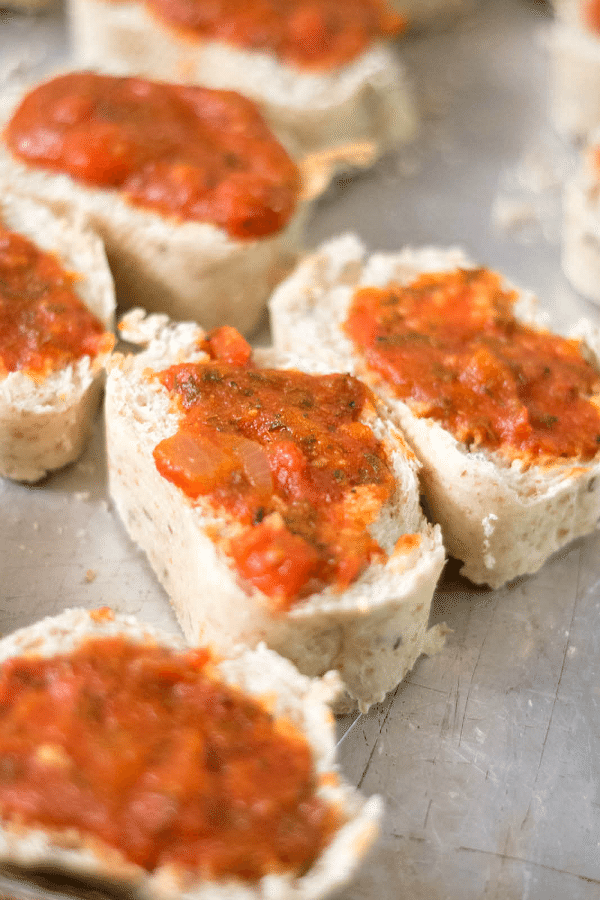 I also used Kraft Italian Cheese mix, which is lower calorie than some cheeses, and really, only sprinkled a little bit on each. That's all they needed!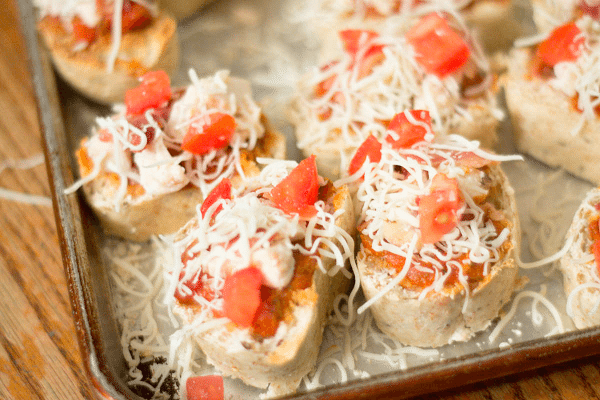 I just defrosted the chicken in the microwave, cooked up a little bacon (use turkey bacon for an even healthier touch!), and chopped some tomatoes, and then assembled..so easy!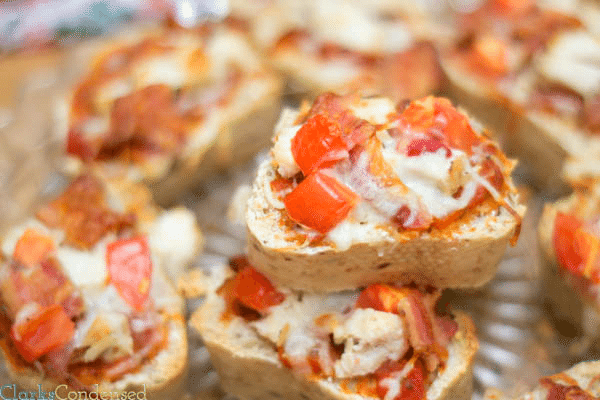 Everyone really enjoyed them! I thought they were the perfect addition to our New Year's Eve celebration. None of us felt like we had eaten too much by the time midnight rolled around, and they were perfectly filling. A great step toward eating healthy and eating right this New Year!
And speaking of eating healthy and living, I wanted to talk a little bit about Tyson's "Just Add This" promotion that is going on. Basically, Tyson is encouraging their fans to add simple additions to their everyday routine, and in return, they will send daily tips and recipes throughout the month of January…and give readers a chance to win great prizes! Tyson's Grilled and Ready line are an excellent way to add protein and healthy calories to your diet for easy meals. They are also holding an awesome Twitter party on January 9th at 1 PM EST where you can win prizes — RSVP here.
What are you doing this year to be a little healthier? Find other great healthy recipes featuring Tyson's Grilled and Ready line here.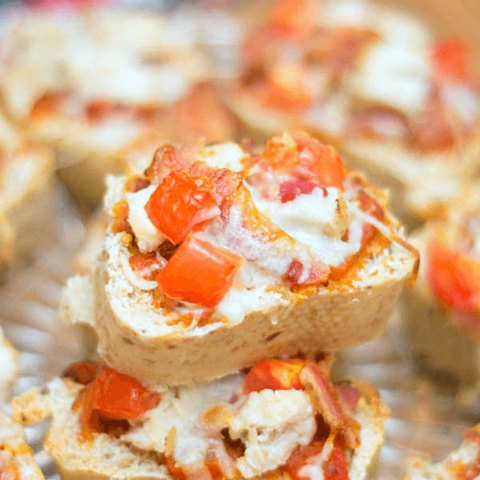 Easy Chicken and Bacon Bruschetta Pizza Sliders
Ingredients
1 loaf multigrain baguette, or any variety
1 - 1 1/2 cup marinara sauce, any variety - I really like Classico Pesto Marinara
About 2 cups grilled chicken, diced
8 pieces bacon, crumbled
2 roma tomatoes, diced
1 1/2 cups Kraft Italian Cheese
Instructions
Slice baguette into thick pieces and place on a cookie sheet.
Broil on each side about two minutes.
Put a spoonful of marinara sauce on each baguette slice.
Top each baguette with a few pieces of diced chicken and crumbled bacon. Sprinkle a small amount of cheese on top.
Finish with two or three pieces of diced tomatoes.
Bake at 400 for 10-15 minutes, or until cheese is melted.
#JustAddTyson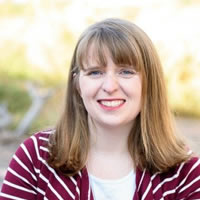 Katie is a Colorado-native, BYU graduated, and most importantly, wife to one and mother to three beautiful boys. She is passionate about sharing her experiences with others – especially about pregnancy, breastfeeding, cooking, and crafts. She is an International Board Certified Lactation Consultant. She loves spending time with her family and helping others find joy in family life.