Cable and satellite television costs are higher than ever, making people everywhere look for cheaper ways to watch their favorite shows. We have tried many of them – and in this post, we share the best alternatives to cable and satellite television.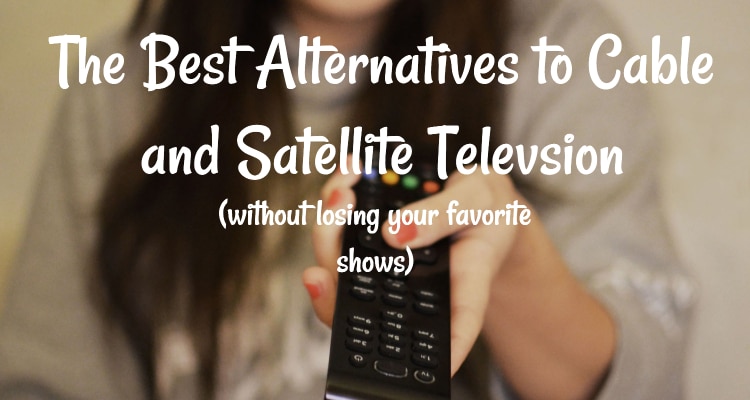 Cable Alternatives
Last year, we became a Cable and Satellite free family. Has it been hard? Well, read on to find out for yourself and how you can find a good alternative to cable.
Cable and Satellite television services can be very expensive. We had DirectTV for about two years and canceled as soon as the fee to cancel was less than what our monthly cost was. It seems like these companies offer you semi-reasonable prices upfront. However, they usually raise their rates later, such as doubling the price the second year.
Pricing was so complicated, and it sometimes seemed like they were simply arbitrarily making up a price for us. Every few months we would have to call customer service and ask for retention's department to try to get our problems fixed. Half the time they wouldn't record things right and everything would be wrong again the next month.
We even had to bring the BBB into it once or twice. Basically, I, and a lot of other people, have had terrible experiences with cable and satellite companies that charge way more than they are worth. Additionally, we have decided for a number of reasons to stop going to movie theaters.
However, we still love watching movies and television, and wanted to find a way to get the most bang for our buck. So we cut the cord (though, not literally) and we have dived into some of the major alternatives. (And, just as a tip, you can sell old satellite dishes on eBay and make a pretty penny for them.)
Need something other than TV to entertain you? Grab a FREE 60 day trial of Scribd for unlimited access to tons of eBooks, audiobooks, and newspapers! 
Alternatives to Cable TV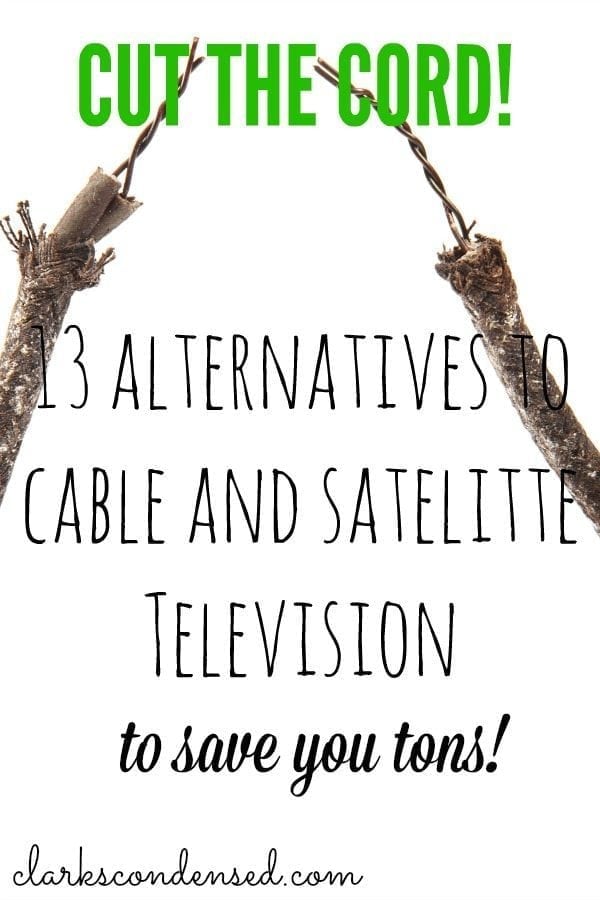 Here is a brief overview of what we've used, and then you can read on for more details:
Netflix
Hulu+
Amazon Prime
fuboTV
PlayStation Vue
VidAngel
Pureflix
Crackle
WatchESPN
PlayOn
Sling TV
CBS All Access
Alternatives to Cable TV
Netflix offers the most value for your money in my opinion. You shouldn't get it expecting to be able to see every movie as soon as it comes out on DVD, or even to see every movie that's ever been released. However, there is a wide variety of television shows and movies to choose from. It is great for younger kids who like to watch their favorite TV shows over and over. With Netflix, your children's library is large enough that you could select enough different shows that the same movie won't drive you crazy after the hundredth time. This is definitely cheaper than buying your own television series and DVDs yourself
Pricing:
$7.99 a month for one screen, $9.99 for two screens, and $11.99 for four screens simultaneously streaming movies and television shows.
Two devices can stream simultaneously
You can have DVDs sent to your home, one at a time, for 7.99 more a month. You can pay more for more discs.
They avoid charging per movie or having more expensive tiers of shows available to those who are willing to pay more.
Month-to-month contract
Sling TV is basically internet television. You can buy television packages of different numbers of channels. You stream the channels live. They have some On Demand type content as well.
Pricing:
They have two "standard" packages:

Sling Orange: This is $25 and includes the most popular channels, including HGTV, CNN, Disney, and ESPN2.
Sling Blue: This is $25 and includes local and national favorites, as well as sports channels

From there, you can add on different packages, which cost anywhere from $3-10 a month. There are TONS of options, including:

Sports Extra
Kids Extra
News Extra
Lifestyle Extra
Spanish Extra

For $5 a month extra, you can also get Cloud DVR.
Hulu+ is for those who want to watch episodes of their favorite shows as early as the day after. Hulu+ expands what is available for free on Hulu. There are movies and television shows available including children's programming. Current seasons of shows often only have partial seasons, and their movie selection is much more limited than that of Netflix. Hulu+ has created original shows like Netflix.
The ability to watch recent episodes of television shows whenever and wherever is the main advantage of having Hulu+. Hulu+ does not have CBS shows like NCIS and Big Bang Theory. If you're looking for a specific show, double check that they have it before investing, and if it doesn't, check the network's website.
There are commercials and advertising. You can interact with the commercials so they focus more on your interests, so at the very least they are semi-interesting. And, if you are lucky, you can watch one long commercial at the beginning to have an interruption-free viewing. However, they recently starting offering a commercial-free package, which is awesome.
Pricing
$7.99 a month (96 dollars a year)
$11.99 a month for commercial free
Month-to-month contract
Free for basic Hulu
If you want to sign up for Hulu, you can get a free two-week trial to see how you like it right here.
Amazon has a growing selection of movies and television shows as well. It has less overall than Netflix, but it probably has more movies than Hulu+. It is cheaper per month, however, not all content is free — you may have to pay additional fees for certain shows or movies. They have children's programming as well.
Pricing and Product:
We got PlayOn with our Roku for 30 days for free. It allows you to record shows from other online streaming services (such as Netflix, Hulu, etc.). PlayOn makes it so everything is in one place and you just need the main program on your computer and not your other devices. They advertise a PlayLater feature that works as DVR for online videos that might expire.
$29.99 a year
$69.99 a lifetime
They have a 30 day money back guarantee
If you are worried about missing sports – fuboTV is a great option! It has tons of sports channels, and it's only $10 a month. Right now, most of the sports available are soccer (which is perfect for me – so thrilled to see they have MLS), but they are working to add even more soon. Your first 24 hours are free when you signup here!
 Katie's brother shared this one with us. It seems like a great plan – plans start at $29 (55+ channels), then you can get 70+ channels for $34.99, and then 100 channels for $44.99. You can use it with your regular streaming devices, it includes on-demand, DVR, etc. We are thinking about signing up for this soon!
UPDATE: Due to their legal battle, VidAngel has a NEW streaming service. You can read all the details in my post about VidAngel being back, but basically, you can connect your Netflix, Amazon Prime, and HBO accounts and for $7.99 a month, you can filter content. It's VERY awesome and exciting that they are offering this. You can get a 30 Day Free Trial here.
VidAngel is VERY cool, and it has completely replaced RedBox for us. It has just about every movie you can think of, and a select number of TV shows – available for just $1 to watch. You can filter out content that you don't want to see, or you can opt to watch without filters.
Basically, the first time you signup on VidAngel's website, you pay $20. This goes toward buying the first movie you watch. Then, after you watch the movie, you can opt to sell the movie back and get $19 in credit back. From that point on, you only have to pay $1 per movie (unless you decide to keep one, then you'll pay $20!) We use this ALL the time. I highly recommend the service.
This is something similar to Netflix, but it only has clean movies on it. You pay a monthly subscription ($7.99) and you get unlimited access to family-friendly movies and TV shows. You can get a free trial by signing up here.
Crackle is free, but it is like watching classic television, as in, there are a lot of commercials randomly during the television shows and movies. They have some original programming. Somehow, Crackle has Seinfeld, one of the funniest shows ever. Netflix doesn't have Seinfeld available for streaming. Their selection is generally considerably older than the other streaming sites, but I did find a movie there recently that I had meant to watch a long time ago and never got around to watching.
Pricing:
Watching commercials throughout
Without cable or satellite, you might lose a lot of sports programming. It seems like all of the major leagues have some kind of payment option for access to all of their games online. However, if you use an affiliated Internet provider, then you can watch a lot of games online either live or as a replay. Fortunately, the NCAA tournament is free online. I might be tempted to fork over a lot of money otherwise to view (Katie here…yeah right!) 
Pricing:
MLB Extra Innings is $200, in four payments if you want. Which compared to what you might end up paying for cable and satellite might not be that bad if you are a baseball love.
MLSLive, my favorite, is $60 a season and $15 dollars a month, which might be handy for the playoffs. They are having a free preview of the service today, 5/11/2013, and tomorrow.
Have an Internet provider that is affiliated with ESPN3 — Comcast is one that I'm aware of.
If you watch a lot of shows on CBS, this is a great deal. They have a one month trial period. After that, you have two options:
Limited Commercials for $5.99 a month
Commercial Free for $9.99
You can access over 8,500 of your favorite shows On Demand, exclusive access to original shows, and much more.
Hardware
When it comes to pure video streaming hardware, there probably isn't much better than the Roku3. We just have the RokuHD which is still fun. I read a lot of the reviews about the Roku3 and either they paid a lot of people to give them favorable reviews or people really do love it.
They seem to rate it above AppleTV and way above Samsung Blu-ray players.The Roku we have is relatively small, and it was easy to set up.
We can watch Hulu+, Netflix, other paid services and free channels. I don't think they have a WatchESPN channel on the Roku last time I checked, which is disappointing. I doubt it is their fault.
You can watch you league subscriptions I believe. One channel, Plex, allows you to watch home videos and pictures on your television. I believe there are four main devices.
The
Roku Streaming Stick
is the size of a USB drive that works with certain TVs and devices to provide the Roku experience. It comes the most current remote.
Then there are their four traditional boxes:
Roku LT
,
Roku HD
,
Roku 2/XD
, and
Roku 3
. I'll focus on the
Roku 3
. It is for HDTVs only which means you will need to have sufficient Internet speed and the right TV to use it. It comes with some features that I think are really cool, mostly having to do with the remote. However, the reviews sound like the layout and navigation are a breeze.
The remote connects with the small Roku box through Wifi, I believe, so that you can listen to the sound through a headphone jack in the remote, play games with the remote as your controller (it has motion control kind of like a Wii remote), and traditional pause-and-play functions that you can use without pointing at the box.


Pricing:
Google Chromecast
Google's new video and music streaming device. It is the size of a USB flash drive, and it costs only $35. It runs the apps most people use: Netflix, Hulu Plus, Pandora, and Google's Google Play movies and music. It is powered by the Chrome OS, and it supports HDMI streaming. Your phone, tablet, or computer can work as a remote. It is powered by most HDMI ports that it can be plugged into. There is an optional USB cable to power the device. You might already have this in your house, but if you'removing out on your own or have a vacation house and you want to be able to watch some tv without a huge investment this device would be great. #1 in electronics sales on Amazon. (I added this to update the post, so it makes 13 alternatives, fyi)


Amazon Fire
Amazon came out with their own streaming stick as well as the Amazon Fire TV. We have the stick and it works well, though it doesn't have quite as many features.


Antenna
Believe it or not, free channels are broadcast on radiowaves that anyone can watch with an Antenna. Yes, this is probably how your parents watched TV (or maybe even you did at one point!) My brother-in-law, Daniel, told us we should get one, and we were glad he suggested it.
We bought a basic RCA Antenna, which gives us a few of the top channels. However, we also bought a more robust amplified antenna that works a little better. If the antenna will be your primary source for TV, get a good  one. We can watch Fox, NBC, CBS, ABC, and a few others. The quality is surprisingly good. The quality is better than when we stream their shows through Hulu+.
We recently bought a more robust amplified antenna that works a little better. If the antenna will be your primary source for TV, get a good  one. We can watch Fox, NBC, CBS, ABC, and a few others. The quality is surprisingly good. The quality is better than when we stream their shows through Hulu+.
Tvfool.com will give you a report according to address, antenna size and a number of other variables it can access how many chanels you should get, at what quality, and from what direction. My report said that we should only get one channel very well. Sometimes when the weather is bad it seems that way.
However, I think we can get up to 25-30 channels sometimes. One funny thing that happens is that it seems that it is either HD or nothing sometimes. One second it will say that there is no signal and the next we will have a super crisp image. I don't really know how it all works. There are indoor antennas, attic antennas, roof antennas, and then those extra heavy duty ones that shouldn't be put on a roof.
Pricing:
TV Tuner
I saw in Windows Media Center that if you have a TV tuner you could connect an antenna to it and use Windows Media Center as a DVR for your Antenna. I got a decent one for Christmas, but for some reason the TV tuner and Windows Media Center was not picking up the signal as well as it showed up on my television so I was never able to use it as a DVR. The idea sounds very intriguing to me, and hopefully, we can get a better antenna one of these days.
Conclusion:
The idea behind all these different options is to help you save money. What is right for you depends on how much money you want to spend, what you like to watch, and how much of it you like to watch. I believe that cable and satellite companies charge way too much for their product.
With DirectTV, I could not find something to watch with the tons of channels half the time, and I would turn to Netflix anyways. I am at my desktop a lot which is in our living room so I personally mostly use Netflix, Hulu+, and the CBS website on my computer.
For shows that Katie gets excited about watching live, we use the antenna. There is a lot of overlap in content between the websites, so I wouldn't sign up for all of them.
Take advantage of free trials. Many of these companies have one. You will likely lose a lot of sports programming without WatchESPN and an antenna.
Your internet has to be fast enough. I watched almost an entire season of Jericho five minutes at time, because my laptop had to buffer a lot on my parent's internet.