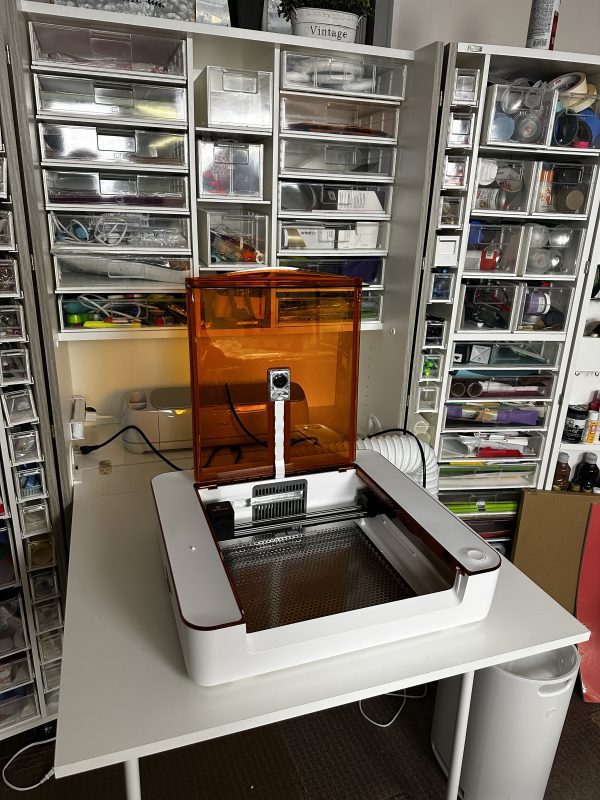 The Glowforge Aura is the latest addition to the Glowforge family, and it's certainly something to talk about. Its smaller size and lower cost are making laser crafting more accessible than ever!
I have recently gotten my own Glowforge Aura, and I've been having fun experimenting with it so I can share with you everything I think you need to know before deciding if this is the right purchase for you! As someone who has just about every Cricut machine made, as well as the Glowforge Pro, I am really excited about this machine and what it offers.
My Initial Thoughts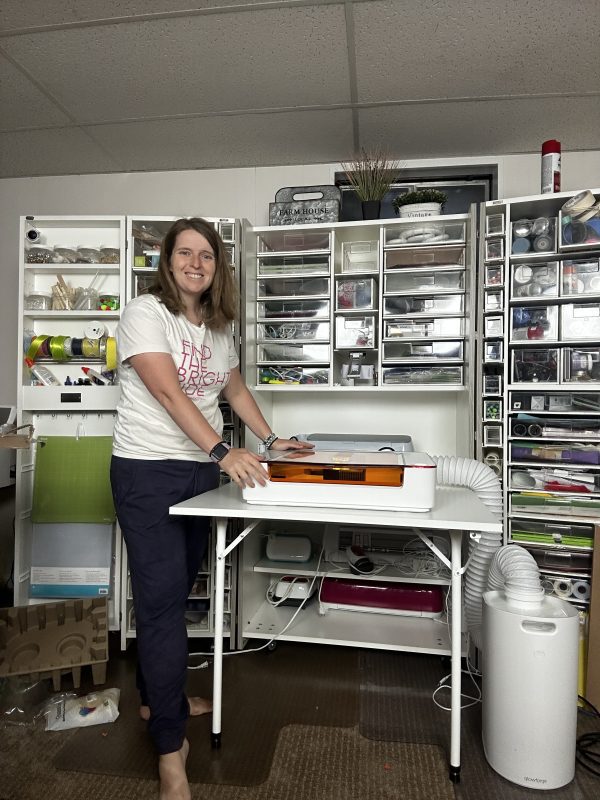 When word first got out about the Aura, I was cautiously optimistic. As much as I love my Glowforge Pro, it's a big machine. Most of our readers here on Clarks Condensed are hobby crafters, so I know that it's not a machine that's accessible to most. The more I read about the Aura, the more I knew I had to try it.
Honestly, one of my first thoughts was, "This feels like my Cricut Maker and the Glowforge Pro had a baby!" I've compared Cricut and Glowforge in the past, but until now, it was really hard to make a close comparison between the two.
After our Aura arrived, Forrest and I commented on how lightweight it was. I could easily to pick it up with one hand. With the Glowforge Pro, I'm not sure I could even pick it up with two hands (nor would I want to), so this was impressive.
I was really excited when I realized I'd be able to easily store it in my DreamBox alongside my Cricut machines. You can't shut the DreamBox with it in there, but mine is always open, so it doesn't really matter.
We also received the filter, which is a game-changer. We've always just filtered out our window, and I didn't want to get the more expensive filter to go with it. However, the Aura filter is lightweight and convenient. It makes it easier to use the machine and store it somewhere that isn't right next to a window.
I opened the box and was impressed with how sleek the machine looked, and it made me really excited to get started with it.
Setup
I set up the Aura in probably five minutes, which I was blown away by. I wish Glowforge had a mobile app experience, but it wasn't hard to find the information on the website to set it up.
All of the pieces clicked right into place, and I was ready to go quickly. I will admit I ran into a hiccup with the filter – I didn't plug it in (oops!) Forrest came downstairs and said, "It smells awful. If that filter is working, it's pretty terrible."
Thankfully, he realized I made the mistake of not plugging it in (what would I do without him?!), and it started working great.
There's not much to say about the setup experience beyond it being easy. Here is a video I shared on Instagram right after I got it!
Here are a few tips for setup:
Keep all the boxes and materials that come with your Glowforge Aura – if you have to return it, they require it to be sent back with the original materials
Pull up the instructions for setup from the Glowforge website. They are very thorough and will get you up and running as quickly as possible.
Experience
I have been wanting to make a sign that features one of my favorite quotes from S. Truett Cathy says "Food is essential to life, therefore make it good." I had a cute pine sign from the Dollar Tree (one of my favorite places for Glowforge supplies) that fit perfectly inside the machine.
I had considered doing a larger sign first and using the pass-through option (yes, the Aura has a pass-through slot), but it's pretty thin, so I went with a smaller sign. I started by staining the material first, and then I masked it to ensure there weren't any scorch marks.
It's always a little tricky to use materials that aren't from Glowforge – especially because our digital caliper was broken. So the first time it went through, it didn't engrave everything completely. However, I adjusted the settings afterward, didn't remove the material from the machine, and ran it again, and it worked perfectly.
Forrest and I both felt like it was slower than our Glowforge Pro, but it wasn't unbearable. The results were professional, and it made me excited to do even more projects with it.
In comparison to the Glowforge Pro, there are some key differences:
Smaller size materials (both width, height and depth) are needed
It's slower
It's much lighter and more convenient for storing
I think it's an awesome option for a hobby laser crafter
I do believe that you can still create a lot of great projects if you want to do a Glowforge-based business. It may not pack as much punch as the Pro, but it's a serious contender. I haven't used the vinyl yet, but I'm really excited to try that out and see how I feel about it in comparison to the Cricut Maker 3.
Size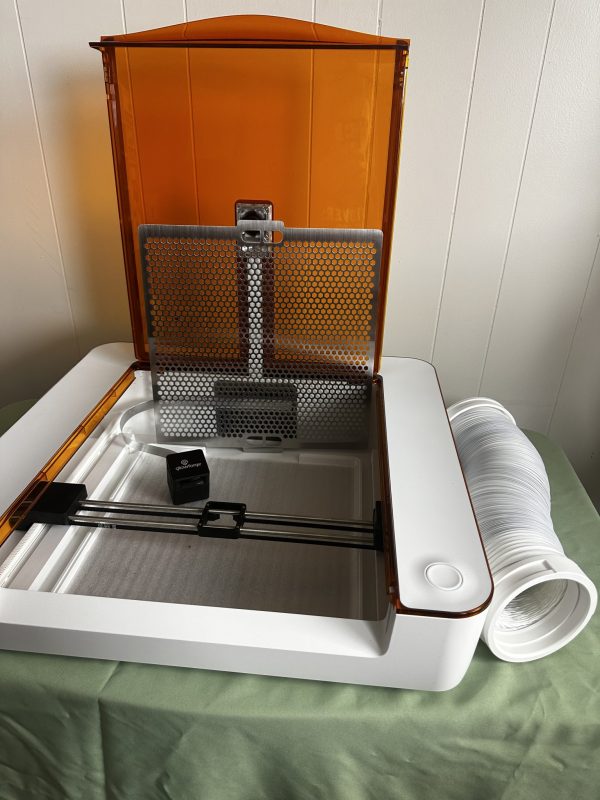 I can't sing enough praises about the size. It's really perfect for what I like to do with the Glowforge, and it doesn't take up nearly the room as the Pro.
As I mentioned, I can store it on the table of my DreamBox. If you are considering getting this craft storage, check out our DreamBox review and use the code CLARKS100 for $100 off!
Price
The Glowforge Aura is $1,199 and the filters is $399. It is obviously still an investment, but it is so much less expensive than the Pro. I think this makes it a great value for someone who wants to dip their toys into the world of laser printing and engraving.
Key Specifications
Here are the key specifications of the Glowforge Aura:
Cutting and Engraving
The Glowforge Aura is a laser cutter and engraver that can cut and engrave a wide range of materials including wood, acrylic, leather, paper, and more. It has a maximum cutting area of 11″ x 19.5″ and can cut through materials up to 0.5″ thick. The Aura also has a maximum engraving area of 11″ x 19.5″ and can engrave at a resolution of up to 1000 DPI.
The Aura uses a 45W CO2 laser tube to cut and engrave materials. It has a maximum cutting speed of 30″ per second and a maximum engraving speed of 1000″ per second. The laser is controlled by a closed-loop servo system that ensures accurate and precise cuts and engravings.
Materials Compatibility
The Glowforge Aura is compatible with a wide range of materials, including:
Wood (including hardwoods, plywood, MDF, and more)
Acrylic
Paper
Cardboard
Fabric
Cork
Anodized aluminum (with the use of Cermark)
The Aura also works with a variety of thicknesses and densities of materials, making it a versatile tool for a wide range of projects.
Software Compatibility
The Glowforge Aura is compatible with a variety of design software, including:
Adobe Illustrator
Inkscape
CorelDRAW
SketchUp
AutoCAD
SolidWorks
Fusion 360
The Aura also comes with its own software, Glowforge App, which allows users to easily upload and edit designs, adjust settings, and control the laser cutter and engraver. The app is cloud-based, meaning that it can be accessed from any device with an internet connection.
Overall, the Glowforge Aura is a powerful and versatile laser cutter and engraver that is compatible with a wide range of materials and software. Its precise cutting and engraving capabilities make it a great tool for a variety of projects, from small crafts to large-scale productions.
Glowforge Aura vs Glowforge Pro
When comparing the Glowforge Aura and the Glowforge Pro, it's important to note that both machines have unique features that make them suitable for different purposes. The Glowforge Aura is the entry-level model, while the Glowforge Pro is the top-of-the-line model.
Here is a little comparison chart of the differences:
| | | |
| --- | --- | --- |
| | Glowforge Pro | Glowforge Aura |
| Engraving Speed | up to 1355 DPI | much slower, typically requires more passthroughs |
| Maximum depth | 2″ | 1/4″ |
| Maximum depth with tray | .5″ | 3/4″ |
| Cutting Area | 11″ deep 19.5″ wide | 12×12″ |
| Laser | 45 watt CO2 laser | Class 1 laser product containing an embedded Class 4 laser |
The Glowforge Aura is more affordable and accessible for those who are just starting with laser cutting. It offers basic cutting and engraving capabilities, making it a great option for hobbyists and small-scale projects.
Overall, the choice between the Glowforge Aura and the Glowforge Pro depends on the user's needs and budget. While the Glowforge Pro has more advanced features, the Glowforge Aura is a great option for those who are just starting and don't need the extra capabilities.
What can you make?
With the Glowforge Aura, you can make an endless variety of useful, beautiful, and practical things from a bunch of different materials like wood, leather, felt, fabric, acrylic, and more. Here are some ideas to get you started:
Home decor: Create custom wall art, clocks, shelves, and more to add a personal touch to your living space.
Jewelry: Make unique earrings, necklaces, and bracelets with laser-cut charms and pendants.
Gifts: Personalize gifts for friends and family with custom engravings or laser-cut designs.
Toys and games: Create puzzles, board games, and other fun toys for kids and adults alike.
Prototypes: Use the Glowforge Aura to quickly and easily create prototypes for your next big idea.
Custom products: Start your own business creating custom products like phone cases, keychains, and more.
With the Glowforge Aura's powerful laser, you can cut materials up to 1/4″ thick and engrave materials up to 3/4″ thick with the cutting tray removed. The intuitive design software makes it easy to create your own designs or use existing templates, and the live print preview allows you to see exactly what your design will look like before you start cutting or engraving.
Whether you're a hobbyist, an entrepreneur, or just looking to add a personal touch to your home decor, the Glowforge Aura is a versatile tool that can help bring your creative ideas to life in minutes.
Customer Service
Glowforge has a pretty good customer service team. I have reached out and gotten same day responses a few times, and I'm grateful for that.
I noticed that they have recently added a live chat that you can use while you are using your Glowforge. It's not with the customer support team, but you can talk with other Glowforge Pros, which is awesome. Glowforge also has a robust user forum, which I find to be very helpful.
Final Thoughts
Overall, my initial experience with the Aura has been very positive. I'm not an expert on all things Aura yet, but I can't wait to become one to share with all of you all the tips, tricks, and project ideas.
I still love my Pro and my Cricut machines, but I really feel like this might become my go-to machine for most projects from here on out.
Have you gotten an Aura yet? What questions do you have? Let us know in the comments. I'd love to hear what you're thinking! If you are wanting to get one, be sure to click here to get started with the process!
Frequently Asked Questions
What is the wattage of the Glowforge Aura?
The Glowforge Aura has a power rating of 6 watts, which is lower than the larger Glowforge machines that start at 40 watts. However, it is still powerful enough to cut and engrave a variety of materials.
What type of laser does the Glowforge Aura use?
The Glowforge Aura uses a CO2 laser, which is known for its high precision and accuracy. It can cut and engrave a variety of materials, making it a versatile tool for makers and creators.
Can the Glowforge Aura engrave metal?
No, the Glowforge Aura cannot engrave metal. However, it can cut and engrave a variety of other materials, including wood, acrylic, leather, and more.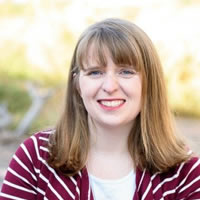 Katie is a Colorado-native, BYU graduated, and most importantly, wife to one and mother to three beautiful boys. She is passionate about sharing her experiences with others – especially about pregnancy, breastfeeding, cooking, and crafts. She is an International Board Certified Lactation Consultant. She loves spending time with her family and helping others find joy in family life.