Are you wanting to grind your own flour, but don't have a grain mill? No need to worry…you can use a blender! Here's some quick tips on how to use a blender as a grain mill.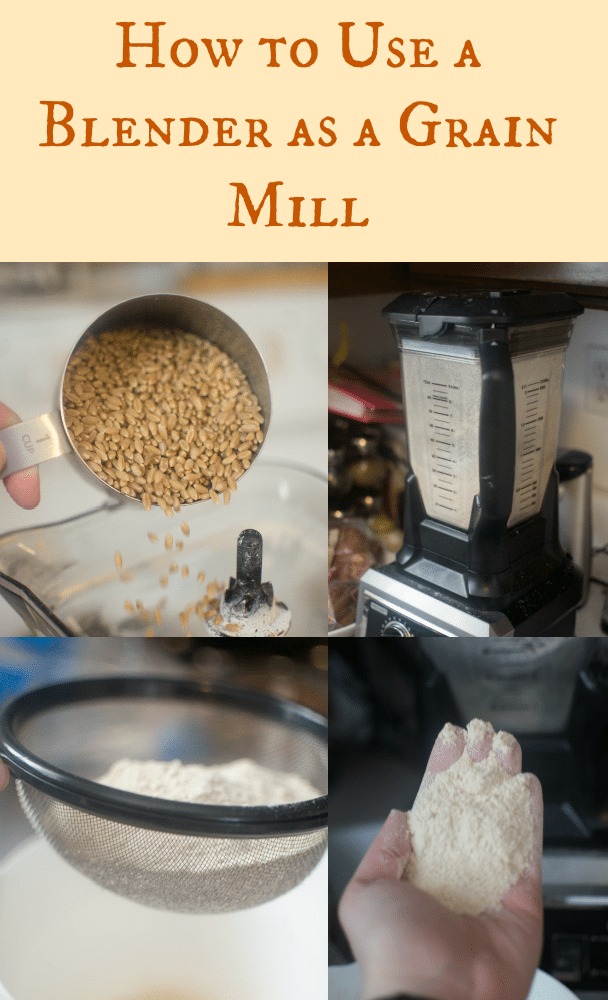 I was sent a Ninja Ultima Blender to test. All opinions are my own!
I love kitchen appliances and tools. My wish list on Amazon is ever-growing with new items that I hope to one day own. Unfortunately, we don't have a lot of space. So…we don't get a lot of those tools.
So when I come across an appliance that can replace a bunch of other appliances…well, I'm rather excited. Which is why I was thrilled when we got the Ninja Ultima Blender to try out. It's not just a blender. It's a food processor, a hand mixer, soup maker, ice cream maker, a smoothie maker, meat grinder, a grain mill…just to name a few items. So instead of having every single one of those appliances cluttering up your kitchen, you have the Ninja Ultima Blender replace them all, and sit nicely on the corner of your counter top.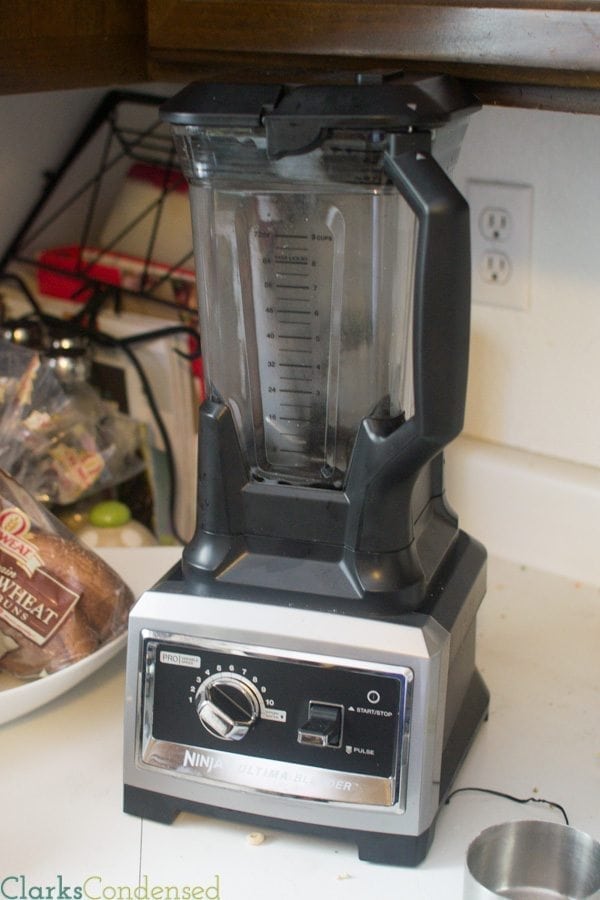 Today I'm going to focus on using this blender as a grain mill.
As you may (or may not) have noticed, we've been trying to make some changes to our eating habits and lifestyle. One of those habits is eating more whole grains, and attempting to grow and use natural yeast in our baking. Never heard of natural yeast? Neither had I, until I was helping Melissa (aka, the Bread Geek) with her website. Basically, it's one of the neatest things I've ever heard of. I'll talk more about my journey with that another day, but if I've spiked your curiosity, be sure to go buy her book/cookbook, The Art of Baking with Natural Yeast. But more on that later.
Since I want to use more whole grains and wheat in our diet, I decided to go all out and start grinding our own wheat. Only problem is, we don't own a grain mill, and it's definitely not in our budget right now. I was kind of bummed for awhile, thinking I couldn't grind wheat without a grain mill, so, when I discovered that I could use my Ninja Ultima as a grain mill, I was thrilled. My first experiment was with buckwheat flour in these strawberry banana buckwheat muffins, and it turned out great. I decided to try out wheat the other day, and it worked really well.
Side note:I had the hardest time finding the right wheat berries. I went to a local health food store, and they had all these strange kinds…but not the kind I read was most common to buy. I finally found some at the Bosch store, and bought a 50-pound bag. It ended up being about 50 cents a pound, which was awesome compared to the other prices! I used soft white wheat berries.
Before I started using the Ultima as a grain mill, I read up a little bit about using a blender as opposed to an actual grain mill. Most people seemed to think it was a good idea, as long as it didn't overheat (since that would kind of ruin a lot of the nutritional value that comes with grinding your grains.) I would imagine that a less powerful blender might overheat easily, but I had no problems with the Ultima — no signs of overheating at all. With that said, just monitor your blender carefully as you do this (or just buy the Ninja Ultima…because it's awesome.)
It's pretty easy to do, and you can have your grains ground into flour in just a few minutes. This tutorial is pretty simple!
Measure out one to two cups of grain of choice (I am using wheat berries here.) Don't use much more than that, as your blender might not be able to handle it.
Pour the grain into the blender.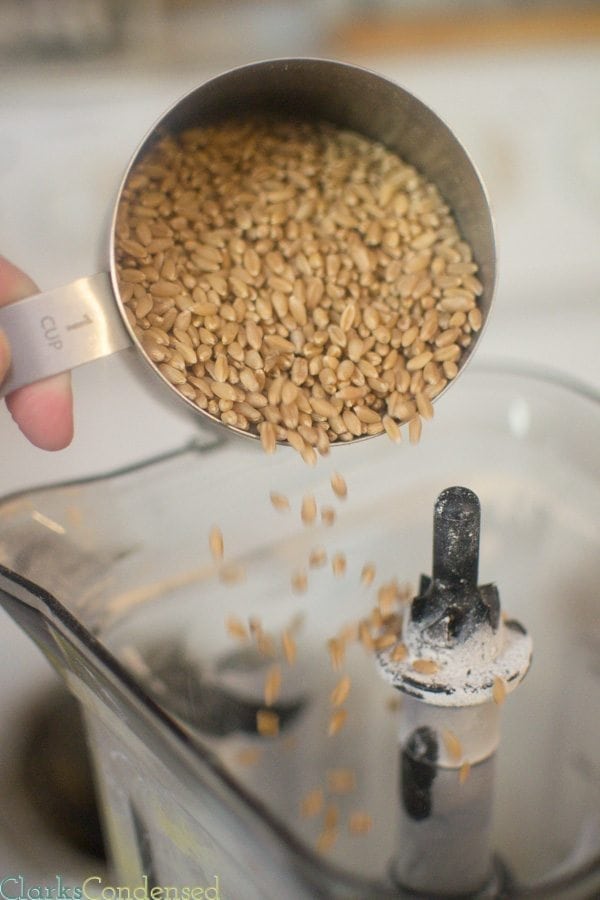 Securely fasten the lid to the blender (no one wants flour spewing out of it!)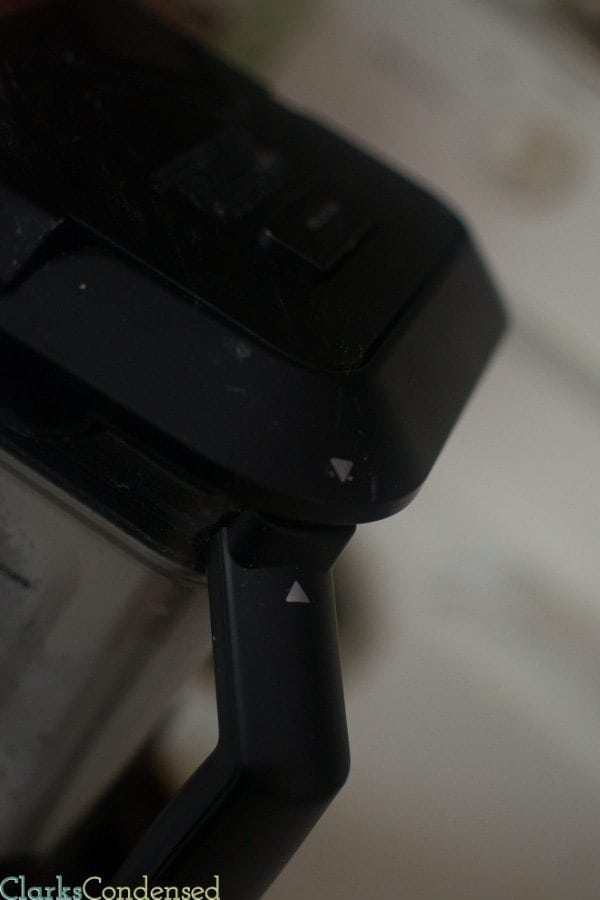 Turn blender to highest setting (on the Ultima it is 10) and then press the switch to start (the Ultima just has start and pulse.)
Let it go for about 2 minutes (more or less. With the buckwheat, it was done in about 20 seconds. The wheat took quite a bit longer.)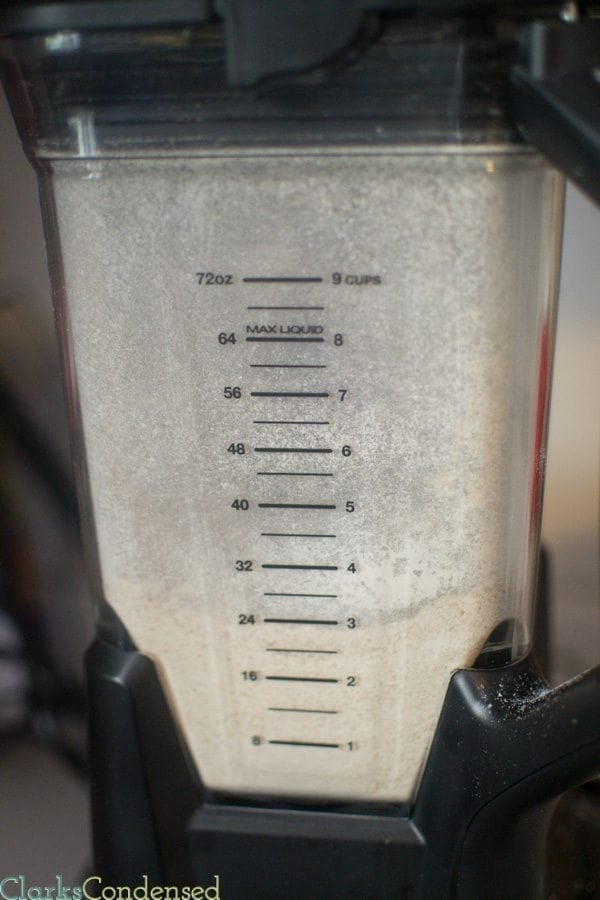 Have a cute two-year-old ready to tell you when your timer goes off (optional…but makes the process so much more fun.)
Remove lid and check to see if a fine powder exists. If it does…success! If not, grind some more, in 30 second increments.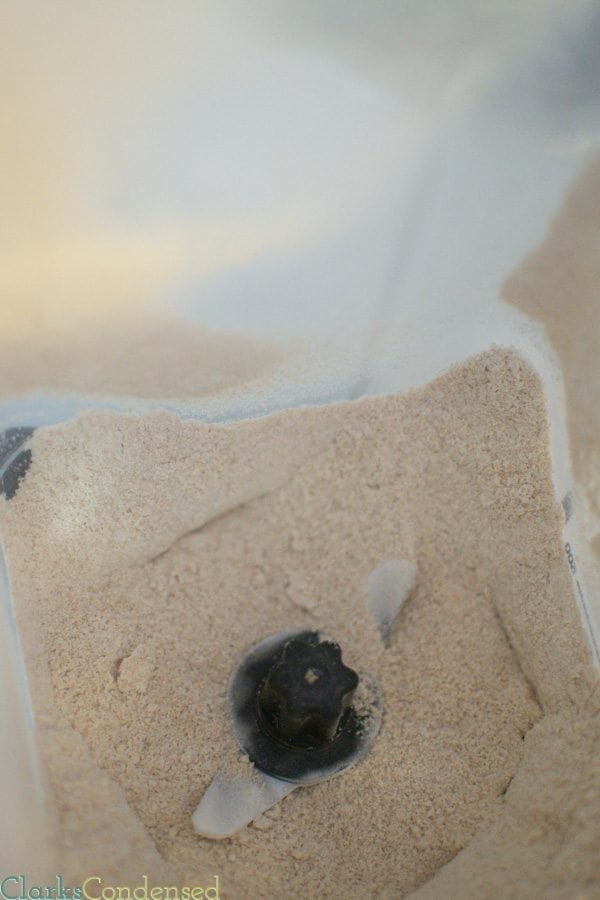 After you've determined that the grain has successfully been ground, take out a bowl, and place a sifter or a strainer (with teeny, tiny wholes) over it. Pour flour into the sifter, and gently sift flour through.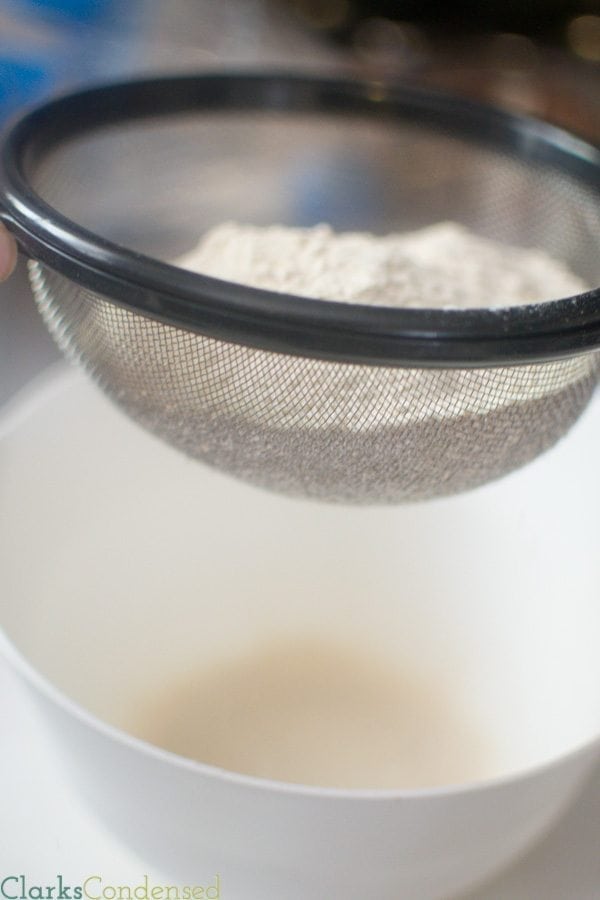 Remove any pieces of the wheat berries that remain in the sifter, and then pour the wheat through again, into another more, one or two more times. Enjoy!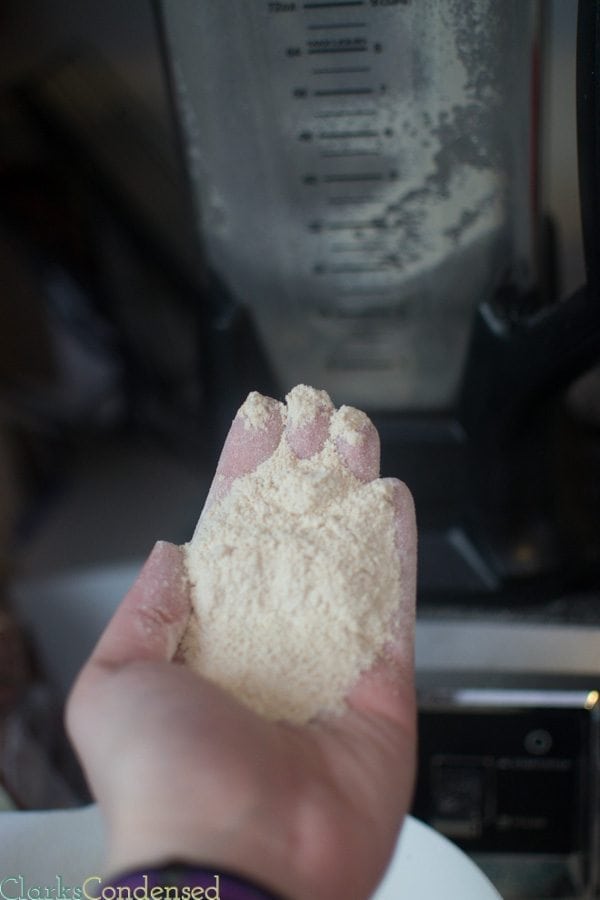 Store Properly. The downside to grinding wheat is that it doesn't last for very long. I've been told just to grind as much as I need to retain the most nutritional value. However, that might not always be ideal, so here is the general time frame for storing freshly ground wheat flour:
At room temperature: Between 2 and 5 days (err on the side of caution with this one)
Refrigerator: 10 days
Freezer: Up to 30 days.
source

Hopefully this will help some of you grind some wheat if you aren't able to afford a grain mill. I really do recommend the Ninja Ultima Blender (it's very comparable to the Nutrimix, as a fraction of the cost…though I'll discuss this in more detail next week), and it had absolutely no trouble grinding my wheat berries!