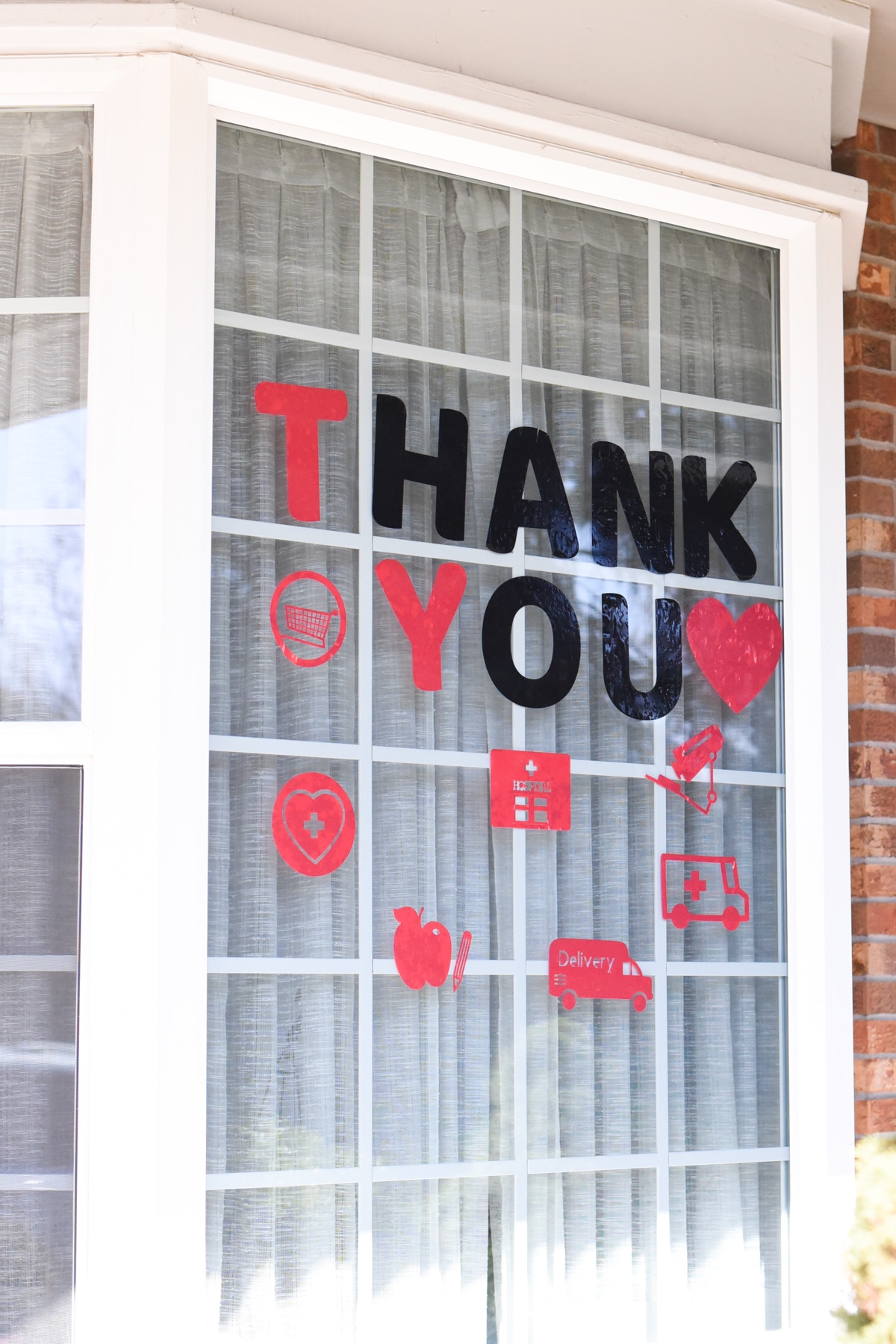 I recently saw a friend mention how when something hard happens, our first inclination is often to go to the person we want to help or thank.
In the current conditions in the world, this is not possible – the best thing we can do is stay away.
But that doesn't make it easier to not be able to serve others. I've been thinking of different ways to serve from afar, and while it's taken more creativity, it's not impossible!
Donating gift cards to families in need, sewing face masks for people and organizations that need them, video chatting with family and friends, sending diapers to someone…there are a lot of things you can do remotely!
Today, I wanted to share an easy Cricut project that you can put in your window for all to see as they drive by.
It's a great way to say "Thank You" to all those who are on the front lines right now and need any bit of support we can give them.
As I started making this, I was kind of wishing I had enough of the right kind of removable vinyl in the colors I wanted, but in the spirit of staying home, I decided to use window cling.
I really do love using window cling for temporary window decals – I just wish they had more colors! If you've never used window cling, here is a window cling tutorial I did a while back.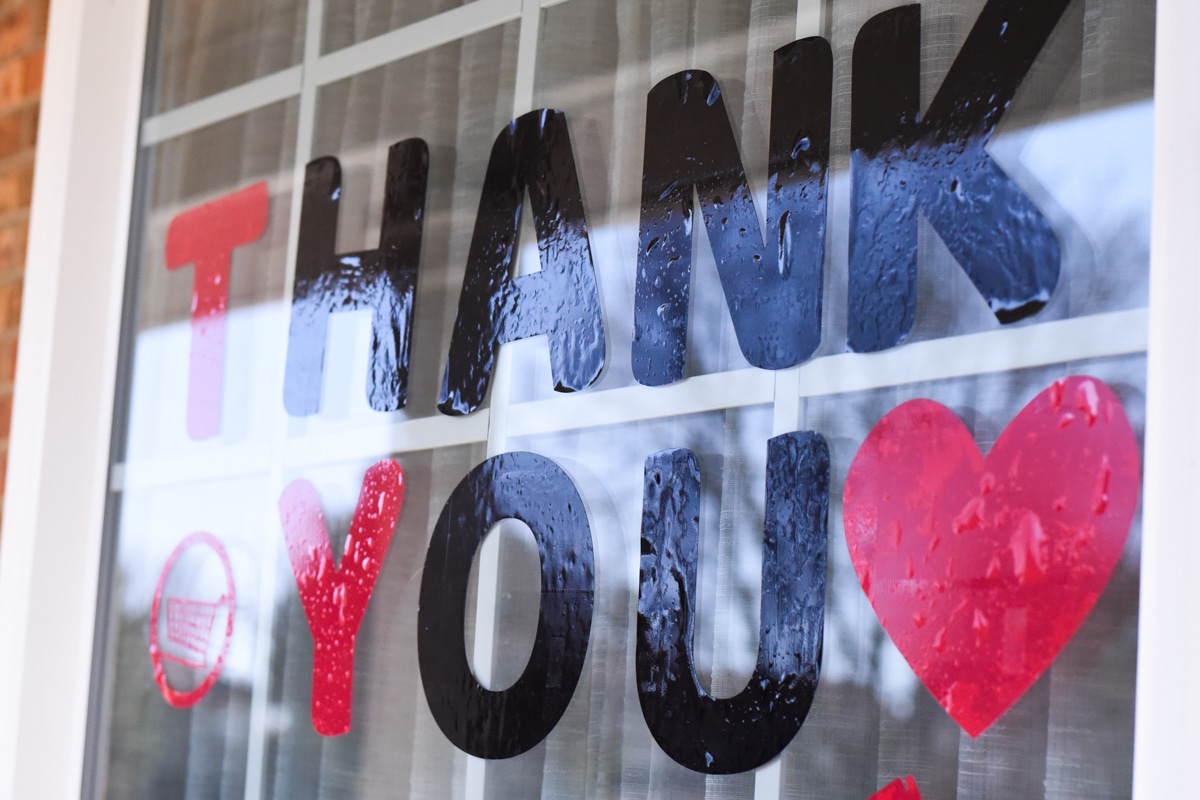 DESIGN SPACE FILE
For this project, I made a file in Design Space. You can click here to get it.
You can adjust the size of the letters or images if you want. Make sure you measure everything out before you do it!
In this file, I have included images to represent:
Nurses and Doctors
Hospital Staff
Scientists
Teachers
Grocery Store Workers
Delivery People
I am sure there are numerous other pictures you could add, so be sure to add any pictures that you think would work well.
MATERIALS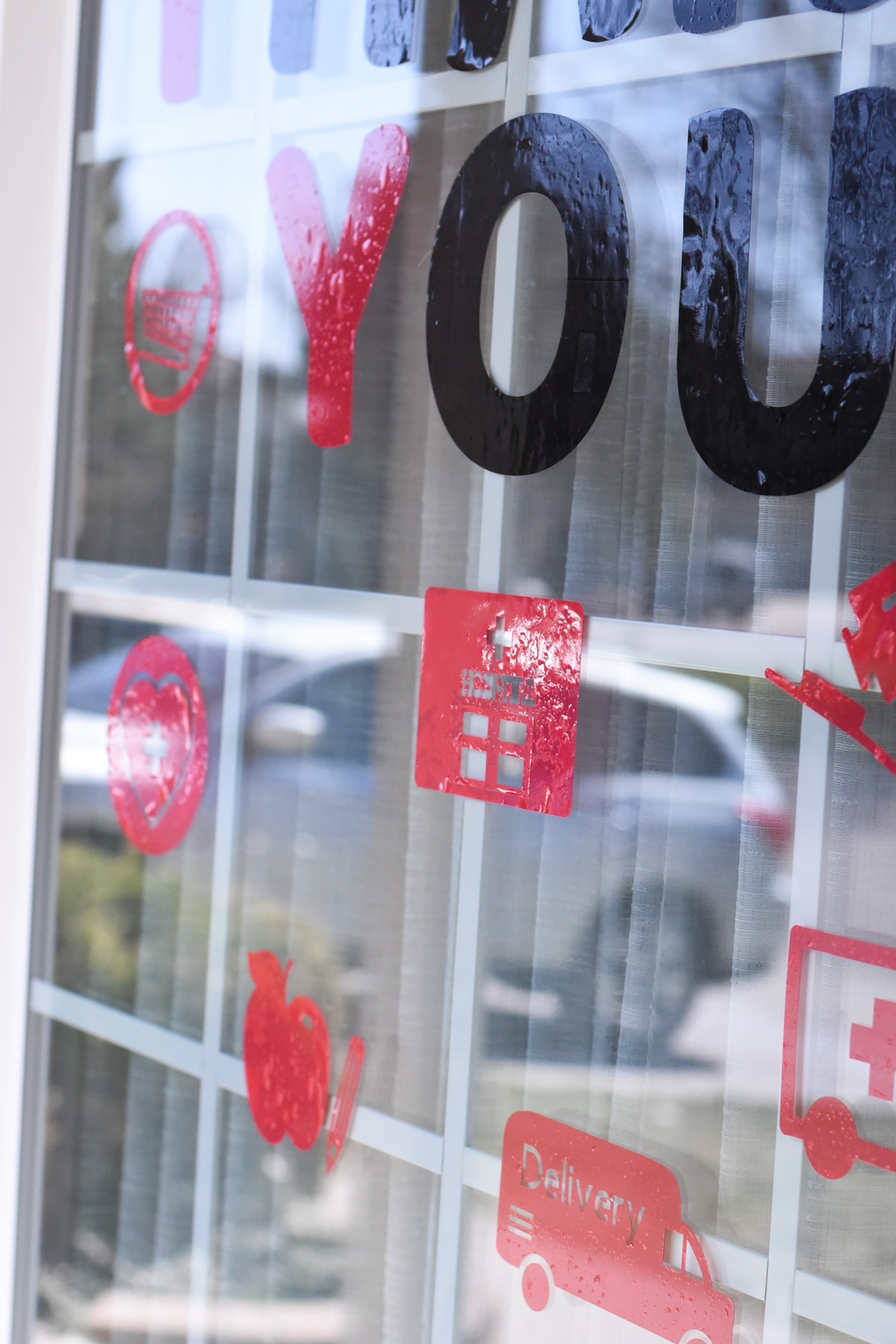 As I already mentioned, I used window cling for this project. Colors are limited, but you can make it work. You can get window cling online at :
However, you could also use removable vinyl as well if that's what you have in your craft room. You might have a lot more color options that way as well.
I cut this out using my Cricut Maker, but you could easily cut it out with your Cricut Explore Air 2. If you want to make the images or letters smaller, you could totally use the Cricut Joy as well with removable vinyl.
This is a very simple project, and it's a great one to get your kids involved with as well. I hope that this idea can help you to thank those in your community!
Other Projects You May Enjoy: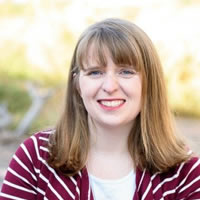 Katie is a Colorado-native, BYU graduated, and most importantly, wife to one and mother to three beautiful boys. She is passionate about sharing her experiences with others – especially about pregnancy, breastfeeding, cooking, and crafts. She is an International Board Certified Lactation Consultant. She loves spending time with her family and helping others find joy in family life.