We live in a fast-paced world where convenience is everything. Now Target Drive Up is making it even easier for us to get our shopping done.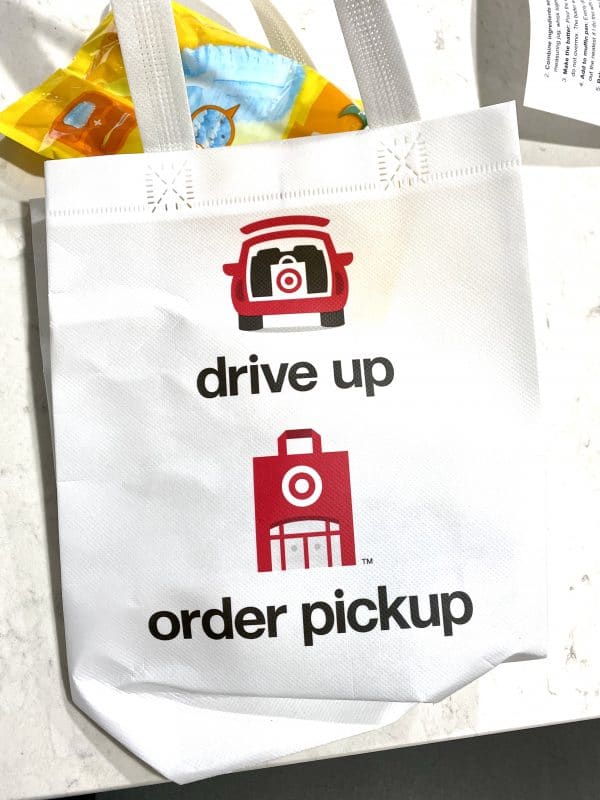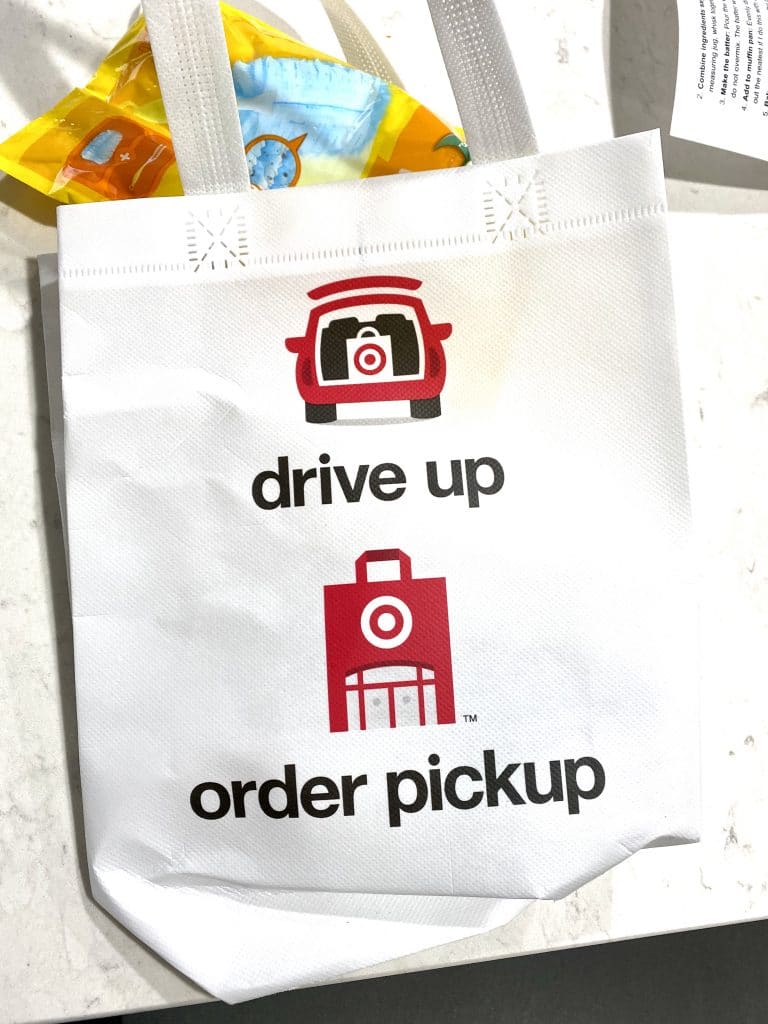 Did You Know About Drive Up Target?
Raise your hand if you love Target.
Imagine me raising my hand and waving it high in the air. That's how much I love Target and I suspect if you are reading this then you do, too.
Target is my go-to "happy place" where I enjoy strolling the aisles and where I find everything and anything I could possibly need. I've spent many hours there while my kids are in school, or when I've needed a little me-time.
And while I love going inside the store to discover things I didn't even know I needed- I also know that going into the store takes time and energy that I don't always have- especially having a one-year-old now- time and energy are limited for me!
And let's be honest- I probably spend way more money when I spend extra time in the store, too.
Enter Target Drive Up service.
The best thing to happen since grocery delivery service or Walmart Grocery pickup!
What is Target Drive Up Service?
Target drive up service is a same day service that allows you to order items through the Target mobile app.
You then pick your items up at a designated parking spot at your local store, where a friendly Target employee comes right to your car window with your items.
How does Target Drive Up work?
It is so easy!
For this service you will need the Target app. Find it here for iPhone and here for Google Play.
Once in the app you simply find the items you are looking for.
Once you click on the item, scroll down to see the different options. If available at your store, a red "pick it up" box will pop up.
Click on that and it will then give you the option for "order pick up" or "drive up".
This is where you need to be careful about what you pick. Order Pick Up is to pick up online orders inside the store at customer service.
The "Drive Up" option is what you are going to want to choose in order to stay in your car, and have your order brought out to you.
I made the mistake of accidentally pushing order pick up one time and sat in my car for a little while, waiting before I thought to check.
After clicking on the "drive up" option it will then be added to your cart. Once you have added all the items you wish to pick up you simply continue to check out and place your order.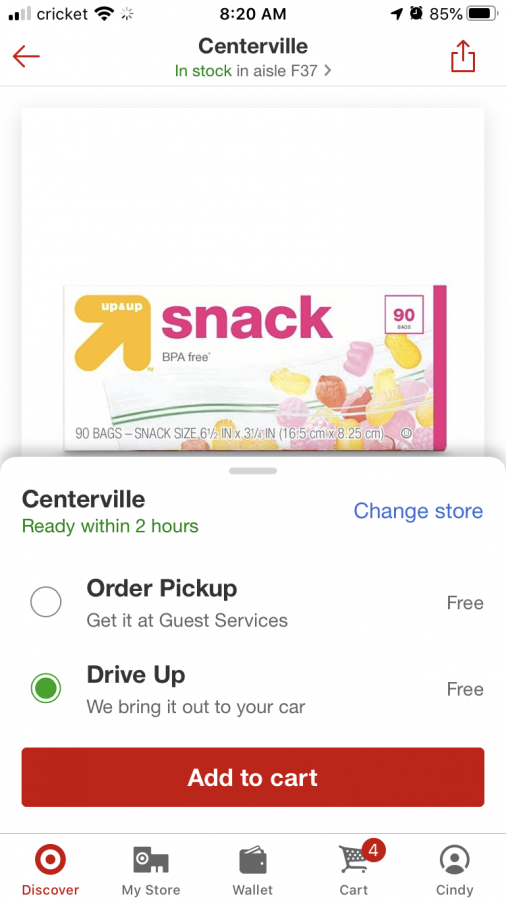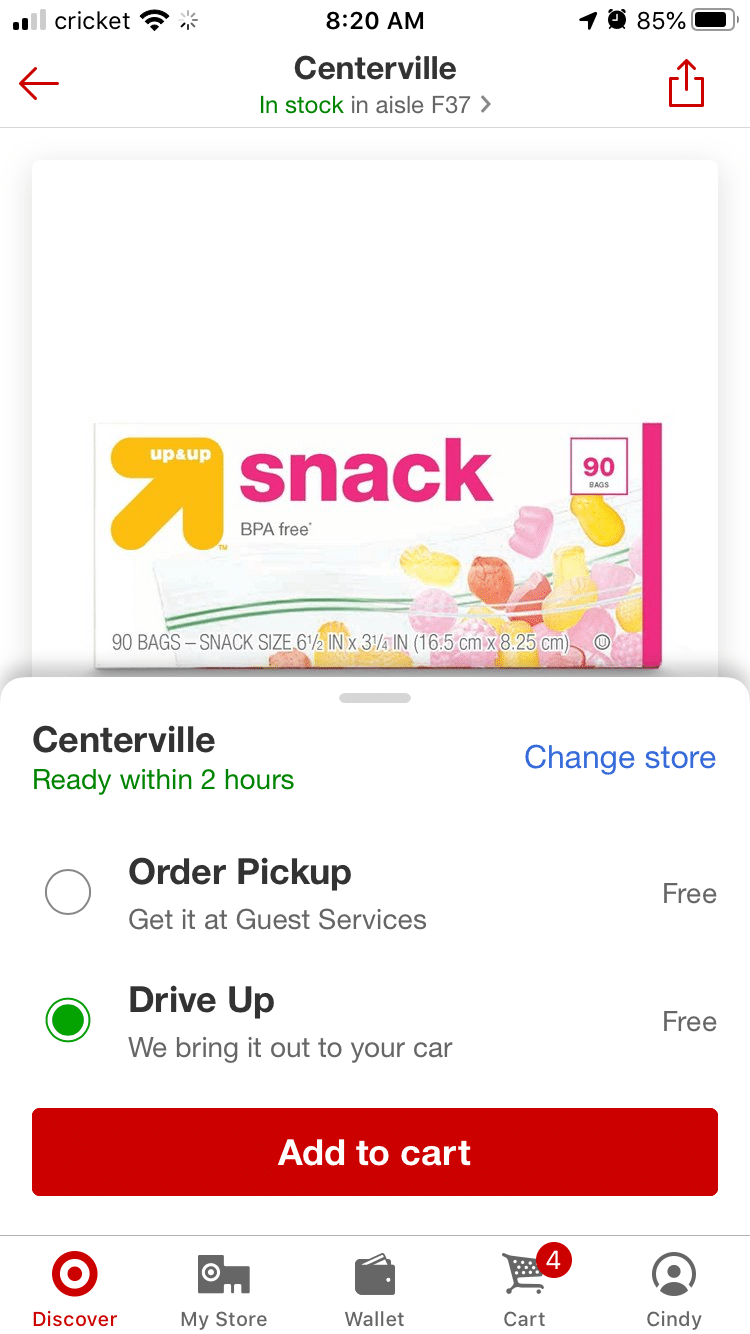 You will then be given an email and a message in the app telling you they are working on your order. Most orders will be ready to pick up within two hours.
How long does Target drive up take?
I have used this service several times and my orders have always been ready within 30 minutes. However, it totally depends on your store and location.
Once your order is ready you will receive a notification in the app and an email. If you've enabled app notifications, you will also be sent a push notification to your phone.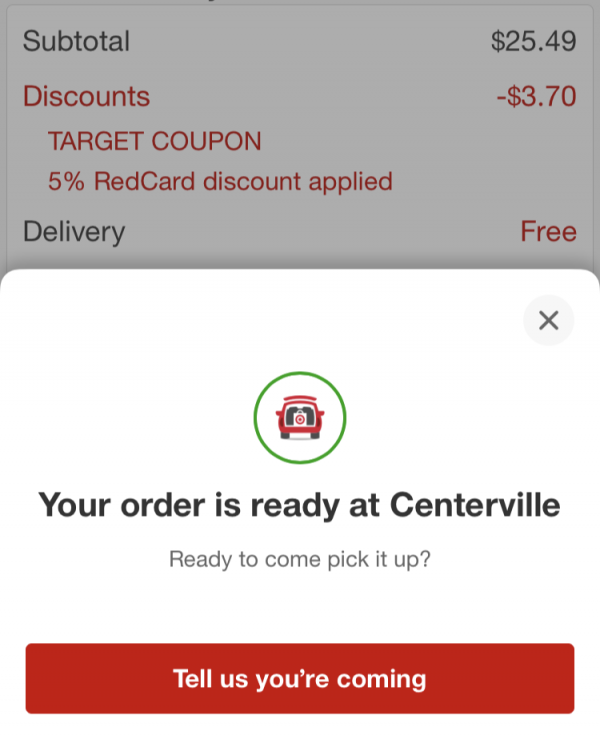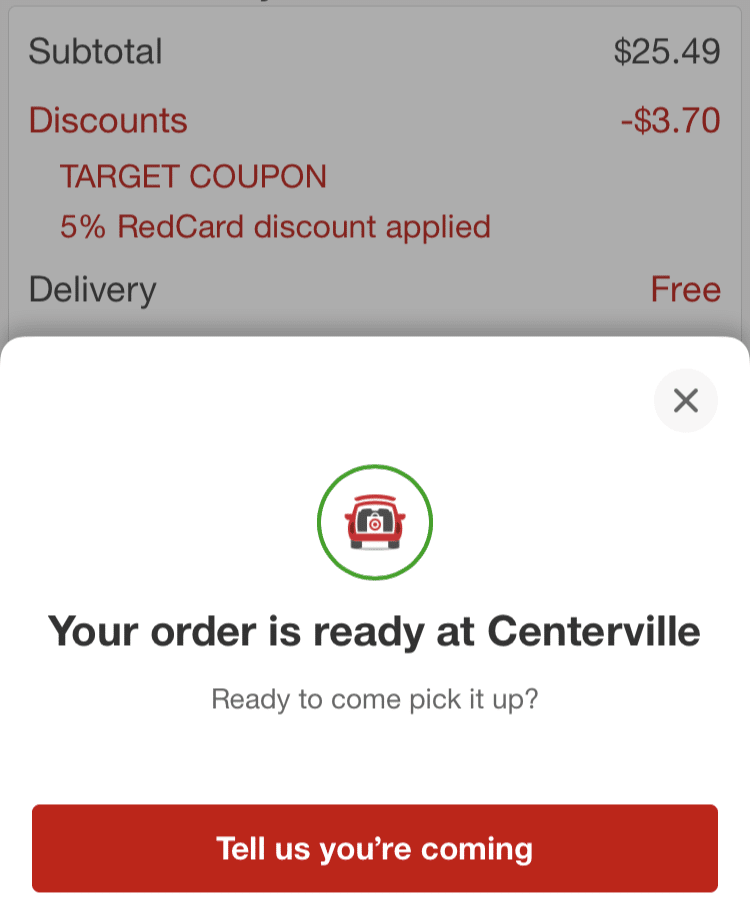 How do I pick up my Target Drive Up order?
When you open your app you will be given the option to click the "I'm on my way" tab which alerts the store you are on your way.
Make sure you allow the app to track your location so they can come out right when you arrive. If you don't wish to allow your location to be tracked you will need to go into the app once you 've arrived and click on the "I'm here" button.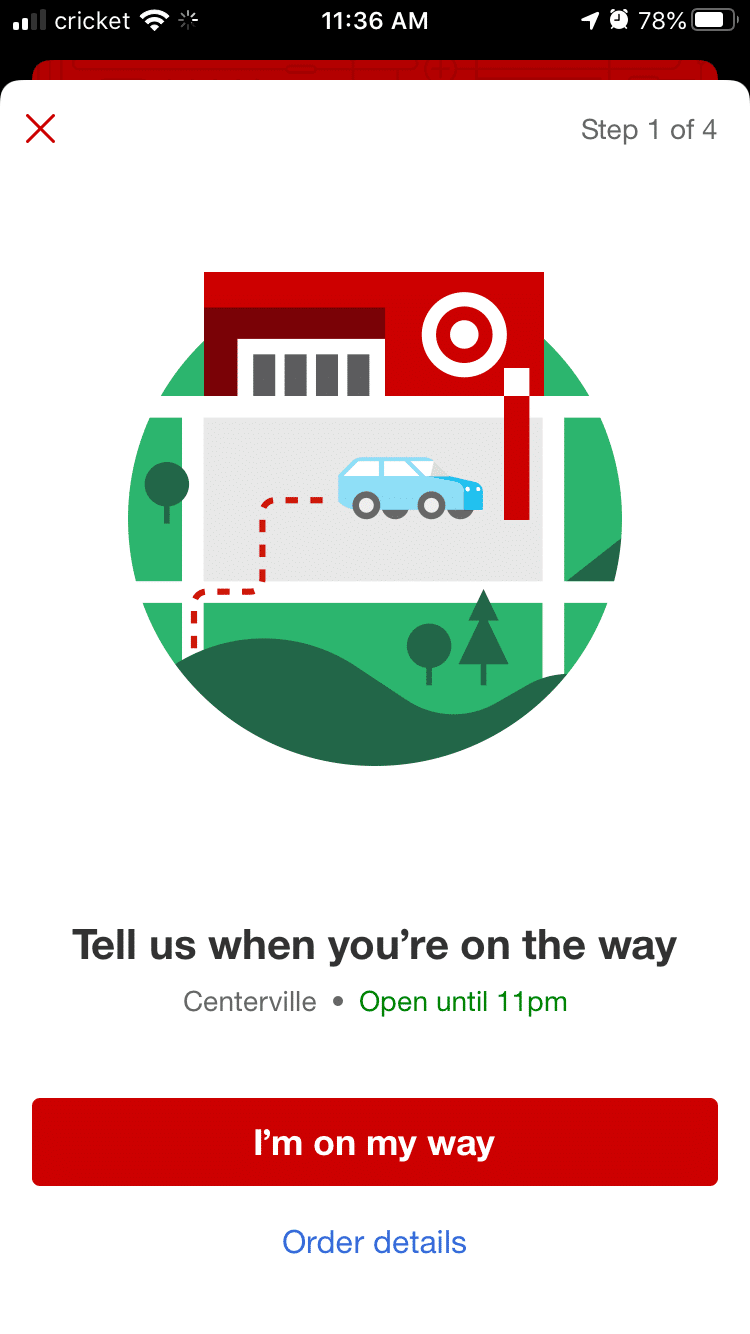 You will be given the option to click what color and type of car you have so they can find you easily.
Each Target will have designated parking spots that are quite visible in the front of the Target store. Park in one of the spots and wait for the employee to come out!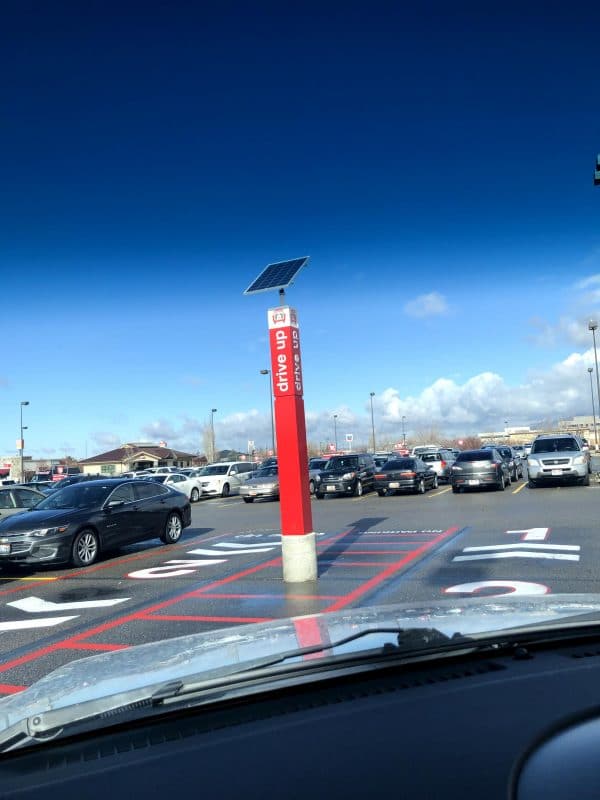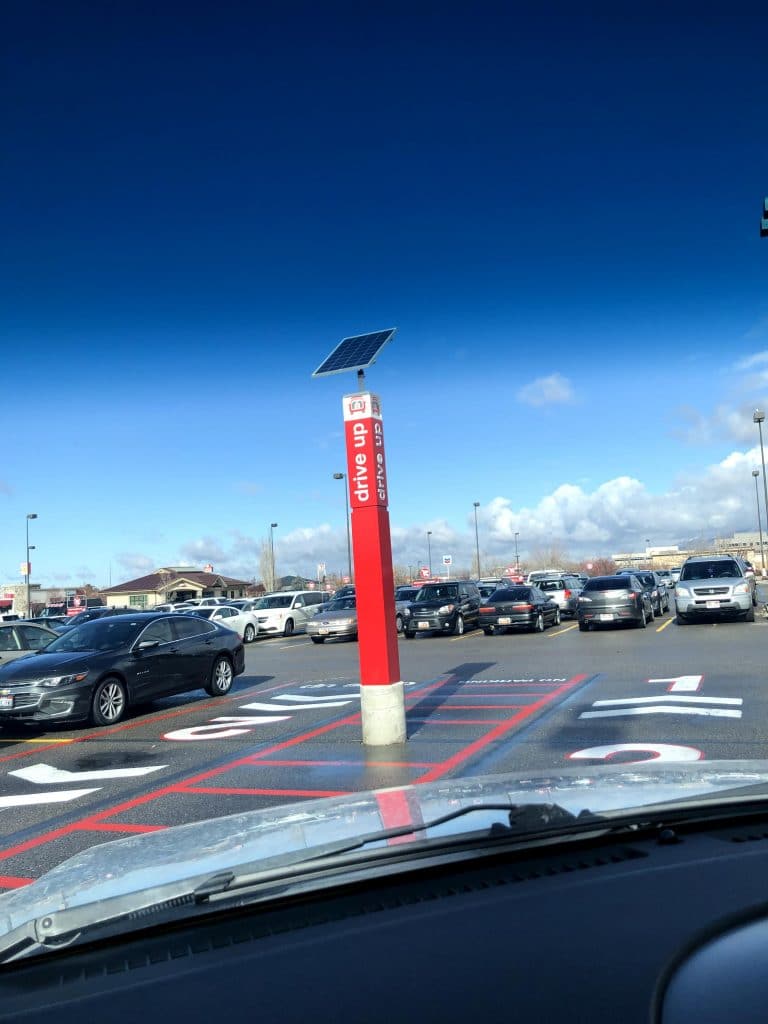 Like I've said, I use this all time and often the employees are walking out with my order as I'm pulling into the parking lot.
A Target employee will come right to your window with your items bagged.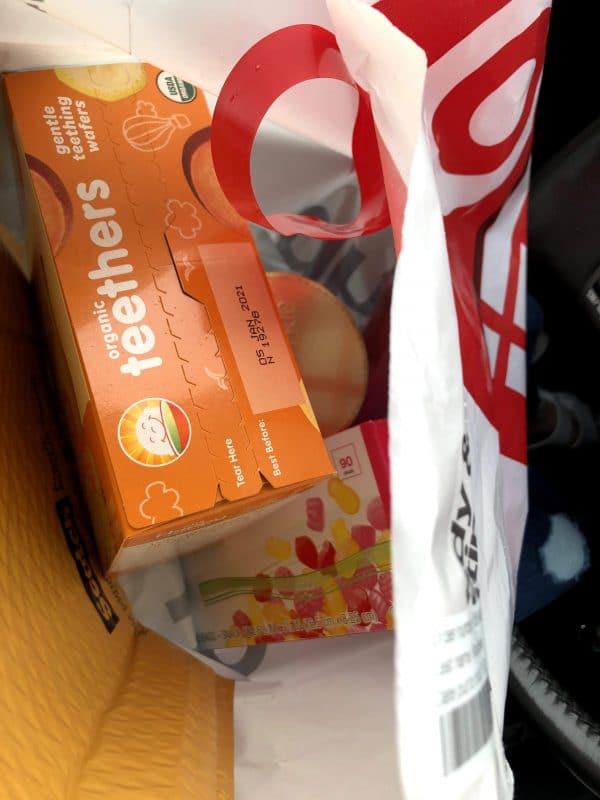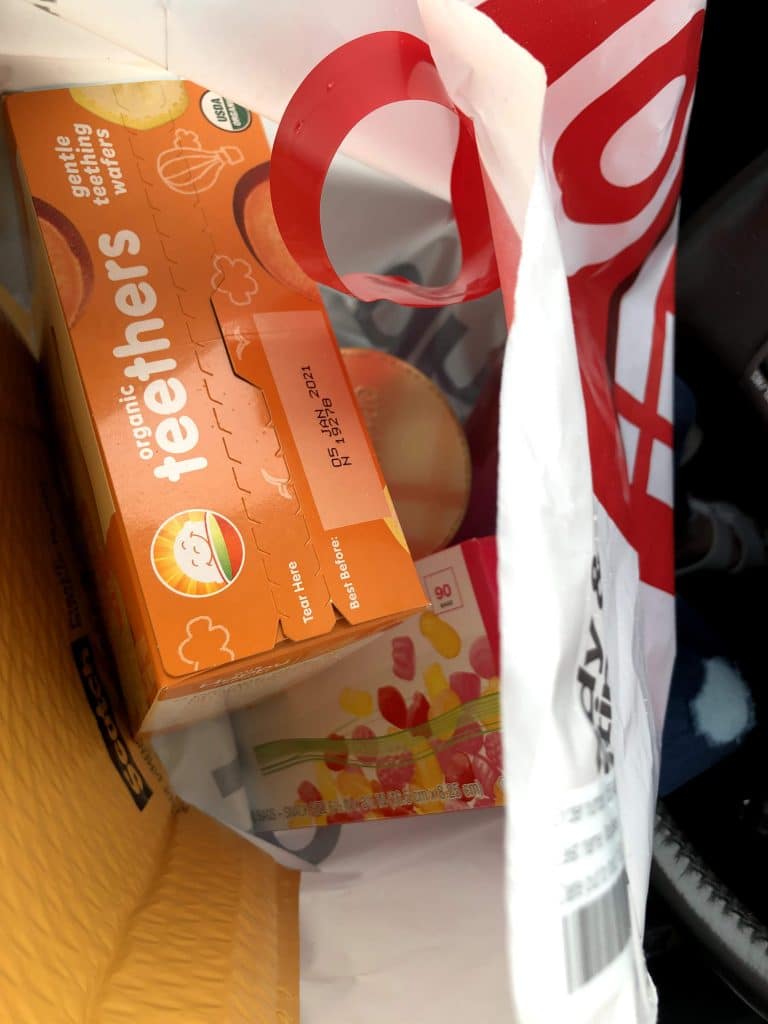 Have the barcode from your order- found in the Target app ready for them to scan.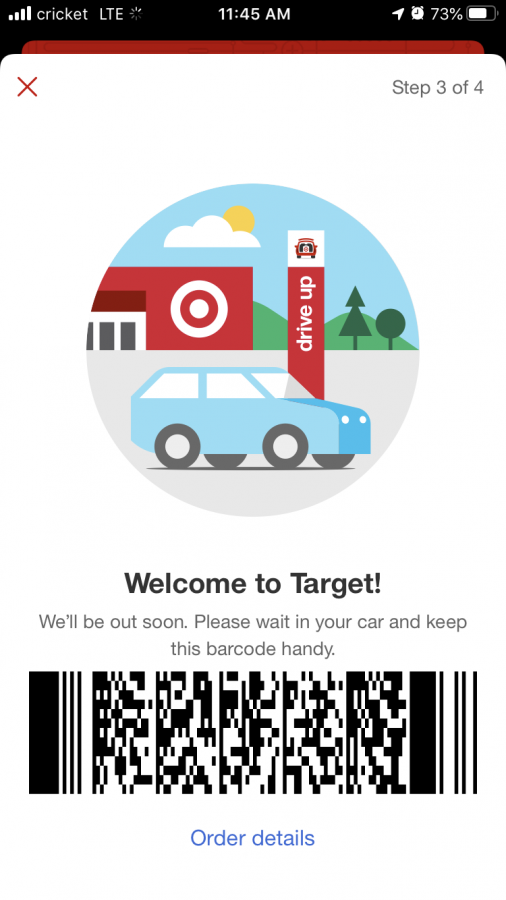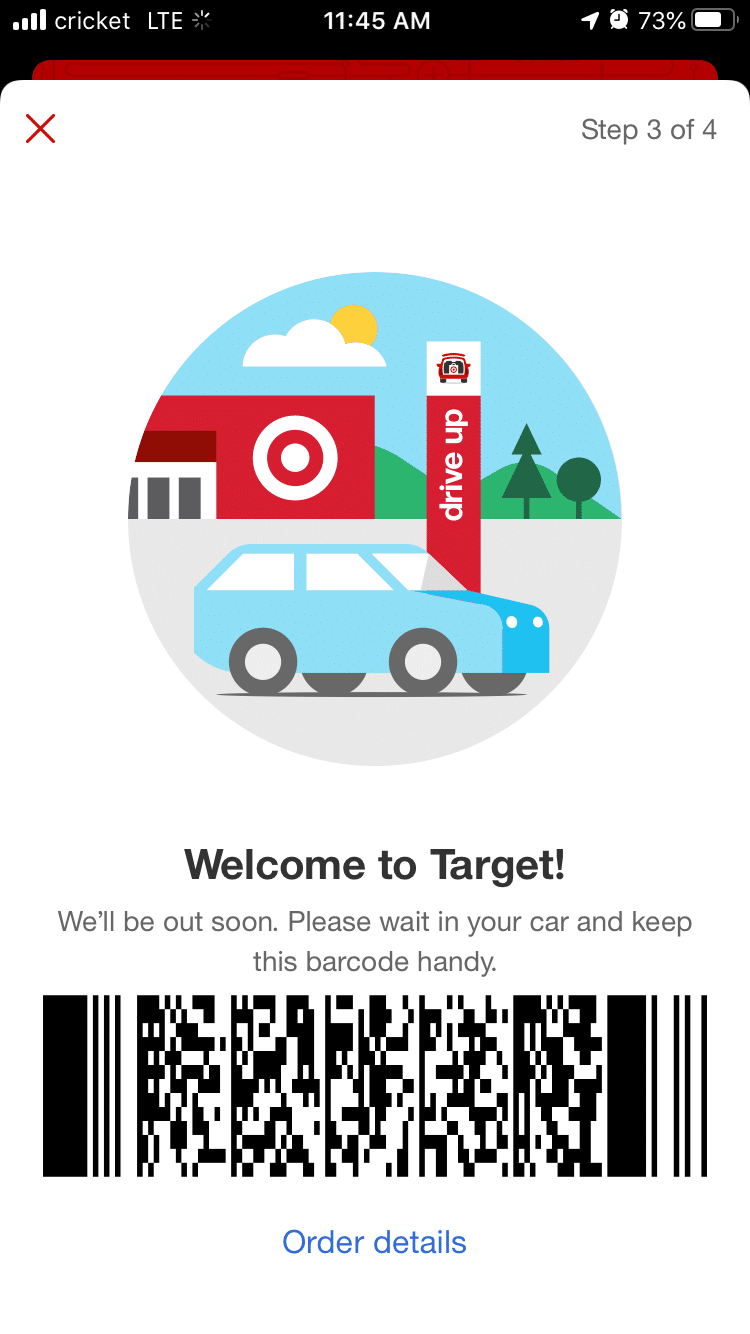 After you have confirmed your order, they will have you sign electronically, your payment method will process and you will be on your way!
FAQ about Target Drive Up
Can I shop for groceries using Target Drive Up?
After using this service for several months now I can tell you that what is available really varies. I have often found that most grocery items
are not
available for pick up. The only way to know for sure is to select your item and scroll down to see if the "pick up" option appears. It is not available for pick up- it will let you know.
If you want groceries from Target, you'll probably want to use
Shipt
.
How much does Target drive up cost?
It is free! We actually have found that the prices are often cheaper on the app than they are in store!
Do you need to tip the employee?
Nope – no tip required.
Is there a minimum order requirement to use?
This is my favorite part- no there is not! I have used it to only order a bottle of nail polish remover!
Can I order pick up furniture using the service?
In my research, I have found that large furniture items, found in the store are not available, but you will want to double-check during your check out process.
Can I place an order on Target.com?
At this time it is only available through the app.
Can I use a gift card and apply my discounts\Target Circle promotions?
Yes. You can choose your payment method and since you are logged into your account any Target Circle promotions will be applied.
How long does Target hold pick up orders?
Target will hold your order for 3 days.
How long does Target drive up take?
They usually give you an estimate, but the longest I've had to wait was about 30 minutes before I got an email saying it was ready – sometimes it's taken as little as five minutes!
Perks of Target Drive Up
So why choose Target Drive up over going in yourself or even having items shipped to your house?
If you have the Target Red Card (and if you don't, what are you waiting for?) then items ship free. If you use the drive up service then you lose the convenience of having something delivered right to your door but you also will have what you need in your hands within hours.
Most times that I use this service they include a little sample pack of products. Several times it has been a baby food pouch and a baby food fruit leather with coupon. I'm not sure if all Target stores do this, but it is an added plus!
I choose to use Drive Up when I only need a few things- or when I don't have time to kill walking around the sore.
It helps me spend less because I'm only ordering what I know I need.
It takes away the temptation of adding end cap items into my cart and it is so much faster than the hour I usually spend inside.
Another obvious perk is you don't even have to leave your car. This is a game-changer for me with a baby. Hopping in the car once and not having to get out (especially for just a few things) has been so nice and saved my sanity on more than one occasion.
Target thrives on good customer service. If there is a mistake or something isn't up to standards they always try to make it right. This is why I love Target. Their Drive Up service is no different.
It is incredibly easy to use and I highly recommend it to everyone.
Target Drive Up Goody Bag
As I mentioned, sometimes you get a sample pack when you do drive up. I'm not entirely sure how they pick who gets these, but occasionally, you might get a little goody bag of samples when you do a drive up order.
Here is what came in mine recently: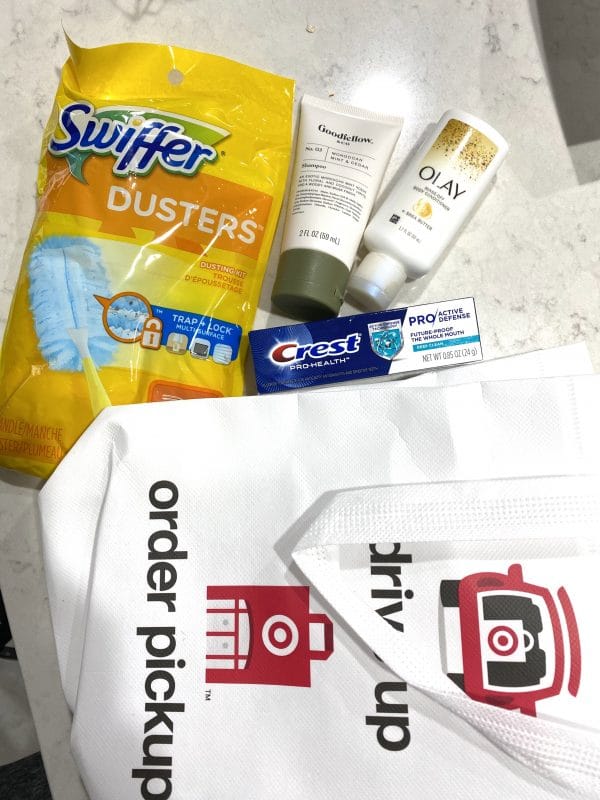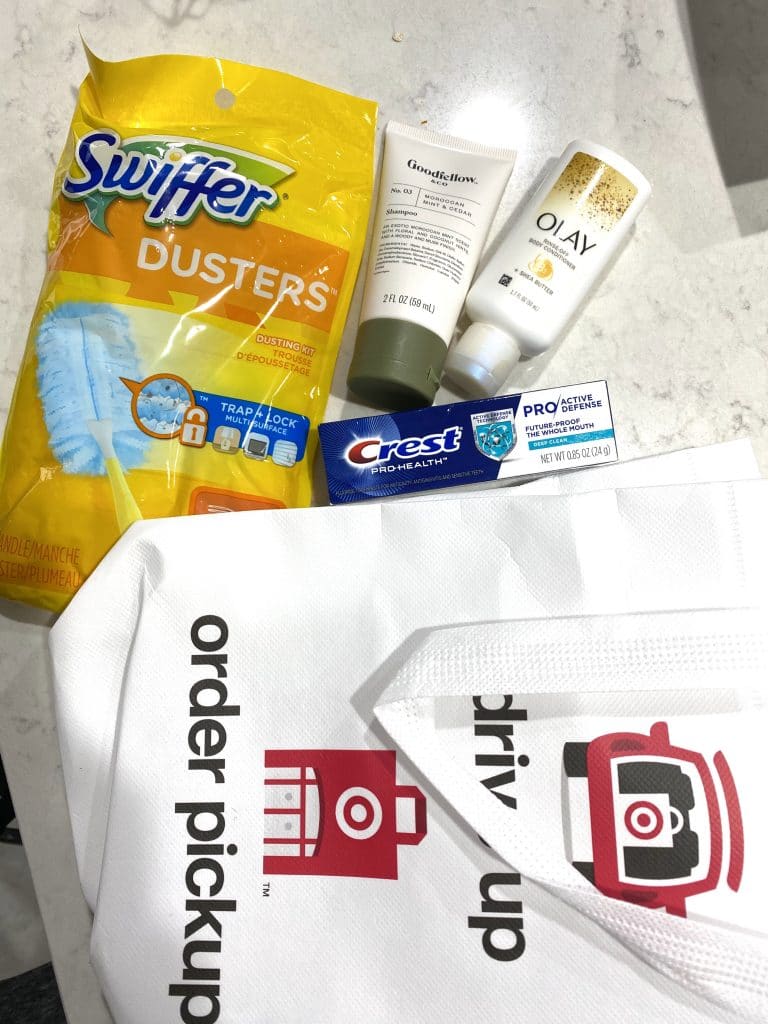 Small reusable shopping bag
Swiffer dusters
Crest Pro-Health Toothpaste
Olay
Goodfellow lotion
Target Drive Up Hours and Locations
Not all Targets offer Drive Up yet – so make sure you check with your local Target to see what they offer.
It IS currently available across all 50 states, so if it's not at your Target yet – it probably will be soon – it's available at almost all of their stores.
Target Drive Up Promo
There isn't any kind of set promotion for Target Drive Up, but you can take advantage of any Circle promotions you see.
Occasionally there may be an offer to encourage people to use Drive Up, so just pay attention to your emails and app for any details!
Remember, you can still get 5% back if you use your Target RED card (debit or credit) with Drive Up, so make sure to consider getting one of those!
Other Posts You May Enjoy
Cindy Maudsley lives in Utah with her husband and five children. Aside from writing, her passions include her family, faith, and spreading infertility awareness. She also loves a good book or podcast, true crime documentaries , Netflix binge, diet Coke and Target run