These pot-o-gold pistachio pudding cookies are the perfect treat for those tricky leprechauns to leave behind this St. Patrick's Day!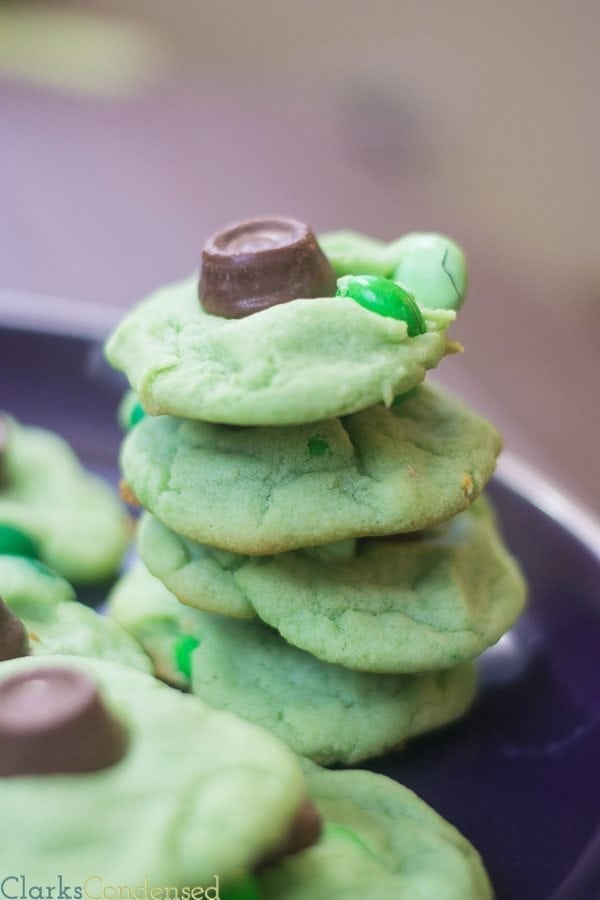 Just in case you are wondering, once you make pudding cookies…it's hard to stop. After I made these strawberry banana cookies, all I could think about was all the other combinations I could think of!
So when I was at Target, and I saw bags of coconut m&ms on sale, a stroke of brilliance hit me. I could make some St. Patrick's day themed cookies with these fun, green m&ms, and one of the many packages of pistachio pudding we had at home. I'm a huge fan of pistachio pudding, and after I tried a pistachio muffin from Sprouts the other day, I've been looking for some kind of baked good to incorporate the pudding into. And these cookies were the recipients. Of course, if you can't find coconut M&Ms, no worries – any green M&Ms will do.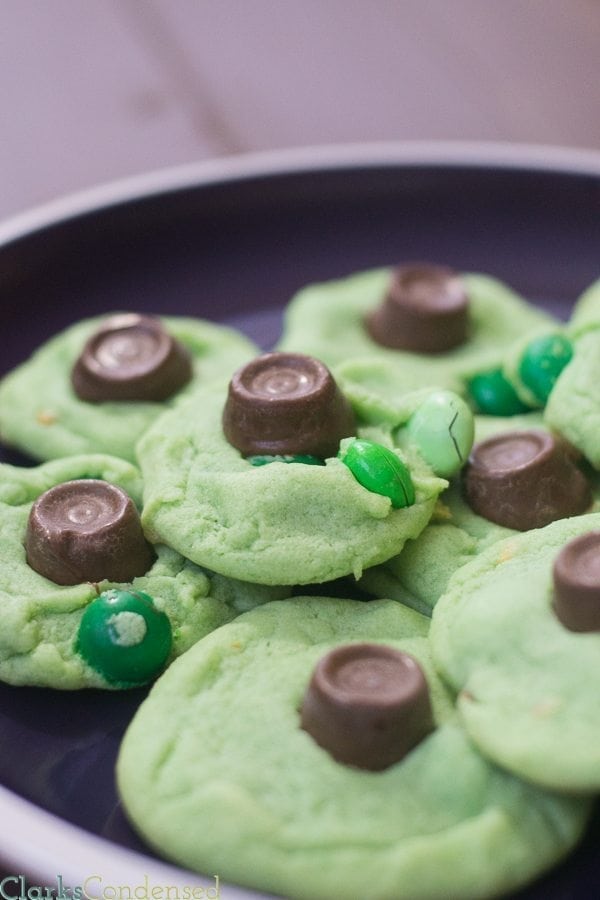 Now, I realize that green foods aren't the most…appetizing. When I showed Forrest these cookies, he had a very surprised look on his face and said, "Um..their green." Because I couldn't really eat them, I sent them with him to work, and I know he was a little nervous about their appearance  But hopefully, in the spirit of St. Patty's Day, people will get a kick out of them.
Regardless of how you feel about green cookies, these turned out SO good. I only ate the parts of the batter that didn't have chocolate (which was so hard…coconut M&Ms are my absolute favorite!) but even that was delicious. Forrest assured me that they were super tasty, and the addition of the "pot-of-gold" (aka, rolos) in the center just made the cookie complete.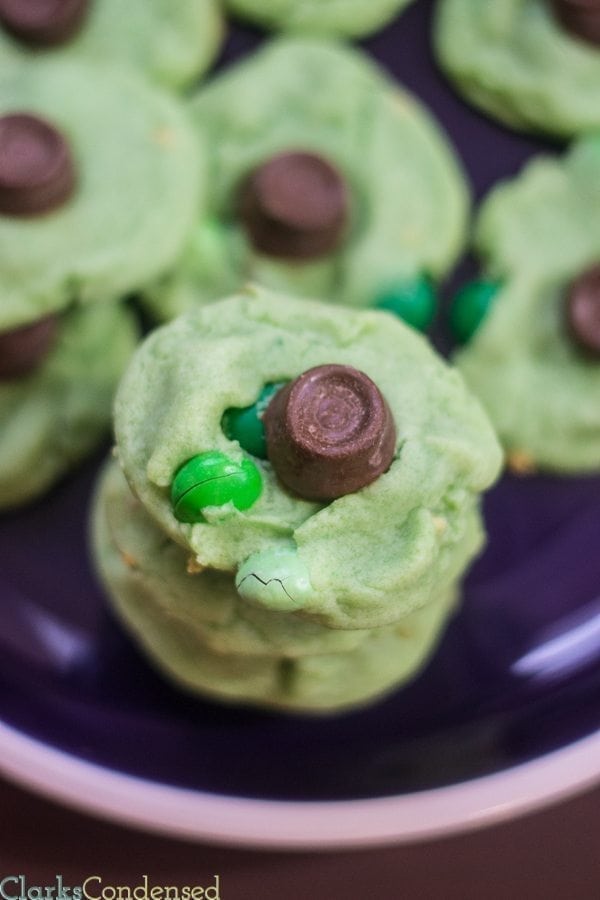 Pair this with a nice, cold glass of green colored milk, and it will be the perfect St. Patrick's day treat. I'm sure any child would be thrilled to see these waiting on the kitchen table on the morning of St. Patrick's, as a treat from a leprechaun!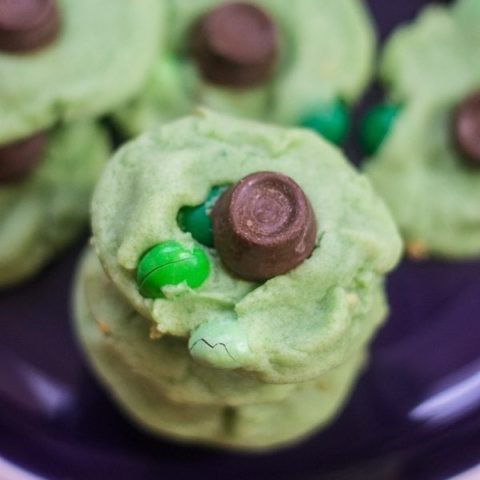 Pot-of-Gold Pistachio Pudding Cookies
Ingredients
1/2 cup softened butter
1/2 cup sugar
1 tbsp green jello mix, any flavor
1 package pistachio pudding mix
1 egg
1 tsp vanilla
1 1/4 cup flour
1/2 tsp baking soda
1/4 tsp salt
1 bag green M&Ms
30 rolos
Instructions
Preheat oven to 350 degrees.
Cream butter, sugar, jello mix, and pudding mix.
After the mixture is smooth, add egg and vanilla, and mix until well-incorporated.
Add in remaining ingredients and mix until everything is combined.
On a greased cookie shot, drop spoonfuls of cookie mixture, leaving about about 2 inches between each cookie.
Bake 8-10 minutes.
Let cool on cookie sheet for about five minutes, and place rolos in center of each cookie while still warm. Transfer to cooling racks until completely cooled.
COMMENT POLICY:
All we ask is that you be kind. We welcome differing opinions, but any comments containing personal attacks, sarcasm, etc. will be removed immediately. Keyboard warriors aren't welcome 🙂 All comments are moderated and may take time to be approved. Anything not pertaining specifically to the content of a post will be removed (including comments about ads).