During my freshman year of college, I cooked a lot. And most of that cooking was really baking. The other night I was at a get-together with my roommates from that year, and one of them said that my cooking was the reason for their freshman 15 weight gain.
Who wouldn't want to be known for that?
Well, one of the baked goods I loved to make was pudding cookies. My sister, Kristalyn, told me about them, and after I made them the first time, I knew I was hooked.
I think that I made them perhaps too many times, because after that year was over, I don't think I made them again. Not until a few weeks ago, at least.
I was perusing my
Google +
home page, when I saw
this delicious recipe from Chocolate, Chocolate and More
, pop up on my feed. Not only did the cookies remind me of my freshman year, but of the cookies that I used to get for free at King Soopers growing up. Do you know which ones I'm talking about? The pink ones that they let kids have for free (and I justified taking until I was about 20…oops.)  I also thought it seemed a bit unique to throw in some jello mix as well.
I must have been feeling particularly hungry that day, because I went straight to the kitchen to make them. Unfortunately, I didn't have the same jello and pudding mixes that her recipe called for. So, I improvised, and used a Strawberry jello mix and a banana cream pie pudding mix. The mixture of these two sounded a bit odd at first to me, but I figured it was worth a try.
And let me tell you, it was a success. I won't tell you how long it took for these cookies to disappear…but it was shorter than I'd like to admit. There was a little bit of tanginess from the strawberry mix, which was evened out with the sweetness of the banana pudding and white chocolate chips. I was wishing I had remember to put chopped nuts in, but I guess that's just an excuse to try the recipe out again. I did half parts of the original recipe, but it still yielded about 20 small cookies.
Strawberry Banana Pudding Cookies 
1/2 cup softened butter
1/2 cup sugar
2 tbsp strawberry jello mix
1 egg
1 tsp vanilla
1/2 package banana cream pie pudding mix
1 1/4 cup flour
1/2 tsp baking soda
1/4 tsp salt
1/2 bag chocolate chips
Preheat oven to 350 degrees.
Cream together the butter, sugar, and the jello mix. After it is smooth, add egg and vanilla, and mix until well-incorporated. Add in remaining ingredients and mix until everything is combined.
On a greased cookie sheet, drop tablespoons of the cookie mixture, leaving a couple inches in between each cookie. Bake for 8-10 minutes. After taking them out of the oven, let them cool on the cookie sheet for about five minutes, and then transfer to cooling racks.
–>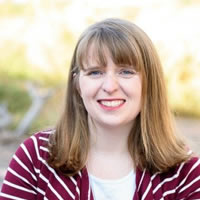 Katie is a Colorado-native, BYU graduated, and most importantly, wife to one and mother to three beautiful boys. She is passionate about sharing her experiences with others – especially about pregnancy, breastfeeding, cooking, and crafts. She is an International Board Certified Lactation Consultant. She loves spending time with her family and helping others find joy in family life.