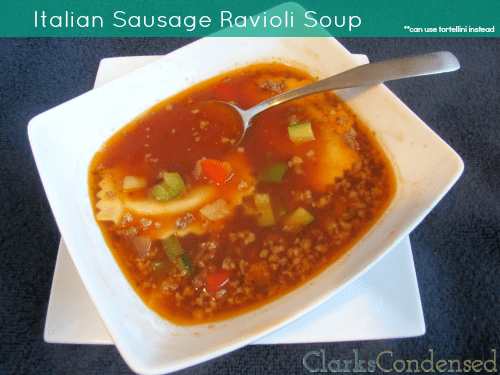 There's one thing I love more than pumpkin season, and it's soup season. Sure, you can eat soup all year long, but when it's 90+ degrees outside, a big, hot bowl of soup just doesn't seem very appealing.
However, when the temperatures start to drop, the sun sets sooner, and I pull out my nice collection of fuzzy socks, there's one type of meal always on my mind — soup. Of course, making the same soup every week can get a little boring, so I like to experiment and find new flavors that work together.
My mom always made different kinds of soup (and still does) so the basis of my soup recipe collection comes from her. To be honest, I'm not a huge fan of brothy soups — I'll take a creamy baked potato over chicken noodle any day — but even my  mom's brothy soups are super delicious. Her chicken noodle soup is the only kind I like.
One of my favorite soups that she makes is an Italian Sausage and Tortellini soup. I think she makes it every time we're back in Colorado. Paired with our favorite garlic knots recipe, it's one of my favorite meals that she makes. It's full of yummy vegetables, a tasty broth, and cheese filled tortellini.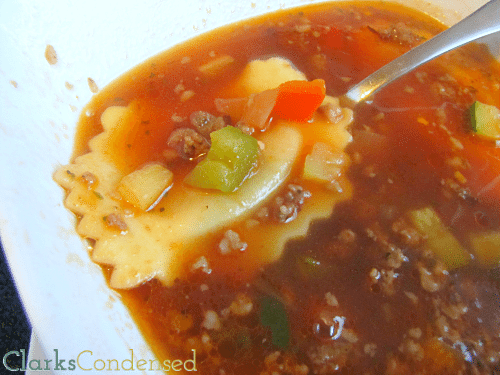 The other day, we realized we had almost all the ingredients, and since it was a slightly cooler evening, I thought I should make it. Sadly, we didn't have any cheese tortellini, but, we did have a package of Buitoni Crab Ravioli, and I thought it was an excellent alternative. I also used my new fresh spices, which really enhanced the flavor a lot.
I think I like this soup so much because it's different than the typical soups I eat. Of course, I think sausage makes anything better, but the addition of the ravioli (or tortellini) and fresh vegetables makes it a knockout.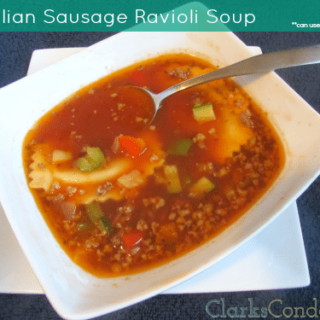 Italian Sausage and Ravioli Soup
Ingredients
1 pound Jimmy Dean Sage Sausage
1 cup chopped onions
2 cloves of minced garlic
6 cups of beef stock
1/3 cup water
1 cup chopped carrots
1/2 teaspoon basil
1/2 teaspoon oregano
1 cup tomato sauce
1 zuchinni, chopped
8 ounces ravioli or tortellini
1/2 cup chopped green pepper
1/2 cup chopped red pepper
1 tablespoon Parsley
Parmesan Cheese (for topping)
Instructions
In a large pot, brown sausage. Drain fat and add onions and garlic and saute for about five minutes.
To the large pot, add the beef stock, water, carrots, basil, oregano, and tomato sauce. Bring to a boil, and then reduce to low. Simmer for about 30 minutes, and skim any fat that appears.
After 30 minutes, add zucchini, ravioli, green pepper, red pepper, and parsley. Simmer for about 10 minutes, making sure the pasta is fully cooked.
Nutrition Information:
Serving Size: 1
Amount Per Serving:Calories: 2528 Total Fat: 70g Saturated Fat: 34g Cholesterol: 86mg Sodium: 5196mg Carbohydrates: 448g Sugar: 49g Protein: 114g
COMMENT POLICY:
All we ask is that you be kind. We welcome differing opinions, but any comments containing personal attacks, sarcasm, etc. will be removed immediately. Keyboard warriors aren't welcome 🙂 All comments are moderated and may take time to be approved. Anything not pertaining specifically to the content of a post will be removed (including comments about ads).