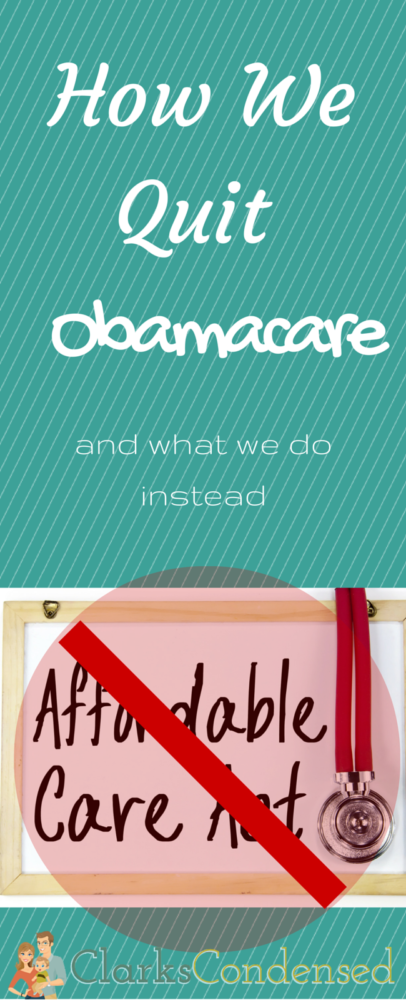 Are you looking for a cheaper alternative to health insurance? Health care sharing ministries are a great and affordable solution. Here is our experience with both Christian Health Care Ministries and Liberty Health Share.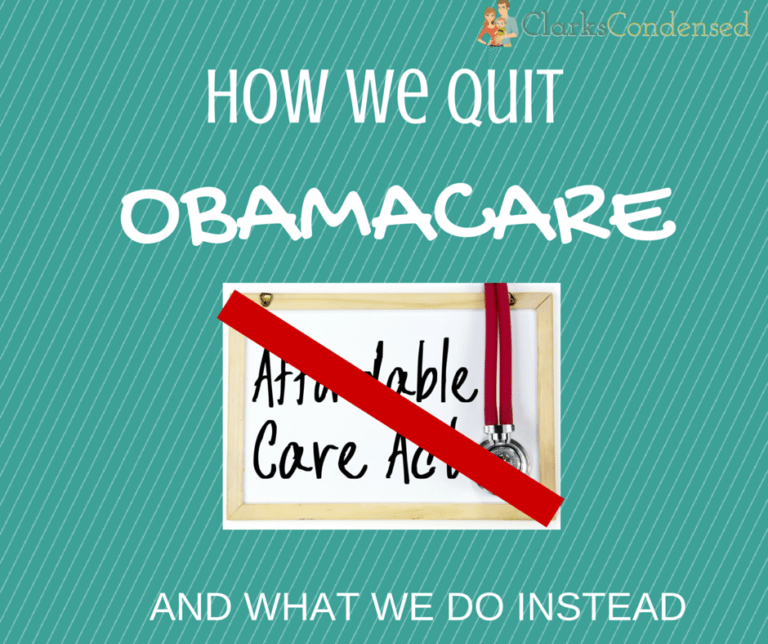 Have you ever put $500 in a toilet and flushed it away?
Well, that's what it looked like we'd be doing when I looked at our insurance premiums this year.
It's not like we were even getting anything for that $500. We were going to be paying that for the opportunity to pay for everything out of pocket, in "hopes" that we might reach $6,000 in medical expenses this year, so our insurance company will pay for those.
Yeah, not so awesome.
Regardless of how you feel, insurance is a mess for many people in this country. I know some people are grateful for the Affordable Care Act (aka, Obamacare), but our family isn't been particularly blessed by it. If you have been, I'm happy for you! Unfortunately, premiums and deductibles are sky high. I know people that pay more for health insurance than their mortgage!
Over the past year, we've spent hours figuring out insurance – talking with people who don't really know what's going on either. As we've picked our insurance for this year, it became apparent that we would be paying a lot of money for very little coverage. I felt frustrated as I looked at the cost.
I had mentioned some of my frustrations on Facebook, and a few friends chimed in about how they started to participate in a health share program. I was intrigued!
Upon further investigation, I found that these are typically run by different Christian sects. Some of them require you to accept a specific statement of faith, while others are broader in their requirements. These are not health insurance, but many of them are considered exempt
These are not health insurance, but many of them are considered exempt under Obamacare. Basically, you pay a monthly "share" which goes toward helping paying the medical bills of other members. So your monthly bill goes directly toward another person's medical need.
I loved this idea, so for a few weeks, I researched all the different health share plans out there, and the legitimacy of them. There are quite a few, and it took me awhile to decide which one was most worth signing up for (or that I could even participate in!) I was beyond frustrated with the options presented to use
I was beyond frustrated with the options presented to use by the Affordable Care Act, so I was determined to find one that would work for us. Here is a comparison chart of the three of the most popular ones I've seen:
(if you are on mobile, press the site menu button and press view desktop site. You will see the chart then, but you will need to scroll right and left to see it all. This is not compatible on mobile devices yet. If you have trouble let me know, and I can send you the chart!)
Health Care Sharing Ministry
Health cost

Signup/More Information: Liberty Health Share
Signup/More Information: Christian Healthcare Ministries
Signup/More Information: Samaritan Ministries
Christian Health Care Ministries Review
Originally, we went with Liberty Health Share (I will share my review below). However, we quickly realized Christian Healthcare Ministries would be a better option. My sister, Kristalyn, signed up for Christian Healthcare Ministries, and after hearing that she had a good experience, we decided to try it out as well.
CHM has a pretty good reputation, and I've found several friends who know and love it as well. It felt like a better, more solid option for us than LHS, mainly because I felt their existing condition clauses were a little more generous. We signed up for the Gold plan (which is $450 for our family of four), so we just have to pay $500 out of pocket each year before they will start paying. We also opted in for brother's keeper, which makes it so if we had something that was more than $125,000, we could still submit it.
With CHM, any incident has to be over $400 before the bill can be submitted.
I love how they send out a very uplifting
Pros:
No sharing limit per incident with Brother's Keeper (this is basically catastrophic coverage)
There is help for pre-existing conditions
Maternity offerings are very generous. You are welcome to use any OBGYN or legal midwife that you'd like. You can also have home birth expenses covered.
The most you have to pay is for three "units" – so I could have five more kids, and they would only count as one (not that I'm planning on having five more kids)
Great customer service – I get responses right away
If you negotiate a bill down, that goes toward how much you have to pay out-of-pocket. For instance, if my bill was $1000, and I negotiated it down to $500, that $500 would be taken from the $400 I would initially have to pay, and I wouldn't have to pay anything.
If you have some kind of bill that is not eligible for sharing (such as for a existing condition), they do have a Prayer Page where you can submit this bill. People can donate to this (which is tax-deductible) to help pay for other's bills that aren't covered.
While they do ask you to agree to certain lifestyle and faith requirements, they aren't nearly as specific as some of the health shares out there. I didn't feel comfortable with Medi-share or Samaritan Ministries faith statements, so I was glad that CHM was a little more broad in their requirements.
Expenses for medical equipment that is prescribed can be shared for up to $4,000.
Cons:
No preventative care – you need to pay for well-child checks, vaccines, mammograms, colonoscopies, etc. out of pocket.
I don't love the process for submitting bills. I wish I could just give my card to the billing people at the hospital and ask them to send the bill to CHM. Instead, I have to say I'm self-pay and either pay everything myself or setup a payment plan while I submit the bill to CHM. We've had people get confused at what we are doing – for instance, recently, Oliver was at the ER for a very high fever. The billing lady was confused and put on our chart that we needed financial assistance, and that resulted in us never getting any bill and a "hold" was placed on our account.
Emergency transportation to a medical facility is not covered. If you are being transported from one medical facility to another, it is covered. However, if you got in a car accident and had to be transported by air or land, that bill would get really high, really fast. I have been looking into some of these options under emergency transportation for coverage of this. I am currently looking into MASA Assist.
From what I understand, it can take awhile to get your bills processed and reimbursed. You will likely have to set up a payment plan with the billing department of the doctor's office or hospital as you wait for reimbursement.
They do not covered alternative treatments, such as chiropractic.
Make sure to sign up here if CHM sounds like a good option for you and/or your family.
Liberty Health Share Review
As I said earlier, we originally signed up for Liberty Health Share. I loved the idea of it. However, I was disappointed with it during the few months I was with it.
First off, for the first year, there is no help for anything related to pre-exisiting conditions. I had read comment threads from people who were denied coverage because, even though they didn't know they had a condition when they joined, it was deemed pre-exisiting because it may have existed before they joined (even if they were unaware).
I also read about people having issues getting bills paid.
I felt like the people I communicated with were not friendly or helpful. I had trouble getting anyone to even respond.
However, I do have a few friends that use and love it. There are some great benefits to it, such as:
Preventative care is covered (including a routine mammogram and colonoscopy)
Medical transportation is covered from the event of an incident
There is a "deductible" of sorts – $500 for one unit, $1000 for two units, and $1500 for three units. Once you hit that amount for your plan, each incident doesn't have to meet a certain amount before they will pay.
They have a health coaching option for people who are considered unhealthy. You do have to pay extra (and it is required for certain people), however, I've heard that it can be really helpful in helping you get health conditions under control.
They do cover certain alternative treatments, such as chiropractic when deemed necessary.
Very broad faith/lifestyle requirements. I feel this is a great option for people of all belief systems.
FAQs about Health Care Share Plans
This is based on Christian Healthcare Ministries, but most share groups have similar rules.
Is it insurance?
No, it is not considered insurance.
Is it eligible under the ACA?
All of the companies I listed above are eligible to give you an exemption from the ACA. Here is information on how to make sure you get your exemption.
Can HSAs be used?
At this time, no.
Is it tax-deductible?
Monthly shares are not tax-deductible. However, if you contribute a donation beyond your monthly share, that is considered tax-deductible.
Can it be used with Medicare?
All the ones I looked at can be, but there are different rules on how it is done. Consult with the organization if you are with Medicare.
Where does the money go?
It goes directly to other members! There are administration fees with most organizations, but those are very minimal. The share that you pay each month goes directly toward paying another member's medical bills.
Can you join anytime?
Yes! There is no open enrollment period. I joined starting February 1st, and I canceled my ACA plan right after.
Will your bills be paid?
This was one concern of mine – what if they ran out of money or refused to pay something that was eligible? From my research, eligible needs are always paid. Christian Healthcare Ministries has a very good track record, and if you are submitting something that is eligible, it will be paid.
My sister and her husband have been using CHM as well, and after an emergency hospital stay for kidney stones, ALL of their need was set to be paid (because they got over $500 in discounts, that canceled out that "deductible".)
How does self-pay work?
By participating in a health care share plan, you are considered self-pay. How you submit bills varies depending on the program. With Christian Healthcare Ministries, you are given a card that you present at the doctor's office. CHM has a great page about exactly what you need to do to submit a bill and get reimbursed. They also have people to help you negotiate a discount, which is awesome.
I found this book called The Self-Pay Patient, and I think it looks very helpful in helping people navigate the world of self-pay!
If you are looking for additional ways to lower health care costs, make sure to read THIS post next.