The secrets to furnishing a home on a budget – you don't have to go into debt for a beautiful home!
This is a sponsored post written by me on behalf of CORT for IZEA. All opinions are 100% mine.
$50.
That's how much our first mattress cost. We had no idea who the previous owners were, and Forrest had to sit out in the cold waiting for his uncle to help him bring it back to our new apartment.
It kind of makes me cringe to think about.
But when you are poor college students about to embark on the journey of marriage…you take what you can get!
However, since then, we've accumulated a lot of furniture…and all of it we got for very reasonable prices (or even free, in some cases). So if you are looking to furnish your home on a budget, hopefully, these tips will help!
Make Lists
I think it's important to know what you already have and what you need. If you just jump into furniture buying without taking inventory, it can be a lot more. So, I recommend making three lists:
What do you have?
What do you need?
What do you want?
After you've determined what you already have, you can decide if it can be used in ways for things you might need. Then, after you've exhausted that list, you can move on to the what do you need list and prioritize things in order of importance.
For instance, a bed is probably more important than a side table. This is helpful when you have a limited budget and can't buy everything at once! Then the "what do you want list" is nice because when you have a little extra money, you can pull something off that list.
Discounted Furniture
I think the only piece of new furniture we have in our house is our mattress and bed frame…and we got that for a killer deal. However, most of what we have is pretty nice/barely used.
We recently learned about CORT Clearance Center, which offers affordable, discount furniture and quality furniture for up to 70% of MSRP. Forrest and I had never heard of it before, but when we heard there was one nearby, we thought it was the perfect place to look for a dining room table (our current one is rickety and not nice!)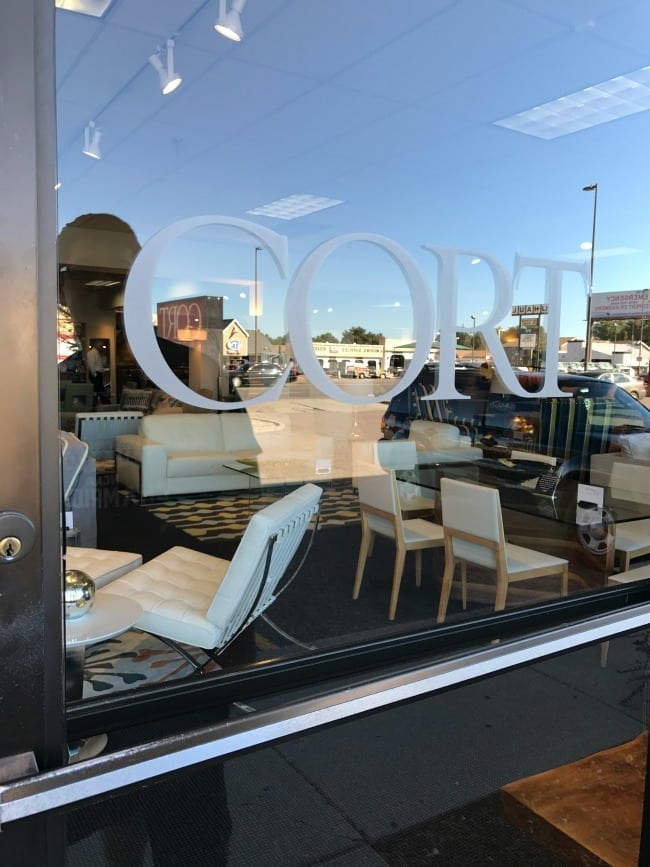 I was very impressed with the friendliness and knowledge of the staff. As soon as we arrived, they greeted us, offered to tell us about the store, and asked if they could help us find anything specific. While the furniture was very affordable, it was definitely not cheap.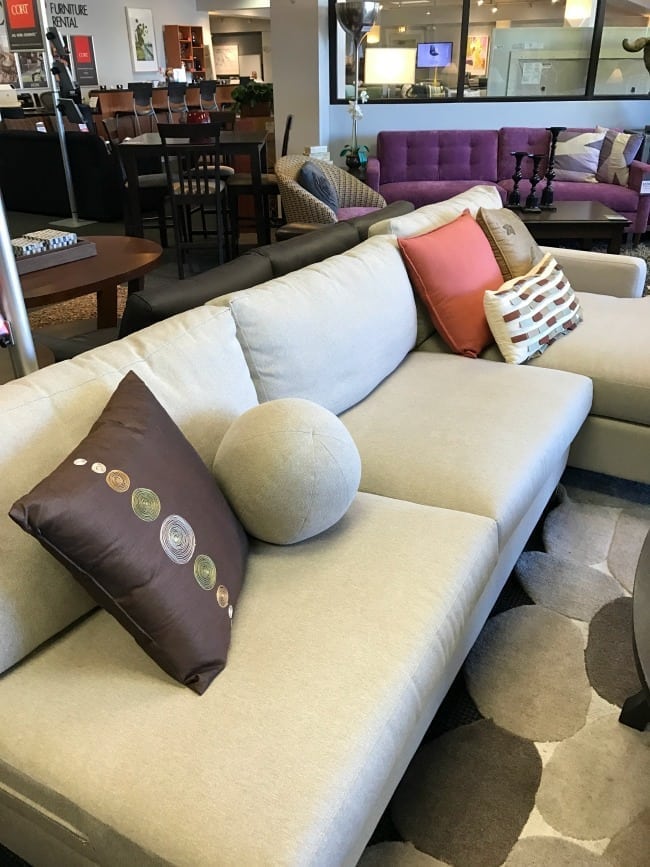 A lot of the products have been retired from their rental program, which is why they can be so affordable. As Forrest and I walked through, I couldn't believe how inexpensive some of the products were.
Even their brand new items were very competitively priced. Something we really liked was their "Home to Go" packages. It includes everything you need for a room (for instance, a bed, dresser, nightstand, etc.), and they give you additional discounts over buying pieces individually.
This is a great option if you are furnishing a home for the first time – like if you are getting married!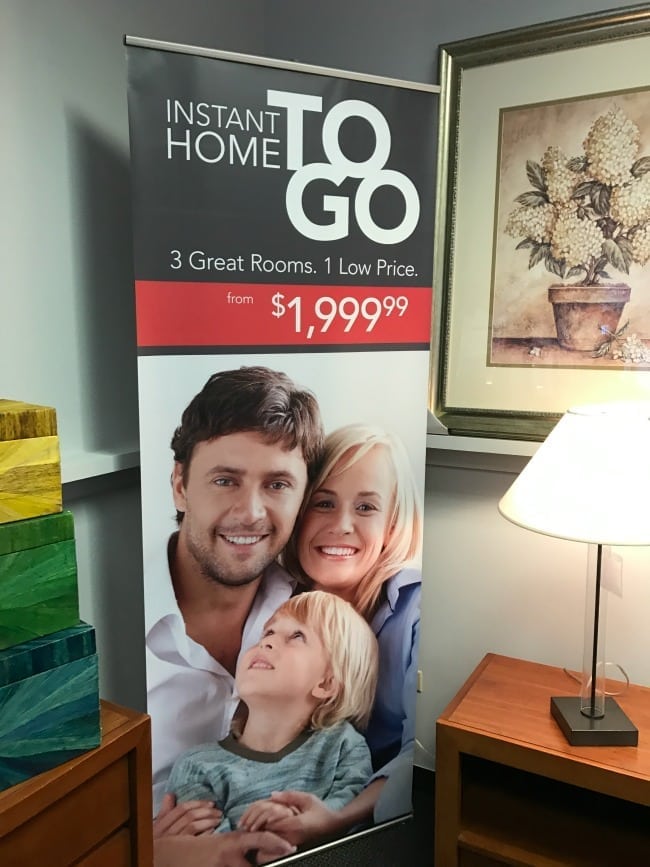 It's also nice because they have the CORT Certified program, so that if you find any issues with your purchase within 90 days, you can get a full refund!
Buy Slowly
When we moved into our new house a few months ago, my eyes lit up with all the projects I wanted to get done. However, I slowly came to the realization that it's a marathon – not a sprint and that we didn't have to do EVERYTHING all at once.
The same thought process can be applied to furniture. You don't have to buy everything all at once – and if you do, it can be more expensive than you might be able to handle.
I strongly recommend resisting the urge to buy everything and anything – especially if you are tempted to do it on credit. Of course, in some cases, like with CORT's full room offers, you can save money.
But for the most part, just start with the items you need and build up from there. It gives you more of an opportunity to find the best prices.
Garage Sales, Craigslist and Consignment
Sometimes the best discounts on furniture can be found at these locations – however, you have to be pretty diligent. You are competing against other people (especially in Facebook yard sale groups), and sometimes, things aren't as good as they may seem.
However, you can occasionally find some great finds at these places. Just make sure you are getting a good deal – some people will try and sell things for more than they are worth!
We often have found free furniture in all of those places (a kitchen table and a nice microfiber couch!), so it's worth it to look around.
You have to be fast, so if you are looking for something specific, check often.
Just make sure you stay safe! Never go to someone's house by yourself, and if you can, meet in a public place. Obviously, if you are buying something like a couch or a large piece of furniture, this isn't possible…but you just need to be careful!
DIY
I love farmhouse tables. They are so beautiful and to me, they are representative of family values. However, they are a bit pricey.
We actually saw one at CORT. It was a bit out of our price range still (though still very reasonable), and they were having someone come in to refinish it, so it wasn't available for purchase.
But it got me thinking – I bet we (coughForrestcough) could make one! So I looked on Pinterest, and lo and behold, there were free farmhouse table plans, and, besides buying a few new tools, it would cost under $100. Not everything can be made – and it's not always worth the time and materials if it can be.
However, if you are pretty handy, you have tools at your disposal, and you have some time, making your own furniture can not only make things more affordable, but the furniture might just have more meaning to it.
You can also buy furniture that might not be totally your taste and update it by painting, refinishing it, etc.
There were a lot of pieces at CORT that I thought was very good quality, but I could do a few changes to make it more my style.
Avoid Delivery Costs
Sometimes, this is inevitable. Not everyone has access to a truck or large vehicle to transport furniture – we sure don't.
However, if you are able to avoid delivery costs, it's worth doing, as it will save you a good chunk of change (most delivery I've seen between 75 and 200 dollars). I was impressed with the prices that CORT had to offer for furniture.
We live about 30 minutes from the store, and with the items were looking at, it just wasn't going to be feasible to avoid delivery costs. However, the prices they estimate for us were reasonable.
Multi-Use Furniture
Buy furniture that can be used for different purposes. For instance, you can buy a couch that turns into a bed – instant guest bed!
Futons can also be used for different purposes as well. Not only is this a thrifty thing to do, but it also helps with clutter.
I think many of us have so much stuff in our house – wouldn't it be nice to be able to consolidate a little bit. I love being able to have less furniture around to trip on!
Quality or Cheap?
It's often a double-edged sword when it comes to buying big purchases. I think most of us want to get the best deal possible…but you also have to weigh the cost of buying something for cheap that isn't very good quality, as opposed to paying a little bit more for something that will last longer.
I mean, if you buy some cheap furniture, but it wears out in six months…are you really saving anything?
Which is again why I highly recommend finding your local clearance center near you, or visiting their online store. CORT Clearance Center offers very AFFORDABLE furniture, but it's not cheap quality.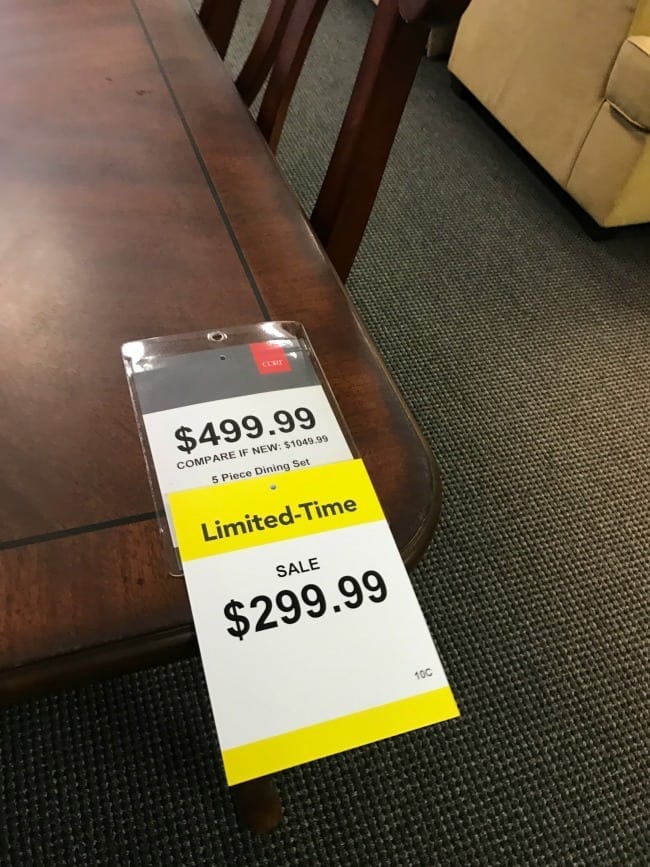 I am being 100% genuine when I say that it is the best clearance furniture stores I have ever been to. And the best part? They get new inventory every week. It's always worth checking back to see what they have!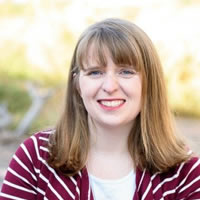 Katie is a Colorado-native, BYU graduated, and most importantly, wife to one and mother to three beautiful boys. She is passionate about sharing her experiences with others – especially about pregnancy, breastfeeding, cooking, and crafts. She is an International Board Certified Lactation Consultant. She loves spending time with her family and helping others find joy in family life.