This marshmallow salted caramel popcorn will disappear faster than it took to make it (which isn't very long.) It has a perfect balance of sweetness and saltiness, and it's perfect for movie night.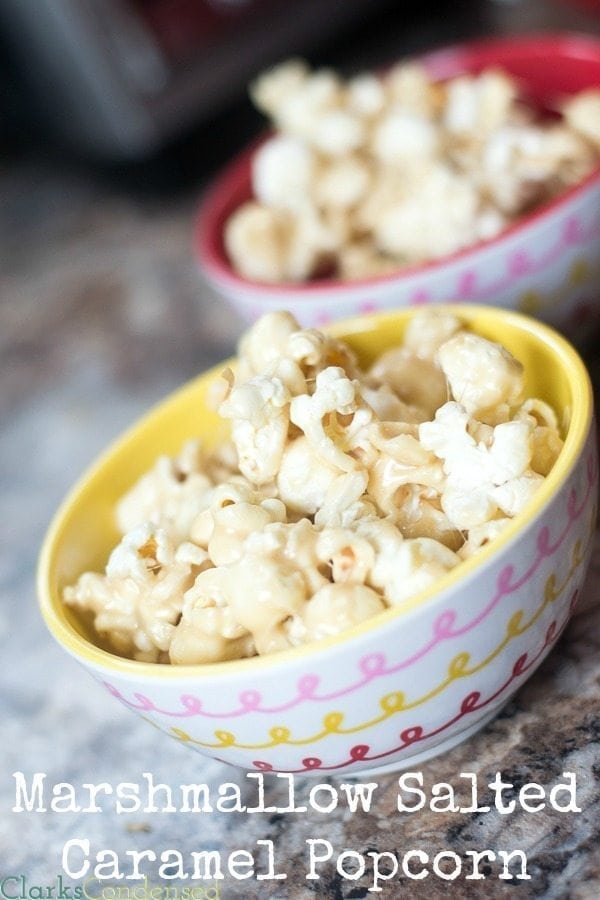 This post was done in sponsorship with Linqia and Pop Secret. All opinions are my own.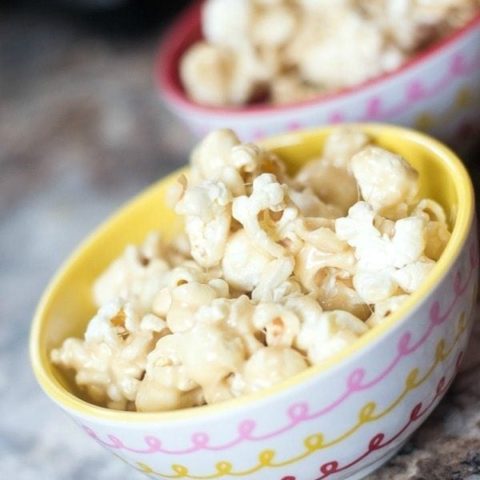 Marshmallow Salted Caramel Popcorn
Ingredients
1/2 cup butter
1/2 cup brown sugar
1 teaspoon salt
1/2 bag regular marshmallows, 16 ounce bag
8 cups popped popcorn
Instructions
In a large sauce pan, melt the butter, brown sugar, and salt together.
Once melted, add in the marshmallows and stir until marshmallows have melted.
Immediately pour over popcorn and stir until all popcorn is coated with a rubber spatula.
Let set for about 10 minutes before eating.
If there's one treat we love in our house, it's popcorn. I grew up loving popcorn – we would always have it when we watched movies as a family, and it always seemed like such a fun treat. As I left home, I continued enjoying the treat, and it's something that Jack and Forrest both enjoy as well.
Jack loves waiting for the popcorn to pop – whether it be in the microwave or a popcorn popper. He can hardly contain his excitement as he waits for the delicious treat to be done, and he loves digging in right away. Who can blame him!

Most often we just pop some popcorn and eat it without adding anything to fancy, sometimes it's fun to dress it up a little bit. When I was growing up, whenever I would spend the night at my friend Cortney's house, we would always beg her mom to make us her famous marshmallow caramel popcorn. I loved it because it was sweet, gooey, and delicious (and not crunchy – I don't like crunchy/hard popcorn.) I believe it was a pretty similar recipe my sister, Diana, started making a few years ago, and I always love it.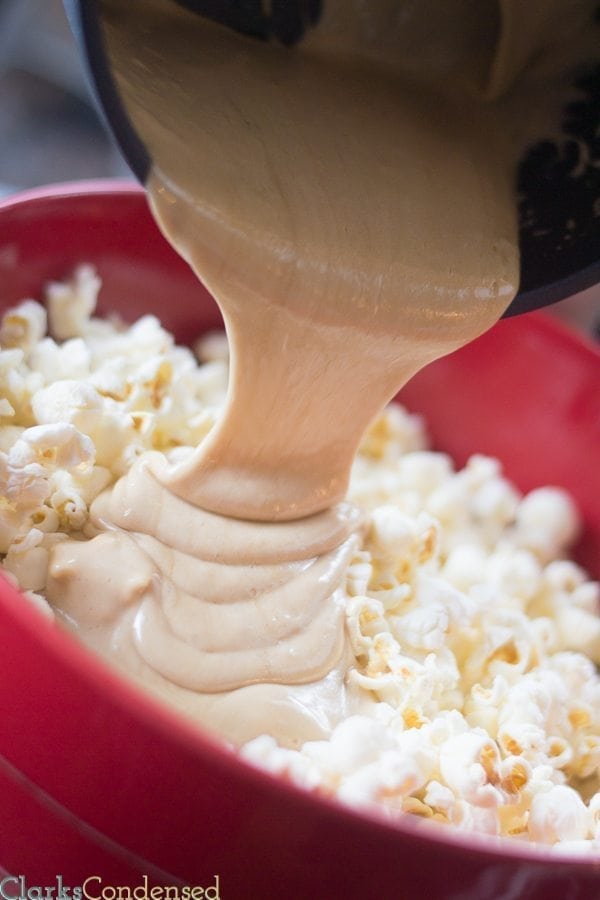 The other day, it was snowing up a storm, so Forrest and I thought it would be fun to pop some popcorn, build a fort, and watch a movie. It had been awhile since I made any "fancy" popcorn, so I thought it would be fun to try out some marshmallow caramel popcorn. However, the thought dawned on me that it might be fun to make salted caramel popcorn. Salted caramel is one of my favorite flavor combinations, so I thought it would taste delicious.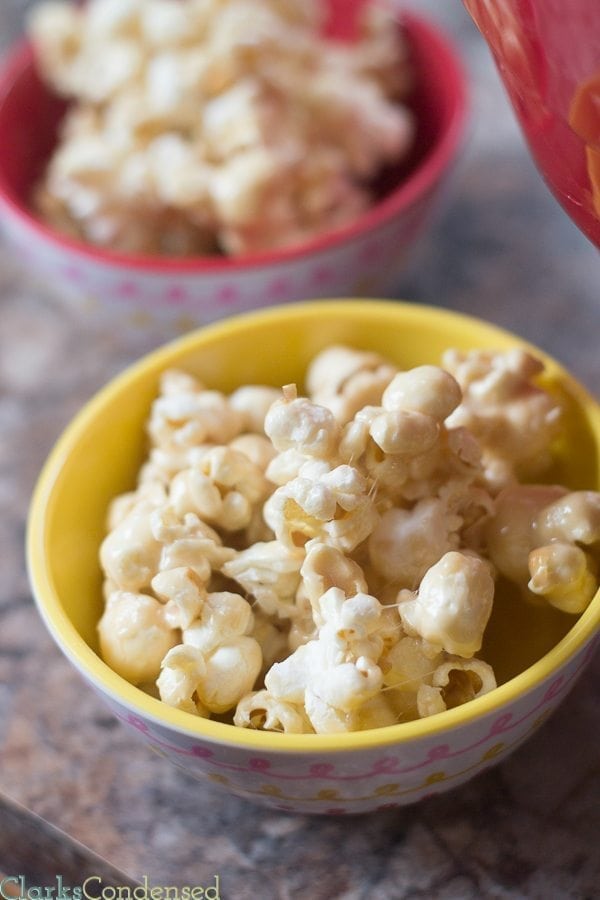 Jack really enjoyed helping me (or, eating marshmallows as I made the popcorn. I think that slightly more.)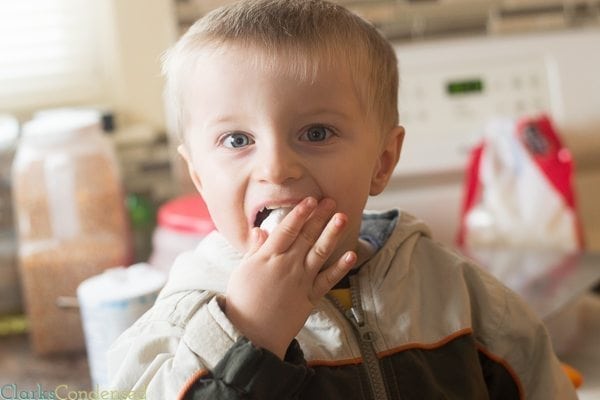 After we made the popcorn, we went downstairs to find a fort that Forrest had made for us. Jack was so excited!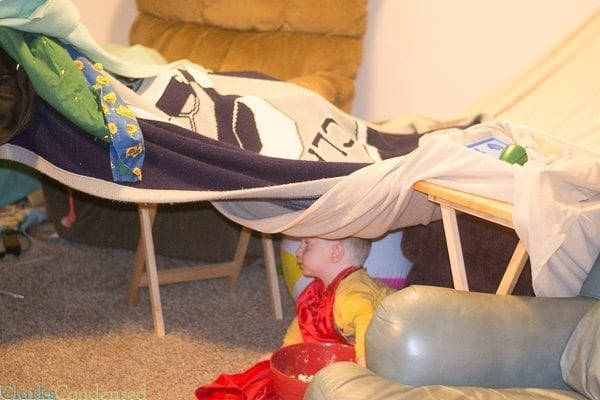 It may not have been that fancy, but it sure was fun! It reminded me of all the forts I used to make with my big brother when we were growing up. We had a lot of fun playing under it, and, of course, eating our salted caramel popcorn!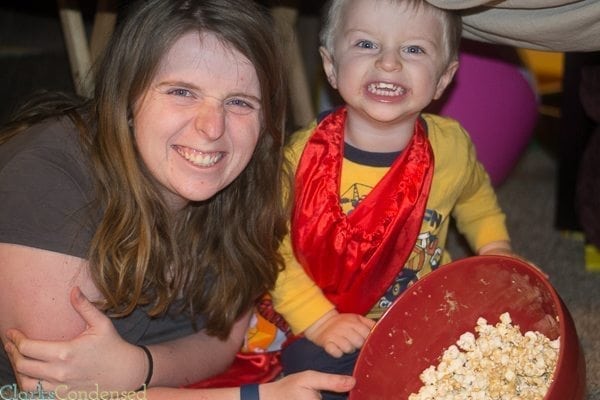 Petra Black was the winner of the giveaway. Thanks for all the entrants!
COMMENT POLICY:
All we ask is that you be kind. We welcome differing opinions, but any comments containing personal attacks, sarcasm, etc. will be removed immediately. Keyboard warriors aren't welcome 🙂 All comments are moderated and may take time to be approved. Anything not pertaining specifically to the content of a post will be removed (including comments about ads).