No movie is complete without some delicious caramel popcorn! This recipe can be made entirely in your Instant Pot or pressure cooker (and it's absolutely DELICIOUS).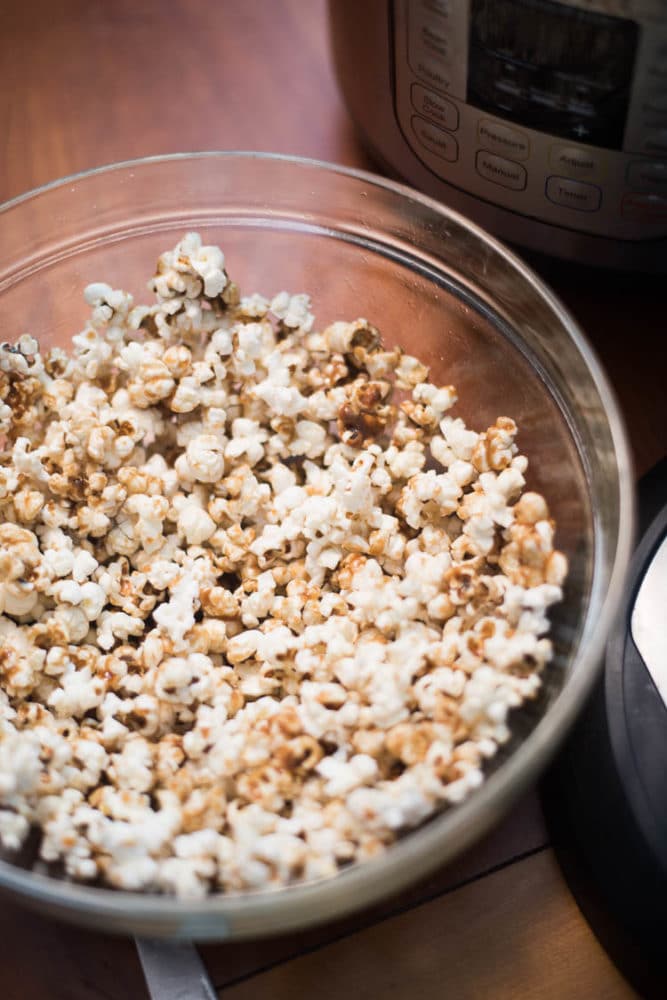 Instant Pot Caramel Corn
This is a sponsored conversation written by me on behalf of SANUS. The opinions and text are all mine.
Whenever I tell Jack we are going to have a movie night, he is totally elated.
All day long, he reminds me about it and asks how much longer until we can get started.
I love that he enjoys spending time with us, and I hope that he always will. Oliver is starting to pay attention more during movies, too, so it's becoming even more fun.
Of course, most movies nights involved pizza and popcorn, which I think might add to the allure.
The other night, I decided to make an even more special treat – caramel popcorn.
Oh my goodness…my boys were totally beside themselves with excitement when they found out.
Oliver stood by me as I made it, and when I put it in the bowl, he couldn't help but go "mmmm" and start sneaking a few pieces.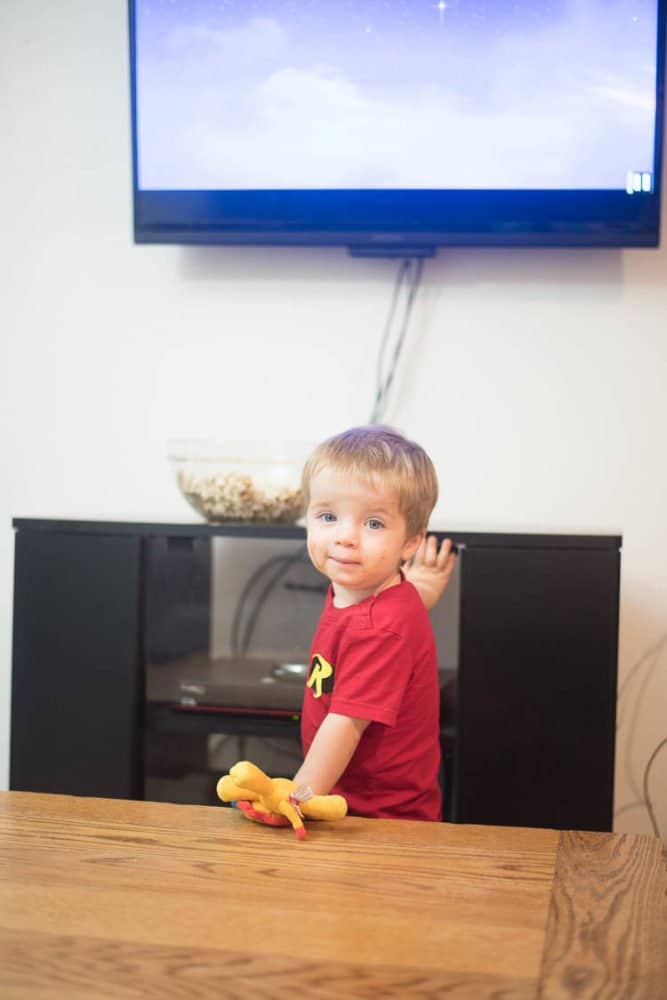 Jack exclaimed that we needed to make our popcorn like this every time.
Fine by me!
We decided to watch Cars 3 for our movie night, which was perfect. It's fun for all ages, and our boys loved it.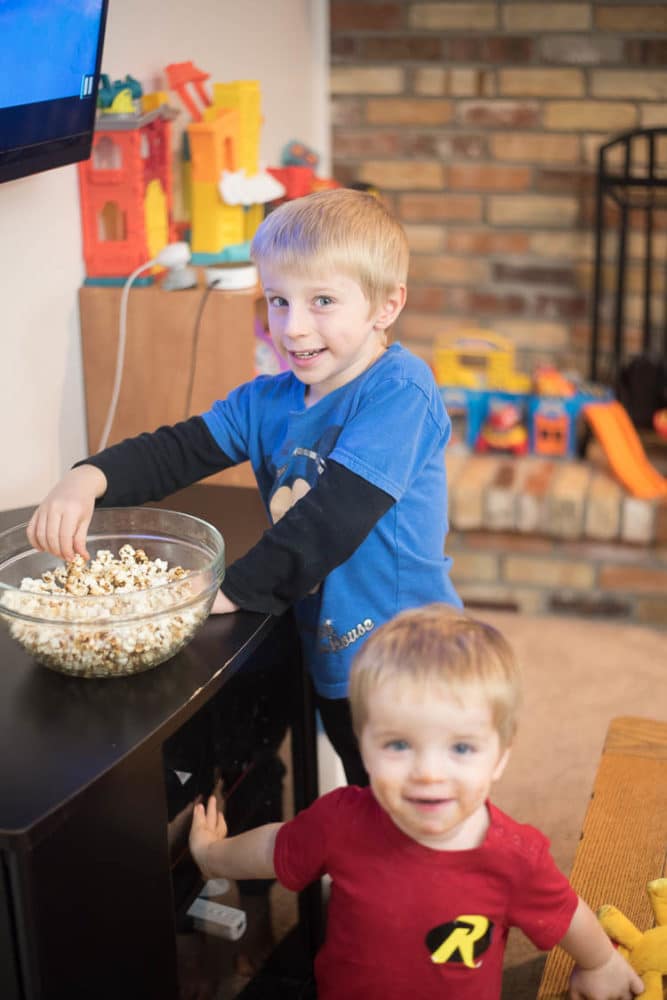 We recently set up their little teepee downstairs, and they both sat in it most of the time. It was adorable.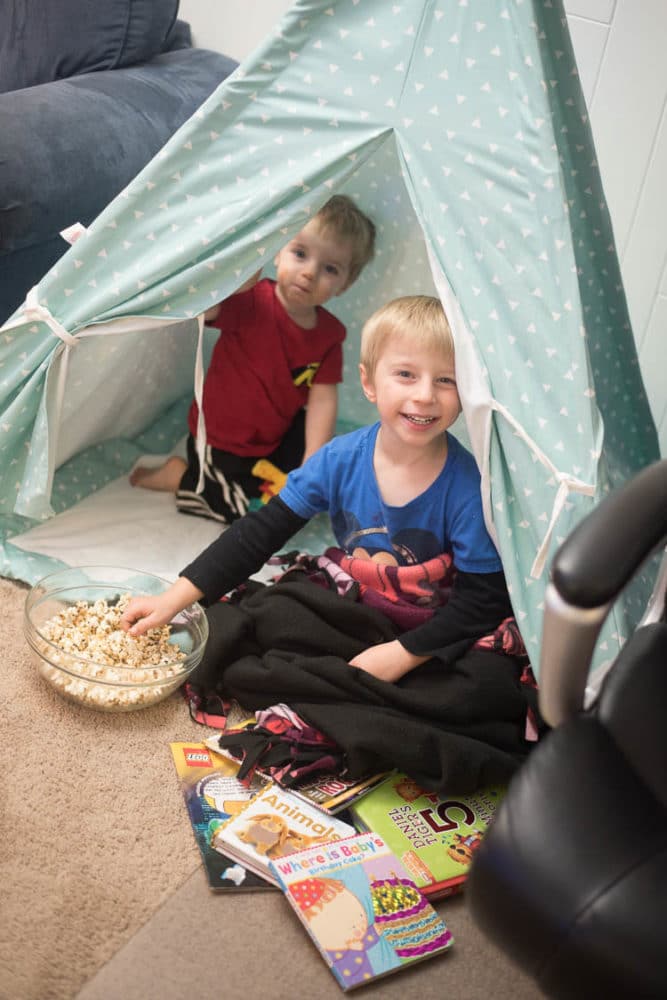 We also recently got a new SANUS TV mount. I've been wanting to get one for awhile, because I'm always worried about Oliver knocking the TV down on himself. A TV can fall with the force of thousands of pounds, 10x more powerful than an NFL linebacker!
I am so happy we got this one! Not only do I not have to worry about Oliver knocking it down (in the future, I will be investing in a safety strap to help prevent that problem), but it's full motion, so it can be seen at any angle in the room.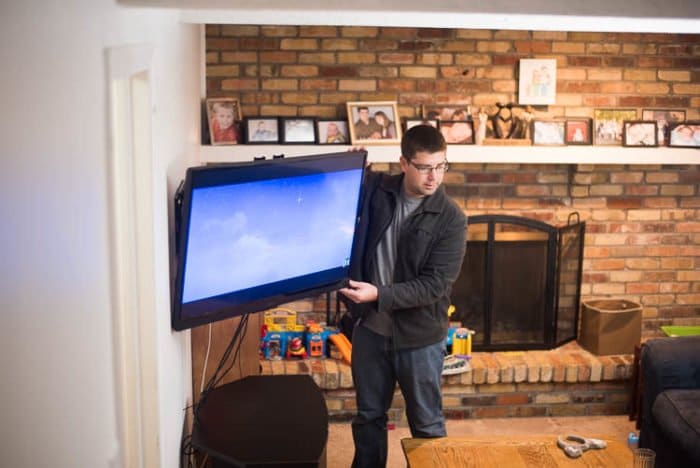 Since the teepee was a off to the side of the TV mount, the boys were so excited when we pointed it toward them!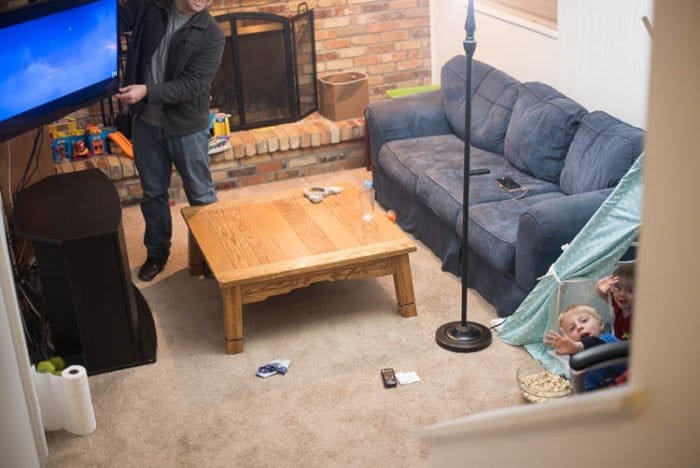 We had so much fun – and it was a nice break from the busy week we had just had. I think family time is the most important time!
Now, for this pressure cooker caramel popcorn recipe!
I had heard you could make popcorn in the Instant Pot before, so I looked around at a few of those recipes for the base for this.
Will I always make my popcorn this way? No, probably not. I prefer my Pampered Chef microwave popcorn maker. But it was fun to try it out this way.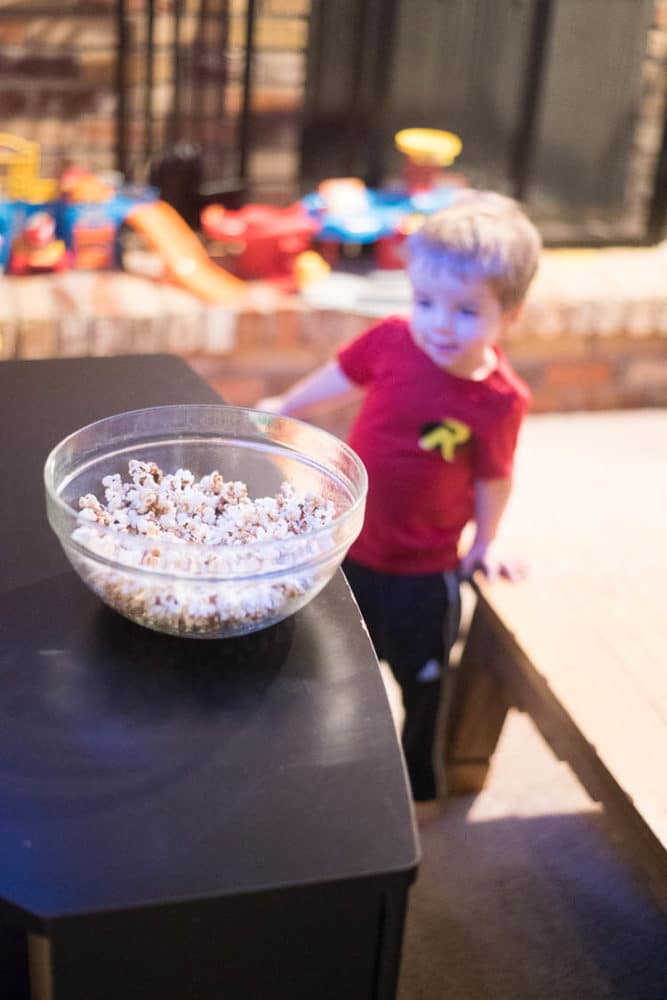 I did really like making the caramel corn in here though – just one pot, so there wasn't a lot of mess, and it was pretty easy to do.
I saw another caramel popcorn Instant Pot recipe, but I didn't love it – it required still using the stove top to melt the butter and caramel, and when I use my Instant Pot, I want it to be the only thing I use!
So this turned out really yummy, and I hope you will enjoy it as well!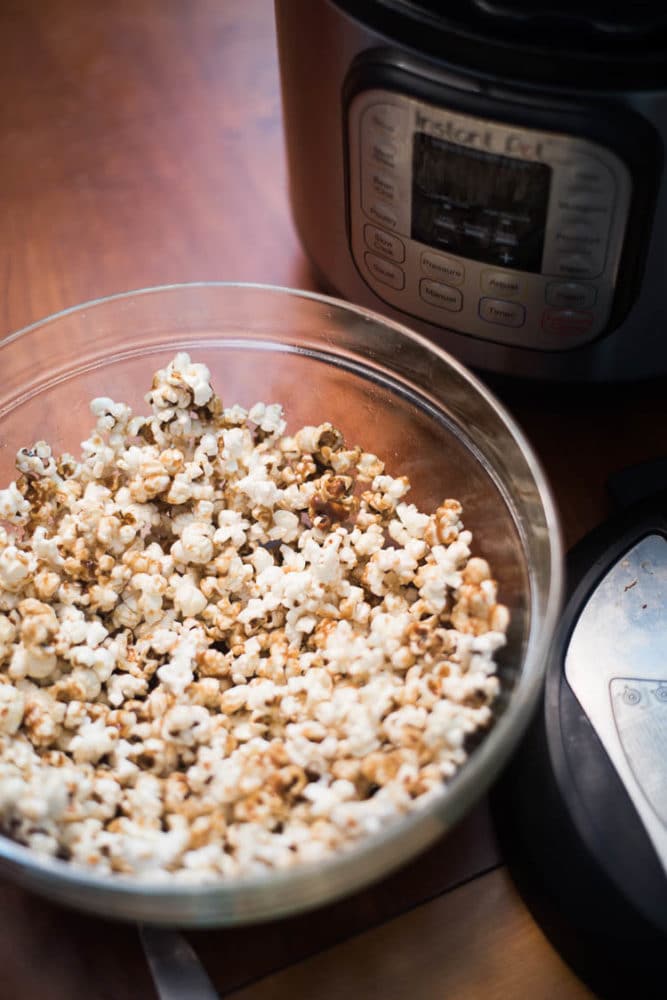 Check out our ultimate instant pot guide!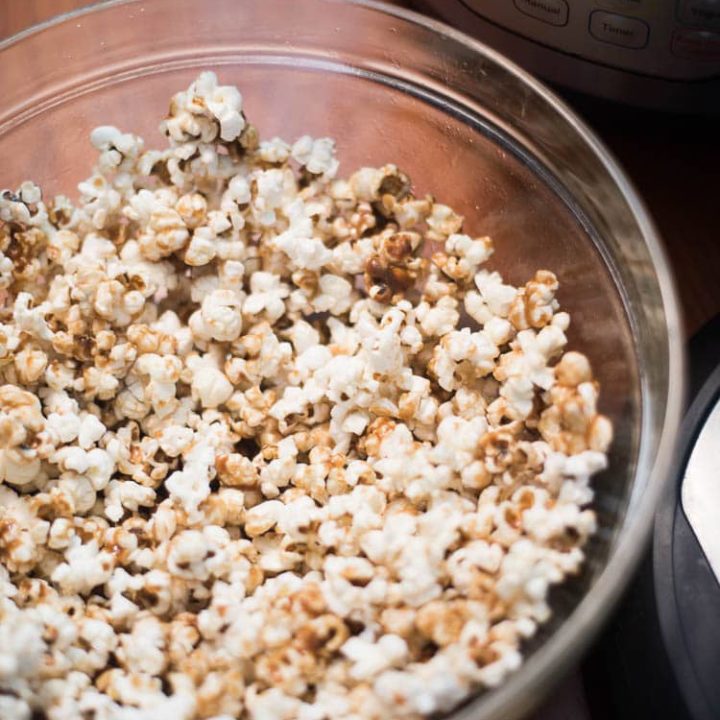 Instant Pot Caramel Popcorn
Ingredients
2 tablespoon cocount oil
1/2 cup salted butter
1/2 cup brown sugar
1/2 cup marshmallows
Instructions
Set Instant Pot to saute
Add two tablespoons of coconut oil to the pot and let it melt and start to sizzleAdd a couple of kernels to the pot once it starts sizzling and wait until they pop. If it doesn't seem to pop after about five minutes, turn saute from medium up to high.
Once they pop, add 1/2 cup kernels to the pot and cover with a pot lid (NOT the Instant Pot lid)
Wait for it to start to pop. Once it starts popping consistently, wait until the pops have about 3 seconds before taking the lid off. You may want to peek in periodically to make sure it's not burning. It will take about two minutes for the popcorn to pop all the way (there will be some kernels left over)
Once popcorn is popped, move popcorn to a separate bowl.
Add butter, brown sugar, and marshmallows to the pot. They should start to melt immediately; stir with a whisk the whole time to keep from burning until the sauce starts to thicken.
Pour over popcorn immediately and toss.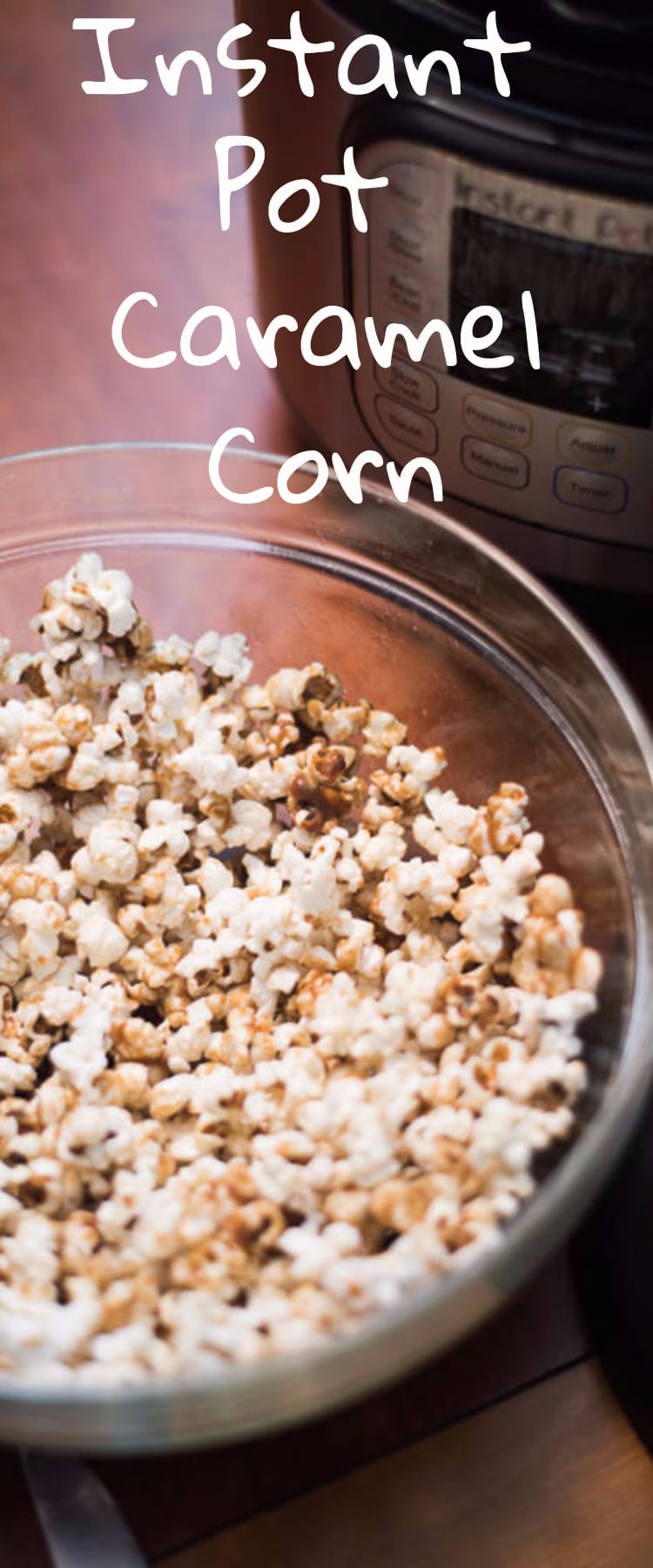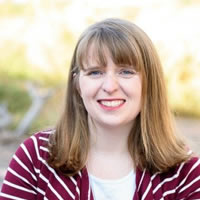 Katie is a Colorado-native, BYU graduated, and most importantly, wife to one and mother to three beautiful boys. She is passionate about sharing her experiences with others – especially about pregnancy, breastfeeding, cooking, and crafts. She is an International Board Certified Lactation Consultant. She loves spending time with her family and helping others find joy in family life.